Would you like to replace your out of date window treatments with fresh and modern window shutters in Cambridge? Contact the interior design experts at Graham's & Son. Or if you prefer, we can bring samples right to your home so you can see how they would look on your actual window. Book a free in-home consultation today!

Graham's and Son has a huge selection of highly durable, beautifully crafted shutters at great prices. Read on to learn about the benefits of shutters, their durability, the brands and styles we carry, and why shutters may be your best choice over other window treatments. We will also provide you with an on-the-spot quote during our first visit.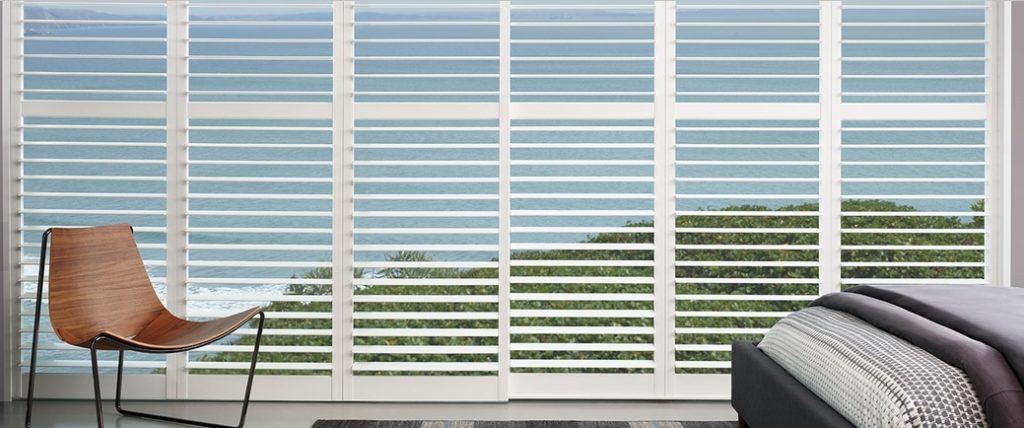 "I love my new California shutters that Graham's and Son Interiors recently installed (Jan 2013). Great customer service as well. I would recommend them as they not only do window treatments – they do everything for the interior of a home!"
Mariana – Cambridge
Read more customer testimonials
Graham's and Son is a Local Window Shutters Company Located in Cambridge
Graham's and Son is conveniently located at 11 Queen Street East in beautiful Cambridge, Ontario. Come visit us in our showroom and view our extensive collection of quality window treatments, including shutters. Or if you prefer, book a free in-home consultation and we will bring our samples so you can see how they will look in your own home.
For more than 40 years, Graham's and Son has been designing beautiful interiors for homes in the Kitchener-Waterloo, Cambridge, Guelph, and surrounding areas. We are a family run business that has grown from window treatment installers to the area's premier interior design company. We offer a huge selection of products including shutters, blinds, fabric, upholstery, drapery, and flooring. We are confident that you will find exactly what you are looking for to decorate you home exactly how you would like it to be.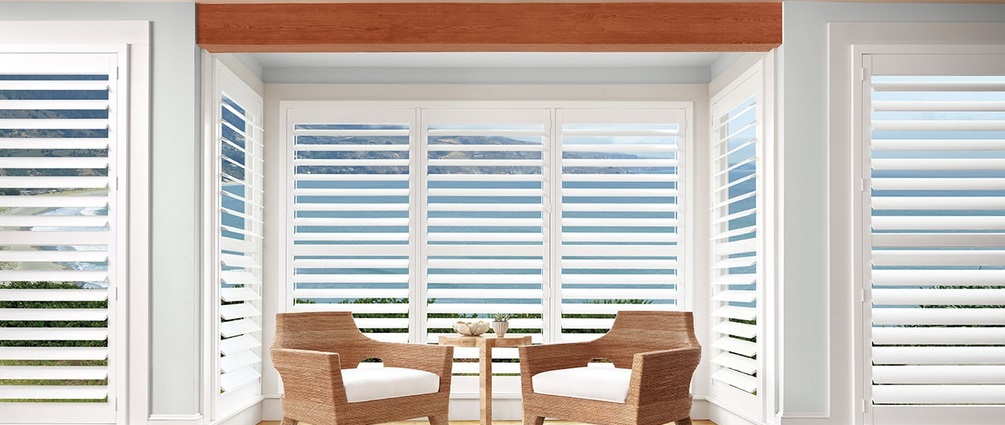 The Benefits of Window Shutters
Window shutters provide many benefits such as helping save energy, UV protection, variable light control, easy maintenance, and a great warranty.
1. High Energy Efficiency
Prevent as much as 50% of your home's heating and cooling energy escaping through your windows
Provide insulation to help reduce energy costs by keeping the cold air out in the winter and the hot air out in the summer
Allow natural light to enter the room, reducing the need for other types of lighting and thereby reducing energy costs
2. UV Protection
Shutters can help block the sun's harmful UV rays from entering your home and damaging your beautiful furniture, flooring, and artwork.
3. Variable Light Control
Shutters allow you to modify the amount and quality of light which enters your room. Traditional shutters provide variable light control by adjusting their louvers or slats.
4. Easy Maintenance
Our exclusive shutter crafted by Hunter Douglas are designed to require minimal care and cleaning, just regular dusting and periodic vacuuming.
5. Great Warranty
Hunter Douglas offers a Lifetime Limited Warranty on their custom designed shutters to help ease your mind when selecting, purchasing and living with your new window treatments. Read more about their warranty here.
Window Shutter Examples
Take a look at our gallery of some of the great shutter designs available from Graham's and Son.
Highly Durable Shutters At Great Prices
Graham's and Son are highly trained dealers of one-of-a-kind Hunter Douglas products. Our staff can expertly measure and install your custom-made shutters. Hunter Douglas products are unique and made specifically for your home. Our shutters come in a versatile selection of wood, hybrid materials, and Polysatin™compound construction. Graham's and Son can help you choose the precise colour, style, and type of shutter to complement your design and budget.
Palm Beach™ Polysatin™ shutters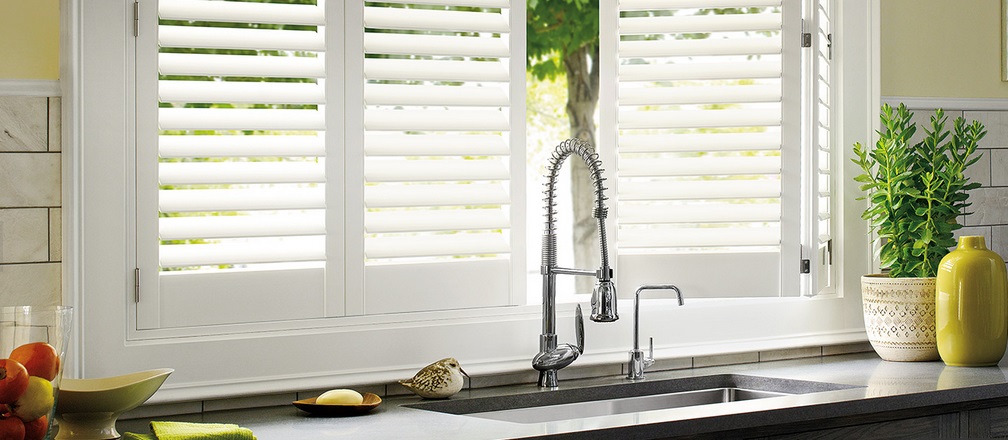 Our Palm Beach™ Polysatin™ shutters are constructed with UV resistant Polysatin™ compound. They are plantation style shutters which come in a wide palette of gorgeous colours and shades. They are:
Exceptionally strong: Interior aluminum bracing and resin blocks placed at major stress points gives them extra strength and stability
UV Blockers: 99% protection from harmful UV rays when louvers are closed
Water Resistant: The unique Polysatin™ compound is designed to withstand damp or humid conditions
Guaranteed: Never to warp, crack, fade, chip, peel, or discolor, regardless of extreme heat or moisture. These are perfect for the extreme weather conditions found in Canada.
NewStyle® Hybrid Shutters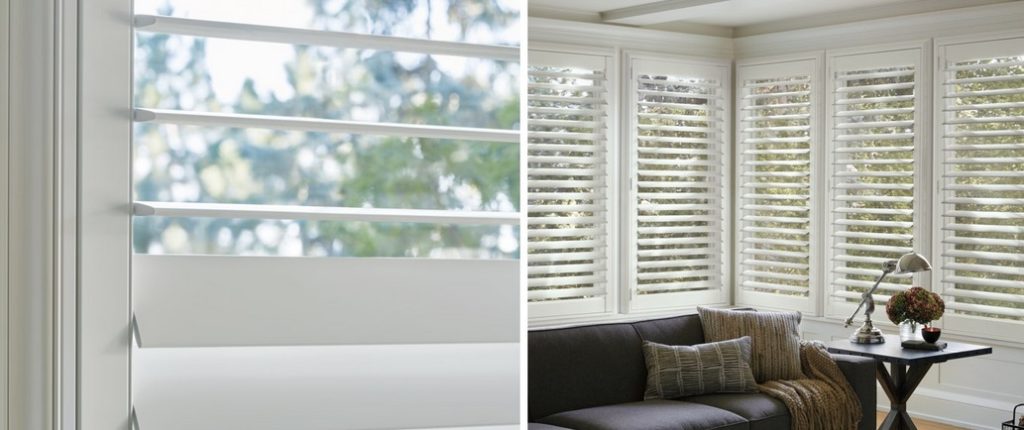 NewStyle® hybrid shutters are value priced to suit any budget. They cleverly blend the beauty of real wood with advanced modern-day materials to create an amazingly durable window treatment, perfect for any room. They are:
UV Blockers: 99% protection from harmful UV rays when louvers are closed
Easy to clean: The Finetech® finish coating has a micro-smooth satin finish that easily dusts with a soft dry cloth
Dovetail construction: Truemill® dovetail construction, one of the oldest and strongest types of joinery, is extremely durable and has a long lifespan
Made to look like real wood: A grain-like finish just like genuine wood
Our Values at Graham's & Son
Since 1975, Graham's and Son has been committed to providing our customers with the highest quality interior design solutions and superior customer service. We are a family run business which values honesty, integrity and complete customer satisfaction. We would like to put our 40 years of expertise to work for you. We'll come to your home, listen to your ideas, and help you create design options that are perfect for you. Or if you prefer, you can visit our showroom and view the wide range of samples we have on display. Contact us today for a free, in-home consultation and find out for yourself why we have earned a reputation for excellence.