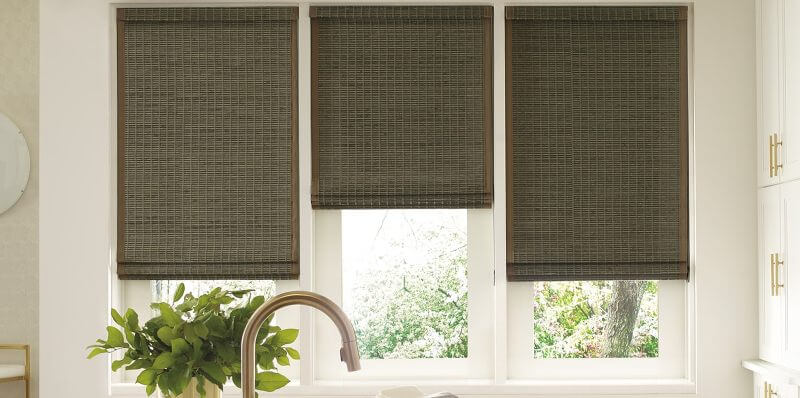 Maybe you would like the big picture before we get into details, so here is a list of all the pros and cons we came up with for bamboo blinds and other woven blinds or shades made from grasses or other reeds. It may be helpful to see them all at once! You can compare these lists before we look at them a bit more in depth. Also, if you are interested in learning more about bamboo, have a look at this interesting blog from Forever Bamboo.
Inexpensive
Environmentally-friendly/Natural

Versatile

Easy to Maintain & Clean
Easy to Install
Delicate Materials
Less Light Blockage
Less Privacy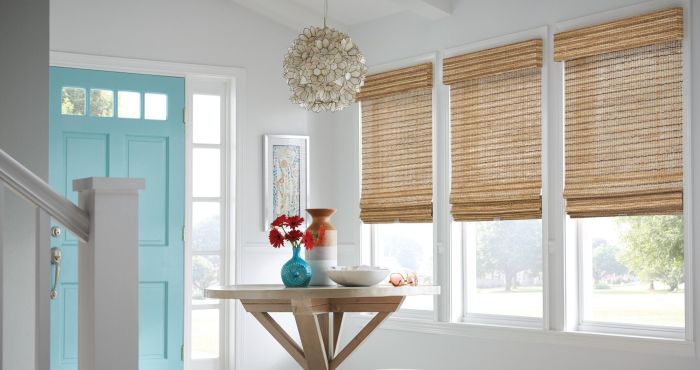 1. The Pros of Bamboo Blinds
Inexpensive
One of the advantages of blinds made from bamboo is the cost. You can get these basic blinds for a relatively low price. Compared to wood shutters or blinds, bamboo blinds or shades will be a fraction of the cost and yet you will still get that natural look!
Environmentally-friendly / Natural
If you are conscious about the materials you use in your home, opting for bamboo is an excellent environmentally-friendly choice. The natural look brings warmth and calm to your surroundings and the neutral shades look great with most décor, including curtains if you choose to add them as an additional layer.
As Shayna points out in her article, Why I Love Bamboo Blinds, "They also come in a variety of wood shades, making them the perfect compliment to any flooring. Together, a bamboo blind and wood floor create a "balance" amongst the two… they even each other out."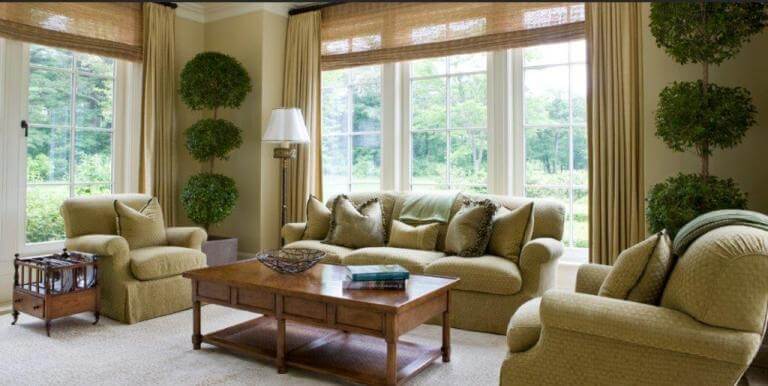 These bamboo blinds have been partnered with curtains for extra dimension.
Versatile
As you would guess based on the previous point about about how the natural look of bamboo is complimentary in most rooms, these blinds are versatile. There are a wide variety of designs and sizes, plus different wood shades that you can work with in your home. Just remember that if you choose a larger set of blinds or a shade, make sure to invest in higher quality materials that can withstand the weight and wear of opening and shutting your blinds. 
Another thing that makes bamboo blinds versatile is that you can find them with manual operating systems (cord systems) or you can get automated operating systems. 
Easy to Maintain & Clean
If you are opening and shutting your blinds on a somewhat regular-basis, you will find that all you really need to do is gently wipe them clean of dust or dirt. Gentle work is key as bamboo is a fragile material that is prone to cracking and breakage. Be careful not to snag your cloth on the bamboo either and, if you do, gently remove any snags.
Easy to Install
This last point is most likely going to appeal to those DIY people more: bamboo blinds are relatively easy to install! They can be installed under 30 minutes per window. Get all the details about installing these blinds in our other blog, How To Install Bamboo Blinds. One word of caution though is to not rush through the installation process as improper installation can lead to blinds that are more prone to breakage or cracking over time.
1. The Cons of Bamboo Blinds
Delicate Materials
As you may have gathered already, bamboo blinds are made from delicate materials that are prone to breaking, cracking or splitting. The strings and cords can also wear out from regular use (opening and closing). For this reason, these blinds may not last as many years as some other window treatments. Although you may save money up front compared to some other options, you may be putting money into replacing your bamboo blinds within the first 10 years. And although many people find natural products appealing, some people might not like the natural imperfections they see.
Less Light Blockage
Bamboo blinds are beautiful, but they do not block much light. If low-filtered light is not for you, you will need to consider buying blackout shades to go behind the blinds or another alternative (even curtains) to block out light. This is particularly important to consider in bedrooms if you have young children who go to sleep before sundown or you live with someone who does shift-work and sleeps during the day. 
Less Privacy
With more light filtering through your bamboo blinds, the less privacy! So be sure to consider this – especially when putting them in bedrooms and bathrooms. Or, at least consider another layer like a roller shade behind, a privacy liner or curtains.
3. Graham's, Your Expert on Blinds
Choosing a window covering involves weighing the options, pros and the cons. A Graham's expert can help you determine what you are looking for and what options are available to you. They will provide an in-home consultation and guide you to some of the best quality products out there. They can help you weigh the pros and cons of installing bamboo blinds – and they will even order and install them for you!
To book your free in-home consultation, call us at (519) 658-9025, email us at sales@grahams.ca or click the button below to contact us.
With over 40 years in business serving customers in Cambridge, Ontario and the surround regions, you won't be disappointed. Graham's cares about quality products and quality service. They are committed to excellence and offer a full range of interior décor and renovation services including window treatments, flooring, upholstery, kitchen and bathroom renovations and more!
"Great experience working with Graham's & Son Interiors. Highly recommend their services. We had excellent service, advise and workmanship right from quote to job completion. All the staff, the owner, project manager, store staff and installers were incredible to work with. Excellent customer service and quality workmanship. Thank you for your help, patience for a job well done!!"