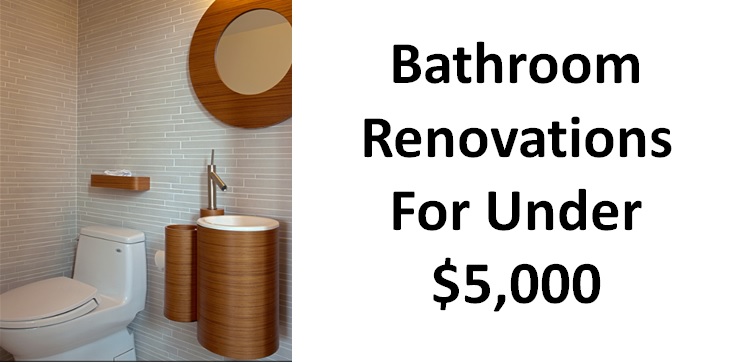 Believe it or not, you can do some amazing and stunning bathroom renovations for under $5,000. With some inspiration and wise shopping, you can transform your dull and unappealing bathroom even if you are on a tight budget. If you would like some helpful interior design advice, contact the professionals at Graham's & Son today. We will come to your home and give you a free consultation.

"Dear Mr. Wayne Graham, May 2016 be the best year for the Grahams and their company! I must take this opportunity to thank you for the renovation job done on my house, not only the input idea that made my home more modernized, but the skill work that made the job done perfectly. I will not hesitate to refer you to my friends who may need a renovation on their house. Thank you again and have a healthy and prosperous year in 2016. Yours Truly,"
– Daniel Yu
Read More Testimonials
Click here to see a gallery of our work
Bathroom Renovations For Under $5,000
A bathroom renovation for under $5,000? It may seem impossible, but it actually isn't. If you are planning to sell your home and you would like to give your bathroom a quick and inexpensive facelift or if you are on a tight budget but your bathroom is really in need of some TLC, then the following low-cost suggestions may be just the help you are looking for.
Flooring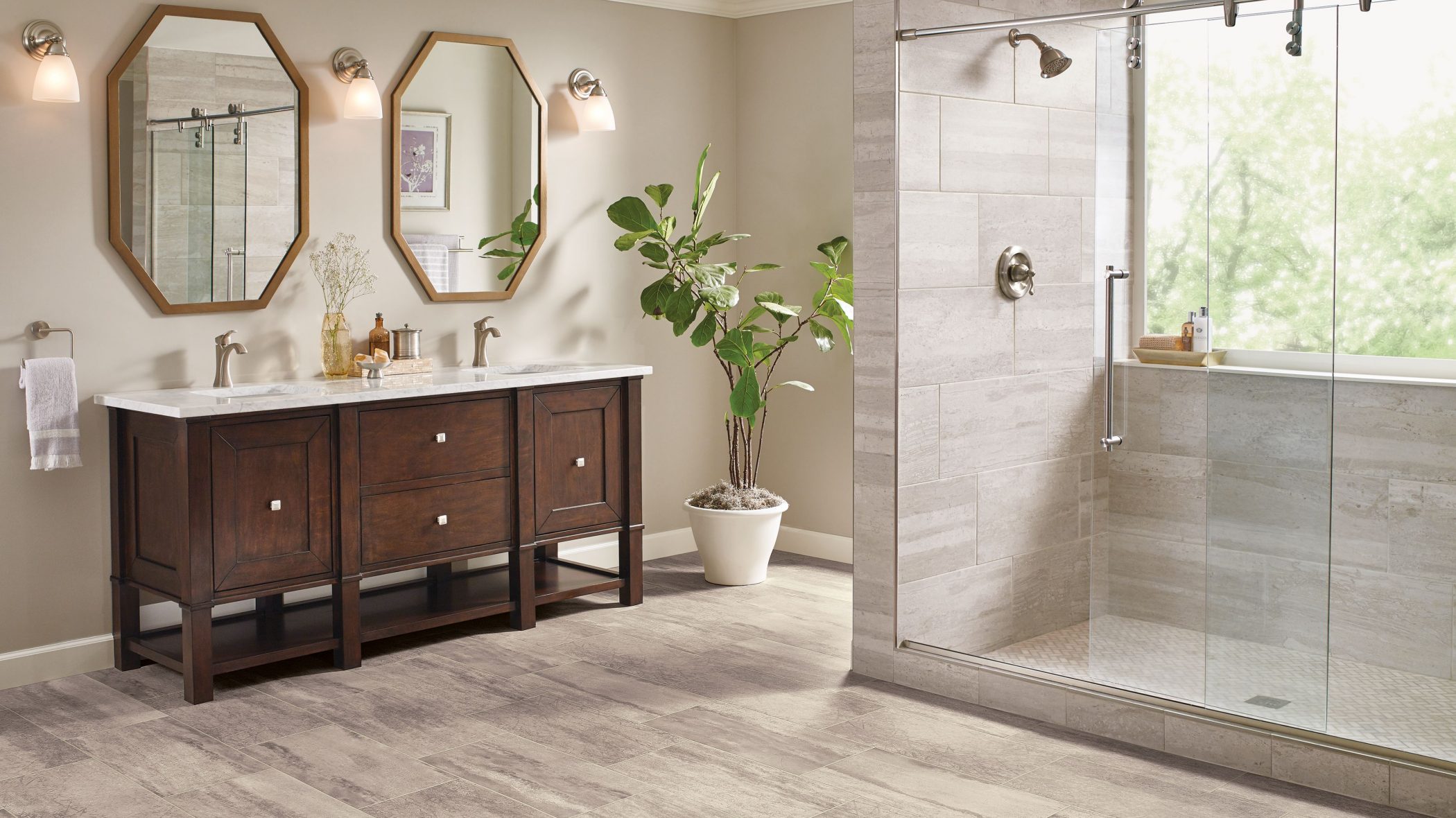 Updating the flooring in your bathroom is relatively inexpensive because the area in a bathroom is usually quite small. You can also keep costs down by choosing a lower to mid-range priced flooring such as linoleum, vinyl, or ceramic tiling as opposed to a higher-end product like marble. Another way to save money is to remove the old flooring yourself. To learn more about flooring choices for your bathroom renovation and the associated costs, read our post entitled "Bathroom Renovations – How Much Do They Cost: Flooring"
Cost: for Linoleum: $6.50 – $9.10 CDN per square foot
Cost: for Marble: $20.80 – $23.40 CDN per square foot
Cost: for Ceramic: $1.30 – $2.08 CDN per square foot
Cost: for Porcelain: $7.80 – $11.70 CDN per square foot
Window Treatments
Installing new window treatments is a wonderful way to update your bathroom. Choose from an assortment of options including blinds, shades, roman blinds, shutters, and drapery. Make sure that the style you choose is appropriate for the heavy moisture found in bathrooms. Click on the following links to learn more about vinyl shutters and blinds.
Refinish Your Existing Vanity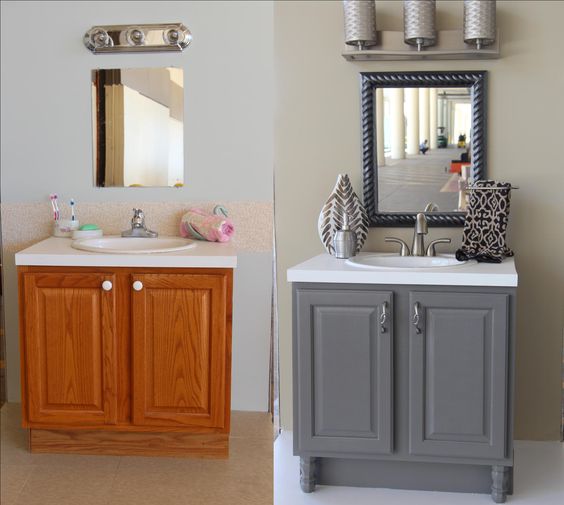 If your bathroom vanity is in good condition and you like the shape and outline of it, you can give it a fresh and inexpensive update by staining or painting it. Make sure you remove any previous paint or stain and also fill in any gouges or dents with filler and sand the surface smooth before you put on the new layer. You will be amazed at the difference even a new colour can make to liven up your cabinetry. The transformation in the above example from Diva of DIY is really quite striking. The vanity before had a dated, 1980's look and now it is much more contemporary. The tap was changed as well, which is another great and inexpensive way to give your bathroom a lift.
Cost: Depending on the paint or stain you choose, up to $50.
Convert Furniture Into A Vanity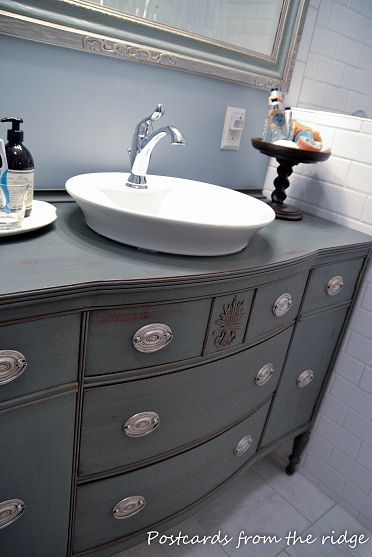 Another cost-saving and trendy way you can save on a bathroom renovation is purchasing a used piece of furniture to re-purpose into a vanity. If you are really lucky, perhaps you have a piece of furniture already that you can use as in the example above. The homeowners used their old dining room buffet and transformed it into an amazing bathroom cabinet. To learn more about the different sinks and vanity choices available and their related costs, read our blog post "Bathroom Renovations – How Much Do They Cost: Sinks & Vanities."
Cost: You can purchase a used dresser or buffet for about $50 – $300
Painting Your Bathroom Walls
Painting your walls is an easy and inexpensive way to brighten up your bathroom. Lighter or more neutral colours can make a smaller bathroom feel bigger than it actually is. Choose warmer, rich tones to help a larger bathroom seem cozier. The lovely cool shade in the bathroom pictured above is Kyrpton by Sherwin Williams.
Cost: Depending on the paint or stain you choose, up to $50.
Replace Your Mirror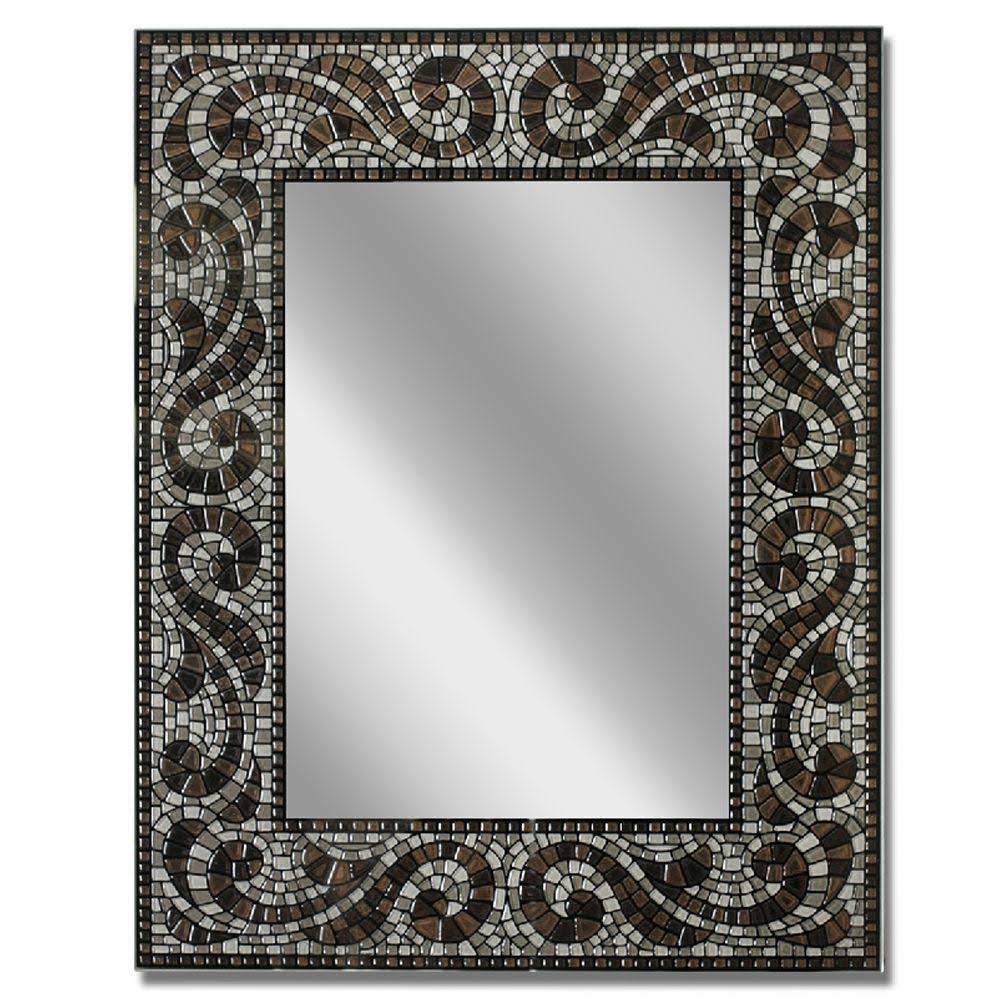 Why not start by replacing your old mirror and looking for a new one that really gives that "wow" factor? Gone are the days when you have to put up with a plain rectangular mirror. The above example has a lovely and expensive-looking mosaic frame but it won't break your budget at only $79.97. You can purchase it from Home Depot.
Cost: You can purchase a beautiful bathroom mirror anywhere from $50 – $200.
Wallpaper
Don't be afraid of wallpaper. We know that in the past it was everywhere, and most homeowners became very tired of it. However, if it is done in moderation, as in the picture above, it can be an inexpensive and eye-catching feature that will perk up a tired bathroom. The beautiful butterfly and bird pattern chosen here really adds elegance and charm to this space.
Cost: You can purchase wallpaper usually between $1 – $3 a square foot.
Infographic: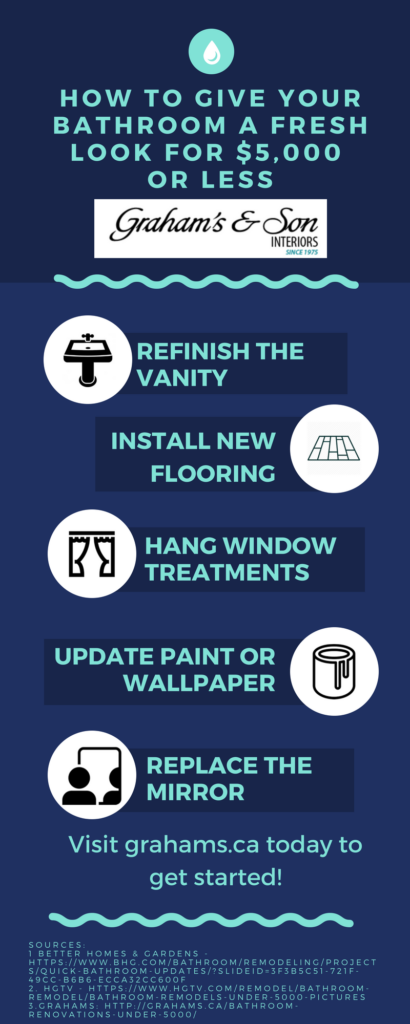 Bathrooms Renovations by Graham's & Son
If you would like help with your bathroom renovation, contact Graham's & Son. Graham's & Son has been in the interior design business in Cambridge, Ontario for more 4 decades. We are locally owned and operated and we specialize in all types of renovations, including bathrooms. Whether you are considering a complete renovation or something smaller, we are here to help. If you are on a budget, then you will appreciate the great savings that you can enjoy with our buy 2 get 1 free offer. Right now when you purchase any 2 blinds, shades, or shutters, you will receive a third absolutely free! We also offer free, in-home consultations If you would like to renovate your bathroom in the near future, contact the interior design professionals at Graham's & Son to book your free in-home consultation.
Sources:
Low-Cost Bathroom Updates
Before and After Bathroom Remodels Under $5,000