If you are planning to redecorate your living room, here are the top living room trends for 2018. Our favourite trend is using natural elements like stone or marble to bring a bit of nature into your room. Read on to discover what other trends you will be seeing in the hottest living rooms this coming year. If you are looking to remodel your living room or any other room in your home, the interior design experts at Graham's & Son would be happy to come to your home at no charge to give you a consultation. Contact them today to book an appointment.

"Wonderful service. We recently renovated our family room. Purchased blinds and custom drapery. Matthew provided an in-home consultation. He brought samples and had creative suggestions to help me choose best window coverings to finish our room. Installation was very professional as well. I am so pleased with the finished result. Thank you Matthew and staff. I will recommend you to friends and family."
– Mary Dom
Read More Testimonials
Click here to see a gallery of our work
Living Room Trends 2018 – What's Hot
The following are what we consider to be the top living room design trends for 2018. We hope to inspire you with these ideas and help you incorporate them into your personal living room design.
Lavender and Lilac
The popular millennial pink that is still trending this year will gradually morph into a more lavender version according to Nancy Fire, creative director of HGTV Home, Design Works International, Studio NYC Design, and HouseBeautiful. Like the millennial pink, you will see lavender and lilac being used to bring out gorgeous soft tones and deeper purple accents.
Natural Elements
Using natural elements such as stone in a fireplace and marble plant urns will not only make your living room beautiful but will also allow it to stand the test of time according to New York designer Shawn Henderson, the designer behind Turks and Caicos residential resort Rock House. When you incorporate natural elements into your home and accent your views outside, the effect is stunning. The elongated drapes by Graham's & Son in the above design highlight the gorgeous scenery and visually pull the outdoors into the room. The earth tones outside are then echoed in the coordinating furniture and hardwood flooring.
Curves Are Hot
The trend in furniture for 2018 will be big and curvy, as was noted during the Paris Design Week's show called Maison et Objet. The show featured extremely comfortable, oversized pieces that were a direct response to the discomfort that many are feeling in this unstable and insecure world in which we live. According to the show's coordinator, Marie-Jo Malait, you will be seeing "rounder, softer shapes, and soothing, cocooning pieces that, more than ever, make home a sanctuary." This idea is supported by architect Elizabeth Roberts who stated in an interview with My Domaine that you will be seeing lots of couches with interesting curves, many of which will be reminiscent of the 1970's shapely silhouettes.
Contrasting Colour Palettes
Joanna Gaines from HGTV's Fixer Upper likes to use rich bold colours in combination with white so that the overall look isn't too overwhelming. Her number one colour choice for people who just aren't sure about what colour to choose is green. It's organic and it's enduring. Notice how the rich green on the walls above is subtly tempered by the white accents on the trim and frames. This tone is the perfect match to highlight the exposed overhead beams and engineered hardwood flooring.
Warmer Tones Replacing Cooler Neutrals
Designer and Houzz Contributor Jennifer Ott says the cooler neutral shades will be edged out by the warmer greys and rich earthy shades. You will see tones like camel, rust, tobacco, and brown-black coming to the forefront. Even shades of burnt yellow will become more popular, giving your room some interesting and unexpected flavour.
Brass Accents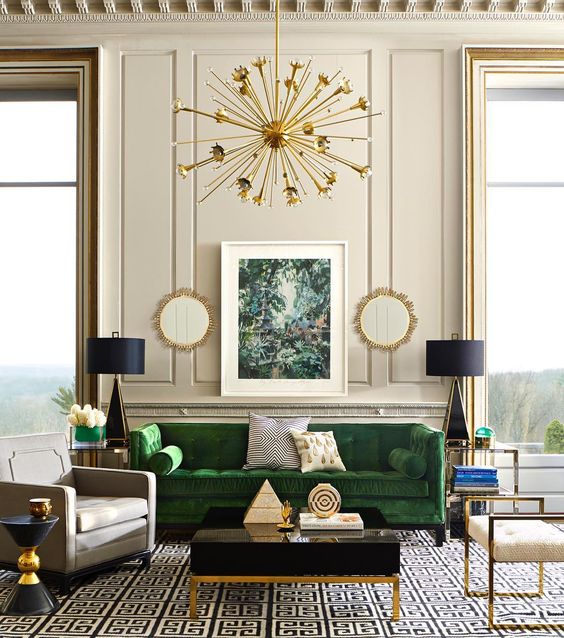 Brass is going to be big in 2018. Rich golden brass accents are now replacing the brushed silver of recent years according to Doug Wilson, interior designer from the upcoming Trading Spaces Reboot. The brass is softer and warmer than the more industrial feeling stainless steel accessories. We love the stunning contemporary brass chandelier which acts as a focal point in the above living room. The brass is subtly repeated throughout the room in the furnishings as well as trimming on the windows.
The Graham's & Son Difference
Graham's & Son is a locally owned and operated family business that cares about our customers. That's why we make sure we treat every client with respect and give them the highest level of customer service possible. We will come right to your home, free of charge, sit down with you, and help you to choose the perfect products and design for your living room. We will take accurate measurements for you, place your orders, and supervise the installation and remodeling process. We want to make sure that you are completely satisfied with your new living room. If you are interested in updating the look of your living room, contact the professionals at Graham's & Son today.


Sources:
16 Décor Trends That Are Going to Be Hot in 2018
Interior Design Trends Expected To Take Hold in 2018
10 Trends that are Taking Over Homes in 2018