Tired of seeing huge energy bills at the end of each month during the summer? The four ideas in our How To Save on AC Bill article will help you see that monthly savings are within your reach! If you are looking for energy-efficient window treatments, contact us at Graham's today!
#1 - Run Your AC During Off-Hours
Did you know that in most of Ontario, your electricity rate depends on the time of day you use electricity? This means that your AC will actually cost less to run if you make economical choices.
In the summer, electricity costs the most during peak (11 am-5 pm) –  and mid-peak hours (7 am – 11 am and 5 pm – 7 pm). Unfortunately, these times also happen to be the hottest periods of day. If you set your AC to a lower temperature during the day, it will run much more due to hotter weather – and you will pay much more due to peak or mid-peak rates!
The good news is that you can strategically choose when to run your AC. During the day when rates are the highest, keep your blinds closed, run a fan, or spend time in your basement if it's finished (basements are usually the coolest areas in the home) – that way, you won't be tempted to lower your thermostat and cause your AC to buzz all day long.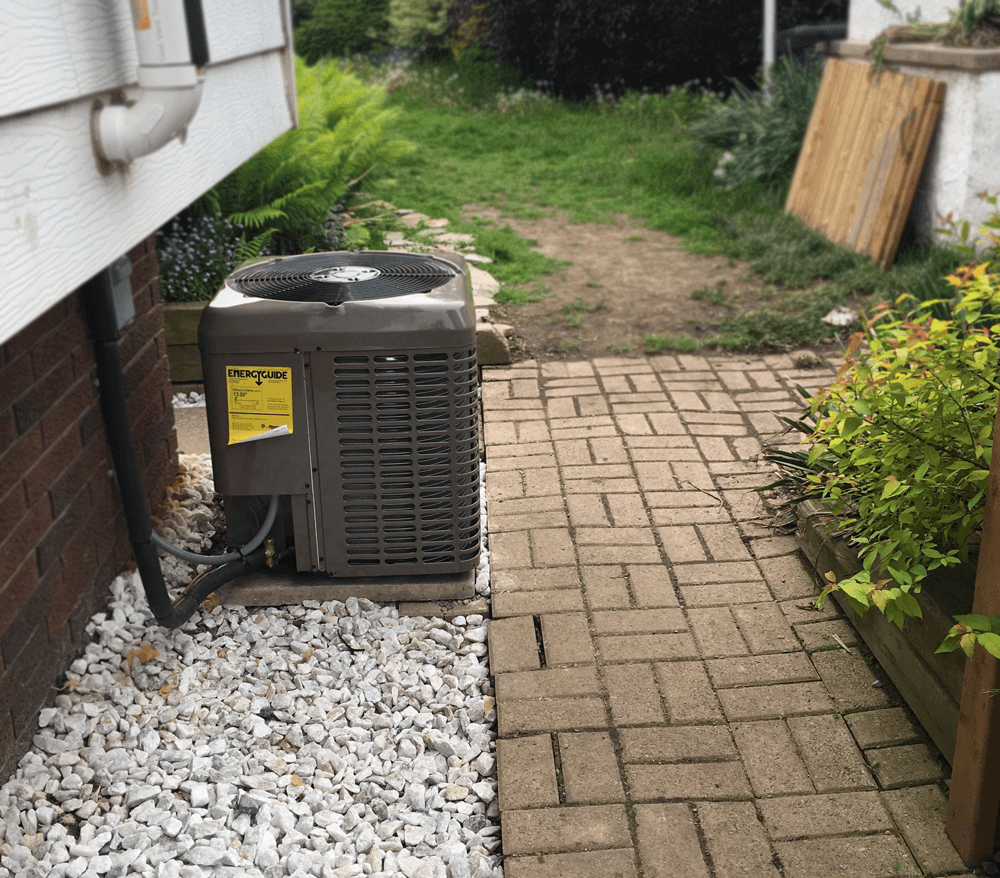 If you want to learn more about peak hours in Ontario, check out the charts below.
Many homeowners may be hesitant to raise their thermostat, especially during some of those hot and humid summer days. However, if you raise your thermostat to 78 (25 C) degrees instead of 72 (22 C) degrees, you can cut down around 18% on your energy bills! That is a lot of savings over time. 
#2 - Purchase Energy-Efficient Window Treatments
Did you know that a great deal of heat can come into your home through your glass windows? There's a reason no one wants to take the window seat on a hot summer day. It's because approximately 76% of the sunlight that hits your windows is converted into heat. That means without anything to stop or block the sun from entering your home, your home will heat up quickly during the summer, causing your AC to run way more than it should.
One of the best ways to save money on your AC bill at the end of each month is to ensure your windows are properly outfitted with efficient window treatments. High-quality window treatments will help block out sunlight and stop it from entering your home and therefore heating up your house! 
Insulated, blackout curtains and California shutters are both great choices for energy-efficient window treatments
Almost all types of window treatments can help keep the sun out of your home in some capacity. However, some styles are more efficient than others. The best way to find out which is best for you is to look at the "R-Value" of the window treatments you're considering. What is R-Value? Well, R-Value is defined as "the capacity of an insulating material to resist heat flow. The higher the R-value, the greater the insulating power."
Let's take a look at California shutters for example. A window alone, with no window coverings, has an R-Value of 0.9 (that's not very high!). However, high-quality California shutters installed professionally and properly into your window, can have an R-Value of up to 4.0! That means the R-Value of your window more than quadruples – making a big difference in the amount of heat that enters your home. 
Each window treatment will have a different R-Value – and it's difficult to give exact numbers, as the size of your windows, the direction they face, the amount of shade near your home, and even the materials and style of your window treatment is made from will impact the final R-Value. However, it is a good idea to do your research or talk to the professionals to find out more about which energy-efficient window treatment is right for you! 
#3 - Choose a Fan Over AC
As mentioned above, it's best to avoid running your AC during peak hours whenever possible. Still, in Ontario and many places around North America, temperatures can reach 40 degrees or higher during the hottest summer days! On days like that, it can be hard to simply close your blinds and hope for the best. However, installing a ceiling fan or two can help you save without sacrificing your comfort. 
By installing a fan, you can raise your AC by about 5 degrees and still feel cool. This can help you make that shift from 72 degrees to 78 on your thermostat without feeling a significant impact on your comfort levels. This simple change can help you save another $20 per month! 
Though that may not seem like a lot, many of us run our AC from May until September. That's five months out of the year – meaning $100 saved per year! Over 10 years, that's $1,000 in savings, simply made by installing a ceiling fan.
Regularly using a ceiling fan can help you save $20.00 per month on your energy bills!
Keep in mind that ceiling fans are becoming more popular, as energy bills continued to rise and homeowners look for ways to reduce their bills. This means that there are styles that suit many different preferences! When you think of a ceiling fan, don't think about the old one that hung in your parent's living room! Remember that there are lots of modern, traditional, and up-to-date models (like this one from IKEA) that can actually add aesthetic appeal to your room.
#4 - Add Solar Film To Your Windows
Another way to save money on your AC bills is done by modifying your actual windows. Specially made solar film is a type of dark coloured window film that you place directly over the glass in your windows. How does this film work exactly? Think about tinted windows in a car! This film works similarly, it helps prevent UV rays from entering your home. 
Placing solar film over your windows is a cost-effective and relatively simple way to cut down on your energy bills. However, it is important to note that adding film to your window is a delicate process (you don't want to end up with bubbles stuck under the film), so check out the video below for a thorough, how-to guide on adding window film. 
Learn how to install solar film onto your windows
Most solar film usually has a dark tint to it, as mentioned above. However, if that doesn't sound appealing to you, and you would rather have window film without tinting, clear film is also available. Make sure you choose a film that has a tinting you are comfortable with before you go ahead and install it on your windows!
save on ac bill with energy efficient window treatments!
Rely on the experts at Graham's & Son to help you find the perfect treatments for your home and budget!

Are you tired of spending more than you should on your energy bills during the summer? Graham's & Son Interiors has over 40 years of experience when it comes to expertly installing all kinds of window treatments, including energy-efficient window treatments, in homes across the Kitchener-Waterloo area. We understand the importance of creating an energy-efficient home, and we want to help you achieve that too!
At Graham's & Son, we offer a wide variety of window treatments, including custom treatments perfect for insulating your home. If you are looking to update your current window treatments, contact Graham's & Son today for the most energy efficient and beautiful window treatments possible.
Graham's & Son knows window coverings; we have been in the window treatment business for over 40 years. Our expertise and professionalism are second to none. In addition, right now we are offering an amazing deal on all our blinds, shutters, and shades – when you purchase any two, you will get a third absolutely free.
WINDOW TREATMENT INSTALLER & INTERIOR DECORATOR – JOIN OUR TEAM!

Graham's & Son is looking for a full-time Window Treatment Installer and an Interior Decorator, and we would love for you to join our team! We operate out of Cambridge and are looking for someone who knows the Tri-Cities area well. Training will be provided – some experience required. If you think this may be the perfect job for you, see job requirements and overview by clicking here to learn more about the installer position, or here to learn more about the decorator position.

Book a free in-home consultation today and find out for yourself why Graham's is the best in the interior design business. Contact us today to schedule. If you prefer, you can shop at home. Browse through our website, make your choice, and simply give us a call at 519-658-9025 to place your order without ever having to leave the comfort of your own living room.