How long should a bathroom renovation take? At least 21 days or 4 weeks, but double this number to account for delays & days when work isn't going on. Read on for how long each task should take. If you are a fan of reality home makeover shows, like I am, you may think that a bathroom renovation can easily be done in few days. However, reality TV isn't real life. Most of us couldn't afford the resources nor the manpower available to these popular shows, so the actual timeline of a bathroom renovation will be much longer than what appears to happen on TV, anywhere from 6 to 9 weeks depending on the size of your bathroom and the extent of the renovations that you want done. In this post, we will break down the time the different tasks involved in most bathroom renovations take. To find out if renovation your bathroom will add value to your home, click here. If you are considering a bathroom renovation, contact the interior design specialists at Graham's & Son. We will give you an in-home consultation, absolutely free!

Awesome Bathroom Design Ideas
"Just bought a home that needed a new kitchen. The installers were amazing and the Price, Quality, & Workmanship the BEST!" – Natalie Dawson

Read more Google Reviews of Our Work
How Long Should A Bathroom Renovation Take?
The length of your bathroom renovation will vary depending on the size of your bathroom and the extent of the renovations you have chosen to do. The following will give you an approximate idea of how long each part of a renovation should take. If you have only one bathroom then you will want to make sure the project happens quickly. "You need to find a neighbor, stay with a family member, or take a vacation," according to Rick Miller of Miller's Fancy Bath in Louisville, Ky., This is especially true if you are replacing the toilet and the grout has to dry overnight. For more tips on how to survive a renovation project and make it as stress-free as possible, click here.
Demolition – 2 -3 Days
Demolition is tedious work and the length of time may be longer if your bathroom is located in a part of the house where it is difficult to remove the debris, such as on an upper level.
Possible delays: If you have an older house and asbestos https://www.canada.ca/en/health-canada/services/air-quality/indoor-air-contaminants/health-risks-asbestos.html is found during the demolition, it will need to be professionally removed.
"Rough In" Electrical – 1 -2 Days
Roughing in means that the electrician will run the electrical lines but not hook up the final connections yet.
"Rough In" Plumbing – 1 -2 Days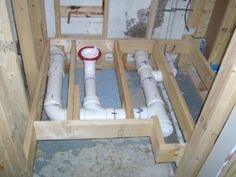 Roughing in the plumbing means that your plumber will get a basic skeleton of the finished plumbing in place before installing the actual pipes and fixtures.
Possible Delays: If you have to move the toilet or tub you will need to count on 2 full days or more.
Insulation & Drywall – 3 – 4 Days
Insulation will take about half a day as it is a relatively small space. Once the insulation is up, the drywall can be hung. The drywall will then need joint compound applied, which will need to dry. Once it is dried, it can be sanded.
Possible Delays: Sometimes adding, drying, and sanding the joint compound needs to be repeated
Painting – 1 Day
Painting will go quite quickly at this stage because the fixtures have not been added yet. Because the room is bare, they will only need to mask around the ceiling.
Tiling – 2 Days
If you are tiling any portion of your bathroom, your tiler will first need to set out the tiles to make sure that they are cut where they need to be, like around the shower drain. They are then applied, grouted, and left to dry.
Possible Delays: According to the interiorsaddictcom, if you are installing larger tiles, your walls may need to be straightened and strengthened before they can be put up.
Cabinetry – 1 Day
Usually, bathrooms have very little cabinetry so this should take very little time.
Flooring – 2 Days
The time to install flooring will vary depending on the type of flooring that you choose. Vinyl flooring is the fastest to install.
Possible Delays: If you are installing tiles or engineered wood then the installation could take longer.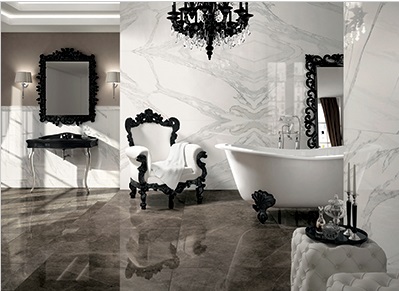 Installing and Hooking Up Fixtures – 2 Days
This would include hooking up your toilet, tub, sink, and tap-ware to the existing skeleton plumbing.
Electrical Fit Off – 1 Day
The electrical fit off is the stage when your electrician can now finish installing your light fixtures, switches, fans, etc.
Accessories – 1 Day
This is the final stage. The accessories like towel racks, robe hooks, and toilet paper holder can be installed along with the shower screen or door (if you have one) and any mirrors.
Here's a handy chart to illustrate all of the above:
What Is The Total Time? 4 -9 Weeks
In a perfect world, each stage of your bathroom renovation would happen consecutively and without any days when no work happens. However, we don't live in a perfect world, and according to interiorsaddictcom, most contractors schedule more than one renovation project at a time. They schedule their work so that their tradespeople are constantly working but they move from site to site, therefore you may find that there are days when no-one is working on your bathroom.
If we simply total the number of man hours to renovate the bathroom, you would get at least 21 days which equals about 4 weeks when you exclude weekends. However, a more realistic estimate would be to double this time to account for days when no work is going on and any possible delays that may come up along the way.
What Are Some Of The Most Common Reasons Renovations Get Delayed?
The "Unknowns" or "Unexpecteds" – This is probably the biggest reason a renovation gets delayed, according to Tom Silva, General Contractor for "This Old House". Special materials required to finish your project can sometimes get delayed or back ordered, causing delays. Structural issues can also come up that require extra permits before you can continue. These all can put you behind schedule, anywhere from a few weeks to a month.
According to thespruce.com, some other delays which may slow down your renovation progress could include sick days for workmen, materials that are not readily available, or a change in plan that you yourself initiate.
Trust Graham's & Son For Your Renovation
You can trust your bathroom renovation project to the professionals at Graham's & Son. Graham's & Son has been in the interior design business in the Cambridge region for over 40 years and you can be assured that we will continue to be here for years to come. We are locally owned and operated and our loyal customers are so happy with our services that they readily recommend us to their friends and family. For a stress-free renovation, contact the design experts at Graham's & Son. We will come to your home and do a free, in-home consultation. We will also provide you with a quote during our first visit with you.