Today, we'll take a look at what causes floor sun damage and how to prevent it from happening in your home! 
At Graham's & Son Interiors, our expert team of home decorators and window treatment installers have over 40 years of experience helping homeowners solve common problems such as sun damage!
Here, we'll see how UV rays cause damage to your home and how adding window treatments, moving furniture, and other simple things can prevent sun floor damage from happening in your home. Let's get started now! 
How To Prevent Floor sun Damage
How Does The Sun Affect My Floors?
If you have had hardwood floors in your home for many years, you've probably noticed some fading or even darkening of the wood in certain areas. This is due to overexposure to three types of light from the sun: UV (ultraviolet) light, visible light, and infrared light.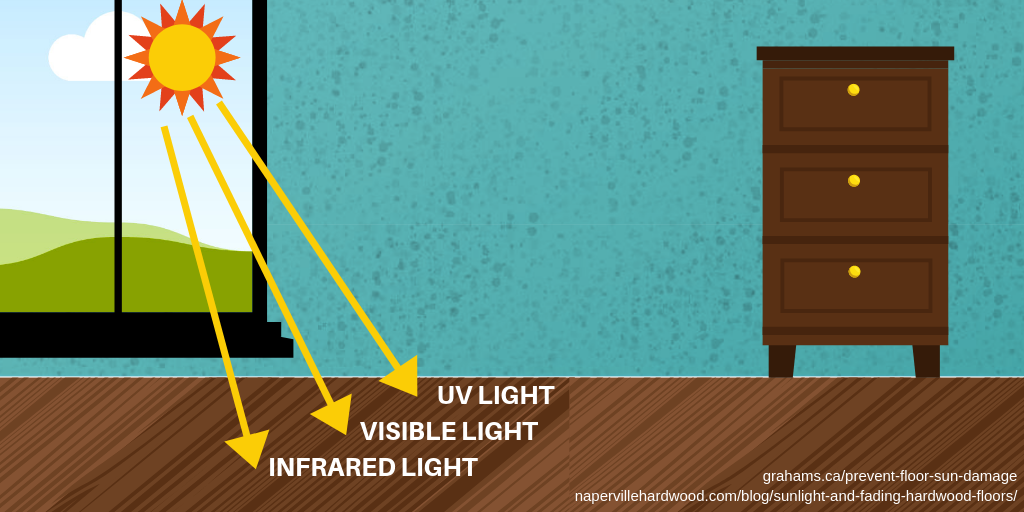 Three types of light from the sun can affect your floors can cause damage
Of these three types of light, UV light affects wood the most. Wood is photosensitive – simply meaning that it reacts to sunlight, kind of like our own skin! Although you've probably noticed faded floors at one time or another, not all types of wood become lighter due to sunlight. 
Some woods, such as Brazilian Cherry wood, actually turn darker when overexposed to sunlight. Either way, whether your floors turn darker or lighter, you will want to prevent that change from happening!
Along with damage caused by UV light, infrared light from the sun can interact with your finish, and cause your floors to turn a yellow colour or darken them even more. 
This in why, in older homes, you will often see orange/yellow coloured hardwood – not because it was such a popular colour 50 years ago, but because of the sun! You may also notice that certain rooms, such as those with a Southern or Western exposure, are hit the hardest.
Although hardwood floors are typically more prone to damage from the sun, other types of flooring can be impacted by harmful UV rays as well. For example, many types of vinyl flooring come with a UV protection coating – but even then, they can fade over time due to overexposure to sunlight.
Laminate floors are generally quite resistant to the sun – but years of overexposure can cause discolouration and fading as well. With most types of flooring, you will have to some at least some precautions to keep them in the best shape possible – but there are some exceptions.
When it comes to ceramic, you really don't have to worry at all! According to Home Fix, "Ceramic tiles that are constantly exposed to sunlight will not lose their color or begin to fade." 
So, out of the most common types of flooring available today, it is really your wooden floors that need the most protection from the sun. 
Tips To Prevent Floor Sun Damage
Now that you know why sun damage occurs, you may want to know how to stop it! These three tips can help significantly delay and help prevent the damage that sun can cause on your floors. These tips will help your floors last longer and look better for years to come – which means you won't have to go through costly and time-consuming repairs or replacements down the road.  
1. Consider Your Window Treatments
Did you know that window treatments can act as a great insulator against the sun? This will not only help you save on your energy bills during the summertime, but it will also help protect your floors!
Investing in high-quality window treatments with sun-blocking abilities can ensure your floors stay in great shape for much longer. You don't have to keep your blinds closed all the time, but strategically close your blinds, curtains, drapes, or shutters when the sunlight is hitting your floors the hardest. 
Window treatments can help protect your floors
If you are looking for a convenient way to ensure your floors stay protected at all times – you may want to consider motorized or automated window treatments! With automated window treatments, you can set your window treatments to open or close on a timer – meaning you won't have to be there to ensure your window treatments block the sunlight! 
2. Move Your Rugs/Furniture
Leaving furniture, and especially large rugs, in the same spot for months or years on end can cause significant sun damage on only parts of your floors. This can leave you with very obvious lines separating the sun-damaged wood from the wood that was covered and protected.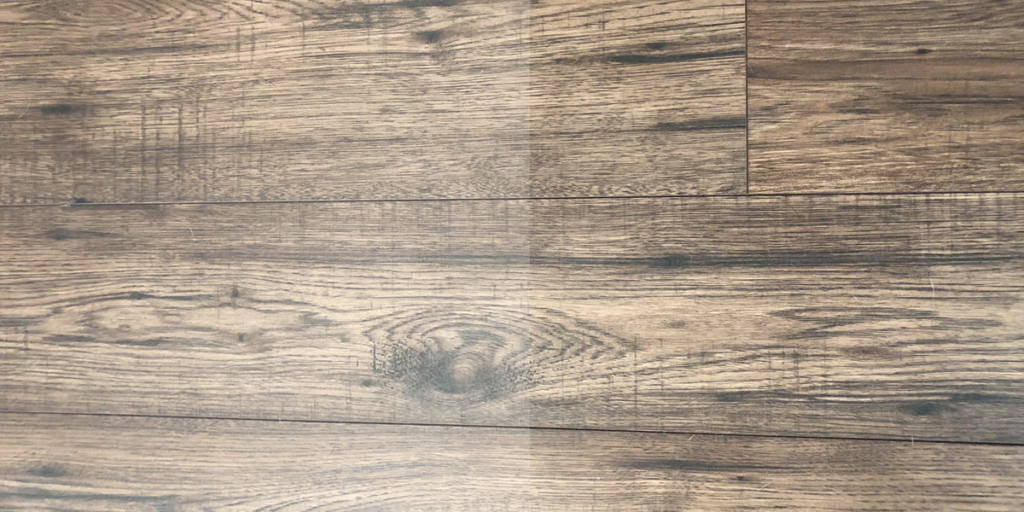 A rug left in one spot for too long can cause a noticeable difference in wood colour
It may not be your favourite thing to do, but it's a good idea to rearrange your furniture every now and then to ensure every part of your floor is getting a similar amount of sunlight exposure and protection from your furniture. Although it won't necessarily stop sun damage from occurring, it will stop your floors from looking like the picture above!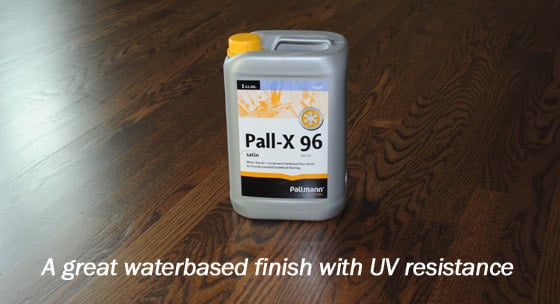 UV inhibitor finishes are another way to ensure your floors last longer and are protected well against the sun. If you are refinishing your floors, you can choose a finisher with UV inhibitors in it. 
Although UV inhibitors are a great way to slow the process, that is what they do – slow the process. Unfortunately, they won't stop the process entirely. 
Over time, you will still start to notice the affects of sunlight. Still, a UV inhibiting finish will help your floors last longer, and used with the tips above, could mean you won't have to worry about refinishing your floors any time soon. 
Check out this great video from California-based flooring company Urban Floor, that goes over some of the tips we've talked about above! You'll see just how easy it is to keep your floors safer.
Learn how to better protect your floors from sun damage
It's important to remember that although all of these tips shown above will help slow down the aging process of your floors, sun damage will eventually occur, you will need to refinish them at some point if you want them to look as good as possible! Click here to learn how to refinish your hardwood floors. 
Keep Your Floors Looking Great With High-Quality Window Treatments!
Installing high-quality window treatments and putting them to use is one of the best ways to keep your hardwood floors, laminate floors, and even vinyl floors protected against sun damage. 
At Graham's & Son Interiors, we have over 40 years of experience helping homeowners get the window treatments they have always dreamed of. We can help you choose the right window treatments for your unique home, your needs, and your budget! 
We also offer flooring services, so if you are ready to put new hardwood into your home, we can help you select the right floors for you and expertly install them into your home. Contact us now to learn more about how we can help!
We Are Hiring - Join Our Team!

Graham's & Son is looking for a full-time Window Treatment Installer and an Interior Decorator, and we would love for you to join our team! We operate out of Cambridge and are looking for someone who knows the Tri-Cities area well. Training will be provided – some experience required. If you think this may be the perfect job for you, see job requirements and overview by clicking here to learn more about the installer position, or here to learn more about the decorator position.
"Merv and I just wanted to thank Wayne for his advice and expertise. We are so glad that we decided to go ahead and put the California Shutters on both levels. What an amazing difference and feel to our new home. The installer did a fantastic job, very professional and informative. What a great decision to choose Graham's & Son Interiors!"​