Tired Of Having The Same Old Shutters?
California shutters can make a bold and beautiful design statement for your window treatments. Sometimes generic blinds and curtains don't quite give you the aesthetic or the privacy you desire. They may also lack the durability that your home needs. If you need a more robust option, consider installing Plantation or  California shutters in your Cambridge or Kitchener area home. Windows with unique shapes such as arches or larger sized windows can also look amazing when they are adorned with high quality, custom shutters. They have thick slats and a sturdy construction that gives them all the durability and design features you require. Contact us if you are considering updating your current window treatments.
California Shutters – 2 1/2″ Louvres
The louvres are the horizontal slats that make up the shutters. The term "California" simply refers to a shutter that has 2 1/2″ louvres. The smaller louvre size of California shutters makes them a great option for smaller windows such as those found in bathrooms, smaller bedrooms, and basements.
Plantation Shutters – 3 1/2″ & 4 1/2″ Louvres
Plantation shutters usually have 3 1/2″ louvres, however, if you prefer, they can also be ordered in a 4 1/2″ size as well. Plantation shutters look amazing on larger, nearly wall height windows and doors. The larger louvres are wonderful for optimal unobstructed views. They work well on large windows and doors.
Specialty Shapes and Arches
If you have a uniquely shaped window, don't worry. We can custom design window treatments that will beautifully enhance any shape and make it a gorgeous focal point in your room. We also offer larger sized louvres of 6 1/2″, 8″ and 10″ sizes. The larger louvre sizes are perfect for large residential, commercial, and design build projects. They can be applied to window and door spans up to 12′ wide and 24′ high.
Types of Materials
You can choose to have your new shutters crafted from either rich, classic wood or beautiful and easy to maintain vinyl.
Wood
Graham's & Son offers you a wide range of wooden shutters.  Our wooden options are:
Energy efficient: Give your home higher energy efficiency by using our shutters to restrict heat gain and loss through windows.
Environmentally friendly: Our shutters are EnviroGreen and meet regulations regarding formaldehyde and VOC emissions.
Strong: Our wooden shutters are made from superior hardwoods for extra durability and structural integrity
Superior Quality Finish: They are custom made with state-of-the-art technology to give them a long-lasting and lustrous finish.
Vinyl
There are many great benefits to choosing to install vinyl shutters on your windows. They are:
Energy efficient: You can prevent as much as 50% of your home's heating and cooling energy from escaping through your windows by installing and closing your shutters
Help protect against harmful UV rays: When your louvers are fully closed, you can enjoy 99% protection from damaging UV rays
Environmentally friendly: They are EnviroGreen and meet regulations regarding formaldehyde and VOC emissions. They are also 100% recyclable
Long Lasting & Durable: Our custom vinyl options are made of a strong PolySilk compound which resists peeling, cracking, and fading. They are also water resistant.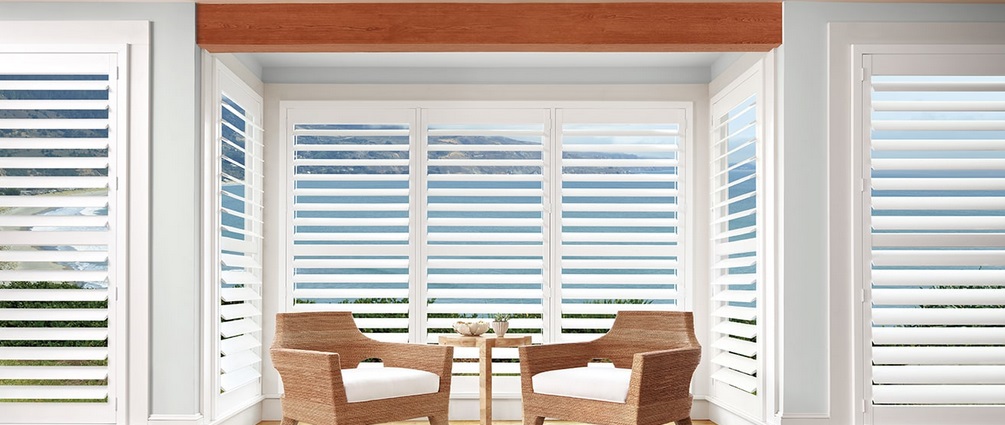 We offer wood and vinyl shutters in all styles and a wide range of beautiful designer colours to complement any decor. Each style offers the following advantages:
High quality: You can expect our shutters to last for years to come
Sound insulation: Your home will have a quieter and more relaxing atmosphere thanks to our window treatments
Privacy: Shutters offer more privacy than other options because they block the light. This characteristic also allows our shutters to better control light around your home
Cost effectiveness: We understand that you don't want to pay a fortune to beautify your home, so we'll do our best to accommodate you
Limited Lifetime Warranty: Our shutters also come with a limited lifetime warranty
Safety: Our shutters have no cords which could be harmful to children and their standard 3 leaf hinge is recommended for child and pet safety.
"Let me start by saying, I love my window treatments!  Mr. Graham was very professional, easy to talk to; he talked with me, not above me, I was at complete ease.  He listened to my thoughts, went through my options, and just like that – decision made.  The installation crew was quite professional, friendly and efficient.  They were in and out in no time, with cleaning up after themselves, and ensuring that I was satisfied with what was done.  I would highly recommend Graham's and Son Interiors to anyone, and I look forward to working with them again!"
Anne Allen
Why Purchase from Graham's & Son?
Since 1975, Graham's and Son Interiors has provided the Kitchener and Cambridge areas with high-quality window treatments, flooring options, and bathroom and kitchen renovations. We've made it our goal to provide you with interior solutions that look refined and tasteful, but offer practicality as well. Use our custom designed shutters to turn your windows into works of art. Their stunning beauty will enhance any home's design.
At Graham's & Son we offer free at-home consultations and estimates for your convenience. We want to ensure you receive the precise product and installation you desire. Contact us to book your appointment or call us at call (519) 658-9025 today.

Click below for additional Window Treatment and Shutters Resources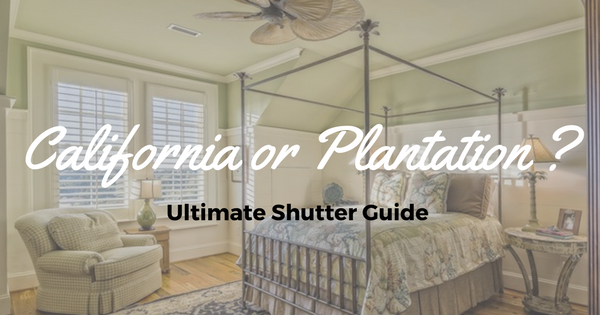 Window Shutters in Cambridge – Highly Durable, Great Price
Wooden Shutters – Buy 2 and Get One Free
Wooden Shutters – 7 Impressive Interior Design Ideas