What are the best window shades trends for 2019? Read on to find out what's hot this year in window treatments. Contact Graham's & Son today to order the latest in shades. Graham's & Son specializes in custom design and professional installation so that your windows will look amazing! They also clean, repair, and do alterations on any type of window treatment to keep yours looking as beautiful as the day they were installed. Schedule your free in-home consultation today.

Window Shades Trends 2019
This year technical meets natural in some of the hottest window shades trends. If your windows need a complete upgrade, find out what the most stylish windows will be wearing this season.
Trend #1: Automating Your Shades So You Can Control Them With a Touch of Your Finger or by Your Voice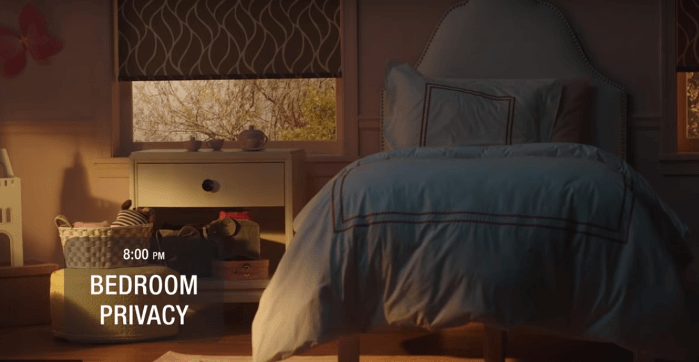 Set your shades to automatically adjust for nighttime privacy – Image Source: Hunter Douglas
As life gets busier, you'll see more and more home trends that free up precious time; this is certainly the case for window shades. Constantly adjusting your shades to take full advantage of natural daylight can become tedious, as well as an extra chore that you don't need to do if you automate your window treatments! In 2019 you'll see more people switching to motorized shades.
Save Money: Motorization can also save you money on energy bills as it allows you to program your shades to close as soon as your room reaches a certain temperature.
Safer for Children and Pets: Automated shades means that there are no cords that could pose a possible safety hazard for your children, grandchildren or pets.
Precise Lighting Settings: With automation systems such as PowerView from Hunter Douglas, you can set your window treatments to adjust themselves automatically to the exact position you desire, giving your room perfect lighting and privacy throughout the day.
Choice of Controllers: With PowerView you have a choice of controlling your shades with your mobile devices, a controller, or by voice command, whichever you prefer.
PowerView motorization works with most home automation systems
Compatible with Many Different Automation Systems: Don't worry if you already have an automation system installed in your home. PowerView will work seamlessly with most sophisticated whole-home automation systems including:
For a complete list of all the compatible systems and to download the appropriate driver to work with your shades, click here.
Trend #2: Natural, Renewable Materials Will Continue to Be a Popular Choice for Shades in 2019

Shades made from bamboo, reeds, grass, and jute are popular and environmentally friendly – Image Source: Graber
Nature is back on top this year with shades made from renewable materials like bamboo, reeds, grass, and jute. These distinctive and rustic fibres are not only a great choice for the environment, but their tightly woven textures will also create an aesthetic feeling that is earthy and relaxing.
Natural fibre shades have a pleasant asymmetric pattern that is pleasing in any decor – Image Source: Graber
Shades made from natural materials:
will provide you with a high level of natural shade
have an asymmetric patterning that has a pleasant natural appeal
can increase the privacy and light control of your room when you pair them with a room darkening liner
have a stylish edge banding that will protect your shades from stretching or fraying
come with a cordless option for greater safety for your children and pets
Trend #3: You'll See Banded Shades on the Trendiest Windows of 2019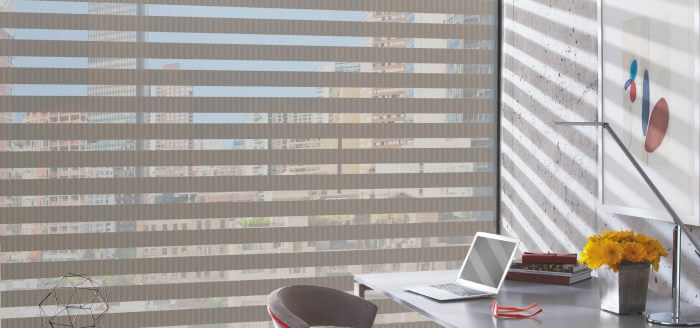 Banded shades beautifully combine solid and sheer bands in one single shade – Image Source: Hunter Douglas
Never heard of banded shades? They are the hottest new innovation in window treatments since the introduction of cellular shades. Banded shades cleverly combine alternating sheer and solid bands in a single shade. They come in a wide variety of bold fabric colours to match any room. You can also choose from three different band heights and two different geometric styles.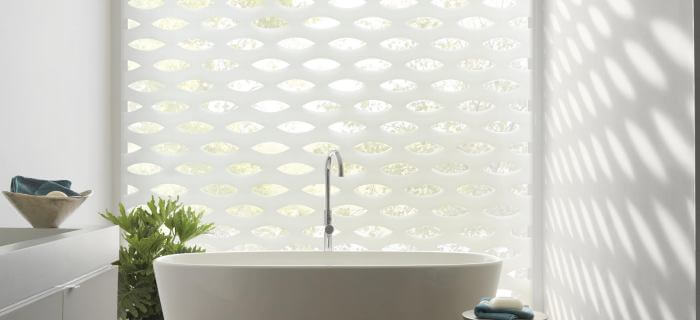 Choose from either straight bands or an elegant elliptical pattern -Image Source: Hunter Douglas
With designer banded shades you can:
shift the solid bands to overlap to give you maximum privacy
align the solid bands to get natural, diffused lights
create a precise level of sun and privacy
completely raise or lower the bands with your choice of operating systems
Trend #4: Shades Will Make a Statement With Bold Colours and Textures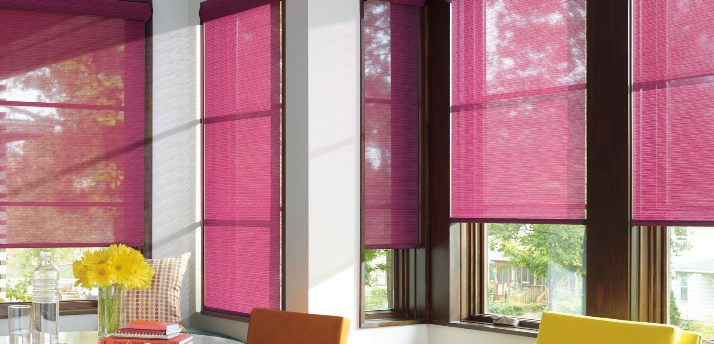 Don't be afraid of a splash of colour in 2019 – Image Source: Hunter Douglas
This year's shades aren't afraid to stand out from the crowd and they will do just that with either bold colours or distinctive patterns from opaque to sheer, teal to fuschia. Window treatments will be bold and not afraid to make their own design statement.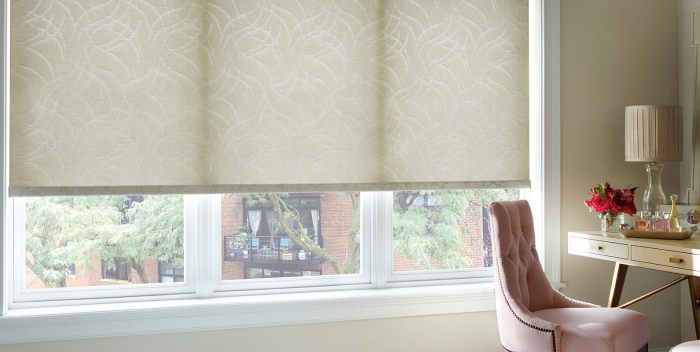 Distinctive patterns will set your shades apart from the ordinary this year -Image Source: Hunter Douglas
Shades this season will offer you:
a wide range of colours and fabrics to choose from
a clean appearance combined with premium style
the ability to stand alone or be layered under drapery panels
individual panels that can work perfectly in harder to fit bay, bow, or corner windows
What 's the Difference Between a Blind and a Shade?
Sometimes the terms blinds and shades are used interchangeably, however, there is a difference. Both blinds and shades lift up and down with either a cord or some other form of mechanism, however, blinds are made up of individual slats that can tilt to let in or block the light. Shades, on the other hand, are made of one solid piece of soft fabric.
Graham's & Son – Window Shades Trends 2019
Looking to replace your old window treatments with the latest window shades trends of 2019? Graham's & Son can not only offer you expert advice on all of the latest trends in window fashion, but they can also help you select the perfect styles and colours that will best suit your rooms and budget.
If you are looking for the most energy efficient and beautiful window treatments possible, contact Graham's & Son today. Graham's & Son knows window coverings; we have been in the window treatment business for over 40 years. Our expertise and professionalism are second to none. In addition, right now we are offering an amazing deal on all our blinds, shutters, and shades – when you purchase any two, you will get a third absolutely free.
If your drapes need a good cleaning and you don't have the time or are afraid of taking on the job, Graham's & Son also offers professional drapery cleaning at reasonable rates.
"Wonderful people to deal with, and my house looks amazing!! Both Wayne and Matt were fantastic. Consultation and measurements were all done in my home everything arrived as promised and looks perfect. These days customer service means everything and these guys knocked it out of the park. Thank you Grahams I will be back!"
– Brandon Wilson

Read more customer testimonials
Window Treatment Installer – Join Our Team!
Graham's & Son is looking for a full-time Window Treatment Installer, and we would love for you to join our team! We operate out of Cambridge and are looking for someone who knows the Tri-Cities area well. Training will be provided – some experience required. If you think this may be the perfect job for you, see job requirements and overview by clicking here.
At Graham's and Son our customers have been so pleased with the high standard of our work that they selected us for the "Best Business Service – Interior Decorating: Platinum" and "Best Shopping – Kitchen Renovations: Gold" awards in the 2017 Cambridge Times Readers' Choice Competition. Book a free in-home consultation today and find out for yourself why Graham's is the best in the interior design business. Contact us today to schedule. If you prefer, you can shop at home. Browse through our website, make your choice, and simply give us a call at 519-658-9025 to place your order without ever having to leave the comfort of your own living room.