Get your home feeling festive with these five holiday decorating ideas! These ideas include unique ways to set up garland, quick and cost-effective ideas for your kitchen table, and more. These ideas are sure to give you inspiration for getting your home ready for the holidays! If you are looking for other ways to improve your home all year round, contact the home decorating experts at Graham's & Son now!
We offer FREE in-home consultations!

5 Holiday Decorating Ideas For Your Home
1. Garland Around Your Door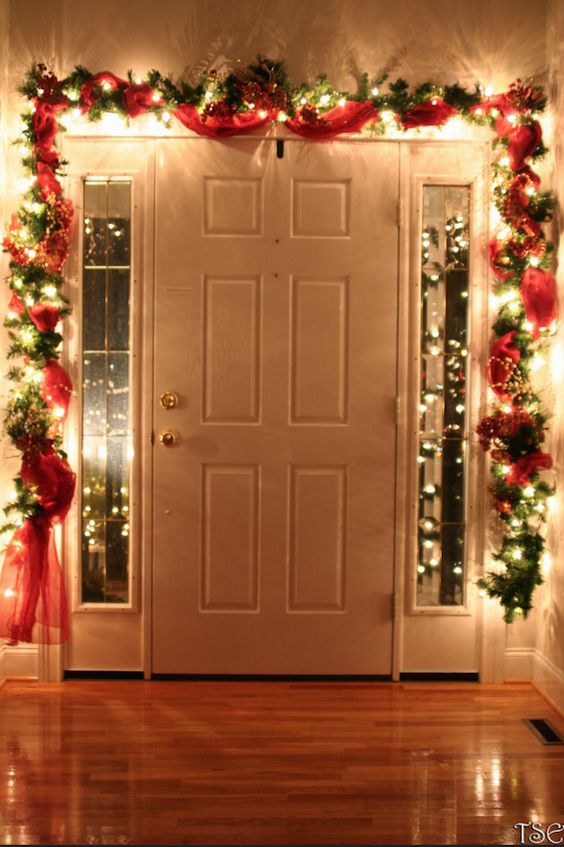 A creative way to decorate with garland
Image source: smartschoolhouse.com
Garland has been used for holiday decorating for decades. However, it's usually used on fireplace mantles and along staircase railings. This decorating idea is a new take on an old idea! Garland doesn't have to be for the 'traditional' places in the home! Try lighting up your doorway this holiday season with garland wrapped in red ribbon and lights. You can add your own personal touches with different types of ribbon, multi-coloured lights, or other additions of your choosing. This idea can be used in any doorway in your home, but will look great in your front entrance or any other large entranceway (e.g. a large hallway opening into your kitchen).
2. Simple Kitchen Table Decor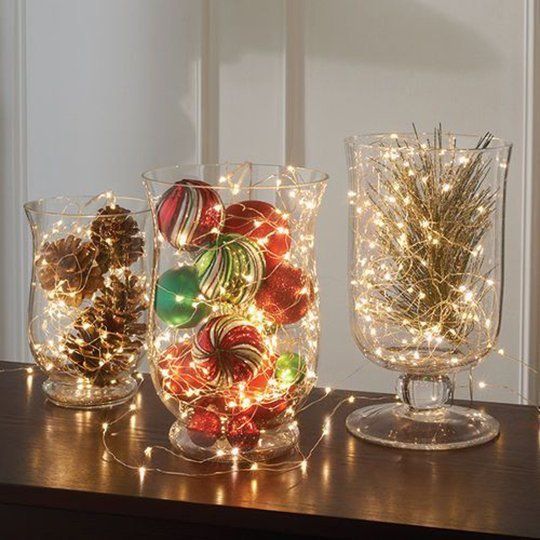 Simple lights and decor in vases make for a beautiful centrepiece
Image source: apartmenttherapy.com
If you need a quick, last-minute decorating idea, these simple jars and vases make a beautiful addition to your kitchen or dining room table. You can use clear vases that you already own, and simply fill them with round ornaments, pine cones, and whatever other small holiday-themed items you have around your home! If you don't already have the items required for this idea – not to worry. You can easily find everything you need at your local dollar store, discount store, or thrift store.
3. Plaid Curtains and Beautiful Wreaths
Decorate your windows with wreathes and holiday-themed curtains
Image source: bhg.com
One of the best ways to get your home feeling warm and festive is by decorating your windows. That way, not only the inside of your home feels ready for the holidays – but so does the outside, as any passerby can see your festive decor! This simple holiday look is achieved by pairing buffalo plaid curtains with simple pine wreaths. After the holidays are over, you can even keep the plaid curtains out – these aren't uniquely for the holiday season! However, if you feel they are a bit too reminiscent of that festive feel, you can put them away with your other decor and take them out during December only.
4. Total Bathroom Holiday Makeover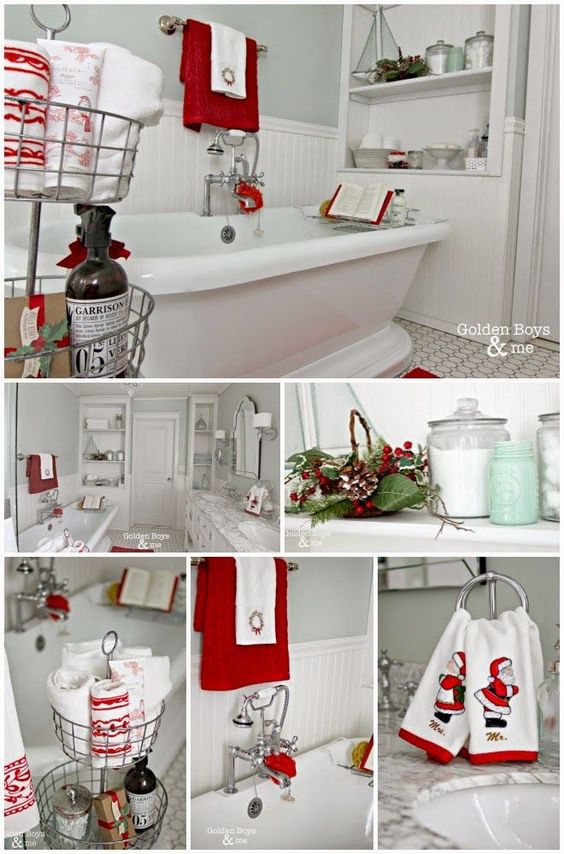 The bathroom is the perfect space to go all-out
Image source: goldenboysandme.com
If you love the idea of transforming an entire room in your house into an ultra-festive zone, the bathroom is actually the easiest place to do it. Your kitchen or living room is likely a lot bigger than your bathrooms. This means there is much more space to cover! However, bathrooms are a small space and typically have lots of wall room as well as ledges (such as shelves and counter space). This is perfect for setting up holiday decor. The pictures above from the Golden Boys & Me blog shows how much you can do in a small space – and how easily you can give your bathroom a full 'holiday makeover!'
5. Festive Pillows
You can buy festive pillows – or easily make your own
Image source: thecraftpatch.com
A great way to get your living or family room feeling more festive is by adding decorative holiday pillows to your couches or chairs. You can find holiday themed pillows at pretty much any home decor store during the holiday season. Or, if you are feeling crafty and are looking for a fun project, you can even make your own from old sweaters or simple craft supplies. The pillows in the image above are homemade pillows! These also make a great homemade gift! Want to make your own? You can check out this guide from The Craft Patch!
GRAHAM'S & SON – YOUR DECORATING PROFESSIONALS
Decorating your house is just one way to make it feel like a home. Working with decorating professionals can help your house feel like your dream home all year round. Graham's & Son can not only offer you expert advice on all of the latest trends in window fashion, but they can also help you select the perfect styles and colours for your window treatments, upholstery, and more to help get them ready for the holidays and the rest of the year.
If you are looking for the most energy efficient and beautiful window treatments possible, contact Graham's & Son today. Graham's & Son knows window coverings; we have been in the window treatment business for over 40 years. Our expertise and professionalism are second to none. In addition, right now we are offering an amazing deal on all our blinds, shutters, and shades – when you purchase any two, you will get a third absolutely free.
Our customers have been so pleased with the high standard of our work that they selected us for the "Best Business Service – Interior Decorating: Platinum" and "Best Shopping – Kitchen Renovations: Gold" awards in the 2017 Cambridge Times Readers' Choice Competition. Book a free in-home consultation today and find out for yourself why Graham's is the best in the interior design business. Contact us today to schedule. If you prefer, you can shop at home. Browse through our website, make your choice, and simply give us a call at 519-658-9025 to place your order without ever having to leave the comfort of your own living room.
"Let me start by saying, I love my window treatments! Mr. Graham was very professional, easy to talk to; he talked with me, not above me, I was at complete ease. He listened to my thoughts, went through my options, and just like that – decision made. The installation crew was quite professional, friendly and efficient. They were in and out in no time, with cleaning up after themselves, and ensuring that I was satisfied with what was done. I would highly recommend Graham's and Son Interiors to anyone, and I look forward to working with them again!"

Anne Allen
Read more customer testimonials