Hardwood Flooring Trends 2019: The new year is here and with it comes the latest in hardwood flooring trends. You'll find exotic colours, textures and materials in this year's hottest flooring lineup. Wanting to bring these trends to life in your own home? Contact Graham's & Son today for a free in-home consultation.

1. Distressed Wood Floors Will Give That Rustic/Antique Look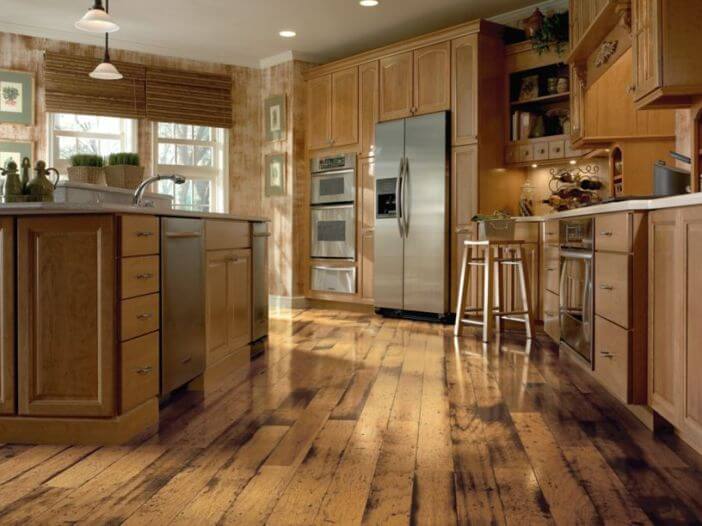 The rustic farmhouse look is definitely in fashion for 2019. You can achieve that rustic look with distressed or antiqued floors. The realistic textures and wide-width boards of this natural hickory hardwood flooring from Bruce is beautifully finished with Permion urethane and a medium gloss for just the right amount of shine. Not only will you find this rustic look in the trending kitchens of 2019, but also throughout the home.
2. Flooring Made From Sustainable Materials Will Be Prevalent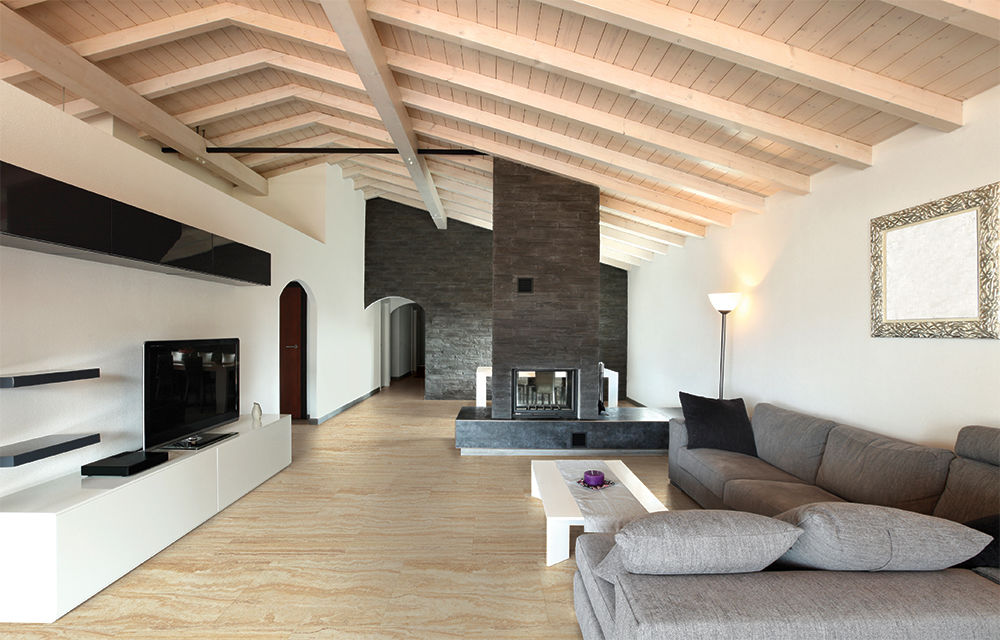 Cork can be harvested without cutting down any trees – Image Source: Green Building Supply
You'll be seeing more and more sustainable materials in 2019, especially in flooring trends. One of the more popular sustainable woods being used is cork which is taken from the bark of the cork oak tree which grows along the border of the Mediterranean Sea. This non-toxic bark actually regenerates itself after it is harvested. Harvesters use a special tool designed to carefully remove the outer bark without disturbing the inner layers. When a tree is 20 years old the bark can be harvested and then again from the same tree once every 9 years. This process can be repeated up to 15 times without any damage to the tree and without having to cut down the tree.
3. Using Reclaimed Architectural Wood For Your Flooring Will Be Popular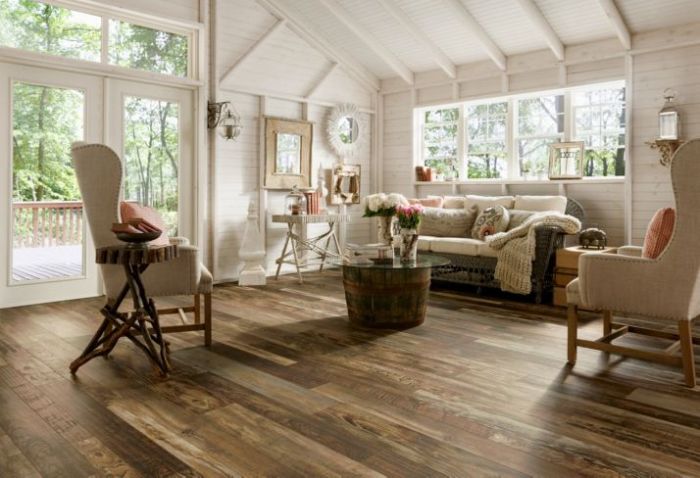 Bring the character of the 19th century in to your homes with flooring made from reclaimed architectural wood – Image Source: Bruce Flooring
Using wood for your flooring that was salvaged from early 19th century structures such as old barns, cabins, and bridges is also trending in 2019. The older wood planks have developed so much character over time, and you can bring that old-world charm into your own home. It is also a great way to be environmentally friendly as it is using wood that would otherwise have been discarded. If you find the price tag too much for your budget, there are some dramatic new styles of laminate that mimic the look of reclaimed wood at a lower cost.
4. Textures From Smooth To Hand-Scraped Will Be Hot In 2019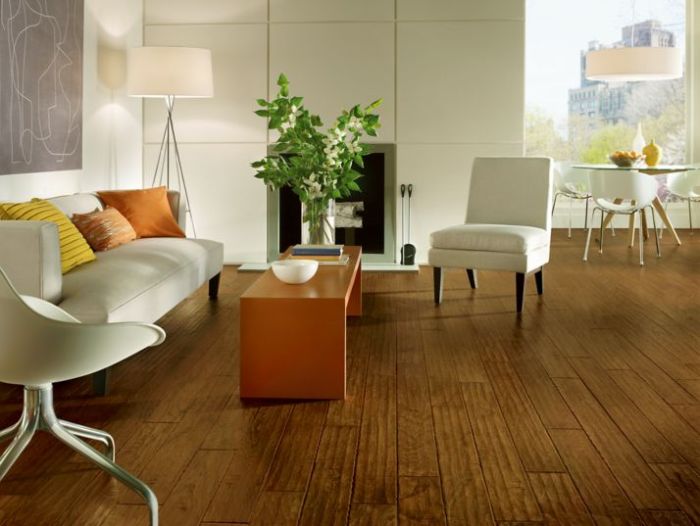 Hand-scraping gives your flooring the appearance of age – Image Source: Bruce Flooring
Believe it or not, textures can plan a big part in the overall look of your hardwood flooring. There is a huge difference between the look of a completely smooth hardwood flooring to one that has been hand-scraped. Hand-scraping is a technique where your flooring is made to look older, worn, and distressed. Before the days of machinery, hand-scraping was done on flooring to try and make it look smoother and more uniform. The scraping process is designed to make your floorboards seem worn and less perfect than the finish today's machinery provides.
Hand-scraping makes your floors appear older – see how it is done
5. There Will Be a Wide Range of Natural Colours to Choose From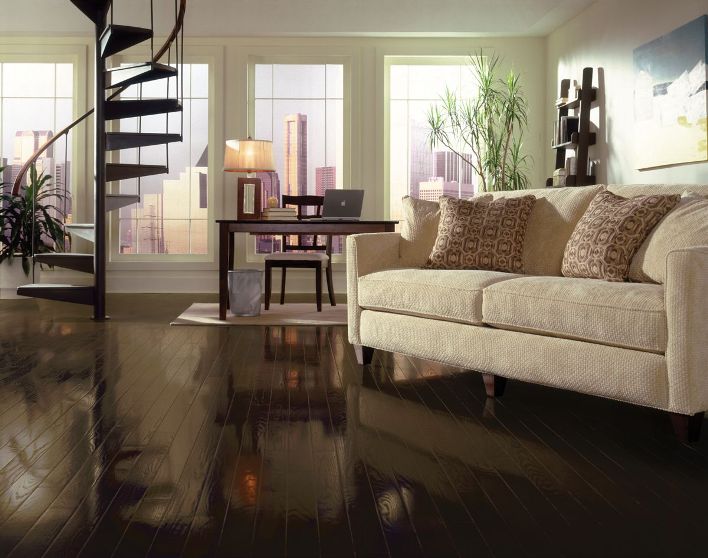 Nature will bring inspiration to hardwood this season – Image Source: Bruce Flooring
Natural colours are in this season. The tones and hues that you will find in hardwood flooring for 2019 will reflect the vivid hues that you see in nature. These natural tones will bring the outdoors inside and will be the perfect backdrop for your designing inspiration. Just take a look at the deep, rich, natural beauty of this Red Oak Espresso from Bruce Flooring.
6. Combining Different Colours Into One Cohesive Hardwood Is Trending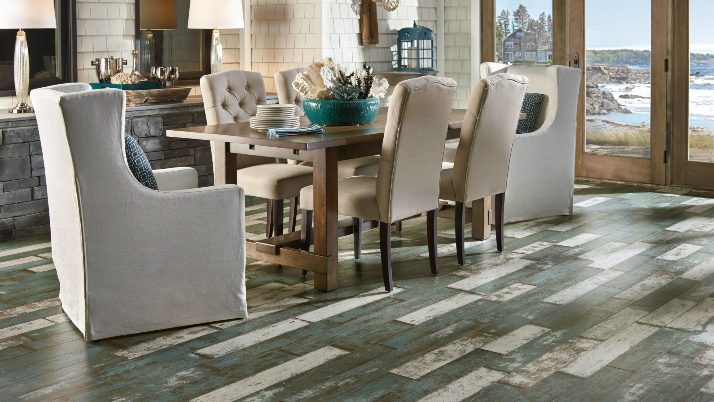 For those of you who would like to try something a little more daring this year, the trend is to mix your wood colours to make one cohesive and amazing flooring statement. The greater the contrast, the bolder the effect. We love the above choice from Armstrong Flooring of combining almost white-washed, bleached planks with darker, distressed ones. The finished look is stunning and will be sure to get you tons of compliments from your friends and family!
7. You Will See Larger Plank Wood Floors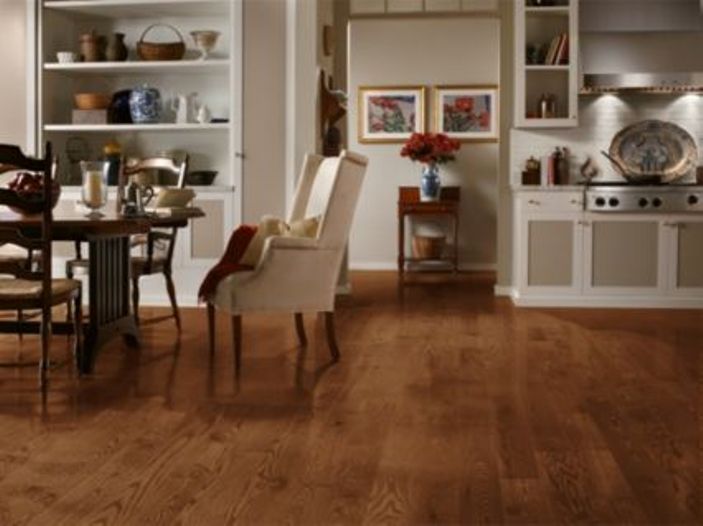 Wide planks give an ultra-stylish feel – Image Source: Bruce Flooring
The wider the better will be a big flooring trend in 2019. In addition to colour and texture, board width also affects how a floor will look. You'll find that wide width planks in an exotic or domestic wood species with a distinctive grain pattern will be extremely popular this season. Wide widths tend to give a more high-end and ultra-stylish feeling.
Graham's & Son – For the Latest in Hardwood Flooring Trends 2019
Looking to replace your current flooring with gorgeous hardwood? Graham's & Son can not only offer you expert advice on all of the latest trends in flooring fashion, but they can also help you select the perfect styles and colours that will best suit your rooms and budget.
If you are looking to update your current window treatments as well, contact Graham's & Son today for the most energy efficient and beautiful window treatments possible. Graham's & Son knows window coverings; we have been in the window treatment business for over 40 years. Our expertise and professionalism are second to none. In addition, right now we are offering an amazing deal on all our blinds, shutters, and shades – when you purchase any two, you will get a third absolutely free.
"Absolutely wonderful service from a great family business. They provided quality products at very affordable price. Definitely recommend using Grahams & Son"
– John O'Leary

Read more customer testimonials
Window Treatment Installer – Join Our Team!
Graham's & Son is looking for a full-time Window Treatment Installer, and we would love for you to join our team! We operate out of Cambridge and are looking for someone who knows the Tri-Cities area well. Training will be provided – some experience required. If you think this may be the perfect job for you, see job requirements and overview by clicking here.
At Graham's and Son our customers have been so pleased with the high standard of our work that they selected us for the "Best Business Service – Interior Decorating: Platinum" and "Best Shopping – Kitchen Renovations: Gold" awards in the 2017 Cambridge Times Readers' Choice Competition. Book a free in-home consultation today and find out for yourself why Graham's is the best in the interior design business. Contact us today to schedule. If you prefer, you can shop at home. Browse through our website, make your choice, and simply give us a call at 519-658-9025 to place your order without ever having to leave the comfort of your own living room.