Your drapery can be an impressive feature of your rooms. Learn how to properly clean drapes to keep them looking their best longer.
Not all drapes require professional cleaning. Save time and money with the following handy tips to clean drapes. If you don't have the time or are afraid of taking on the big job of cleaning drapes, Graham's & Son offers professional drapery cleaning at reasonable rates. If your drapes are past simple cleaning and it's time for a whole new look for your windows, contact the window treatment professionals at Graham's & Son. We'll bring beautiful samples right to your home for you to see how amazing they can look. Book a free in-home consultation today!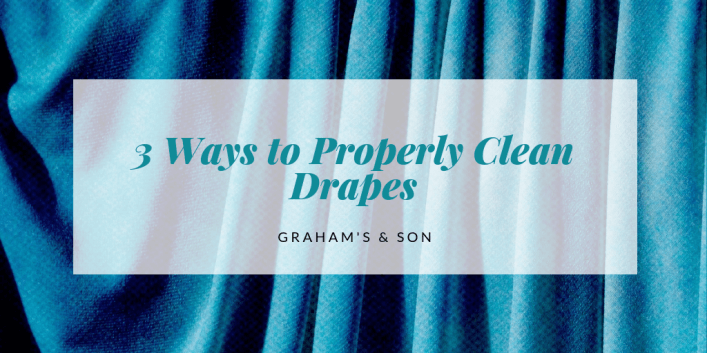 1. How to Clean Drapes with Regular Light Cleaning and Maintenance
Regular cleaning of your drapes will help to keep them looking their best and will mean that you will not have to do a deep cleaning as often, which is a very good thing! Taking down your drapes and cleaning them requires a lot of time and effort, so prolonging the time between each deep cleaning just makes sense.
Shake Your Drapes Daily:
To help to remove the dust that has accumulated on your drapes during the day, it is a good idea to give them a gentle shake each day. This can be easily done every morning when you open up your drapes or in the evening when you are closing them. Once you make this a habit, it won't even seem like much of a chore and it will mean a longer time before you need to deep clean them.
Vacuum Your Drapes Each Week:
Vacuuming your drapes once a week will also help extend the time between deep cleanings. You can simply add this task as part of your weekly vacuuming routine. To properly vacuum your drapes, take the following steps:
Use the soft brush attachment on your vacuum cleaner.
Set your vacuum to a low suction setting or, if it doesn't have this option, place a knee-high nylon stocking over the nozzle to make the suction more gentle for your fabric.
Use a gentle sweeping motion and move the brush up and down, over the surface of the fabric. Be careful not to pause too long over one section as the material may be pulled into the hose and get damaged.
*Tip: A hand-held vacuum like a DustBuster also works well for cleaning drapes.
Use a soft brush attachment when vacuuming your drapes
Spray Your Drapes with a Static Guard:
Spraying your drapes with a static reducing product like Static Guard will help to keep them cleaner longer as well. This type of product repels dust so that it doesn't collect and build up on your drapes.
Wipe Your Drapes with a Damp Cloth Between Deep Cleanings:
Using a damp cloth (not wet), give your drapes a wipe to remove any excess dust that doesn't come off from shaking. You can do this once a week or every other week in between deep cleanings. This is a good method to use on delicate materials such as sheers that don't stand up well to vacuuming.
Remove Spots and Smudges with a Kneaded Eraser:
You can try removing smudges or spots on you non-washable drapes using a kneaded eraser. It's best to do this as soon as you notice the spot so that the dirt doesn't have a chance to set in.
2. How to Clean Drapes with Periodic Deep Cleaning at Home
In addition to the daily and weekly cleaning suggestions above, it is a good idea to do periodic deep cleaning of your drapes as well. This should be done about every six months or sooner if your drapes seem to be especially dirty.
Before You Begin
Follow the Instructions on the Labels:
Before you begin any cleaning of your drapery, check the manufacturer's labels to make sure that it is safe for you to wash your drapes. These instructions will also give you the proper guidelines for cleaning such as whether or not they are safe to machine wash and if you can put them into the dryer. If your drapes are lined, make sure the lining is machine washable as well.

The manufacturer's label will help you decide whether or not to machine wash your drapes
If Labels Are Missing, Play It Safe:
If your drapes are missing their care labels, then it is advisable to have them professionally cleaned just in case. If your curtains are wool, cashmere, cotton, or made from very sheer materials, they are probably not machine washable.
Do Not Machine Wash Pleated or Damaged Drapes:
If your drapes have pleats or swags, you should probably have them professionally cleaned as the lining and seams may shrink or come apart during machine or even hand washing. If the material in your drapes has begun to thin, fade, or fray due to the constant exposure to the sun's UV rays, then it is best to gently hand wash them so as not to damage them further.
Pay Close Attention to Trims and Embellishments:
Check to see that the trims, braids and embellishments on your drapes are safe for machine washing. Even if the curtain fabric is machine washable, the trim may not be. Test it also for colourfastness before you begin by dipping a small section in cold water to see if the colour bleeds. If it does, then you should have them professionally cleaned.

To safely machine wash your drapes, set your machine to the gentle cycle and wash using cold water
How to Machine Wash Your Drapes
If the manufacturer's label on your drapes indicates that they are safe to machine wash, then you can do the following:
Before you begin washing, remove any excess dirt and debris by following the steps outlined above for vacuuming your drapes.
Take down your drapes from the rods being careful not to pull or tug too hard as this might damage the fabric or pull the rods out from your wall. It may be a good idea to have someone help you with this. Remove any pins or hooks that have been attached to the fabric to hang them.
Wash one panel at a time using a gentle detergent. Turn your machine to the gentlest cycle and set it for a cold water wash.
Take the panel out of the machine as soon as it is finished to help prevent wrinkling.
Hang your drapes up to dry. Place old towels underneath them to protect your floors from any excess dripping water. If your labels say that they are dryer safe, you could put them in a dryer on low or on the no heat setting, one panel at a time. If you have an outdoor clothesline, you could use that to hang up your drapes for drying. If you have two parallel lines for hanging clothes, drape them over the two so that two sides are not overlapping.
*Tip: The most common cause of damage to drapery is contact with heat. This is why hanging to dry or using the no heat setting on a dryer is preferable.
*Tip: If your panels are really large, you may want to take them to a laundromat that has oversized machines. This will also speed up the process as you can wash multiple panels at the same time.

If your drapes are too large for your machine at home, take them to a laundromat
How to Hand Wash Your Drapes
If the manufacturer's label on your drapes says to hand wash, do not try to machine wash them. Materials such as wool, cotton, or sheer fabrics like lace will usually require hand washing. To safely hand wash your drapes, do the following:
Fill up your sink or bathtub with enough cold water to completely submerge your drapes and add one teaspoon of liquid dish detergent or a gentle fabric soap such as Woolite.
Place one panel at a time in the water and let it soak for about 10 minutes.
Gently swirl the panel around to remove any dirt or debris.
Drain the water and refill the sink or tub with clean water. Swirl the material around to remove all soap residue.
If necessary, do an additional rinse to make sure that all of the detergent has been removed.
Gently squeeze out the excess water. Do not ring out the water as this may damage the material.
Hang your sheers back up to dry. Place some old towels on the floor underneath them to soak up the water that drips down.
Gently squeeze out the water when hand washing – never ring it out
3. Professional Cleaning
If the labels on your drapes indicate dry clean only, don't take any chances. You should not wash them yourself, but instead take them to a dry cleaner or better still to a place that specializes in cleaning drapery. Having your drapes professionally cleaned is the best choice, especially for custom made drapes. If you have invested a substantial amount in your window treatments, you want to make sure that they last as long as possible and continue to look as amazing as when you first bought them. Professional cleaning is worth the extra cost in the long run.

Professionally cleaning your custom-made drapes will prolong their beauty and lifespan
Graham's & Son Window Treatments – For the Highest Quality Drapes and Professional Cleaning Services
If your drapes need a good cleaning and you don't have the time or are afraid of taking on the job, Graham's & Son also offers professional drapery cleaning at reasonable rates. Looking to replace your old window treatments with high quality, modern ones? Graham's & Son can offer you expert advice on all of the latest trends in window fashion and they can also help you select the perfect styles and colours that will best suit your rooms and budget.
If you are looking for the most energy efficient and beautiful window treatments possible, contact Graham's & Son today. Graham's & Son knows window coverings; we have been in the window treatment business for over 40 years. Our expertise and professionalism are second to none. In addition, right now we are offering an amazing deal on all our blinds, shutters, and shades – when you purchase any two, you will get a third absolutely free.
"Let me start by saying, I love my window treatments! Mr. Graham was very professional, easy to talk to; he talked with me, not above me, I was at complete ease. He listened to my thoughts, went through my options, and just like that – decision made. The installation crew was quite professional, friendly and efficient. They were in and out in no time, with cleaning up after themselves, and ensuring that I was satisfied with what was done. I would highly recommend Graham's and Son Interiors to anyone, and I look forward to working with them again!"
– Anne Allen

Read more customer testimonials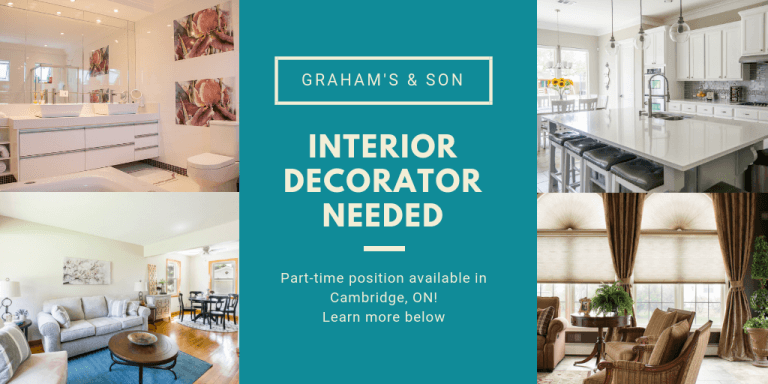 Interior Decorator Needed – Join Our Team!
Graham's & Son is looking for a highly creative person with imagination and artistic flair to join our winning team. The ideal candidate for this position will be someone willing to work a flexible schedule consisting of weekends, evenings, and day shifts. This is a part-time position in Cambridge, where a work week will consist of 5 to 40 hours, depending on how busy we are. If you have a passion for decorating and residential design, this could be a great stepping stone for you to be able to learn sales and interact with customers. We teach all our staff how to sell and equip them with the knowledge required to do so effectively. If you think this may be the perfect job for you, see the job requirements and overview by clicking here.
At Graham's and Son our customers have been so pleased with the high standard of our work that they selected us for the "Best Business Service – Interior Decorating: Platinum" and "Best Shopping – Kitchen Renovations: Gold" awards in the 2017 Cambridge Times Readers' Choice Competition. Book a free in-home consultation today and find out for yourself why Graham's is the best in the interior design business. Contact us today to schedule. If you prefer, you can shop at home. Browse through our website, make your choice, and simply give us a call at 519-658-9025 to place your order without ever having to leave the comfort of your own living room.