Learn how to protect flooring from your dog. Unlike a cat, a dog's nails are constantly exposed, so even if they don't mean to do any damage to your floors, just the simple act of walking across the floor can cause scratches. Your flooring is an investment, so you don't want to be replacing it prematurely. If you're needing to replace your flooring, talk to the interior design professionals at Graham's & Son. We will come to your home for a free consultation and help you choose the best pet-friendly flooring for your rooms.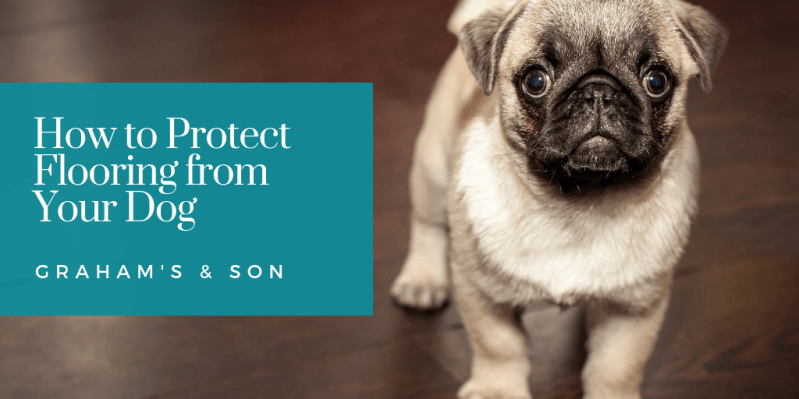 Why You Should Protect Flooring from Your Dog
Dogs and hardwood floors – and many other types of flooring for that matter – are not always the best of friends. It's important to protect your flooring from your dog doing damage to it as it can cost, on average, between $1,566 to $4,524 to replace it. The exact cost will vary depending on the type of flooring you choose and the size of your room. Vinyl and linoleum are the least expensive to replace with an average price of about $350 and hardwood is the most expensive with an average price well over $4,000.
How to Protect Flooring from Your Dog
We've put together some helpful tips for you so that you can keep your floors looking their best and enjoy having your pets in your home.
Apply Nail Caps on Your Dogs Nails to Protect Flooring From Your Dog
Nail caps are a great and relatively inexpensive invention that can help you protect your flooring from damage caused by your dog's nails. Nail caps are simply glued onto your pet's individual claws. The glue dries in a matter of seconds and the caps usually last for about 4 to 8 weeks. They work on both dogs and cats and they won't interfere with your pet's normal behaviour. They come in different sizes (and even different colours) to fit your dog perfectly. They cost less than $20 for 40 caps, so they are well worth it when you consider the cost of replacing your flooring.
Nail caps are an inexpensive way to protect your flooring from your pet's nails
Purchase Doggie Booties to Cover Your Dog's Claws
Many pet stores carry a range of doggie booties that will not only help protect your flooring but also your furniture. Some of these booties are made of soft flannel and others also have leather soles, perfect for protecting your dog's feet outside as well as your floors inside. Keep in mind that even though they won't interfere with your dog's ability to walk, they do take a bit of time to adjust to wearing them. Your dog will probably try walking sideways or lift their paws really high the first few times but will get used to them. You may also have to watch and train your dog not to gnaw at them in the early stages of adjustment.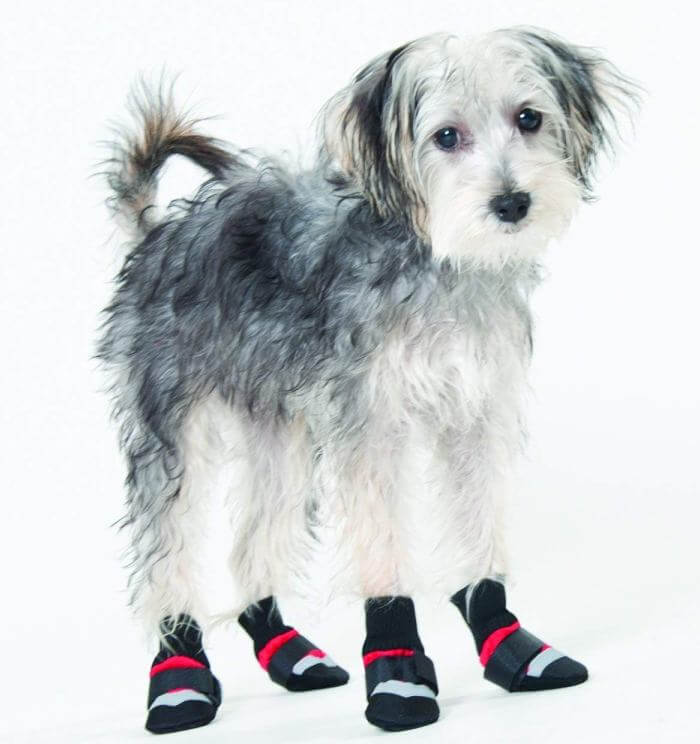 Doggie booties can help protect flooring from your dog inside and your dog's paws outside – Image source: Amazon.ca
Keep Your Dog's Nails Properly Groomed
If you would rather let your dog go "au naturel" and not cover his nails with anything, you can try keeping them well groomed so that they don't click when he walks across the floor. You should trim and file your dog's nails regularly, about once a week, to keep them short and smooth. You can do this yourself but you need to be careful that you don't cut them too short as this can be very painful for your dog. You can also take him to a professional groomer to have it done.
It's a good idea to trim your dog's nails about once a week
Place Mats and Runners in High Doggie Traffic Areas to Protect Flooring From Your Dog
Place mats at each of the entrances to your home. This will help to catch any of the dirt or debris that is brought inside by your dog or anyone else entering your home. Dirt particles that get tracked onto your floors, especially hardwood ones, can make scratches on the surface and make your flooring appear dull.
It is also a good idea to place runners in your hallways and other high traffic areas as well. These will not only help keep your floors protected but they can also be a great design feature as they come in a variety of beautiful patterns and colours. Mats and runners also allow you to do something more bold or trendy design-wise since they're so easy and relatively inexpensive to change.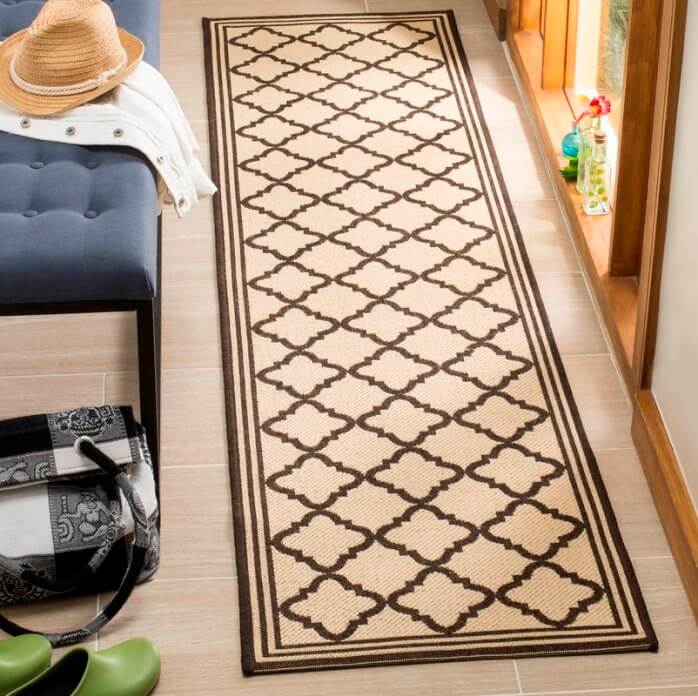 Runners and mats help protect your floors and they can be a great design feature – Image Source: Wayfair.ca
Clean Up Doggie Accidents Quickly
If you are a pet owner, you know that you are inevitably going to have accidents from time to time, especially when you first get your dog and you are doing "potty training." The best thing that you can do to protect your flooring when your dog has an accident is to clean it up as quickly as possible. Dog urine can cause permanent stains on linoleum and vinyl and can cause your hardwood and engineered hardwood to warp. Cleaning it up quickly will also help to keep the odour from permanently penetrating the surface of your flooring.
If you are struggling to get your dog house-trained, here's a helpful video that might make a difference.
Train Your Dog to Stay Out of Your Rooms With Hardwood Flooring
If you only have a few rooms with hardwood in them, such as your living and dining rooms, you may want to train your dog not to go into those rooms. If training him yourself isn't working for you, you could hire a professional dog trainer to do it. The cost of a trainer will work out much cheaper than replacing a ruined floor.
A pet gate may be another useful addition to make sure that your pooch stays out of those rooms when you are not around. You can get one that is really quite stylish as well, not at all like the old-fashioned plastic baby gates.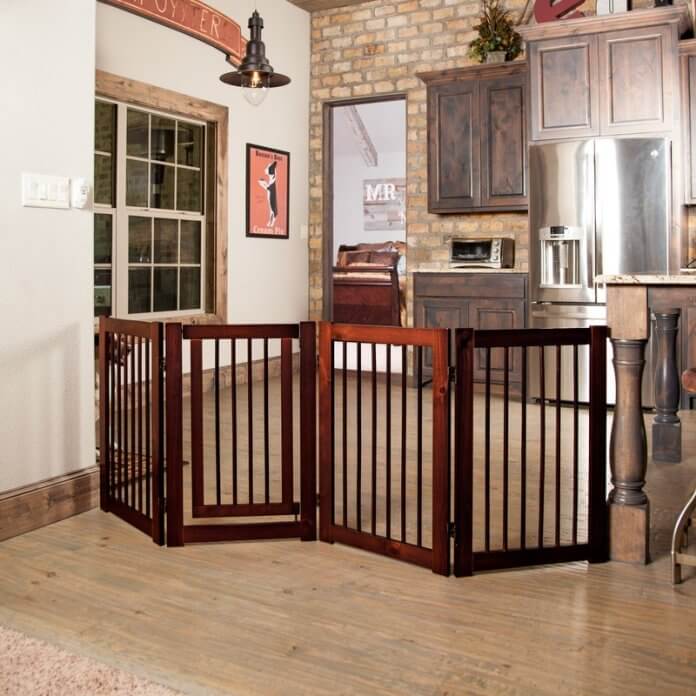 A pet gate can keep your dog from walking where you don't want him to – Image Source: Wayfair.ca
Further Reading
You may also be interested in our post "The Best Flooring For Home With Pets"
Graham's & Son – For the Latest Pet- and Budget-Friendly Flooring
Looking to replace your current flooring with something new? Graham's & Son can not only offer you expert advice on all of the latest trends in flooring fashion, but they can also help you select the perfect styles and colours that are pet- and budget-friendly.
At Graham's & Son, we also offer a wide variety of window treatments. If you are looking to update your current window treatments, contact Graham's & Son today for the most energy efficient and beautiful window treatments possible. Graham's & Son knows window coverings; we have been in the window treatment business for over 40 years. Our expertise and professionalism are second to none. In addition, right now we are offering an amazing deal on all our blinds, shutters, and shades – when you purchase any two, you will get a third absolutely free.
"Absolutely wonderful service from a great family business. They provided quality products at very affordable price. Definitely recommend using Grahams & Son"
– John O'Leary

Read more customer testimonials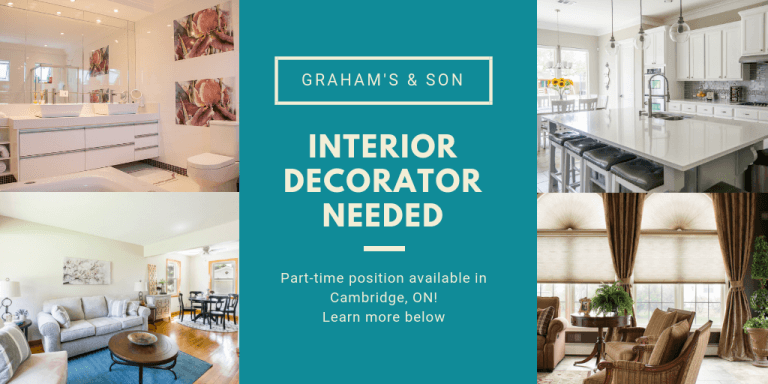 Interior Decorator Needed – Join Our Team!
Graham's & Son is looking for a highly creative person with imagination and artistic flair to join our winning team. The ideal candidate for this position will be someone willing to work a flexible schedule consisting of weekends, evenings, and day shifts. This is a part-time position in Cambridge, where a work week will consist of 5 to 40 hours, depending on how busy we are. If you have a passion for decorating and residential design, this could be a great stepping stone for you to be able to learn sales and interact with customers. We teach all our staff how to sell and equip them with the knowledge required to do so effectively. If you think this may be the perfect job for you, see the job requirements and overview by clicking here.
At Graham's and Son our customers have been so pleased with the high standard of our work that they selected us for the "Best Business Service – Interior Decorating: Platinum" and "Best Shopping – Kitchen Renovations: Gold" awards in the 2017 Cambridge Times Readers' Choice Competition. Book a free in-home consultation today and find out for yourself why Graham's is the best in the interior design business. Contact us today to schedule. If you prefer, you can shop at home. Browse through our website, make your choice, and simply give us a call at 519-658-9025 to place your order without ever having to leave the comfort of your own living room.