Your toilet – it may not be the most exciting part of your bathroom, but it certainly is the most used. Because of its constant use, it is important that it is comfortable, works well, and suits the design of your bathroom. As we have seen in our previous posts in this eight-part series, "Bathroom Renovations: How Much Do They Cost," a luxurious new bathroom is not as out of reach financially as you may think. In part six we will be looking specifically at toilet choices and costs. In the previous posts, we have talked about flooring, shower choices, bathtubs, sinks and vanities, and in the final post, we will look at lighting choices and wall coverings. If you need assistance and advice with your bathroom renovation, contact Graham's & Son today. We can provide you with a free, in-home consultation. Let us put our expertise to work for you!

"Very happy with the Graham's & Son Interiors in terms of customer service, quality, and price as well as workmanship. Can't ask for a better deal. We have already referred your company to three others."
– Jim & Joanne
Read More Testimonials
Click here to see a gallery of our work
Bathroom Renovations – How Much Do They Cost?
On average, a 5′ by 10′ bathroom in Canada, could cost anywhere from $10,000 to $16,000 to renovate, according to Canadian Home Trends. The cost includes the designing, planning, supplies, and installation of the new bathroom. If you are renovating a bathroom in a condominium, you could expect to pay about 30% more because of the restrictions imposed by condo rules and existing building design. So, renovating a condominium bathroom could cost from $13,000 to $20,800.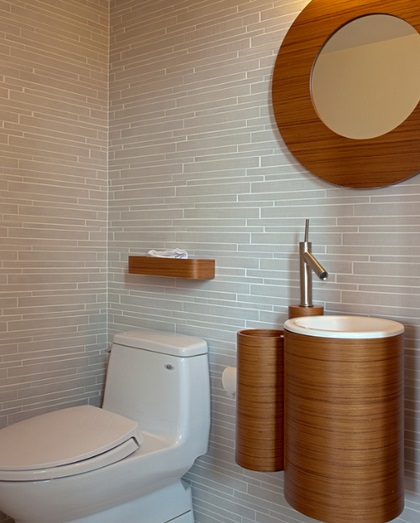 Part 6: Toilets
Your toilet is probably the most used part of your bathroom, so you want to make sure that you choose a model that is comfortable and fits well with the layout and design of your bathroom. If you are concerned about the amount of water you are using and would like to be more environmentally friendly, you may also want to choose a model that uses less water. If you are simply replacing a toilet, it will generally take about 2 to 3 hours. If however, you would like to re-locate the toilet, then this time will increase significantly depending on where you decide to put it as the plumbing also will need to be moved.
How Much Do Toilets Cost?
The cost of installing a new toilet can range greatly depending on the style of toilet you choose, whether you are putting it in the same location or if you want to put it somewhere else, and if you are paying for the contractor to haul away the old pieces and resulting debris. On average it costs about $376 to install or replace a toilet according to The Spruce.
What Are The Different Types Of Toilets?
Four of the most common types of toilets include: Two-Piece, One-Piece, Wall-Hung, and Smart Toilets.
Two-Piece Toilets: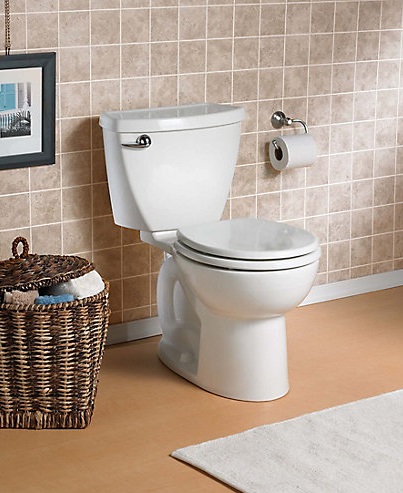 A two-piece toilet has two parts: the tank and the bowl. These pieces are attached together either before or during installation. This style of toilet is the most common and it has been around for a long time. The heavy weight and large size of a two-piece toilet makes it more difficult to install than a one-piece, however, its popularity brings its price down. It is relatively easy to clean but its one-piece counterpart is easier. Repairs are usually inexpensive and generally easy to carry out. Most homeowners are able to fix and replace the individual parts of a two-piece toilet on their own, whereas a one-piece toilet is often more difficult to repair.
Price Range: $100 – $300
One-Piece Toilets: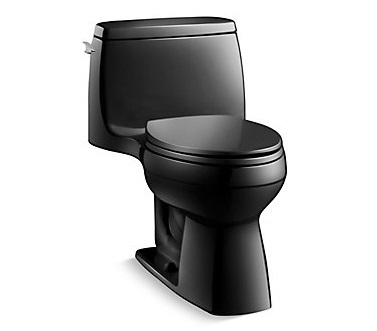 One-piece toilets are sleek in shape and relatively small in size and sit rather close to the ground, so they are a great choice for smaller bathrooms. Because of their design, one-piece toilets are easier to clean and simpler to install than two-piece ones. One-piece toilets tend to be more expensive to purchase, however they are more durable than two-piece toilets so you may consider them worth the investment. If they have the same flushing system, both one and two-piece models will use the same amount of water.
Price Range: $250 – $1,800
Wall-Hung Toilets: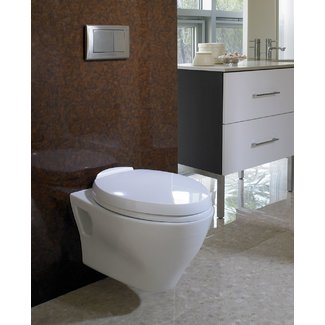 A wall-hung toilet is mounted on the wall and has its tank actually hidden inside the wall so all you see is the bowl and the flush plate. This style of toilet is a great choice if your bathroom is small and you are tight for space, however, if they require repairs, you will probably have to hire a professional plumber which can cost anywhere from $187 to $293.
Price Range: $250 – $1,000
Smart Toilets: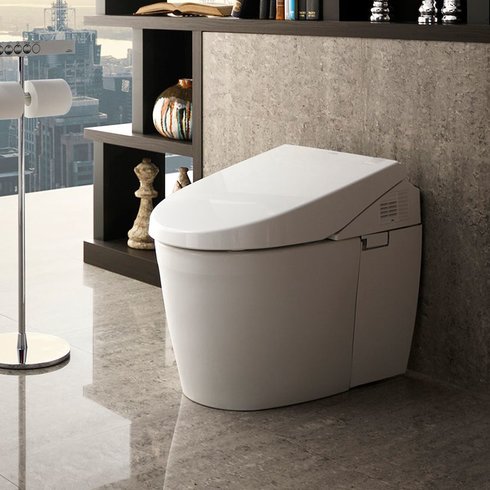 You've heard of smartphones, now let us introduce you to smart toilets. These state-of-the-art commodes can come with some luxurious features such as:
Heated Seats
Hands-free flushing
Motion-activated lighting
Bidets
Dual-flush systems
Self-cleaning wands
Warm-air dryers
Deodorizing seats
Toilet Bowl Shapes
There are two basic shapes of toilet bowls: round and elongated.
Round toilet bowls: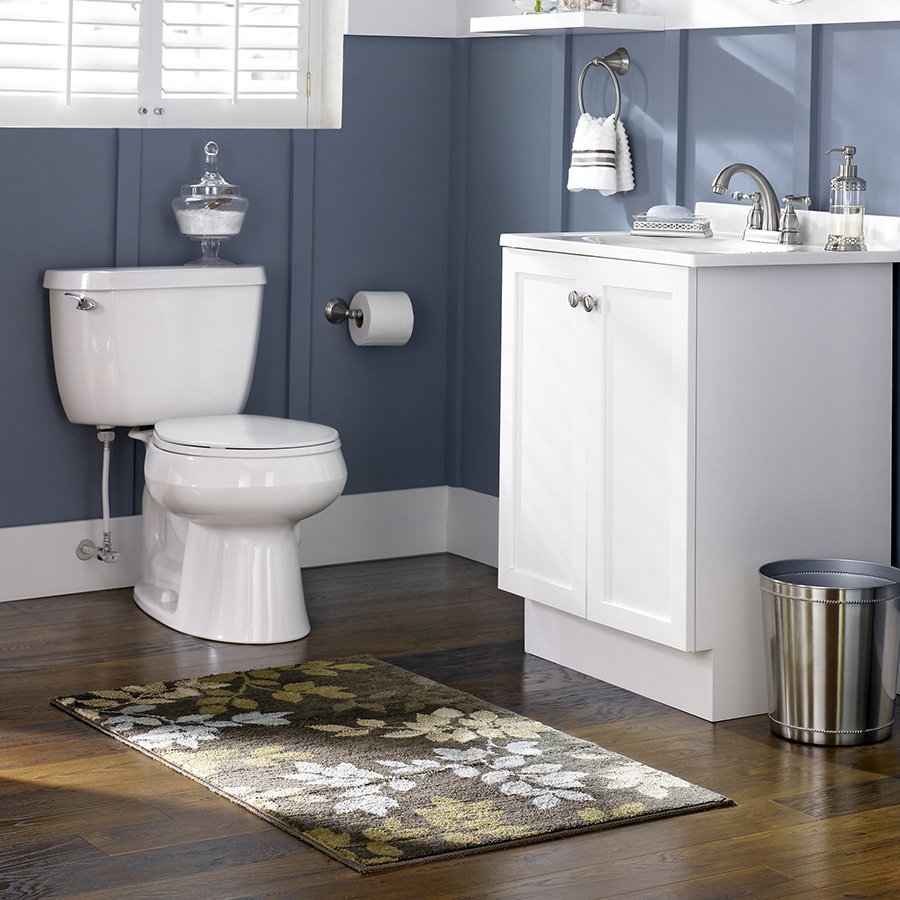 The round toilet bowl is the standard shape and if you choose one in a basic colour such as cream or white, it can cost less than $200. You can, however, choose from a variety of upgrades which will add to this basic price. The round bowl is better for smaller spaces as well as a better choice for children to use.
Price Range: $100 – $300
Elongated toilet bowls: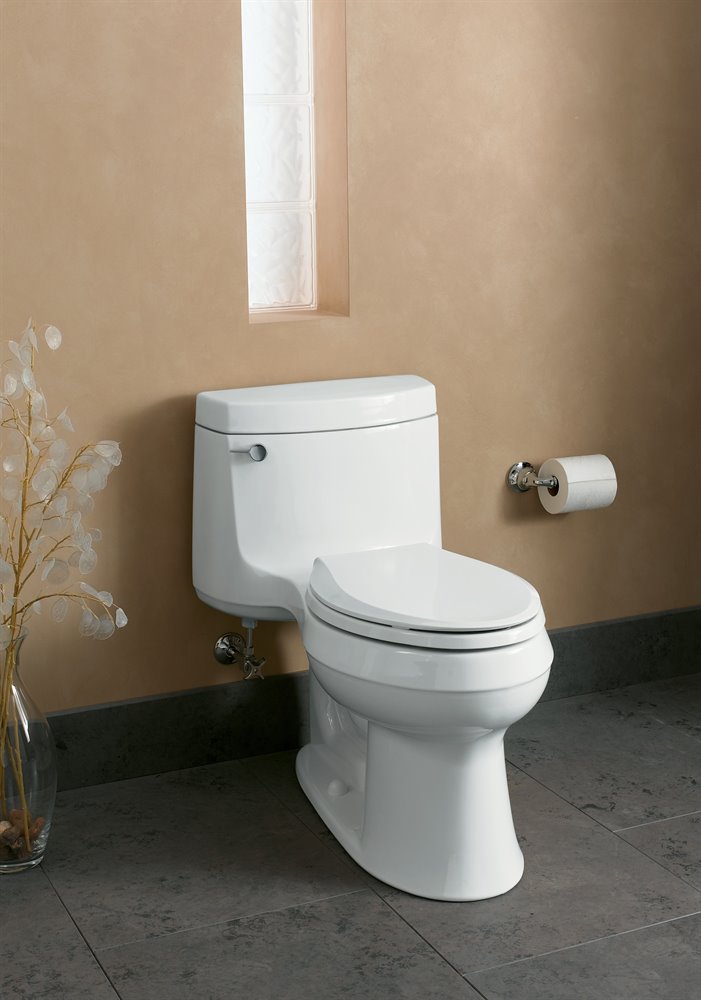 An elongated toilet is more comfortable to sit on than a round style. It takes up more space but it usually has a more powerful flush than a round toilet. Elongated toilets tend to be more expensive than round toilets.
Price Range: $300 – $1,000
Environmentally Friendly Toilets
A conventional toilet can waste as much as 6 gallons of water per flush. That's a lot of water when you consider the average person flushes 5 times per day. This means that a household with four people could be flushing as much as 120 gallons of water every day. The following are some eco-friendly alternatives to the conventional toilet:
Low Flow: This type of toilet uses only 1.6 gallons of water per flush so that the average family of four would only be flushing about 32 gallons of water per day. That is a huge difference.
Dual Flush: A dual flush toilet comes with a push button system on top of the tank which allows you to choose to flush liquid waste which only takes 0.8 gallons of water or solid waster which uses 1.6 gallons
Composting or Waterless: This type of toilet does not use water. Instead, it uses natural decomposition and evaporation to recycle the waste. This is a more common type of toilet for rural of vacation properties, however, you should check with your local authorities before installing one in a city as some local authorities require your toilet to have a flush system and be connected to a sewer system.
Bathrooms Designed For You
Graham's & Son has been in the interior design business for more than 40 years. We are locally owned and operated and we specialize in all types of renovations including bathrooms. We offer free, in-home consultations and will take the time to listen to your ideas and dreams for your new bathroom. If you are thinking of renovating your bathroom or any room in your home, contact the design experts at Graham's & Son to book your free in-home consultation.

Read the rest of our series:
Part 1: Overview
Part 2: Flooring
Part 3: Showers
Part 4: Bathtubs
Part 5: Sinks & Vanities
Part 6: Toilets
Part 7: Lighting and Wall Coverings
Part 8: Common Layouts