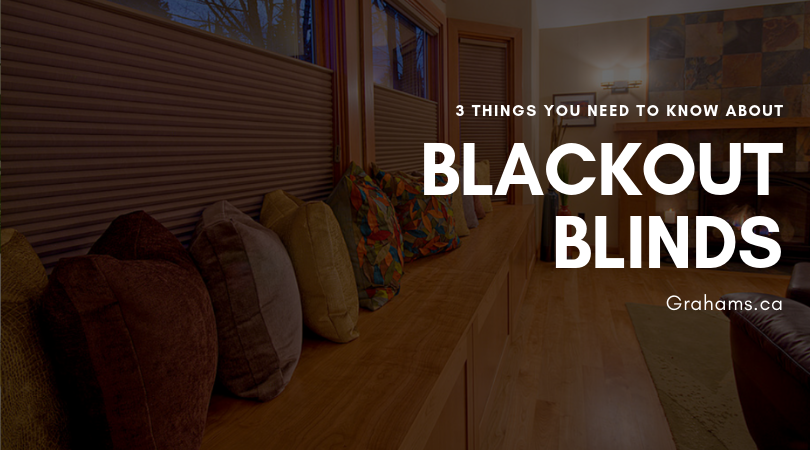 Considering blackout blinds for your home? If you are, you should know a few important things before you buy: the main advantages of blackout blinds, the different types of blackout blinds, and the differences between blackout vs light filtering or room darkening blinds. To learn more about each of these points, continue reading below. Or, to get expert advice on the best window treatments for your home, contact the experts at Graham's & Son today!
We Offer FREE In-Home Consultations!

Blackout Blinds: 3 Things You Need to Know
Blackout blinds are shades or (in many cases) roller blinds that, when properly installed, completely cut out the light from your room. They are ideal for bedrooms, home theatre rooms, and nurseries – but they can go anywhere you feel would benefit from light blocking during the day and/or night. See below to learn more about blackout blinds to help determine if they're right for you!
1. Blackout Blinds vs Light Filtering Blinds – What's The Difference?
A light filtering/room darkening blind will still allow minimal amounts of light in
Image source: Hunterdouglas.ca
Blackout blinds and light filtering blinds are often used interchangeably. However, they are not actually the same thing. Blackout blinds are custom made or sized to perfectly fit your window in order to make your room as dark as possible. Of course, it is impossible to 100% remove all light from your room, but blackout blinds are as close as you can get! They are usually lined with PVC or Mylar, and that extra lining helps reduce significant amounts of light.
With light filtering shades, they simply help to reduce the amount of light that enters the room without completely blocking it. They can, in some cases, drastically reduce the amount of light that enters your room, but they won't make your room 'pitch black' like a blackout blind does. Check out the chart below to see a quick comparison.
Comparison between blackout blinds and light filtering shades
So, you may be wondering which option is best for you! Once again, the choice comes down to personal preference. Both options can be great for theatre rooms, living rooms, kid's rooms, bedrooms – anywhere in your room! Which choice is best depends on the amount of light blockage you want or need.
If you want to darken the room but like the idea of a bit of moonlight shining through, then you may want light filtering instead. If you can't sleep unless your room is pitch black, then blackout blinds are probably your best choice. If you are stuck and aren't sure which option is right, contact window treatment professionals to help you find the right blinds for you!
2. What Are The Advantages Of Blackout Blinds?
Blackout blinds fit your windows perfectly to reduce as much light as possible
Image source: Hunterdouglas.ca
Many people consider blackout blinds for their bedroom because they have trouble sleeping with light from the outside constantly filtering in. Others prefer to have a dark room while they watch TV during the day or night. No matter what the reason is, blackout blinds have many advantages for those seeking a light-free room. These advantages include:
No light in your room – As mentioned above, when blackout blinds are installed correctly, they essentially remove all light from entering your room. This is perfect for nurseries, kid's rooms, and bedrooms as darkness is essential for a good's night sleep.
A versatile option – Although blackout shades are often recommended for the bedroom, they can go in any room of the house! Blackout shades are attractive, simple, and sleek, and can be a great addition to living rooms, kitchens, and bathrooms.
They come in a variety of styles & colours – Blackout blinds do not have to be black in colour. Although many are dark colours, you can also find them in greys, whites, and colours such as red, blue, or purple! As blackout blinds become more popular, there are more options and styles to choose from.
They Help Reduce Your Energy Bill – Blackout blinds or shades are a great choice if you're looking for simple ways to reduce your energy bill. Because of their thick material, they help add an extra layer of insulation around your windows. They also help block sunlight from entering, which is perfect for hot summer days.
Pair well with other design elements – Blackout blinds are simple and easy to pair with the rest of your decor. If you want to add drapes or sheer curtains, you won't have a hard time finding ones that fit well with your blinds!
To learn more about finding blackout blinds that are right for you and the specifics of your home, don't hesitate to call on the experts at Graham's & Son Interiors! We offer free in-home consultations to help take the stress out of finding your perfect window treatments.
3. Different Types of Blackout Blinds

Blackout blinds are most often found in these popular styles
Most blackout blinds will look similar – they are all some form of shade. That's because, in order for blackout blinds to be most effective, they must cover the entire window without any gaps (no slats) and without the ability to move around freely if brushed against (like curtains would). However, that doesn't mean you do not have any options! When choosing your blackout blinds, you will most likely get to choose from the following most popular styles:
Roman Shades – When raised, Roman Shades are known for their attractive look of fabric stacked upon itself in "a neat horizontal row." If you want to show off your blinds, Roman Shades are a perfect choice.
Roller Shades – Roller Shades roll up and down your window with a rolling device at the top of the blinds. When you raise your Roller Shades, the shade material rolls up around the cylinder at the top of your shades; perfect if you want your blinds hidden during the day.
Cellular Shades – Also called 'honeycomb' shades or 'single cell' shades, these shades have a ridged pattern throughout. From a distance, cellular shades can mimic the look of horizontal blinds.
Which style you choose depends entirely on your own preferences. If you love the idea of having a decorative blackout blind, then Roman shades are probably your best choice – when they're rolled up, they are still on display! If you are simply looking for function over style, you may want to choose roller shades instead. If you have many rooms with horizontal blinds and want a style that 'matches' the rest of your home, you may want to go with single cell shades.
Keep in mind that there are also other customization options to choose from! You'll get to pick from a variety of colours and even patterns. If you plan to pair your shades with drapes or curtains, you may want to go with a neutral colour, such as white, grey, or black. If you want your shades to be a statement piece, then you may want to go with a fun pattern or colour that coordinates with the rest of your room's decor.
On top of your colour options, you'll also have to choose whether you want a cordless style or even motorized options. If you are planning to get blackout blinds for your children's room, or for common family spaces, you may want to consider a cordless/automated option, as blind cords can pose a serious safety threat to children (and pets).
Even if you do not have children in the home, motorized blinds will also help you take better control of your privacy and light control. If you have automated blinds, you can set your blinds on a timer, close and open your blinds from another room in the house, and maximize (or minimize) the sunlight that enters your home even when you are not there. If you are slowly working towards a smart home, automated window treatments are one of the first things many homeowners add!
GET THE PERFECT BLACKOUT BLINDS FOR YOUR HOME WITH GRAHAM'S & SON INTERIORS!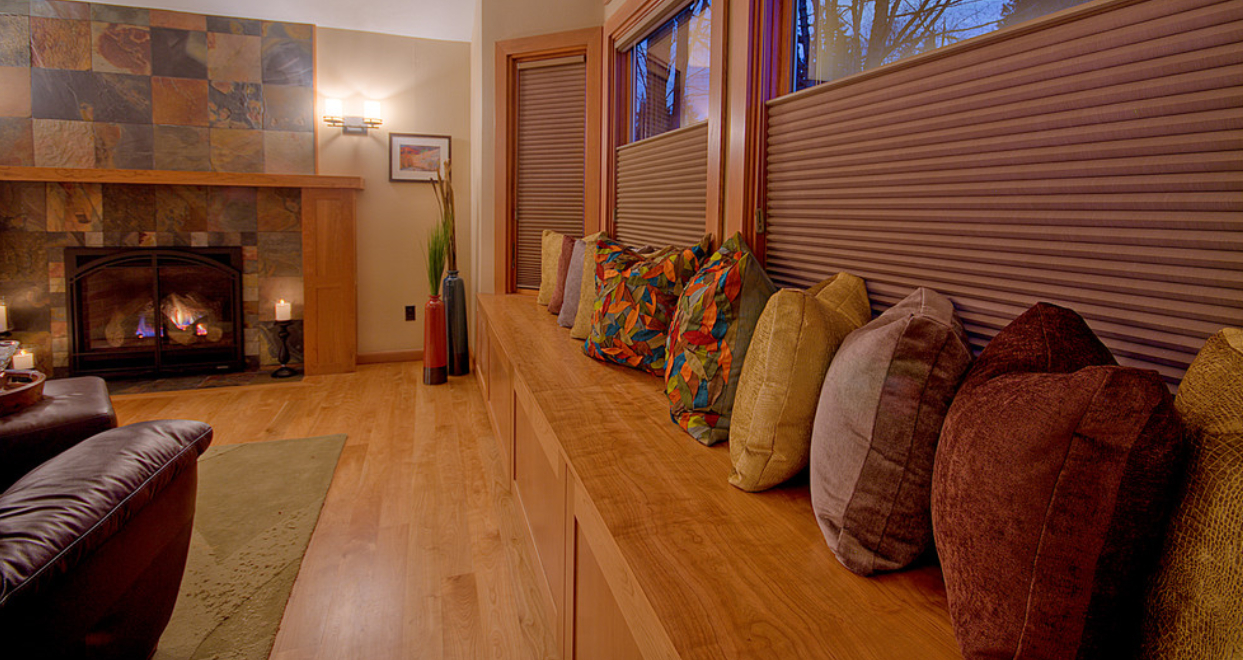 Looking to get the perfect blackout blinds or window treatments for your home? Choosing the right blinds, curtains, drapes, or shades for you and your needs can quickly transform any room and help you get the perfect look you're going for!
At Graham's & Son, we offer a wide variety of window treatments. If you are looking to update your current window treatments, contact Graham's & Son today for the most energy efficient and beautiful window treatments possible.
Graham's & Son knows window coverings; we have been in the window treatment business for over 40 years. Our expertise and professionalism are second to none. In addition, right now we are offering an amazing deal on all our blinds, shutters, and shades – when you purchase any two, you will get a third absolutely free.
"Thank you. The blinds look terrific. We were very happy with the quick and expert install. Our experience in dealing with each of you was wonderful. Thanks for taking the stress out of the project by getting us exactly what we wanted and installed perfectly, no clean-up after – it is a real treat to work with such professionals."
– Gayle Z
Read more customer testimonials
WINDOW TREATMENT INSTALLER & INTERIOR DECORATOR – JOIN OUR TEAM!

Graham's & Son is looking for a Window Treatment Installer and an Interior Decorator, and we would love for you to join our team! We operate out of Cambridge and are looking for someone who knows the Tri-Cities area well. Training will be provided – some experience required. If you think this may be the perfect job for you, see job requirements and overview by clicking here to learn more about the installer position, or here to learn more about the decorator position.
At Graham's and Son our customers have been so pleased with the high standard of our work that they selected us for the "Best Business Service – Interior Decorating: Platinum" and "Best Shopping – Kitchen Renovations: Gold" awards in the 2017 Cambridge Times Readers' Choice Competition. Book a free in-home consultation today and find out for yourself why Graham's is the best in the interior design business. Contact us today to schedule. If you prefer, you can shop at home. Browse through our website, make your choice, and simply give us a call at 519-658-9025 to place your order without ever having to leave the comfort of your own living room.

Sources:
barnandwillow.com / diynetwork.com / blindster.com / factorydirectblinds.com