There are many advantages when you choose automated window coverings for your home. However, like any option, there are both pros and cons. It's important to know about the advantages and potential issues you may run into before you choose automated window treatments so you can make the most informed choice. Check out the chart below to see a brief overview of the top pros and cons and continue reading below to see each point in more detail. To learn more about automated window coverings and finding the right window treatment solution for you, contact the experts at Graham's today!

Considering automated window treatments for your home?

Automated Window Coverings – Top Pros
Not sure if automated window coverings are right for your home? Learn more about the top pros of automated window treatments below. Remember, if you are having trouble figuring out which window treatment is right for you, your home, and your budget, you can always ask the professionals to help you out!
1. Safer For Children & Pets
Motorized window treatments are perfect for children's rooms
Many homes contain vertical or horizontal blinds – and usually, along with those window coverings (as well as other popular styles) come blind strings or cords to help you draw and adjust your blinds. Although it's so common to come across blind strings that you may not even think twice about them, they actually post a serious safety issue for children (and pets).
One study done in the United States found that on average, 2 children were sent to the ER every day due to blind cord injuries and strangulations. This is not just a problem for our neighbours to the south. In Canada, there are similar concerns about blind cord injuries. From Global News:
"According to Health Canada, there were 69 reports related to strangulation posed by window coverings between 1986 and 2016
— at least 35 were fatal. That's a rate slightly higher than one death each year."
For homeowners without children but with dogs or cats that roam freely in the home, blind cords pose a safety risk to your furry family members as well. Dogs jumping or barking at the window may accidentally get caught in the loop of your blind cords. Cats, often drawn to dangling strings, may accidentally get caught or wrapped up in your cords while trying to play.
Fortunately, automated window coverings do not need blind cords or strings. As everything will be automated with the touch of a button on a remote or even through your smartphone, you can say goodbye to the potential dangers of blind cords and hello to a safer home for your entire family!
2. Easy Integration Into Smarthome Systems
Smarthome systems are becoming more and more popular. Although some Canadians are still unsure about the integration of this relatively new technology, one study still found that 1 in 6 Canadians now have invested in some form of home automation. This is especially true for younger consumers between the ages of 18-34; the age group that will soon buy homes or have more recently bought their homes.
As the next generation enters the housing market, it seems as though Smarthome integration will be more and more important. Automated window treatments are one of the best additions to your Smarthome system, as they are a relatively simple technology to adopt and a good way to 'ease' into the idea of a Smarthome!
3. Full Control over Lighting and Privacy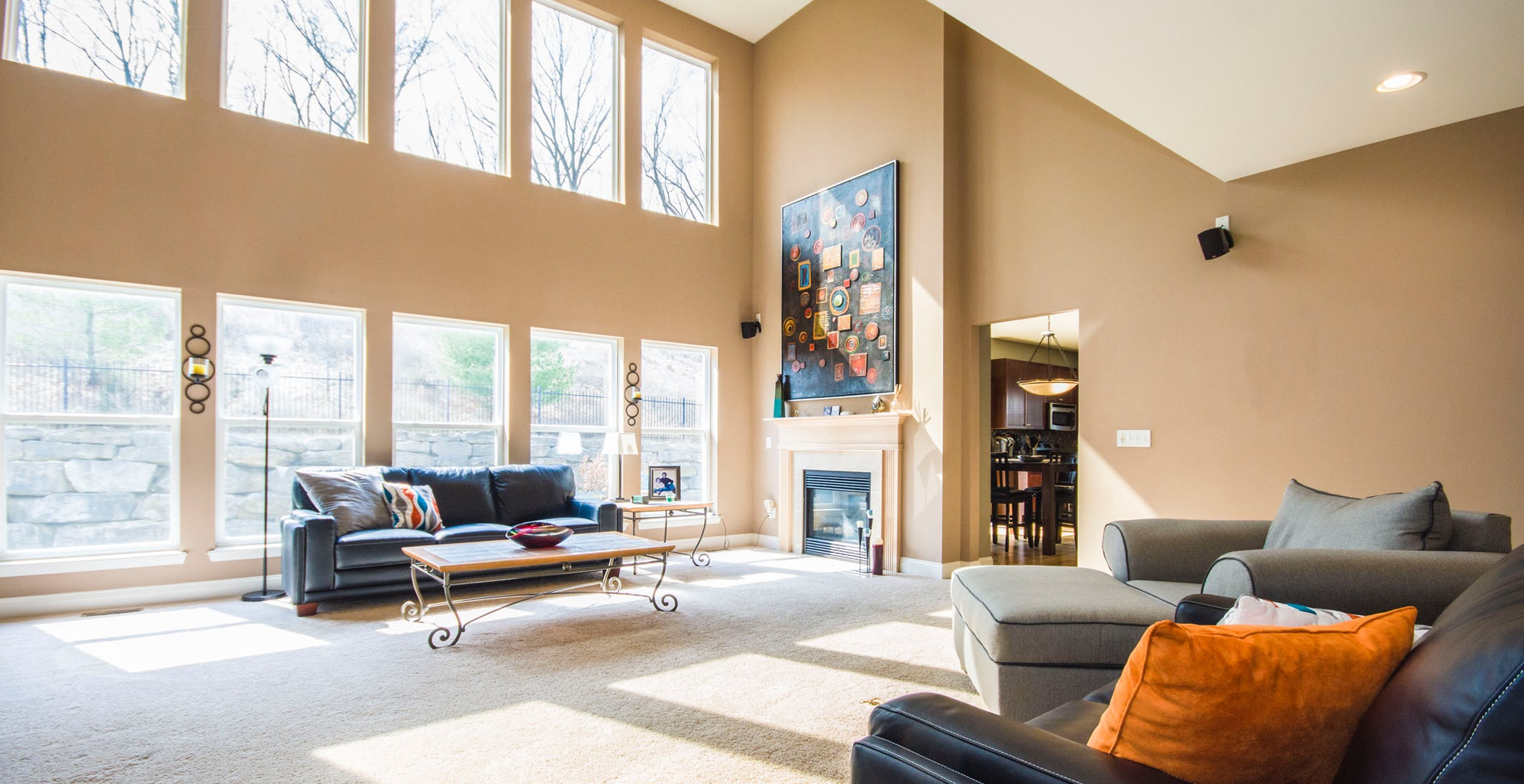 Automated window coverings can help you gain control over lighting & privacy even with hard-to-reach windows
With automated window coverings, you have full control over the amount of light that enters your home. Automated window treatments allow you to open and close your blinds from other rooms in your home, so you can close your blinds before you enter your bedroom, bathroom/, or any other room in your home!
Some automated window coverings even allow you to place your window treatments on a timer. That means that you can keep your blinds closed during the day while you're at work, and have them open just before you arrive home. This is a great way to help you save energy during the hot summer months, when sunlight filtering in can quickly heat up your home and cause your A/C to run unnecessarily while you aren't even home.
Some homes also have difficult-to-access windows. For example, you may have some windows that are high up on your walls, or span two-storeys. Automated window treatments are perfect for ensuring privacy and light control on all of your windows, even those that are hard to reach.
Automated Window Coverings – Top Cons
Like any product or service, there are going to be both advantages and potential downsides. Automated window treatments are no exception to the rule. See below to learn about the potential drawbacks to help you figure out if automation is right for you.
1. Costs More Upfront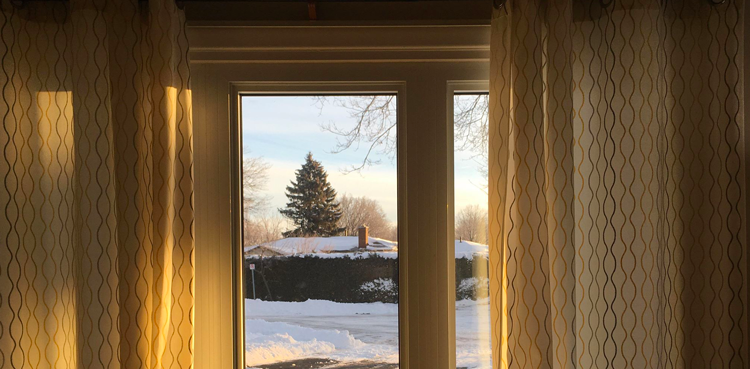 Compared to regular window treatments, motorized blinds can cost more upfront – however, they may help you save over time on your energy bill!
Automated window treatments are more than just window coverings – they include pieces of technology such as motors, solar panels, or extras that allow your window treatments to connect to your phone or a remote.
Because of that, automated window treatments do end up costing more up front in most cases. If you have battery-powered window coverings, you will also need to factor in the cost to replace your batteries when they die.
Keep in mind that although automated window coverings do cost more upfront, they can help you save in the long run by helping to reduce your energy costs! As mentioned above, automated window coverings can be set on a timer, or you can even purchase systems that react to sunlight.
These features can help block out more sunlight during the summer months (or ensure sunlight comes in during the winter), helping you save more on your energy bill.
To save more, you can sometimes add motorization to existing window treatments – which means you'll only have to purchase the hardware and not the actual window treatments. Depending on the type of automation you choose, you can also swap out your window treatments when you want to while keeping the motorization.
2. Needs Electricity To Function
Unlike regular window coverings that are manipulated by hand, your automated window coverings will need electricity, battery power, or solar energy to function properly. For homeowners that rely on electricity, this could be a bit concerning for those who live in areas that have frequent power outages.
Many automated treatments do have battery backup and solar power options, which means they will not have to rely on electricity in case of occasional power outages. However, when you rely on technology, there is always the potential for a 'glitch' to occur, or for your system to lose power or run out of battery power.
It is important to keep this in mind when choosing your window coverings. If your system is fully automated, what will happen if the power does go out? Does that mean that your blinds are stuck in place until it comes back on? Don't hesitate to voice your concerns to the window treatment professionals, and they can help you choose an option that will work best for your unique needs and preferences.
3. Potential Technological Difficulties
When you put anything online or add new technology to an existing product, there is always the chance of 'technical difficulties.' Automated window treatments are still a relatively new technology, which means there is the potential that you may face some technical issues.
For example, if you have set up your blinds or window coverings to connect with your Smarthome system, it may disconnect for whatever reason. You may need help getting it back online. Or, the motor could malfunction and your blinds could get stuck in place. You would have to call in the professionals to help fix and repair your system.
However, if you are not handy or don't feel comfortable using a lot of new technology, there are many simple, basic systems that rely on easier-to-use technology! Check out the quick video below that showcases the Graber automated window treatments to see how easy they are to use.
Graber motorized blinds are simple and easy to use
Although there is the potential for technical difficulties, it is important to remember that purchasing high-quality automated window treatments from trusted brands can help significantly reduce the potential for these issues to occur. Talk to the professionals to find out which brands may be right for you!
GET THE BEST AUTOMATED WINDOW COVERINGS WITH GRAHAM & SON INTERIORS!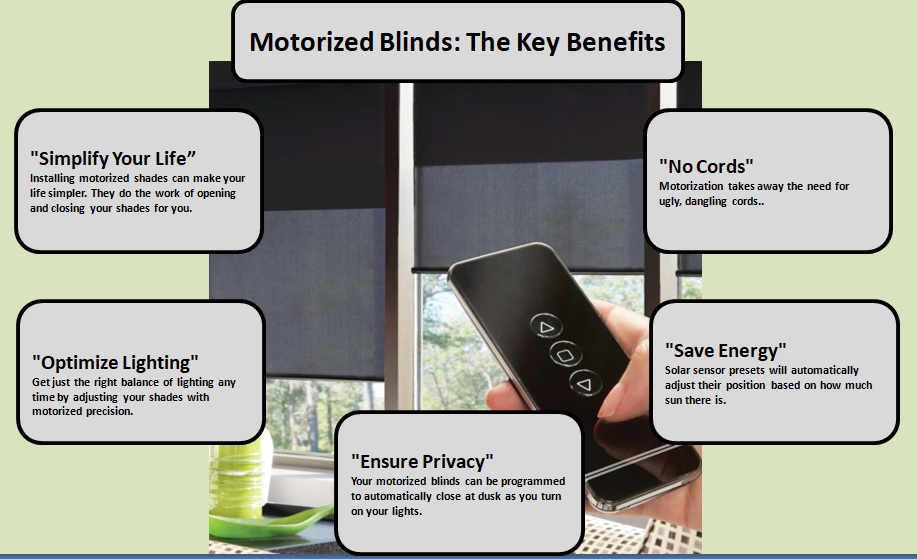 Looking to get the perfect motorized blinds or other window treatments for your home? Choosing the right blinds, curtains, drapes, or shutters for you and your needs can quickly transform any room and help you get the look you're going for!
At Graham's & Son, we offer a wide variety of window treatments. If you are looking to update your current window treatments, contact Graham's & Son today for the most energy efficient and beautiful window treatments possible.
Graham's & Son knows window coverings; we have been in the window treatment business for over 40 years. Our expertise and professionalism are second to none. In addition, right now we are offering an amazing deal on all our blinds, shutters, and shades – when you purchase any two, you will get a third absolutely free.
"Let me start by saying, I love my window treatments! Mr. Graham was very professional, easy to talk to; he talked with me, not above me, I was at complete ease. He listened to my thoughts, went through my options, and just like that – decision made. The installation crew was quite professional, friendly and efficient. "
– Anne Allen
Read more customer testimonials
WINDOW TREATMENT INSTALLER & INTERIOR DECORATOR – JOIN OUR TEAM!

Graham's & Son is looking for a Window Treatment Installer and an Interior Decorator, and we would love for you to join our team! We operate out of Cambridge and are looking for someone who knows the Tri-Cities area well. Training will be provided – some experience required. If you think this may be the perfect job for you, see job requirements and overview by clicking here to learn more about the installer position, or here to learn more about the decorator position.
At Graham's and Son our customers have been so pleased with the high standard of our work that they selected us for the "Best Business Service – Interior Decorating: Platinum" and "Best Shopping – Kitchen Renovations: Gold" awards in the 2017 Cambridge Times Readers' Choice Competition. Book a free in-home consultation today and find out for yourself why Graham's is the best in the interior design business. Contact us today to schedule. If you prefer, you can shop at home. Browse through our website, make your choice, and simply give us a call at 519-658-9025 to place your order without ever having to leave the comfort of your own living room.

Sources:
https://www.doityourself.com/stry/motorized-vertical-blinds-pros-and-cons
https://royalwindowcoverings.com/2016/08/pros-cons-motorized-shades/
https://www.somfysystems.com/ideas-insights/considering-motorization/how-are-motorized-blinds-and-shades-powered