Looking for ways to spruce up your kitchen window coverings? As the kitchen is the heart of the home, you may want to make yours feel a bit more cozy and warm. One of the best ways is through your window coverings! Some homeowners feel that curtains or blinds alone don't give off the final look they're going for. Adding extra touches, such as mid-window shelves, wooden valences, display shelves, and more can help you take your window coverings to the next level. To learn more about these ideas and more, continue reading on. Or, to learn how you can get the perfect window treatments for your kitchen and home, contact the experts at Graham's today!
We offer FREE in-home consultations!

7 Sensational Ways to Spruce Up Kitchen Window Coverings
When friends and family walk into your kitchen, they should know it's yours right away! The kitchen is one of the best rooms in the home to show off your unique style. Adding a few extra touches to your window coverings is a great way to do that. Learn more about these 7 sensational ideas below.
1. Mid-Way Shelves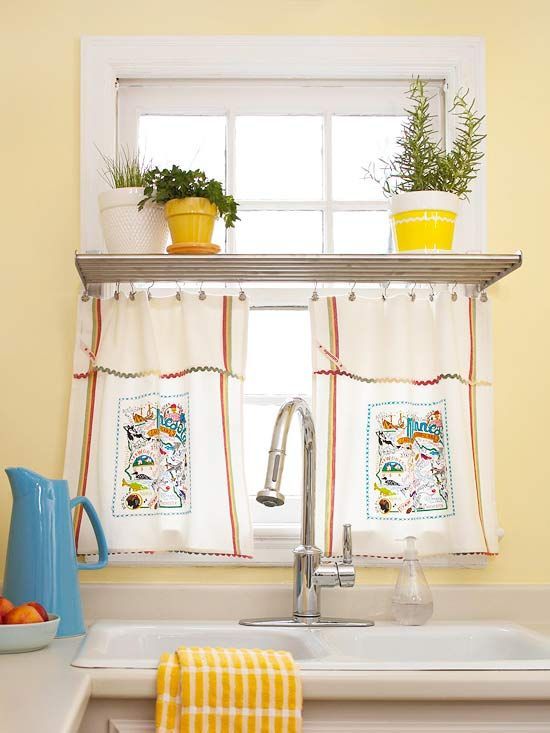 Mid-way shelves are the perfect place for potted plants
Image source: bhg.com
Average Cost: $
Ease of Installation: ★★★★★
Ideal For: Small windows
These cost-effective and easy-t0-install shelves are an adorable way to show off your cute curtains and your favourite potted plants. Keep your cooking herbs, cacti, succulents, or flowery florals close to the sun by installing shelves midway up your small kitchen window. This metal shelf contains a number of bars, which allows you to hang the curtains through the shelf – and ensures that sunlight continues to shine through! You can find a similar shelf from IKEA for only $30!
2. Rustic Wooden Valence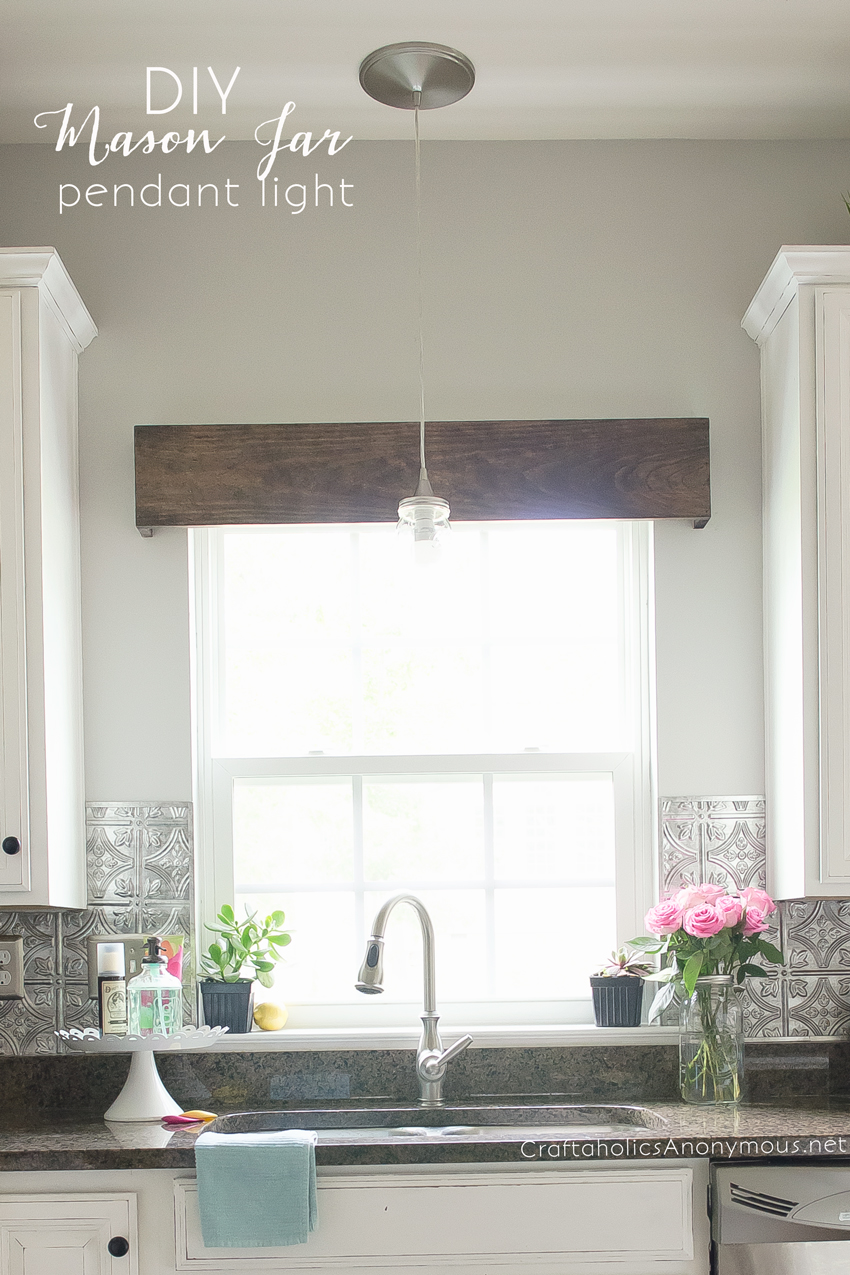 A wooden valence can add a rustic touch to your kitchen
Image source: craftaholicsanonymous.net
Average Cost: $$
Ease of Installation: ★★★☆☆
Ideal For: Larger windows
If you are looking for a simple way to complete the rustic look in your kitchen or an easy way to add a charming feel to your room, this beautiful wooden valence is the perfect solution. It is sleek, simple, and an easy way to spruce up your current window treatments. Many kitchens contain horizontal blinds, as they are cost-effective and easy to clean. However, when horizontal blinds are pulled all the way up, they do not look as aesthetically pleasing. A wooden valence can completely hide your blinds when drawn up, but also look great when your curtains or blinds are down!
3. Shelf Above Your Windows
Adding a shelf above your windows can help you show off your favourite decor where everyone will see!
Average Cost: $$
Ease of Installation: ★★★★☆
Ideal For: windows between cabinets
If you love the idea of shelves to display your favourite decor around your windows but aren't too keen on installing them in the centre, consider adding some shelves above your windows instead! A single shelf between your cabinets and above your window can go a long way. This idea works for any type of kitchen style; modern, retro, traditional, rustic, or any combination! A shelf can help tie together your design – as you can see in the left image, the display plates really emphasize the retro vibe of this bright, sunny kitchen and help bring out the beautiful curtain and shutters!
4. Bright & Bold Patterns
Consider choosing bright coloured curtains to add some flair to your kitchen
Average Cost: $$$
Ease of Installation: ★★★★☆
Ideal For: Any window!
Sprucing up your kitchen window coverings doesn't have to mean adding on to existing curtains or blinds. If you want a bit of a re-do as you update your kitchen, consider buying new, colourful curtains. Bright and bold is in right now, and will definitely help show off your style. Roman shades are a great choice for kitchens, as they come in many different styles, colours, and patterns, and easily pull up to let in tons of light! If you aren't sure what style is right for you, don't hesitate to contact the experts to get a professional opinion.
5. Get Wordy
The space above your window doesn't have to stay bare!
Average Cost: $$
Ease of Installation: ★★★★★
Ideal For: Any window!
Spruce up your windows by adding a plaque between your curtains, only to be revealed when you open them up! The space above your windows and in between your curtains doesn't have to remain bare. This space is often left untouched, but offers up the perfect opportunity for a little extra decor. These two examples above show how the simple addition of a little sign can go a very long way when it comes to window decor.
6. Gorgeous Farmhouse Curtains
This criss-cross design will really liven up your kitchen!
Image source: marialouisedesign.com
Average Cost: $$
Ease of Installation: ★★★☆☆
Ideal For: Tall, narrow windows
Sheer curtains are popular in kitchens as they are simple, they allow sunlight through, and they look beautiful no matter what time of day. However, for homeowners looking for a way to transform their sheer curtains into something a little more, this style is for you. The elegant criss-cross design is paired with rustic decor to create the perfect blend of modern and traditional. If you love the look of this design, check out the tutorial from Maria Louise Design!
7. Funky Tiebacks
New tiebacks are a great way to spruce up your existing curtains or drapes!
Average Cost: $ – $$
Ease of Installation: ★★★★★
Ideal For: Any window!
The small but mighty tieback is an amazing way to spruce up your window coverings with very minimal cost and effort. Although these additions may seem small, they can make a huge design difference in your kitchen. There are so many different options when it comes to tiebacks, that you'll be able to pick out a style that shows off your unique look. For example, the gorgeous gem tiebacks provide a funky and bright appearance, while the bent fork tieback is reminiscent of diners and cozy, traditional kitchens.
GET THE BEST KITCHEN WINDOW COVERINGS WITH GRAHAM & SON INTERIORS!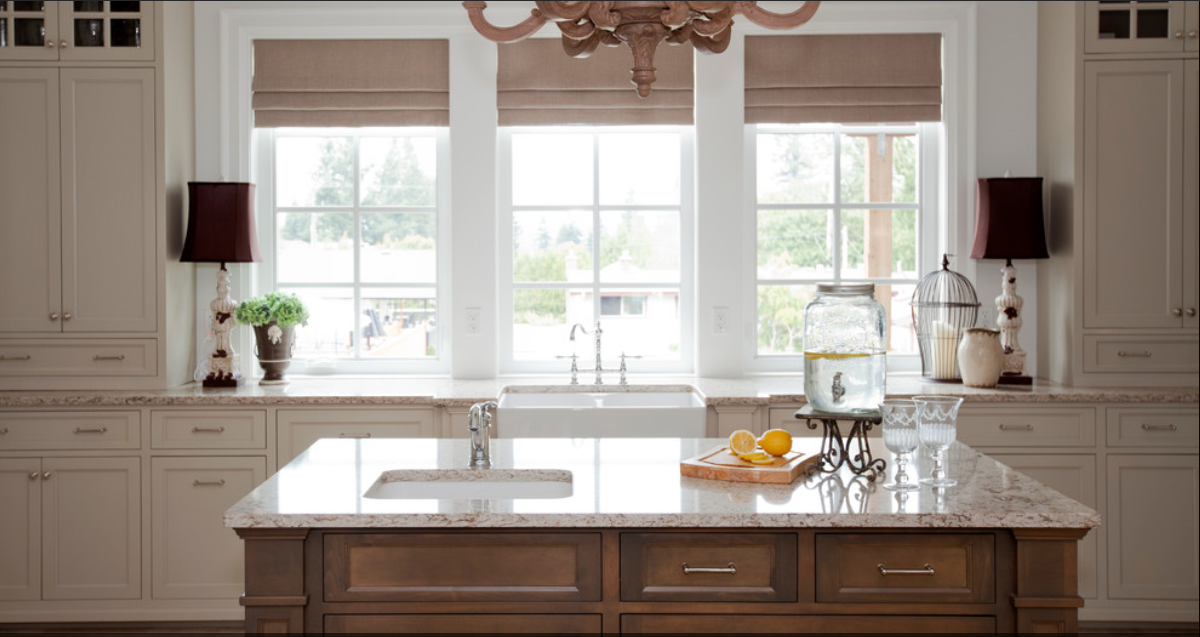 Looking to get the perfect kitchen window coverings for your home and your unique style and preferences? Choosing the right blinds, curtains, drapes, or shutters for you and your needs can quickly transform any room and help you get the look you're going for!
At Graham's & Son, we offer a wide variety of window treatments for any room of the house. If you are looking to update your current window treatments, contact Graham's & Son today for the most energy efficient and beautiful window treatments possible.
Graham's & Son knows window coverings; we have been in the window treatment business for over 40 years. Our expertise and professionalism are second to none. In addition, right now we are offering an amazing deal on all our blinds, shutters, and shades – when you purchase any two, you will get a third absolutely free.
"Let me start by saying, I love my window treatments! Mr. Graham was very professional, easy to talk to; he talked with me, not above me, I was at complete ease. He listened to my thoughts, went through my options, and just like that – decision made. The installation crew was quite professional, friendly and efficient. "
– Anne Allen
Read more customer testimonials
WINDOW TREATMENT INSTALLER & INTERIOR DECORATOR – JOIN OUR TEAM!

Graham's & Son is looking for a Window Treatment Installer and an Interior Decorator, and we would love for you to join our team! We operate out of Cambridge and are looking for someone who knows the Tri-Cities area well. Training will be provided – some experience required. If you think this may be the perfect job for you, see job requirements and overview by clicking here to learn more about the installer position, or here to learn more about the decorator position.
At Graham's and Son our customers have been so pleased with the high standard of our work that they selected us for the "Best Business Service – Interior Decorating: Platinum" and "Best Shopping – Kitchen Renovations: Gold" awards in the 2017 Cambridge Times Readers' Choice Competition. Book a free in-home consultation today and find out for yourself why Graham's is the best in the interior design business. Contact us today to schedule. If you prefer, you can shop at home. Browse through our website, make your choice, and simply give us a call at 519-658-9025 to place your order without ever having to leave the comfort of your own living room.