These small bathroom renovations will help you get the bathroom of your dreams! Full bathroom renovations can be costly. Fortunately, there are many budget-friendly updates and small renovations you can do to quickly transform your bathroom without breaking the bank. These updates include getting a new vanity, updating your window treatments, painting the walls, installing new tiles, updating your light fixture, and adding new storage. To learn more about these ideas, continue reading below. If you are ready to update your bathroom, contact the renovations & window treatment experts at Graham's today!
We offer FREE in-home consultations!

6 Small Bathroom Renovations That Go A Long Way
You don't have to remodel your entire bathroom to get the look you want and will love. See below to learn more about the top 6 small bathroom renovations and updates that go a long way!
1. Install New Window Treatments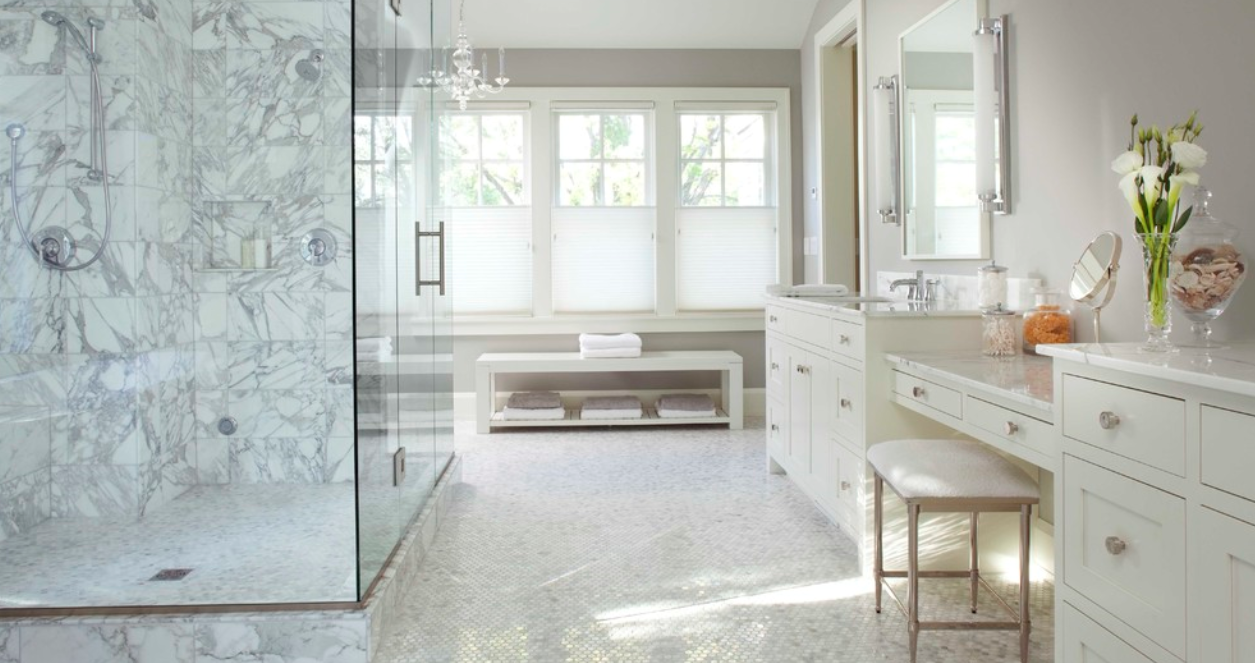 New window treatments can completely transform your bathroom – and can easily fit within your budget!
Image from Graham's Gallery
Average Cost: $$+
Transformation Rating: ★★★★★
Adding new window treatments to your bathroom is an excellent way to update your room. One of the best things about window treatments is that there are so many options, which means there will be something that fits your preferred style, your unique windows, and your set budget. You can choose from shutters, drapes, shades, blinds or even a combination of multiple styles.
You can also choose other custom options, small additions such as tiebacks for your curtains or drapes, or larger custom options such as motorized or automated blinds that are part of your larger smart home system! Since there are so many options when looking at window treatments, it's a great idea to talk to the professionals to help you find the right option that fits your wants, needs, and budget.
2. Paint Your Walls
Repainting can help update your bathroom's look and spruce up the walls
Average Cost: $
Transformation Rating: ★★★☆☆
Over time, your bathroom walls will likely become a bit worn down and the colour may be a bit out of style. Bathroom walls often take a beating due to high amounts of moisture and traffic. Painting your walls can help cover up old stains and chips that naturally happen over time, and update the room with a fresh, modern colour! You can even use this as an opportunity to add in some wallpaper – which is trending well into 2019!
If you are doing other work around your bathroom, such as changing out the vanity or adding new decor, this is the perfect time to paint your walls. When moving out an old vanity, it's likely that your new one will not be the exact same fit as the old one – this may leave old, unpainted walls exposed. Or, if you are adding new decor, your previous paint colour may not work well with your new taste. Even if you are not doing any extra work, don't underestimate what a fresh coat of paint can do to any room in your home!
3. Install New Tiles
New tiles don't have to break the bank – but they can easily transform your bathroom
Average Cost: $$ – $$$$
Transformation Rating: ★★★★★
Updating your bathroom tiles doesn't have to be as complicated as you may think. When people think of re-doing bathroom tiles, they often think of expensive or multi-day renovations. However, updating your tiles doesn't mean you have to update them all at once! For example, you may want to add in a new backsplash or retile your shower. These projects can be relatively inexpensive if you choose your tiles carefully, and won't take longer than a day to complete.
If you are in desperate need of new flooring or can't stand not having a backsplash, there are also some amazing peel and stick tiles that look almost identical to the 'real deal.' Modern vinyl tiles are high quality and can be a great, cost-effective alternative if you just don't have it in your budget to purchase ceramic tiles.
4. Update Your Light Fixture(s)
New light fixtures can cost less than $100 but help to bring a new look to your bathroom
Average Cost: $ – $$
Transformation Rating: ★★★☆☆
One of the most cost-effective updates you can do for your bathroom is to purchase new light fixtures. New light fixtures can cost around $100 for the most budget-friendly options, and potentially even less if you search through thrift and discount stores! Although a new light fixture won't completely transform your bathroom, it can help to update the room and get you closer towards your design goals. Keep in mind you'll need to find light fixtures made from materials that will do well in moist and damp environments – check out some tips on finding the right bathroom lighting here!
5. Add A New Vanity
A new vanity is the perfect way to showcase your updated style
Average Cost: $$$+
Transformation Rating: ★★★★★
Just like new tiles, adding a new vanity doesn't have to be a huge renovation that costs more than you were expecting. There are many pre-made vanities that you can buy at your local hardware or kitchen store that cost just a few hundred dollars. Some avid do-it-yourselfers even have tips for creating a vanity from an old cabinet, which can cost you almost nothing at all if you have the right tools and materials lying around!
For homeowners who want to update an outdated bathroom, it can be hard to modernize your bathroom without adding a new vanity. However, if you don't have the budget for it just yet, you can always paint your existing vanity or get an updated faucet. These small changes can end up making a big difference!
6. Add More Storage
Additional storage can be as simple as a few extra shelves, or as elaborate as extra built-in cabinets
Average Cost: $ – $$$
Transformation Rating: ★★★★☆
Adding new storage to your bathroom will not only help you practically by adding more space to store bathroom items, but it will also help add a new look and feel to your space! One of the best things about installing additional storage is that you have so many options to choose from.
You can choose to simply install a few floating shelves above your toilet as seen in the left image (can cost less than $50), or go all-out and add a few additional cabinets to your bathroom space (may cost a few hundred dollars or more). In the right picture, we see a unique medicine cabinet complete with an interior mirror, built-in plug, and various shelves! When it comes to bathroom storage, there is an option for everyone – no matter what your budget.
GET THE LATEST BATHROOM UPDATES WITH GRAHAM'S & SON INTERIORS
If you are looking for new window treatments for your bathroom, a brand new vanity, or even new floors, you can trust the experts at Graham's & Son Interiors to help you with all of your bathroom renovation needs – both big and small!
At Graham's & Son, we offer a wide variety of renovation services and window treatments for any room of the house. If you are looking to update your bathroom, contact Graham's & Son today for the most energy efficient and beautiful window treatments possible.
Graham's & Son knows window coverings; we have been in the window treatment business for over 40 years. Our expertise and professionalism are second to none. In addition, right now we are offering an amazing deal on all our blinds, shutters, and shades – when you purchase any two, you will get a third absolutely free.
"Let me start by saying, I love my window treatments! Mr. Graham was very professional, easy to talk to; he talked with me, not above me, I was at complete ease. He listened to my thoughts, went through my options, and just like that – decision made. The installation crew was quite professional, friendly and efficient. "
– Anne Allen
Read more customer testimonials
WINDOW TREATMENT INSTALLER & INTERIOR DECORATOR – JOIN OUR TEAM!

Graham's & Son is looking for a Window Treatment Installer and an Interior Decorator, and we would love for you to join our team! We operate out of Cambridge and are looking for someone who knows the Tri-Cities area well. Training will be provided – some experience required. If you think this may be the perfect job for you, see job requirements and overview by clicking here to learn more about the installer position, or here to learn more about the decorator position.
At Graham's and Son our customers have been so pleased with the high standard of our work that they selected us for the "Best Business Service – Interior Decorating: Platinum" and "Best Shopping – Kitchen Renovations: Gold" awards in the 2017 Cambridge Times Readers' Choice Competition. Book a free in-home consultation today and find out for yourself why Graham's is the best in the interior design business. Contact us today to schedule. If you prefer, you can shop at home. Browse through our website, make your choice, and simply give us a call at 519-658-9025 to place your order without ever having to leave the comfort of your own living room.