Both California shutters and blinds are popular window treatment choices. Both options come with many advantages as well as some potential drawbacks. In our Guide to California Shutters and Blinds, we'll take a comprehensive look at both choices to help you make the right decision! Check out the quick comparison chart below to get a better understanding of each window treatment choice, or continue reading to get a more in-depth look.
If you are ready to install new window treatments in your home, you can rely on the professionals at Graham's & Son Interiors! We will help ensure you get the perfect shutters or blinds for your particular needs and budget.
We Offer FREE In-Home Consultations!

Complete Guide to California Shutters and Blinds
---
If you are considering adding new window treatments to your home, you will soon realize just how many different options you have! From drapes and curtains to shades, blinds, and shutters – the possibilities are nearly endless. Many homeowners end up trying to decide between California shutters and blinds, as these two options are some of the most popular.
However, it can be a challenge trying to figure out which option is best for you! Here we'll take a look at both the top advantages and potential drawbacks for both California shutters as well as blinds. Keep in mind, blinds do come in a wide variety of styles and materials – the pros and cons will vary depending on which style and material you choose.
California Shutters – Pros & Cons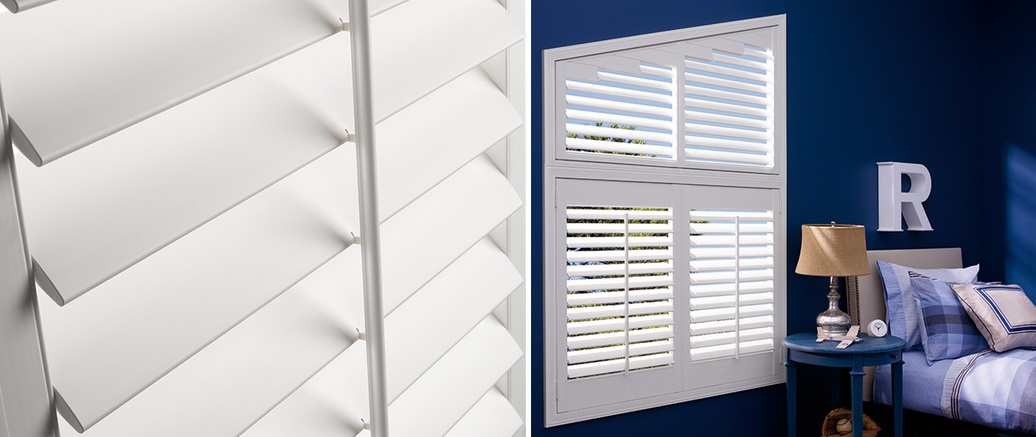 TOP ADVANTAGES
Ideal for families with children – Shutters do not have any dangling cords or strings. This makes them ideal for families with children (and pets too). According to USA Today, injuries from blind cords send two children to the ER each day. Shutters help avoid potentially fatal injuries to children.
Great for rooms that need airflow – Some rooms in your home are prone to stuffiness – almost everyone knows what a 'stale room' smells like! California shutters allow lots of airflow when you open your windows, making them ideal for stuffy rooms.
Great for kitchens & bathrooms – Kitchens and bathrooms often benefit from increased privacy, during the evening especially, many homeowners prefer 100% privacy in these rooms. Shutters are great for kitchens and bathrooms because they allow lots of privacy but you can still get natural light when you want it too.
Perfect for large windows & doorways – California shutters can be placed in large windows and even doorways. They are a great choice for sliding doors, as they easily pull away when you need to open your door and walk through.
POSSIBLE DRAWBACKS
Not As Many Options – The reason why many homeowners choose California shutters are due to their particular look and feel. Because of that, almost all California shutters look pretty much the same. There are not as many different style choices or options to choose from compared to other window treatments.
Cost More Upfront – Well made California shutters are sturdy, durable, and made to last. Because of that, they are often made with high quality, thick materials such as wood or faux-wood – and this quality is represented in their overall greater price tag.
Blinds – Pros & Cons
Outside mount wooden blinds
TOP ADVANTAGES
Cost Effective Option – Blinds are often chosen by homeowners because they are a cost-effective window treatment option. This makes them ideal if you need to replace or add window treatments to many windows in your home all at once.
Great For Any Room – Blinds are a traditional window covering and can work well in almost any room in the home. Though they may not 'wow' your guests, they are practical and efficient. They definitely get the job done!
Many Styles & Options – Blinds come in a wide variety of styles, such as vertical, Venetian, micro blinds, and more! Because of this, homeowners have many options to choose from, which means they can pick the style and material that best suits their preferences and budget!
Great Light Control – Like California shutters, most styles of blinds also allow for lots of light control and privacy control. You can open or close the slats, draw or close the blinds, etc. all to your liking.
POSSIBLE DRAWBACKS
Dangling Cords & Strings Can Be Dangerous – Many blinds come standard with drawstrings or cords. This can create a potential hazard for children and pets. Fortunately, you can get motorized or cordless blinds, but that will be an extra cost.
Not Aesthetically Pleasing – Blinds have come a long way, but are still generally chosen for their cost-effectiveness rather than their aesthetic appeal. You may be able to find some attractive blinds, but many homeowners view drapes or shutters as the most attractive option.
Can Lack Durability – A well-made wood or faux wood blind will last for a long time, but blinds are often not as durable as other options – especially thin aluminum blinds, which are prone to bending and warping. To ensure this is not a problem, work with the professionals to help you find the best, most durable option.
Types Of California Shutters
---
See the different types of California shutters from Hunter Douglas!
Although California Shutters don't come in a wide variety of styles, they do come in many different materials. Each material brings its own look and feel to your home, as well as their own pros and cons. Take a look at the section below of the most popular types of California Shutters – Wood, Composite (faux wood), and Vinyl.
WOOD SHUTTERS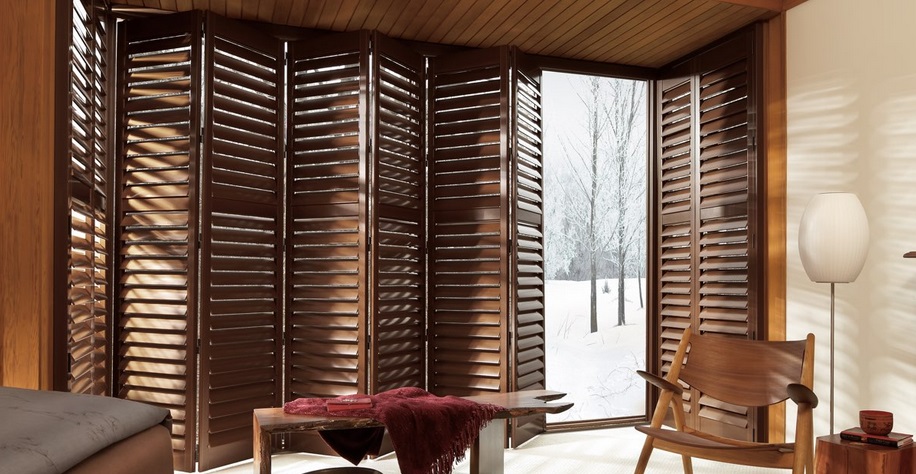 Wooden shutters provide a 'natural' feel to any room

Wooden shutters are one of the most popular and sought-after choices. However, due to the high-quality woods used, wood shutters are generally the most expensive option. Even so, many homeowners prefer wood to all other options. They offer a 'natural' feel to any room and are easily the most customizable option, which is great for homeowners who plan to paint their shutters or think they might in the future. It is important to remember that "wood" is not a single material! Like all wooden products, you will find many different types of wooden shutters to choose from, each with their own pros and cons.
COMPOSITE (FAUX WOOD) SHUTTERS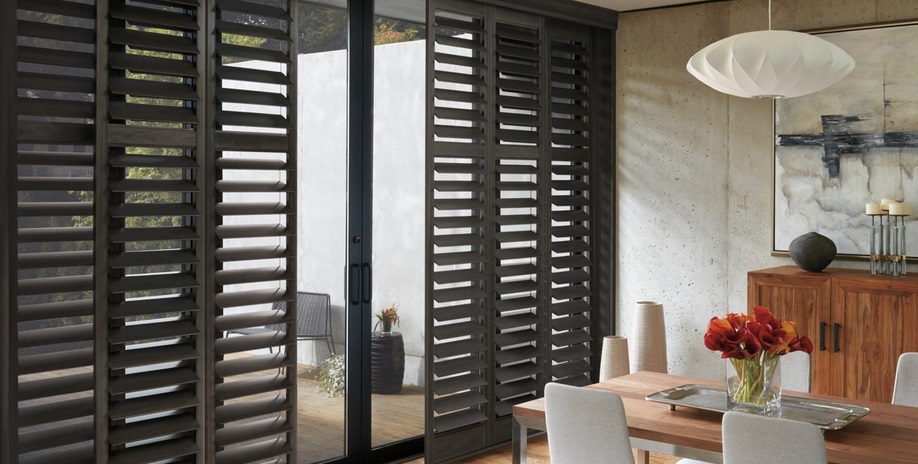 Composite shutters are durable and resistant to water and moisture

What exactly is a composite shutter? It's likely you've heard the term but may not know exactly what it means. Composite shutters look nearly identical, if not completely identical to wood. 'Faux wood' is often used interchangeably with 'composite' (though it's important to note that faux wood can also be made from types of plastic). Composite blinds looks so similar to wood because they're actually made from engineered wood. Because of this, they are extremely durable. Unlike wood, composite shutters are moisture-resistant and low maintenance. This makes them a great solution for kitchens and bathrooms. Composite is generally less expensive than wood, but you may find some overlap in price. Unlike wooden shutters, they are not easy to customize.
VINYL SHUTTERS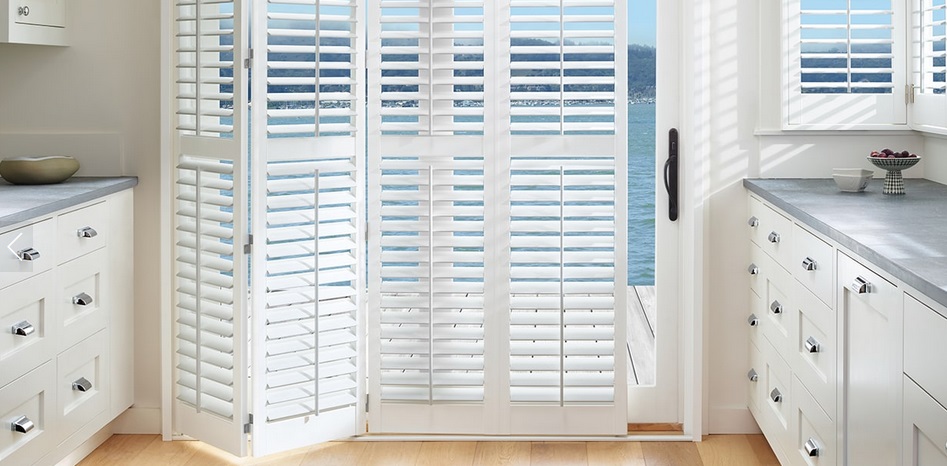 Vinyl shutters are a cost-effective, low maintenance option
Vinyl shutters offer a clean, attractive look and are very easy to maintain, which is what attracts many homeowners! Keep in mind that little maintenance doesn't mean 'no maintenance.' To make sure your shutters last a long time, it's important to clean them when needed. Like composite shutters, vinyl is resistant to water, which makes them great for kitchens and bathrooms. Vinyl shutters also tend to be the lowest cost option – perfect for those on a budget! Vinyl is cost-effective but not as durable – so you may need to replace them sooner than wooden or composite options. Vinyl is not easy to paint, so if you plan to customize your shutters, vinyl may not be the best option.
Types Of Blinds
---
There are many types of blinds, and even within each option, you will find a wide variety of different styles and materials that each blind comes in. Because of that, we'll only take a look at the two most popular options – Venetian blinds and vertical blinds. If you want to learn more about all of your blind and window treatment options, don't hesitate to contact the professionals to learn more!
VERTICAL BLINDS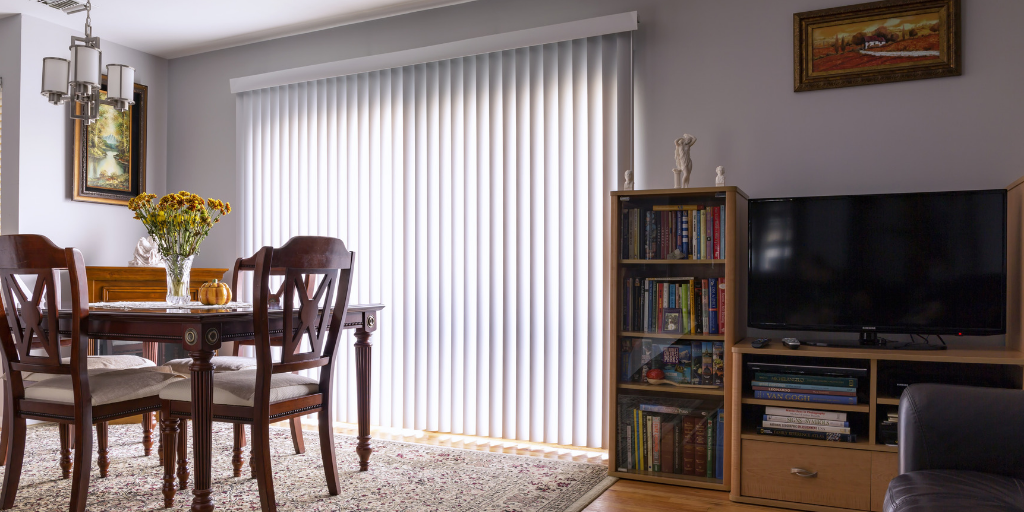 Vertical blinds are perfect for large windows and sliding doors
Vertical blinds are an excellent choice for covering your back sliding doors or very large windows in kitchens or living rooms. Choosing other window treatment options can be significantly more costly to cover such large spaces. With vertical blinds, you will be able to find a cost-effective window covering solution for large spaces. Vertical blinds come in many materials such as wood, faux-wood, vinyl, fabric, and metal (such as aluminum). Vertical blinds are often seen as 'outdated,' but some styles have recently come back into the mainstream as an attractive option!
VENETIAN BLINDS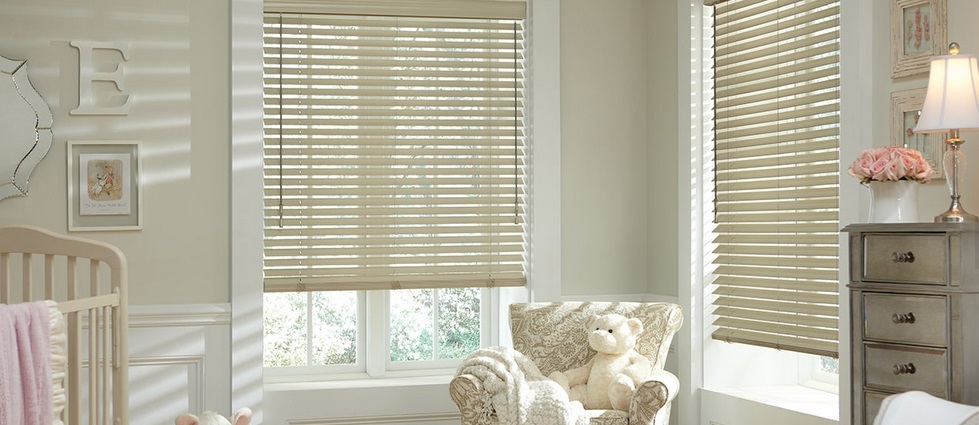 Venetian blinds can go in any room – but be aware of dangling cords and strings
Venetian blinds are most likely the type of blinds that come to your mind when you think about 'blinds' or 'horizontal blinds.' They are a very popular choice for nearly any room in the home, from living rooms to kitchens to bathrooms to bedrooms and more. They also come in many materials, the most popular being wood, faux wood, and aluminum. Although they can work well in children's rooms, it is a good idea to go with a cordless option, as most come standard with cords or strings that can pose a danger to young children.
California Shutters Or Blinds – What Should I Choose?
---
Choosing the right window treatments for your home can help transform any room in your house! You want to ensure you select the option that is best for your personal style preferences, your budget, and the unique needs of your household.
It is up to you to decide what is most important in your new window treatments – are you looking for the most cost-effective option? What about the most energy-efficient option? Do you want wood, or are you willing to choose faux-wood or composite instead? Do you want little maintenance, or are you okay with a bit more?
All of these questions are important to ask yourself before you choose your window treatments. It is also a great idea to work with the professionals. A professional window treatment installer can not only ensure your new window treatments are properly installed, but can actually help you every step of the way – even before you choose your window coverings! They can help you narrow down your choices and choose the option that is best for you and your home.
GET YOUR PERFECT SHUTTERS OR BLINDS WITH GRAHAM'S & SON INTERIORS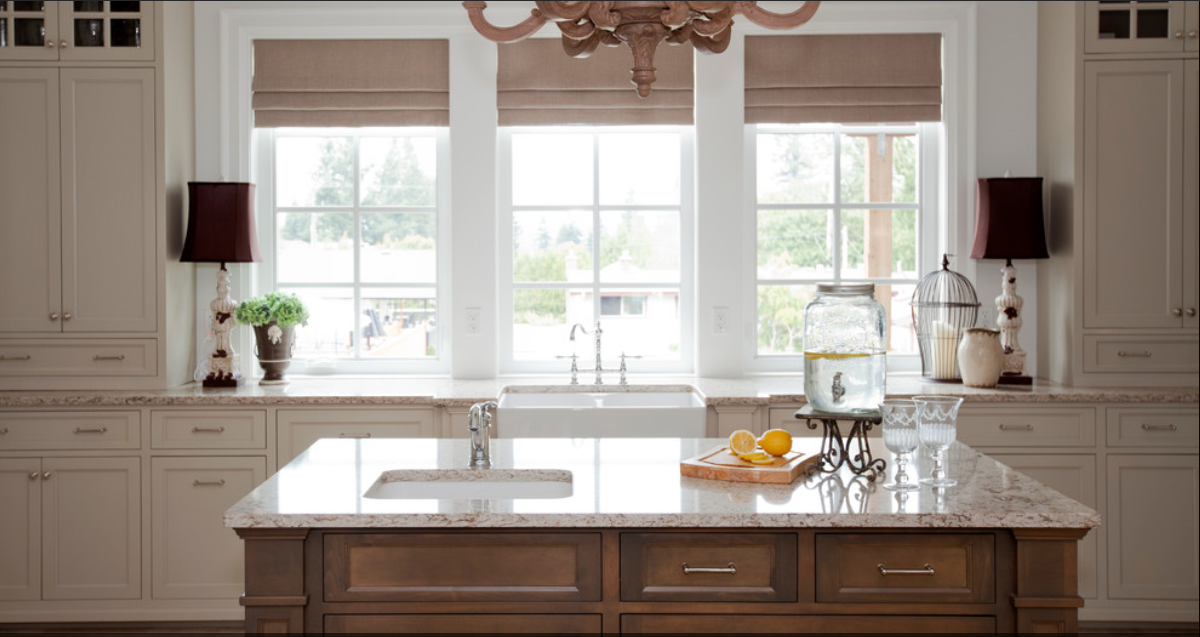 If you are looking to add new shutters or blinds to your home, you can trust the experts at Graham's & Son Interiors to help you get exactly what you are looking for! From drapes to shutters to blinds to shades, we have got you covered no matter what you need.
At Graham's & Son, we offer a wide variety of renovation services and window treatments for any room of the house. If you are looking to update your bathroom, contact Graham's & Son today for the most energy efficient and beautiful window treatments possible.
Graham's & Son knows window coverings; we have been in the window treatment business for over 40 years. Our expertise and professionalism are second to none. In addition, right now we are offering an amazing deal on all our blinds, shutters, and shades – when you purchase any two, you will get a third absolutely free.
"I love my new California shutters that Grahams and Son Interiors recently installed…Great customer service as well. I would recommend them as they not only do window treatments – they do everything for the interior of a home!"
– Mariana
Read more customer testimonials
WINDOW TREATMENT INSTALLER & INTERIOR DECORATOR – JOIN OUR TEAM!

Graham's & Son is looking for a Window Treatment Installer and an Interior Decorator, and we would love for you to join our team! We operate out of Cambridge and are looking for someone who knows the Tri-Cities area well. Training will be provided – some experience required. If you think this may be the perfect job for you, see job requirements and overview by clicking here to learn more about the installer position, or here to learn more about the decorator position.
At Graham's and Son our customers have been so pleased with the high standard of our work that they selected us for the "Best Business Service – Interior Decorating: Platinum" and "Best Shopping – Kitchen Renovations: Gold" awards in the 2017 Cambridge Times Readers' Choice Competition. Book a free in-home consultation today and find out for yourself why Graham's is the best in the interior design business. Contact us today to schedule. If you prefer, you can shop at home. Browse through our website, make your choice, and simply give us a call at 519-658-9025 to place your order without ever having to leave the comfort of your own living room.