Vinyl plank flooring and wood like tile floor top the list of flooring trends for 2018. Not sure what they are? Keep reading to find out and to discover what other flooring choices are gracing the floors in the trendiest homes this year. If you would like some advice or help updating your current floors, contact the interior design experts at Graham's & Son. We will be happy to come to your home, bring samples to you, listen to your ideas and help you come up with a plan that will suit your taste and style. Book your free in-home consultation today.


"Dear Mr. Wayne Graham, May 2016 be the best year for the Grahams and their company! I must take this opportunity to thank you for the renovation job done on my house, not only the input idea that made my home more modernized, but the skill work that made the job done perfectly. I will not hesitate to refer you to my friends who may need a renovation on their house. Thank you again and have a healthy and prosperous year in 2016. Yours Truly,"
– Daniel Yu
Read More Testimonials
Click here to see a gallery of our work
Flooring Trends 2018
What are the hottest flooring trends for 2018? They include vinyl plank flooring, wood look tile flooring, engineered hardwood, and gray hardwood to name a few. Read on to see some beautiful examples and find out the details of the best in flooring for this year.
Vinyl Plank Flooring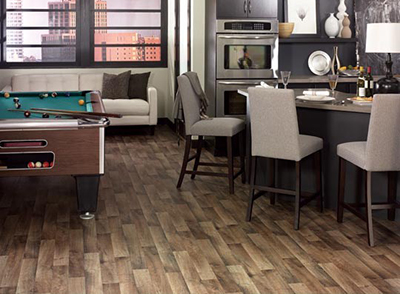 A hot flooring trend for 2018 is vinyl plank flooring. Courtney Greger from My Flipping Job says "I always pick "trends" that I think will have longevity in the marketplace. I see Vinyl being the new "go to" flooring…Elongated tiles or planks have made a splash and are here to stay."
Vinyl plank flooring is a budget-friendly option for homeowners who want the look of hardwood without the high cost of purchasing real wood flooring. It is also a great choice for rooms that have a high moisture content such as a bathroom or kitchen where you would still like the elegant look of wood but are afraid that the water might ruin your investment. Vinyl plank flooring is specially designed to resemble hardwood. It comes in strips and is available in a number of different styles which are made to look like real wood such as oak and hickory.
Wood Look Tile Floor
Even though tile flooring has been a popular flooring choice for years, especially in the kitchen and bathroom, the trendy part comes with tiles that are made to look like wood. Tile manufacturers have recognized the demand for the look of wood throughout the house, and with the advances in technology, they are able to deliver a realistic wood-mimicking tile that can stand up to the moisture, stains, and high traffic found in a kitchen. This means that you don't have to sacrifice style for practicality. You can have "have your cake and eat it too," so to speak, with a highly durable, dependable tile flooring that also looks sleek and contemporary. To find out which type of flooring is best for high traffic areas, read our blog entitled "What Floor Material is Best for High Traffic Areas."
Wood Floors With Planks Of Random Widths
Having wooden floors with planks that vary in width is a trend that is growing in popularity as it gives your room that one-of-a-kind look that so many of us desire. This trend is reminiscent of the flooring in historic homes when people made use of every part of the tree. The one downside is that today, this technique actually costs more because of the additional installation time involved. If you are concerned about the price but love the look, don't worry. The answer is to go with wood-look laminate. The pictures above show laminate planks that have random widths, bevelled edges, and textures that give you a realistic wood look and a rustic, hip feel. Some laminates are now waterproof so you can enjoy their great look of wood with easy maintenance and affordability in your kitchen too.
Engineered Hardwood
Engineered wood has a thin veneer top layer that is actually solid wood. The base underneath this upper layer is made of plywood or high-density fiberboard. Engineered hardwood is a growing trend for homeowners who want real wood in their kitchens because it is better suited than actual hardwood to withstand the high traffic demands of a kitchen. It is also more affordable than real hardwood.
Solid Hardwood Floors In Gray
Gray is hot and trendy now and will continue to be hot and trendy for years to come, especially in a solid hardwood flooring. It offers a clean, modern look to your room and brightens up darker spaces and makes smaller areas seem larger. Gray flooring also provides you with a cool, neutral backdrop for decorating that can complement almost any colour scheme. To learn more about the benefits of hardwood flooring, read our post entitled "Hardwood Flooring Cambridge – Great Quality, Great Prices, Huge Selection."
Handscraped Hardwood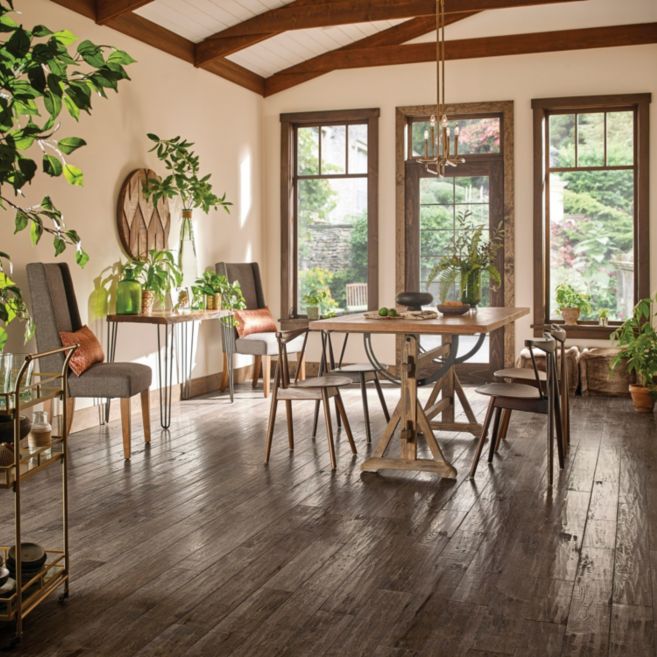 If you like a room with a lot of character, then this next trend is for you. Handscraped hardwood has been made to appear distressed and worn with a technique that implements long, ingrained scrapes into the wood. The result is that each plank looks like it was uniquely handcrafted. Handscraped hardwood will make any room look exquisitely expensive and timeless.
If you have been inspired by some of these trends but you are a pet owner and are worried about whether or not they are pet-friendly, check out our post "The Best Flooring for a Home with Pets."
Graham's & Son – For The Trendiest Floors
If you are looking to replace your outdated flooring, contact the design professionals at Graham's & Son. Graham's & Son has been in the interior design business for more than 40 years. They know what they are doing and they can provide you with the most spectacular results for your home. They will provide you with expert advice, quality, custom-made products, and top notch customer service. Their customers have been so pleased with the high standard of their work that they were awarded the "Best Business Service – Interior Decorating: Platinum" and "Best Shopping – Kitchen Renovations: Gold" awards in the 2017 Cambridge Times Readers' Choice Competition. Book a free in-home consultation today and find out for yourself why Graham's is the best in the interior design market.
Sources:
2018 Kitchen Flooring Trends: 20+ Flooring Ideas for the Perfect Kitchen