Kitchen Renovation Cost Kitchener – In this article, we take a look at what you can expect your kitchen renovation to cost in the Kitchener-Waterloo area of Ontario. Because Canadian prices vary, this article converts USD to CAD to help you get a more accurate estimate for your area.
At Graham's & Son Interiors, we've been serving the Kitchener-Waterloo area for over 40 years, so we know what locals should expect when it comes to renovation costs and expenses.
In our Kitchen Renovation Cost Kitchener guide, you'll get a deep-dive into average costs for each part of your kitchen renovation, how to budget effectively, and what kitchen renovation services Graham's offers in the Kitchener-Waterloo area. Let's get started now!
Kitchener Renovation Cost Kitchener: What To Expect
On average, a full kitchen remodel costs somewhere between $25,000 – $50,000 CAD. However, costs can widely vary depending on a number of factors. Some of these factors include: 
The size of your kitchen 
Whether or not you plan to move plumbing
The quality of your new fixtures (cabinets, countertops, etc.)
Whether you buy new appliances or use your existing ones
Whether you choose to replace cabinets or reface cabinets
Whether you DIY or work with professionals 
Although costs will vary, you should expect to budget at least around $25,000 for a full, high-quality renovation. It's better to create a larger budget and not need to use all of it, then to not budget enough and need to cut corners or use poor quality materials in the middle of your renovation.
In order to see exactly where your renovation budget is going, take a look at the budget breakdown below:
Kitchen Renovation Cost Kitchener - Budget Breakdown
For the average kitchen renovation in Kitchener, your  budget breakdown will probably look something like this:
30% – Kitchen Cabinets
10% – Countertops
5% – Flooring
14% – Appliances
5% – Plumbing
5% – Electrical
20-35% – Labour
Remainder – Unexpected costs
More than half of your kitchen renovation budget will go towards kitchen cabinets, countertops, flooring, and appliances. After that, a large portion will go towards labour.  
Remember, labour is not wasted costs! Many people consider DIY so they can cut down on labour costs, but kitchen renovations are extremely complex. A quality renovation requires expertise in a wide range of areas, including plumbing, electrical, flooring installation, cabinetry and countertop installation, and more. 
The kitchen renovation cost Kitchener homeowners face may seem a bit overwhelming at first. However, it's important to remember that although a kitchen renovation is quite a large investment, a quality renovation can increase your home's value. Some experts even say it can boost value by more than 12%!
Even if you're not planning to sell your home in the near future, a beautiful new kitchen can make you feel more at home, allow you to enjoy one of the most-used areas in the house better than before, and increase your kitchen's functionality. 
Average Costs For Common Kitchen Renovation Features
Cabinets: $2,000 - $8,000
Countertops: $2,000 - $4,000
Kitchen cabinets are a pivotal part of any kitchen renovation. Whether you choose to reface or completely replace them, cabinets will cost on average anywhere between $2,000 – $8,000.
Finding quality cabinets is important, as you won't want to replace or reface them again for a very long time! Quality wood cabinets can last up to 50 years, while other styles may last around 25 years. Either way, that's a long time! It's important to choose cabinets you like – and will continue to like for a long time.
Still, you don't necessarily have to splurge on the most expensive cabinets you find. Or, if your cabinetry is still in good shape but your cabinet doors are not, you can choose to reface instead (installing new doors but keeping the cabinet box). This could save you thousands of dollars!
When it comes to countertops, you can expect to pay a little less. Kitchen countertops usually cost between $2,000 – $4,000. The cost will very much depend on the materials you choose. For example, laminate countertops can cost as little as $800, while Corian, solid surface, quartz, marble, and other stone countertops can cost up to $5,000. 
Remember, countertops made of natural stone can literally last a lifetime, so even if they cost more upfront, you'll never have to worry about replacing them, unlike other materials, which have a shorter lifespan.
Appliances: $200 - $10,000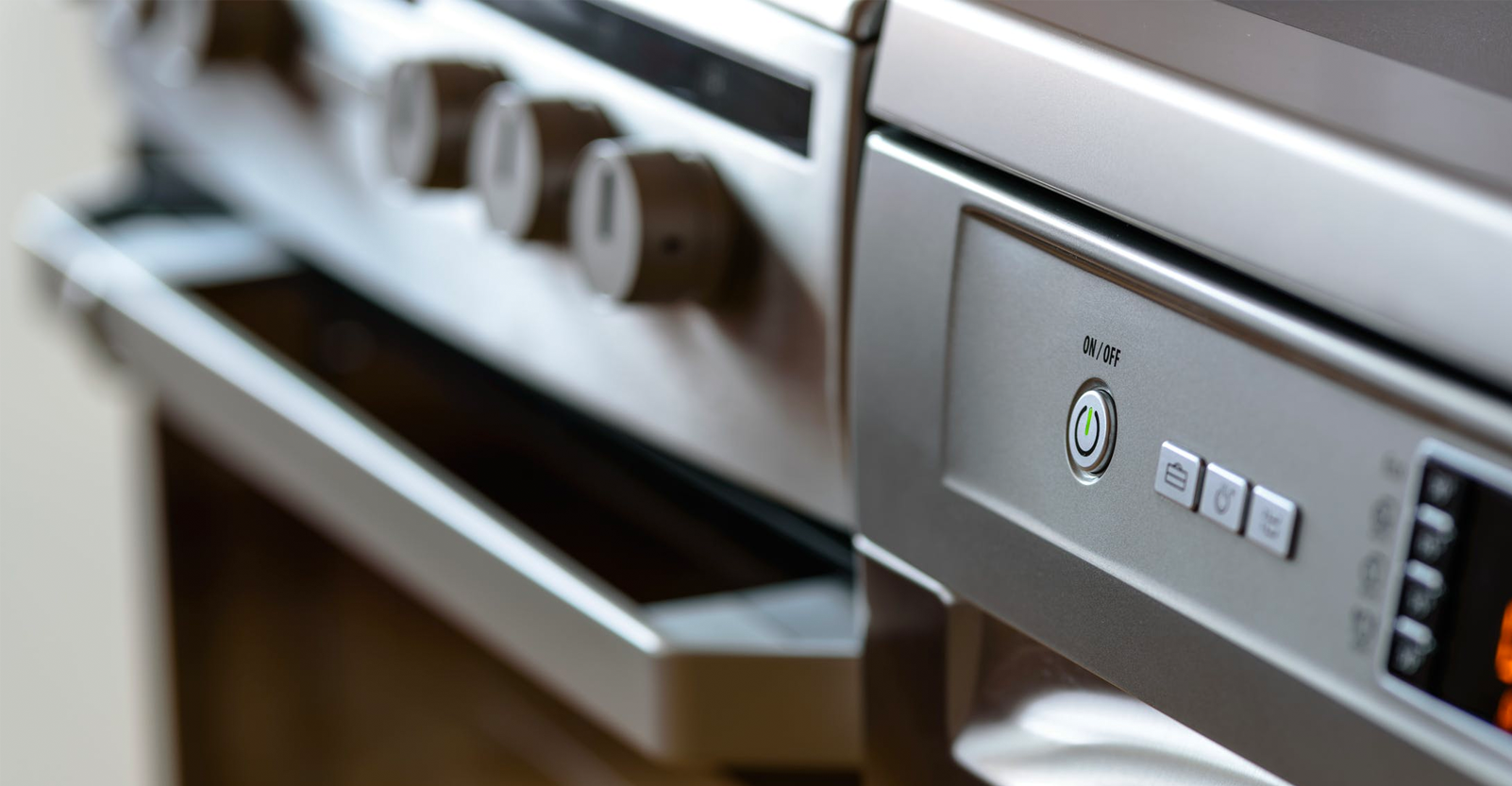 The reason that appliance cost ranges so much is because it completely depends on how many appliances you are replacing and what type of appliances you choose. 
The new appliances included in a kitchen renovation budget will usually include dishwashers, fridges, stoves, and microwaves. The installation fees for new appliances range between $100 – $300 per appliance. Appliances account for a fairly large portion of the average reno budget –  approximately 14% on average.
However, this will be more if you choose higher-end products. For example, EnergyStar products range in price from $300 – $3000 depending on the appliance. EnergyStar products are great because they are affordable and help you save on your energy bills!
If you're looking for custom appliances, on the highest end you will find custom-made appliances, which can end up costing over $10,000. Although you will pay much more upfront, you end up with the highest quality item built perfectly for your unique space, which is ideal for those with a bigger budget or a non-traditional kitchen layout.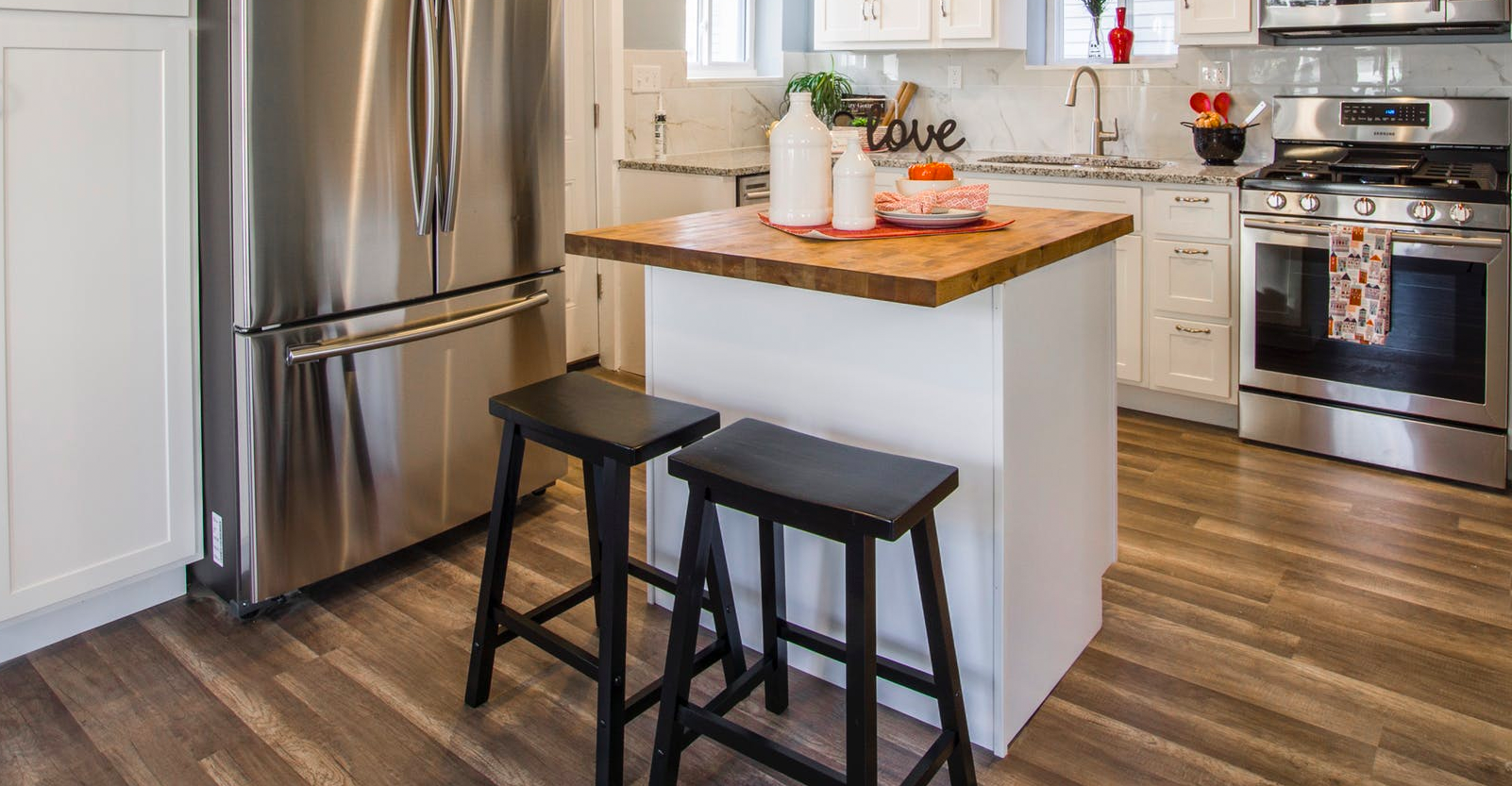 Flooring is another "big" investment when it comes to your kitchen renovation – and the costs can vary quite a lot! Tile, vinyl, laminate, and wood prices are the most common types of kitchen flooring, and can vary widely. That's why it's so important to look at all your options before making a decision. 
It's also important to note that although linoleum and vinyl flooring are often used interchangeably, they are not exactly the same. Vinyl floors are made from synthetic materials, usually PVC. Linoleum floors are made from combining natural materials, such as tree oils and wood flour.
Now that we've cleared that up, let's take a look at some of the most popular flooring options:
Laminate Flooring: $1,500 – $4,500 – Laminate is an attractive option for kitchen flooring as it is moisture resistant and can perfectly mimic hardwood. However, in some cases, high-quality laminate may cost more than hardwood – so keep in mind that laminate does not necessarily mean cheaper! 
Hardwood Flooring: $1,500 – $3,000 – Hardwood floors are traditional, beautiful, and add a natural element to your home. However, they are not naturally moisture resistant and may scratch, so it's important to take proper care to ensure they last a long time.
Marble, Concrete, Slate: $1,500 – $4,000  – Another natural look for your kitchen, these options are all moisture-resistant and can handle a high-traffic area such as your kitchen. However, they are all very hard and may not be comfortable on your feet if you are standing and cooking a big meal for your family!
Linoleum & Cork: $500 – $800 – Both linoleum and cork flooring are very cost-effective options. Linoleum costs around $800 on average and, although it may have a bad reputation, comes in attractive patterns and modern styles. Cork is a highly environmentally friendly option, which his perfect for those that are looking to complete an eco-friendly renovation.
When trying to choose the right flooring for your kitchen, keep your overall budget in mind. As well, think about whether or not you need a 'high impact' flooring or if your kitchen can handle something a little softer. You may also want to consider how eco-friendly each flooring option is.
Kitchen Renovations Kitchener - Our Services
At Graham's & Son Interiors, we have over 40 years of experience helping homeowners in the Kitchener, Waterloo, and surrounding area get the home of their dreams! We work with you to help  you get the kitchen you have always wanted with your unique budget.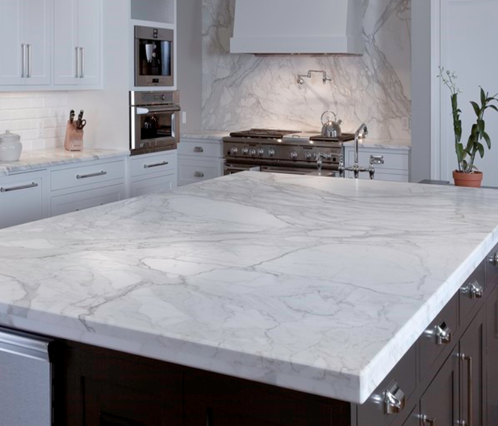 At Graham's & Son, every kitchen renovation begins with a free in-home consultation. Here, we can show you the various counter and cabinet options available. We work with you to find the perfect fit for your kitchen and for your preferred style.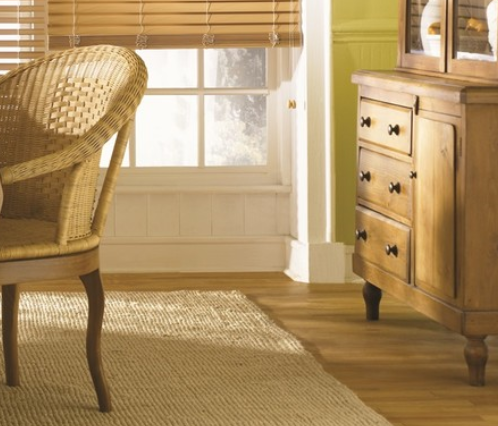 Can't figure the right flooring for you? The experts at Graham's have the experience and know-how when it comes to all aspects of kitchen renovations, including flooring. We can help you choose the right floors for you, your unique preferences, and your budget.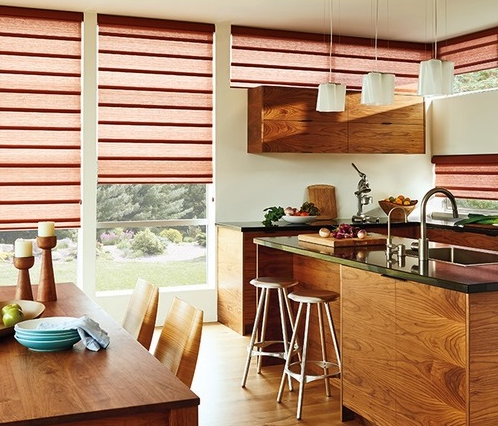 Don't forget about your window treatments! They are an often-neglected part of kitchen renovations. However, updating your old window treatments can make a big difference in your kitchen. At Graham's, we have thousands of options for you choose from!
Reupholstering/Refinishing
Love your kitchen table or dining chairs, but feel like they could use an update? With our reupholstering services, your old dining chairs can look modern and fresh, and with our refinishing services, your favourite kitchen table will look good as new!
Unlike many other contractors, Graham's & Son Interiors doesn't just consult with you, we help you through the entire process.  Our professional team of decorators also offers plans and designs for your project. Your input matters, and we are happy to work with you!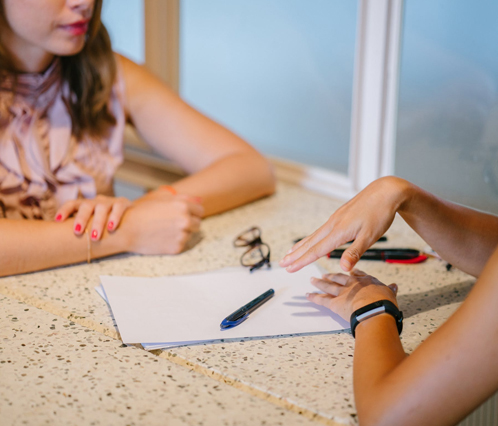 Free In-Home Consultation
At Graham's & Son, every one of our projects begins with an absolutely free, no-obligation in-home consultation. We will meet with you to discuss your dreams for your upcoming kitchen renovation, and discuss what plans going forward may look like.
"Just bought a home that needed a new kitchen. The installers were amazing and the Price, Quality & Workmanship - the BEST!"
Ready To Plan Your Kitchen Renovation in Kitchener?
Book your no-obligation in-home consultation with Graham's & Son Interiors!
At Graham's & Son, we offer a wide variety of home decorating and remodelling/renovating services, including professional kitchen renovations in Kitchener, Waterloo, Cambridge, and the surrounding areas. If you are ready to start your home renovation, you can rely on our 40+ years of experience helping homeowners get their dream home! 
We offer many services to aid with your remodel, including flooring, reupholstering, and custom window treatments – which can make a big difference in any room in your home. Graham's & Son knows window coverings; we have been in the window treatment business for over 40 years! Our expertise and professionalism are second to none. 
In addition, right now we are offering an amazing deal on all our blinds, shutters, and shades – when you purchase any two, you will get a third absolutely free. We can help you find everything you need for your upcoming kitchen remodel.
WINDOW TREATMENT INSTALLER & INTERIOR DECORATOR – JOIN OUR TEAM!

Want to join our team? Graham's & Son is looking for a full-time Window Treatment Installer and an Interior Decorator, and we would love for you to join our team! We operate out of Cambridge and are looking for someone who knows the Tri-Cities area well. 
Training will be provided – some experience required. If you think this may be the perfect job for you, see job requirements and overview by clicking here to learn more about the installer position, or here to learn more about the decorator position.