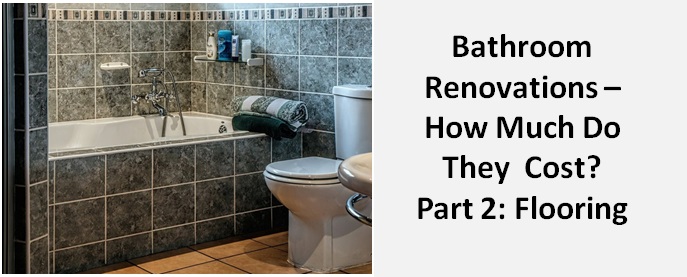 Wouldn't you love to have a luxurious new bathroom where you can escape and truly relax? But how much do bathroom renovations cost? Can you actually afford the dream bathroom that you desire? In part two of this eight-part series, we will help you break down the actual costs of renovating your bathroom by looking specifically at flooring choices and costs. In the subsequent posts, we will look at your, shower and tub selections, lighting choices, cabinetry, toilets, and tiles. If you would like some expert advice and help with your bathroom renovation, contact Graham's & Son today. We'll come to your home for a free consultation where we will take measurements and give you a quote right on the spot.

"Have been doing business with Grahams & Son for many homes and 2 real estate offices. So helpful with colour combinations, decorating ideas and has always looked so beautiful when completed…Great prices-Great Service & Exceptional Workmanship!"
– Wenda Allen
Read More Testimonials
Click here to see a gallery of our work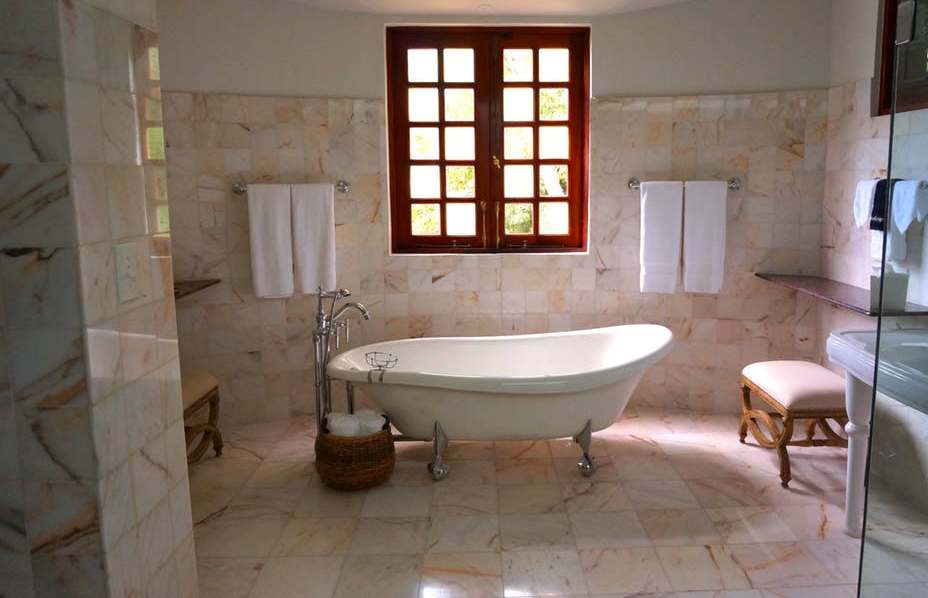 Bathroom Renovations – How Much Do They Cost?
According to Canadian Home Trends, an average 5′ by 10′ bathroom in a home will cost anywhere from $10,000 to $16,000. That figure includes the designing, planning, supplies, and installation. If you are renovating a bathroom in a condominium, you could expect to pay about 30% more because of the restrictions imposed by condo rules and existing building design. Therefore, renovating a condominium bathroom could cost from $13,000 to $20,800.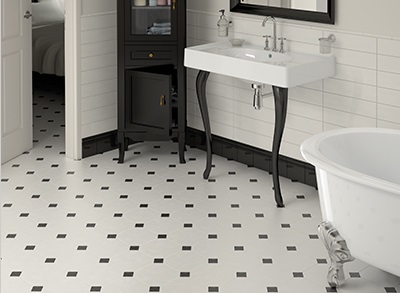 Part 2: The Flooring
It's difficult to give you an exact number when it comes to flooring costs for your bathroom. That's because the final numbers will depend on a number of factors including:
The type of flooring you choose
Whether or not your sub-floor needs repairing of replacing
Removal of your existing floor covering
The size of your bathroom
To give you a better idea about how much you should expect to spend on flooring for your bathroom renovation, we've broken down the costs into separate sections. The numbers quoted come from Danny Edell of Toronto-based boutique construction and renovation company True Contractors who put these figures together for HGTV.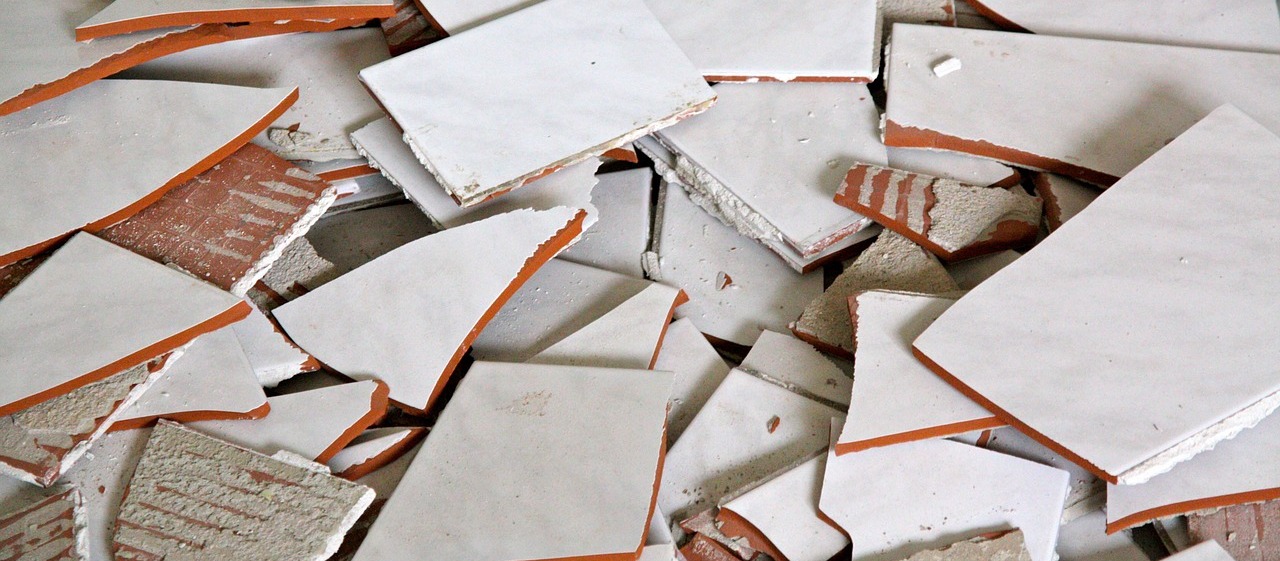 Removal of Old Floor Covering
Usually, you will need to remove your existing floor covering before you install the new one. Depending on how difficult it is to remove, it should cost an average of $1.25 per square foot.
Average Cost for 5′ X 10″ Bathroom: $62.50
Replace Your Sub-floor
When you are dealing with a bathroom renovation, you may find that your sub-floor has experienced water damage and may need to be replaced. If this is the case, you can expect to pay an average of $2.10 per square foot if you are using a standard 5/8″ plywood.
Average Cost for 5′ X 10″ Bathroom: $105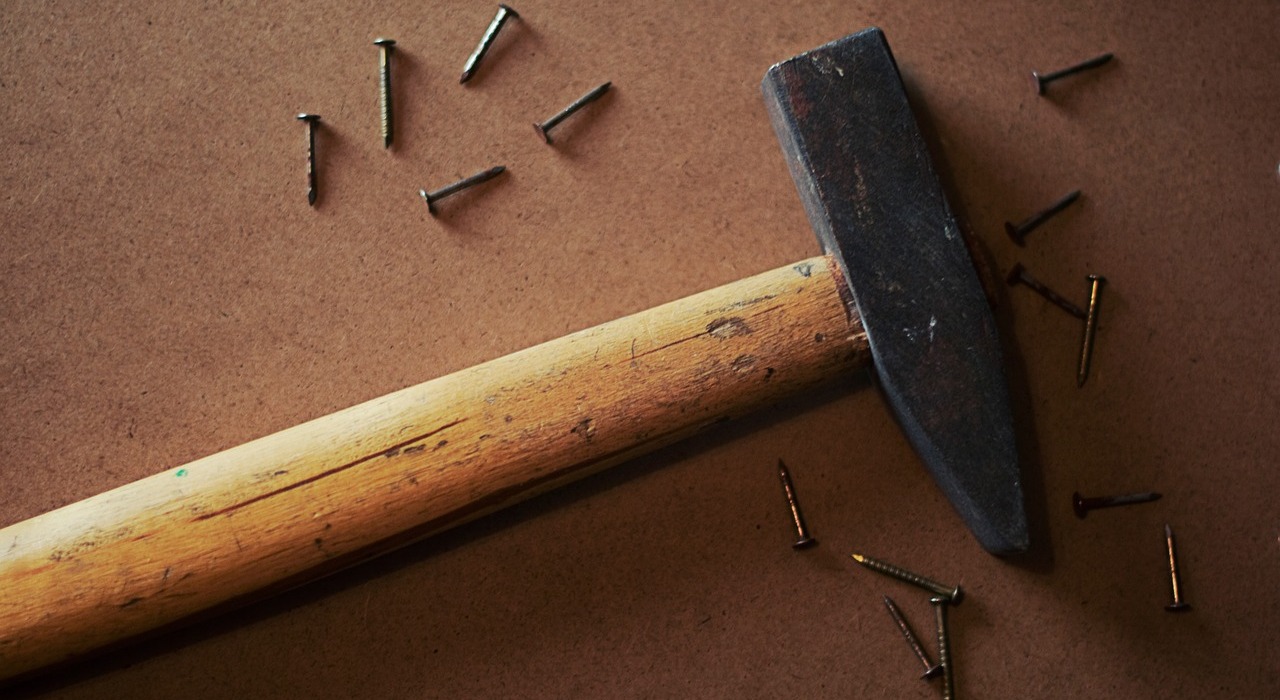 Floor Underlay
The type of floor underlay you will need will depend on the type of floor covering you choose. Underlays can range in price anywhere from $0.20 to $5 per square foot.
Average Cost for 5′ X 10″ Bathroom: $10 to $250
Floor Covering: Vinyl
Vinyl is a great choice for a bathroom as it is affordable, resilient, and completely waterproof. It comes in a variety of styles, colours, and patterns and is sold as planks, sheeting or tiles. It will cost you an average of $3 to $5 per square foot to purchase and an additional $2 to $2.50 per square foot to install.
Average Cost for 5′ X 10″ Bathroom: $150 to $250 for materials and $100 to $125 for installation
Tile is another great choice for bathroom flooring. Ceramic tile is the least expensive option if you are looking to use tile in your bathroom. It will cost about $3 to $5 per square foot in materials and $6 to $8 for installation.
Average Cost for 5′ X 10″ Bathroom: $150 to $250 for materials and $300 to $400 for installation
Another more expensive but great option for the bathroom is porcelain tile. It will cost about $6 to $8 per square foot in materials and $6 to $8 for installation.
Average Cost for 5′ X 10″ Bathroom: $300 to $400 for materials and $300 to $400 for installation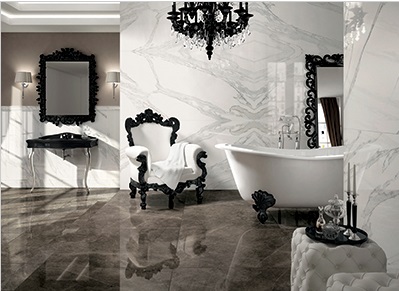 Floor Covering: Natural Stone such as Marble
Natural Stone such as marble will cost you $15 or more per square foot in materials and $6 to $8 for installation.
Average Cost for 5′ X 10″ Bathroom: $750 and up for materials and $300 to $400 for installation
Some Helpful Terms
When discussing flooring you may come across some terms like floor covering, finish floor, underlay, sub-floor and joists. The following will give you an idea of what each of these terms refers to.
Floor Covering or Finish Floor
The floor covering is the layer of flooring that you actually see and walk on. It can be changed and is not a requirement for structural support, however, it often provides supplementary support. When you remove the floor covering, you should find the real structurally supporting floor beneath. This is known as the substrate and it is your permanent floor. It consists of possibly an underlay, sub-floor, and joists. Some of the more common floor coverings include: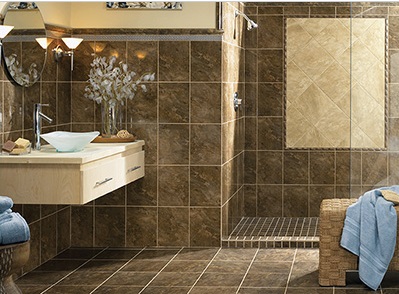 Floor Underlay
Underlay is a thin material that's sandwiched between the exposed flooring (the part you can see) and the sub-floor. This layer is optional and its purpose is to provide a smooth, consistent surface for the floor covering. Different flooring covers require different underlay. The following are common flooring/underlay combinations:
Sub-floor
A sub floor is a thick flat surface that the other floor layers, the underlay, and the top floor, rest on. It is the layer of flooring that is directly connected to the joists. It is usually made from plywood or OSB (oriented strand board) and can be anywhere from 19/32″ to 1 1/8″ thick. The sub-floor is very important as it is a structural, not a cosmetic, component. If you have a concrete slab floor then the slab itself may be the actual sub-floor.
To get a better idea about what a sub-floor looks like and how it is installed, watch the following video.
Joists
Joists are a structural component underneath your sub-floor. They support everything above them. They are made from engineered wood, laminated wood or dimensional lumber. All of the flooring in your home has joists except for those that are concrete slabs.
Need Flooring Advice? Graham's & Son Can Help
Graham's & Son has been in the interior design business for over 40 years. We are locally owned and operated and we specialize in all types of renovations, including bathrooms. For free, professional advice, measurements, and installation, contact the design experts at Graham's & Son. We will come to your home and do a free in-home consultation. We will also provide you with a quote during our first visit with you.

Sources:
Subfloor, Underlayment, and Joists – Floor Layers Explained
Common Renovating Costs: Flooring
Read the rest of our series:
Part 1: Overview
Part 2: Flooring
Part 3: Showers
Part 4: Bathtubs
Part 5: Sinks & Vanities
Part 6: Toilets
Part 7: Lighting and Wall Coverings
Part 8: Common Layouts