In our introductory guide to bathroom renovations, we'll take a look at the four most common bathroom styles: traditional, modern, contemporary, and transitional. If you are thinking about a full bathroom renovation, you will most likely end up choosing from these four design styles. If you don't know where to start with your upcoming bathroom renovation, this guide will help you narrow down your choices and give you the inspiration you need to move forward! To learn more about getting the bathroom of your dreams, contact the renovation experts at Graham's & Son today!
At Graham's & Son, we offer FREE in-home consultations!

Introductory Guide to Bathroom Renovations – Bathroom Styles
When planning for bathroom renovations, one of the first things you will want to think about is the actual design of your bathroom. Although there are a few common elements in recent bathroom designs (such as freestanding tubs), each style comes with its own unique look and feel. The design you choose will include the style of fixtures, colours, and overall feel (e.g. modern vs traditional). Here, we'll take a look at the four most common bathroom styles and provide examples of each to help you decide which design is right for you and your home.
Traditional Bathroom Design
Traditional bathrooms often include neutral tones and warm wooden fixtures
It is likely you've seen a traditional bathroom – they are a common style in homes across North America. The traditional bathroom design is inspired from 18th Century England as well as the French Countryside to bring a classic look to your bathroom.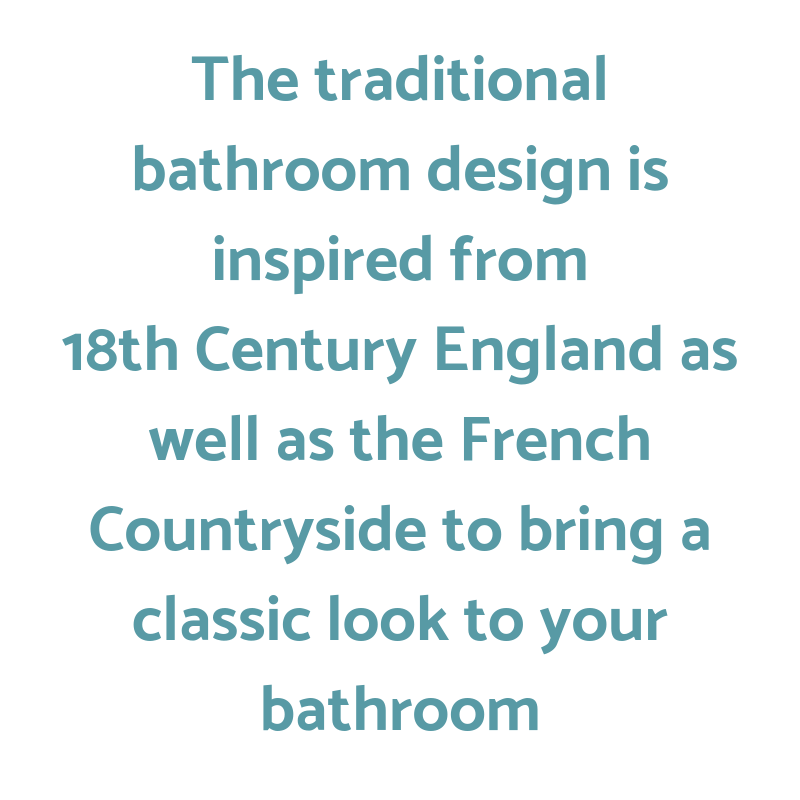 When you think of a warm and comforting environment, a traditional bathroom perfectly falls into that category. It often includes neutral tones and warm woods and colour choices.
Formica.com describes some common elements of the traditional/classic bathroom, which often include pieces such as a clawfoot tub, black and white tiles, pedestal sinks, brass finishes, and vintage wallpaper.
You may also notice some other unique finishes in a traditional bathroom, such as soft window coverings. You will often notice shades or drapes instead of shutters or blinds.
Traditional bathroom design is perfect for homeowners who long for comfort and familiarity. A traditional design is classic and will stay in style for years to come. Unlike other designs that rely on current trends, you won't risk this design going out of style any time soon – which is great for homeowners who may choose to sell their home.
Modern Bathroom Designs
Modern bathrooms incorporate greys and geometric shapes
There is no single style that defines modern. Modern is often, however, defined as styles that arose in the 1920s-1950s. Others describe 'modern' as any style that arose during the 20th century. Some modern bathrooms incorporate lots of geometric patterns and shapes. Others are highly minimalistic, with only the essentials and no 'bells and whistles.' Still, no matter how you choose to define modern, there are many features and design elements that tie all modern bathroom designs together.
Most modern bathrooms incorporate some level of minimalist design. They often skip over colourful features and extras; instead, you will see lots of whites, greys, and often darker woods mixed throughout. It's also common to see greenery mixed in, with small potted plants or hanging pots. When choosing your lights, keep in mind that modern bathrooms often incorporate geometric shapes. Skip the fancy chandelier and go simple with pot lights or simple fixtures.
Freshome.com suggests adding these five elements when designing your modern bathroom: mid-century furniture (such as a chair placed in the corner of a larger bathroom), simple & minimalist design, freestanding tub, greenery, and modern lighting. Although freestanding tubs are popular in modern-style bathrooms, if you're low on space you may want to go with an alcove tub-shower instead. With these elements, you are sure to get the modern bathroom of your dreams!
Contemporary Bathroom Designs
Contemporary bathrooms are often minimalist with industrial touches
Many people think that contemporary design and modern design are the same thing. That is a common misconception. Contemporary design simply refers to whatever styles are being produced right now! Because modern styles are being produced now and are currently popular, they fall within the contemporary category. However, contemporary designs are always changing, as new styles and ideas are produced.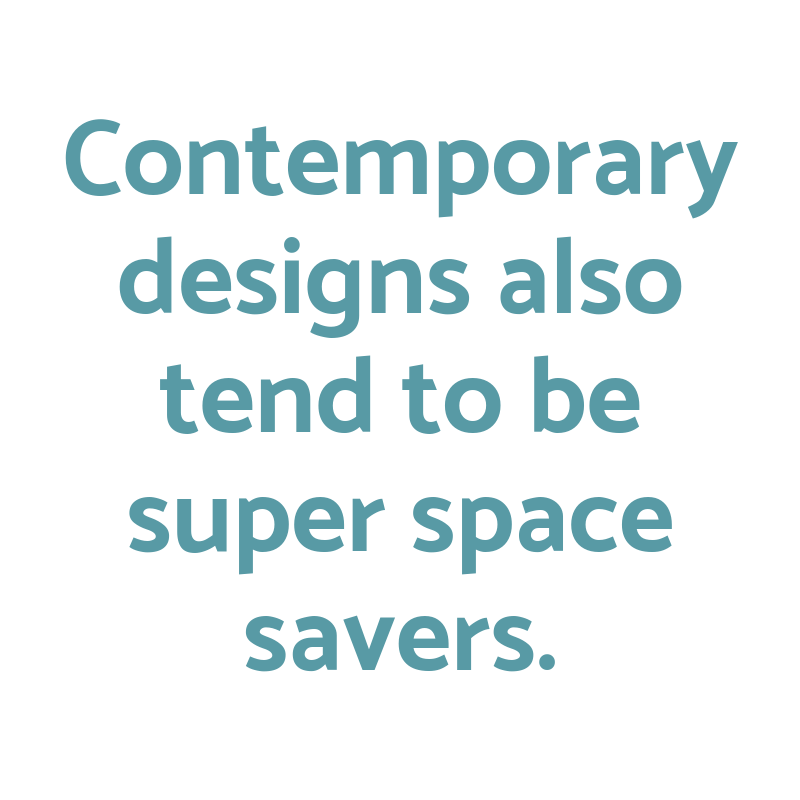 Although many of the current contemporary trends overlap with modern styles, there are a few unique elements that you will see more commonly with contemporary styles. The first element is industrial touches.
Better Homes & Gardens states that is common to see concrete, exposed pipes, and natural wood mixed in with current contemporary bathroom designs. You will likely see modern touches throughout as well – including geometric sinks or mirrors and minimalist designs.
Contemporary designs also tend to be super space savers. You may find small, floating vanities and even toilets, as well as designs that help make your bathroom look larger, such as horizontal tiles.
Contemporary design is often minimalist in its colour choices as well. Blacks and whites, as well as different greys, are all common in contemporary bathrooms. A trend for sleek, glass showers is also popular right now with contemporary bathroom designs.
Transitional Bathroom Designs
Transitional bathrooms blend together two or more styles and designs
The transitional bathroom combines elements from both modern designs and traditional designs to create a unique blend of the two styles. A transitional design is perfect for the homeowner who just can't decide on one design. Transitional bathrooms blend many different ideas and styles into one – but does so in a way that ensures everything still looks perfectly put together.
Because transitional bathrooms blend a variety of styles, it's important that you choose a "base" for your design. This is to ensure everything fits together and you don't end up with a mishmash of too many elements. Architecture Art Design suggests that you choose modern & rustic or traditional & contemporary – these two blends are most common in transitional bathroom designs.
Although transitional bathrooms are one of the hardest to do 'right,' if you work with an experienced bathroom renovator to get the job done, you will end up with a beautiful and unique bathroom! Ensure you do your research ahead of time to get tips and ideas to help with your own bathroom inspiration.
GET YOUR DREAM BATHROOM WITH GRAHAM'S & SON INTERIORS!
Before & After – A Master Bathroom Renovation by Graham's & Son!
Looking to renovate your bathroom and finally get the dream bathroom you've always wanted? Graham's & Son can not only offer you expert advice on all of the latest trends in bathroom renovations, but they can also help you select the perfect designs and fixtures that will suit your wants, needs, and your budget.
At Graham's & Son, we also offer a wide variety of window treatments. If you are looking to update your current window treatments, contact Graham's & Son today for the most energy efficient and beautiful window treatments possible. Graham's & Son knows window coverings; we have been in the window treatment business for over 40 years. Our expertise and professionalism are second to none. In addition, right now we are offering an amazing deal on all our blinds, shutters, and shades – when you purchase any two, you will get a third absolutely free.
"Absolutely wonderful service from a great family business. They provided quality products at very affordable price. Definitely recommend using Grahams & Son"
– John O'Leary

Read more customer testimonials
WINDOW TREATMENT INSTALLER – JOIN OUR TEAM!
Graham's & Son is looking for a full-time Window Treatment Installer, and we would love for you to join our team! We operate out of Cambridge and are looking for someone who knows the Tri-Cities area well. Training will be provided – some experience required. If you think this may be the perfect job for you, see job requirements and overview by clicking here.
At Graham's and Son our customers have been so pleased with the high standard of our work that they selected us for the "Best Business Service – Interior Decorating: Platinum" and "Best Shopping – Kitchen Renovations: Gold" awards in the 2017 Cambridge Times Readers' Choice Competition. Book a free in-home consultation today and find out for yourself why Graham's is the best in the interior design business. Contact us today to schedule. If you prefer, you can shop at home. Browse through our website, make your choice, and simply give us a call at 519-658-9025 to place your order without ever having to leave the comfort of your own living room.