Top 10 Jillian Harris Design Tips
In this post, we'll take a look at some of the best home decorating tips provided by famous designer Jillian Harris! Jillian Harris is a well-known Canadian interior designer and appears on the HGTV show Love It Or List It Vancouver!
At Graham's & Son Interiors, we've been in the interior decorating business for over 40 years – so we know a great designer when we see one! We're happy a fellow designer's excellent tips and tricks can help you get the home you've always dreamed of. 
Here, we'll go over 10 tips we've compiled from HGTV, Style At Home, and Jillian Harris' own blog to give you great decorating ideas. Let's get started! 
1. Choose The Perfect Lighting
We may not think twice about the lighting in our home – it's often an afterthought when we're renovating or redecorating. However, the lighting you choose can have a huge impact on the feel of any room in your house, whether it's your kitchen, your bathroom, or even your child's room. 
"There's no denying that the perfect lighting can totally transform the look and ambiance of your home," Jillian Harris writes on her blog. "Lighting can be so much fun (and equally overwhelming!) to shop for as there are so many different styles, shapes, sizes, and colours to choose from! Lights can quickly add so much character to a room but finding "the one" can be really difficult, trust me, I've been in your shoes!" 
In Jillian's article Lighting I Love, you can find great ideas about choosing the right lighting for your unique taste and the room you're decorating. She also lists off some of her own personal favourites and where you can buy them. 
She also outlines some tips for buying the right lights, such as matching lighting to the existing colours and style of a room, and which types of lighting create different atmospheres.
2. Pick The Right Couch For Your Living Space
After a long day at work, most people gravitate to their living room. When you're tired or just want to relax, it feels good to plop down on a comfortable couch in your living space! But choosing the right couch can be a challenge – like pretty much every other home decorating item or fixture, there are a lot of options. How do you choose the right one? 
Well, Jillian provides a few tips for picking the right couch for your space. First of all, you'll want to go with a neutral colour. Although you may be drawn to bold tones, it's best to stick with neutral because it will go with more and stay in style for much longer! If you want a splash of colour, choose a funky throw blanket or multi-coloured pillows. 
You'll also want to make sure you choose the right size of couch. Too big and it will make your space look cramped and feel less accessible. Too small and it won't be functional for you and your family. You should measure your space and find your "inner goldilocks" to choose the size that's just right!
3. Add Colourful Accents In Your Home
We mentioned that neutral colours are best for your couch – but that doesn't mean you shouldn't play around with colour in other areas of home design! The kitchen is a great place to play around with colour. Bold cabinets are in, and we're seeing traditional white cabinets and countertops replaced with darker or more colourful versions. 
From Style At Home, Jillian says: "I'm loving black kitchens these days with beautiful thick white marble," she says. "Or dark marble, composite or wood countertops, instead of the safe white countertops. Black framed windows (even throughout the house) gives a home a traditional New York vibe that I love! I'm also loving thick marble countertops with natural wood cabinetry and gold hardware."
Adding colour doesn't have to be expensive of complicated. You can paint your existing cabinets black or another dark tone, or if you have wooden window frames, you can paint those as well! Or, if you're ready for a renovation, you can choose to get new cabinetry or countertops in modern styles and colours.
4. Consider Custom Drapes
In her article The Final Touch: How Custom Drapes Complete Your Space, Jillian Harris recommends considering custom drapes as your next window treatment solution. She admits that at first, she didn't really see the big deal about custom drapes until she actually invested in some of her own! 
She writes, "Custom window coverings make the space look soft and feel bigger and elongated! They really are that "finishing touch", they help frame the home and add that little bit of luxury!" Jillian says. "Also … not only do they look good but they're functional as well! You can get blackout shades in any room in your home where you may need a little extra privacy or darkness!" 
Custom drapery is made to perfectly fit your space. You'll also be able to choose from nearly endless possibilities – from different fabrics, styles, patterns, and materials, you can truly get the window coverings you've always wanted!
5. Don't Be Afraid Of Unique Accent Pieces
The small finishing touches in a room, like book ends, trinkets, house plants, pottery, and accent decor can make the difference between a boring room and an outstanding space! Jillian reminds us that it's okay to play around with different textures and materials – experiment! You may find a unique design that works perfectly for your home.
When it comes to decor like this however, it's also important to remember that "less is more." You won't want to overdo it, because that can easily make your space look cluttered and messy. However, a few unique accent pieces will help give your home a bit of pizzazz and help show off your own personal and unique style!
6. Use Green To Give Your Space a Fresher Feel
Green is a bold colour, and many homeowners have  avoided it – but when used well, it can be an awesome design element that makes your home look and feel fresher. In Jillian's article Green With Envy: Incorporating Green Into Your Home, Jillian writes about the easy ways you can incorporate green into your home without it overwhelming the space. 
Through accents like accent pillows, area rugs, green-themed decor, and even appliances in your kitchen (how cute is a little green mixer!) However, one of the best and easiest ways to add green to your home is through greenery! 
Jillian writes: "I love having fresh flowers in my home, not only do they smell amazing but they also freshen any space up. Succulents are perfect to add a little pop of green to any desk or side table. The bonus? They are VERY low maintenance."
If you want your space to feel a bit more fresh, consider investing in some succulents! They are inexpensive, easy to maintain, and there are tons of great ideas right now on how to decorate with them.
7. Off-Centre Your Dining Table
Many of us want to place everything perfectly in the centre of a room – and this is especially true for kitchen and dining room tables. However, Jillian Harris has a design tip that says to do the opposite! Instead of placing your dining table in the middle of your room, consider placing it off to one side. 
Why would you want to do this? Well, this off-centre placement actually creates more useable space in your dining room. You don't miss out on space while eating, and your guests have much more room to mingle and get to their seats without saying "excuse me!" to everyone they pass by. 
You may be wary of this design idea, but take a look at the picture above! The dining table is still a beautiful statement piece and the room looks balanced even though the table is set to the left.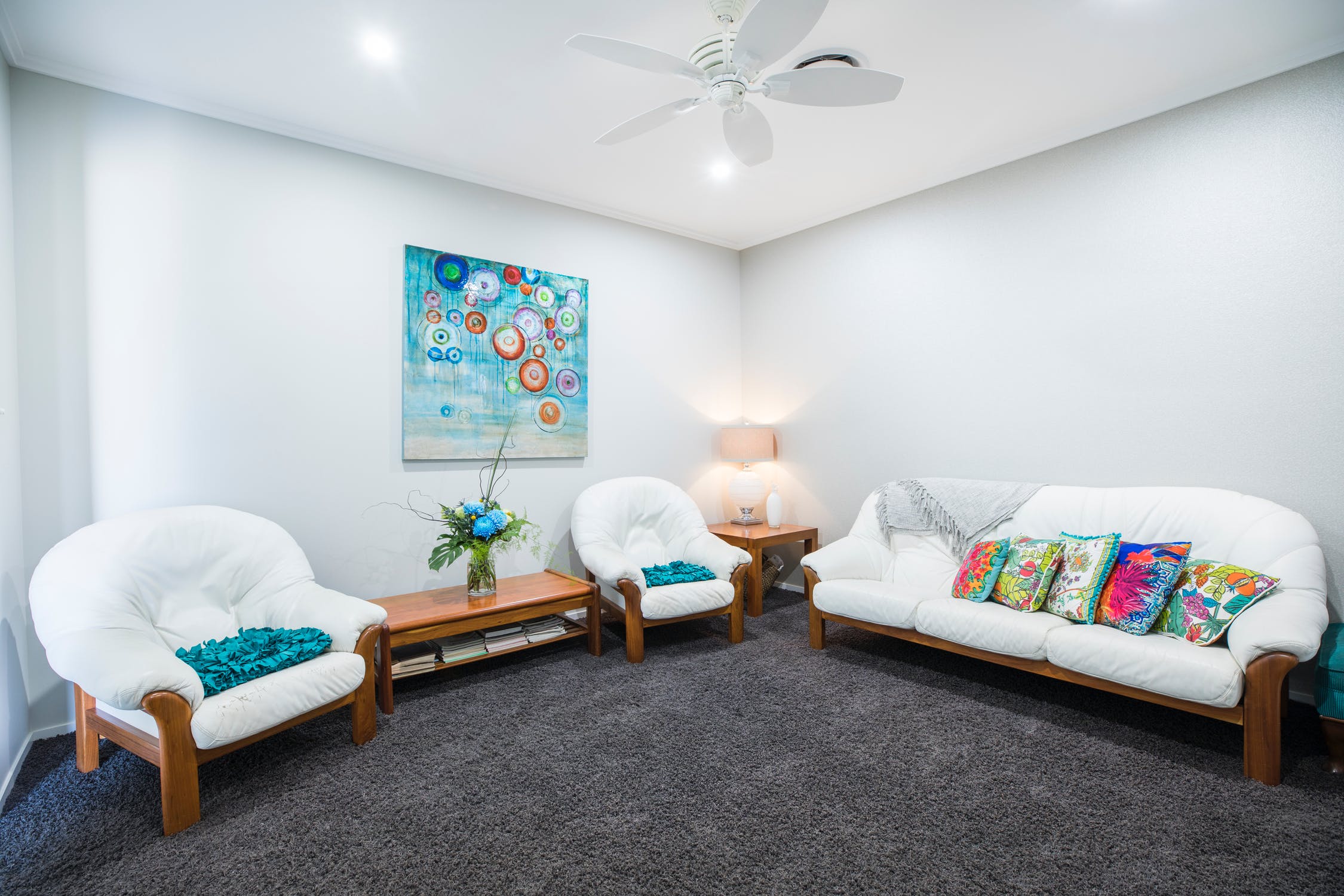 Jillian is all about adding colour and patterns in the right places. Mixing-and-matching your throw pillows is the perfect way to add a splash of colour to your living space! This idea can be applied pretty much anywhere in your home.
From Style At Home, Jillian writes: "Don't be afraid to mix and match patterns when it comes to decor pillows and throws," says Jillian. "I have a gingham print wallpaper in my spare bathroom which I love and I also feel that a blush pink gingham wallpaper in a child's room is adorable! Also, don't shy away from wall decals, big and small! These are easy to peel and stick yourself!" 
So, if you're looking for an easy way to add a bold touch, try to mix and match some throw pillows or test out some funky wallpaper patterns!
9. Incorporating Shiplap In Your Home
A few years ago, shiplap was all the rage. Although it may not been on every Pinterest board anymore, it's still a trendy, modern, and beautiful design element that can be used anywhere in your home! In her article How To Use Shiplap Throughout Your Home, Jillian provides great tips on how to incorporate this wooden design everywhere from your ceiling to your bedroom! 
Jillian writes, "Truth be told, I'm a MASSIVE fan of shiplap, not only does it add texture to any room but it also adds so much character to a home by making it feel "lived in", even a newly renovated home can have that aged or historic feel if you want it!" 
The great thing about shiplap is that it is so versatile! You really can use it wherever you want in your home. Since it's a great accent piece, you can choose to only add shiplap to one wall (for example, the wall your headboard is against in your bedroom), and it will instantly add character. Plus, if you use shiplap throughout many rooms in your house, it will help create a cohesive look in your home. 
10. Using Rugs As Accent Pieces
In her article My Favourite Rugs: Indoor and Outdoor, Jillian Harris makes note about the amazing design elements that you can add with a simple rug. Both indoor and outdoor rugs can totally change the look and feel of your space – so it's a good idea to think about what look you're going for before you truly settle on a rug. 
As you may have been able to tell from the previous images and tips from Jillian, she prefers neutral colours with a splash of brighter colour here and there through selective decor and accent pieces. When it comes to rugs, she says it's totally fine to be playful with the colours you choose! 
"As many of you know by now, my home is very neutral and mostly all white," Jillian writes, "So when it comes to selecting rugs for our home, I like to have a little fun and go for rugs that are patterned and believe it or not, have some colour!! "
If your home is similar to Jillian's home, and you've mostly decorated with neutrals, a rug is a perfect way to bring in that extra pop of colour you may be looking for. It's an easy way to add an accent piece – that can replaced or repurposed when you get tired of those colours!
Inspired By Jillian Harris? Ready To Get Your Dream Home?
Graham's & Son Interiors Offers Interior Decorating Services In The KW Area!
If you're looking for high-quality, professional interior decorating services in Cambridge, Waterloo, Kitchener, or the surrounding areas, you can rely on Graham's & Son's 40+ years of experience in the interior decorating industry. 
All of our projects start with a FREE, no-obligation, in-home consultation, so we can hear all about your plans and dreams. We can help advice you on what styles, materials, fixtures, and furniture will be best for your unique home, your wants and needs, and your budget.
We also offer window treatment services, reupholstering and refinishing, full kitchen and bathroom renovations, and so much more! Let's get started today!

Graham's & Son is looking for a full-time Window Treatment Installer and an Interior Decorator, and we would love for you to join our team! We operate out of Cambridge and are looking for someone who knows the Tri-Cities area well. Training will be provided – some experience required. If you think this may be the perfect job for you, see job requirements and overview by clicking here to learn more about the installer position, or here to learn more about the decorator position.
"Merv and I just wanted to thank Wayne for his advice and expertise. We are so glad that we decided to go ahead and put the California Shutters on both levels. What an amazing difference and feel to our new home. The installer did a fantastic job, very professional and informative. What a great decision to choose Graham's & Son Interiors!"