Today, we'll take a look at the top 10 interior design trends that are in for 2019 – and beyond! Whether you want to add a few new accent items to your home, or do a full renovation, these ideas will give you the inspiration you need.
Graham's & Son Interiors has over 40 years experience in the home decorating and renovation business. We've seen trends throughout the decades, and are happy to share what we've learned with you!
For 2019, natural elements, 70's chic, bold colours and accents, and more are here to stay – let's learn more about these trends below!
Top 10 Interior Design Trends of 2019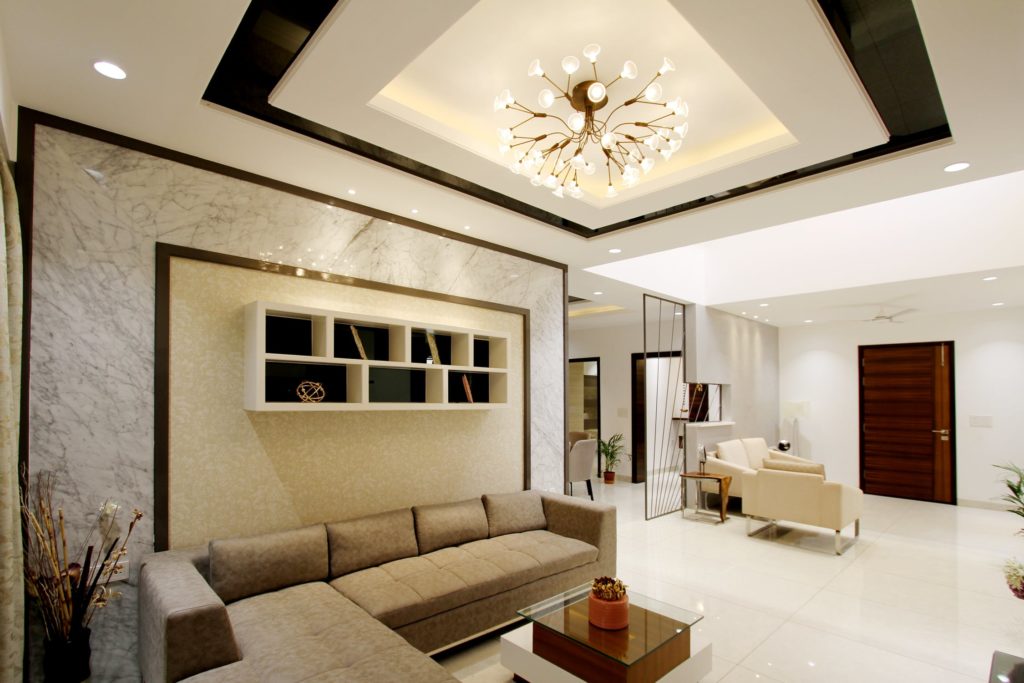 With the start of 2019, we saw a revival of natural elements – a step away from technology and back towards our roots! Integrating stone, wood, and lots of interior plants is trending in home design this year. 
The image above is a perfect example of this interior design trend – with a number of different stone textures used in the flooring and the accent wall, a beautiful dark wooden door, and greenery placed throughout this open concept home. Even the light fixture has a natural look to it – as if it was made from thin branches!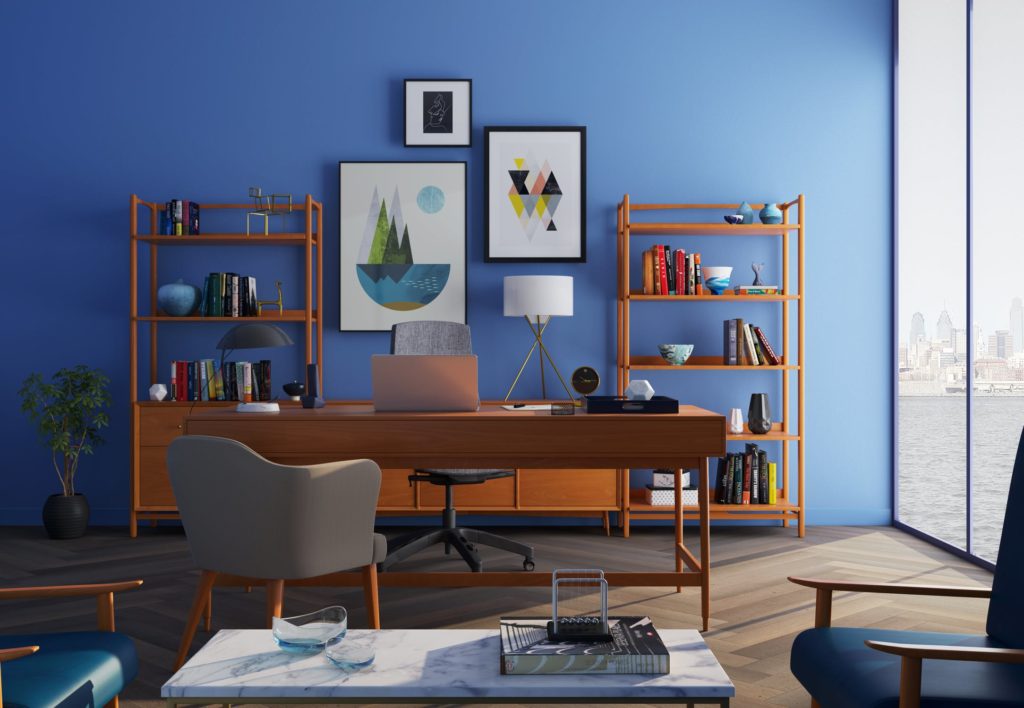 This year, bold and bright colours is one of the most popular interior design trends we're seeing pop up! Jewel tones are deep, rich colours that resemble jewels – like sapphire, ruby, and emerald. They work perfectly as an accent wall, or throughout an entire room for a huge splash of colour. 
If you aren't sure you want to commit to that much colour on your walls, fear not! Jewel tones are also in for decor. Choose a few accent pillows or a beautiful print for your wall, and you can stay on top of the trends while keeping more subtle colours for your wall or main decor.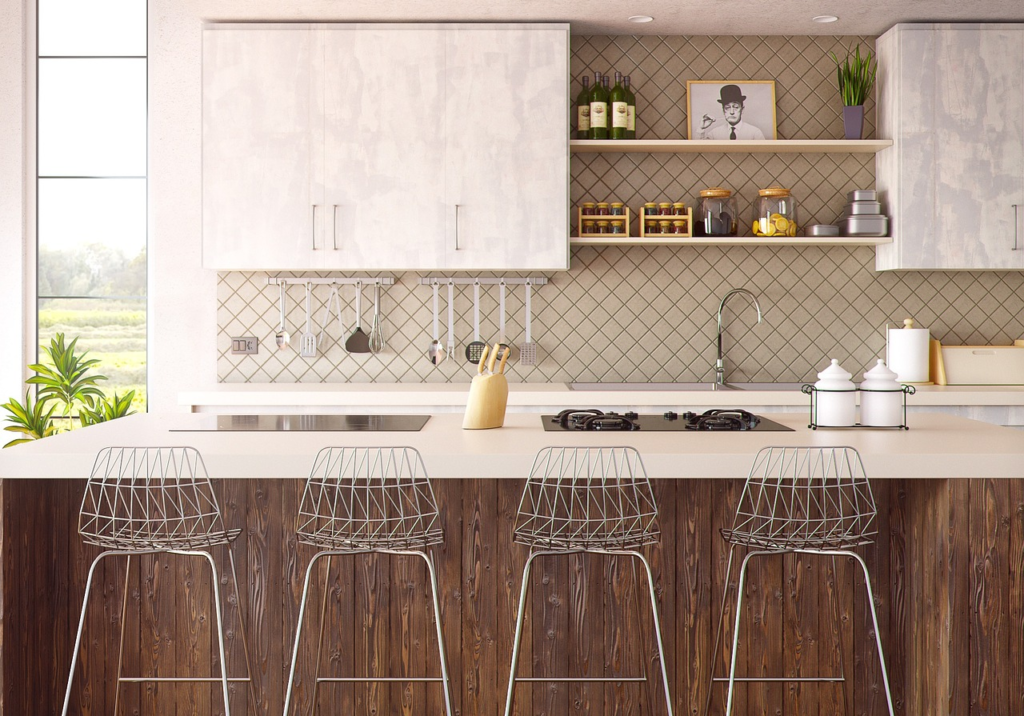 Simple white backsplashes will probably always be in style – but if you're looking for something a little different, this is the year to try it out! Bold, colourful backsplashes (see the gallery above) and bold patterned backsplashes are popular for 2019, which means you can try out a unique style without worrying that it will be "too much!" If you're working on your kitchen renovation, don't be afraid to try out a new pattern, use a different type of tile, or even add a pop of colour.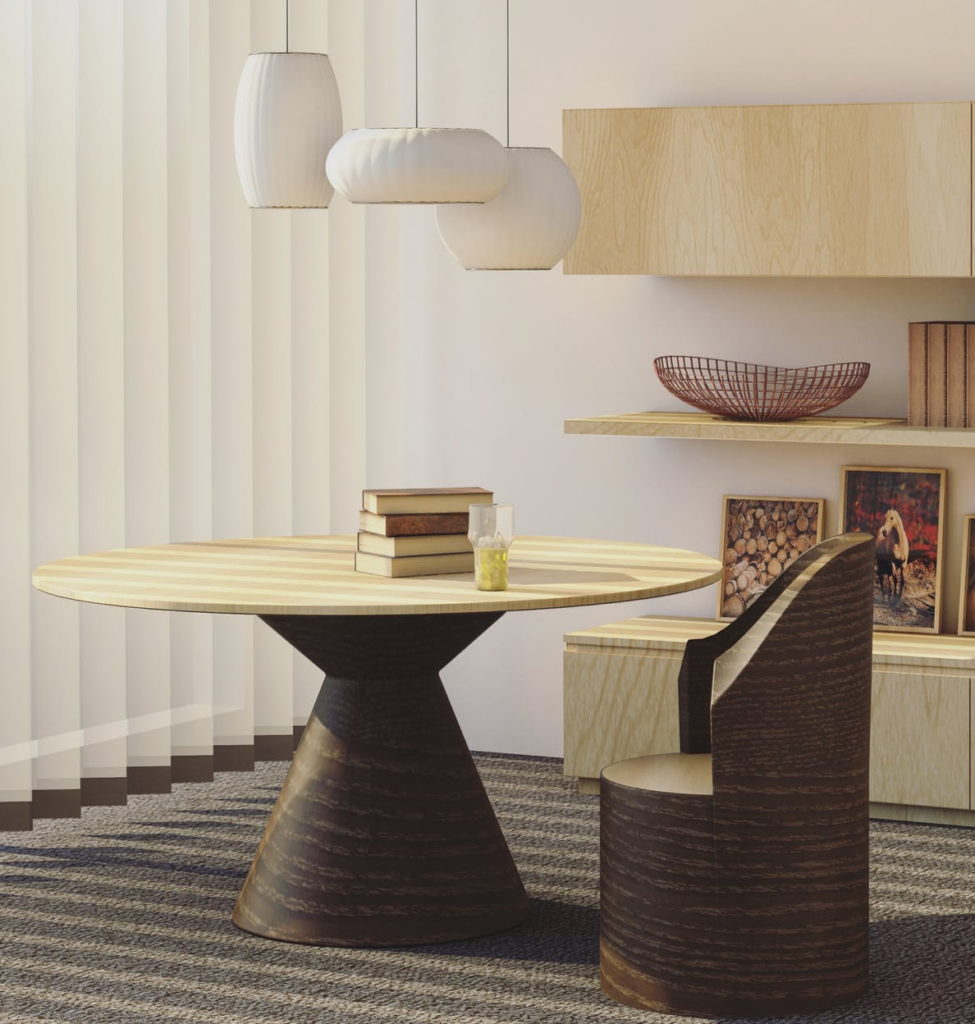 This year, 'less is more' – but it's not just about minimalism (minimalistic interior design trends have been gaining traction for a while now). Sustainability is partially about choosing less, but also about making strategic purchases. Choosing environmentally friendly pieces, checking out the local thrift store and buying second-hand or refurbishing/reusing old furniture, and picking energy efficient electronic options or even insulating window treatments are all ways that you can incorporate sustainability into your home design and your lifestyle.
If you've gone to any home decor store in the last year or so, it's hard to miss all the subtle (and not-so-subtle) '70s styles that are making a comeback – often with a bit of a modern twist. From Apartment Therapy: "Right now in home design and even fashion, it feels like a total '70s takeover."
 Big and bold leafy plants, greys, couches with metal legs, and geometric patterns and furniture (like the nesting tables above) are all in right now. Not only that, but '70s and vintage decor (see the wall clock and white dresser above for examples) are coming back as accent pieces. Plus, lots of wood!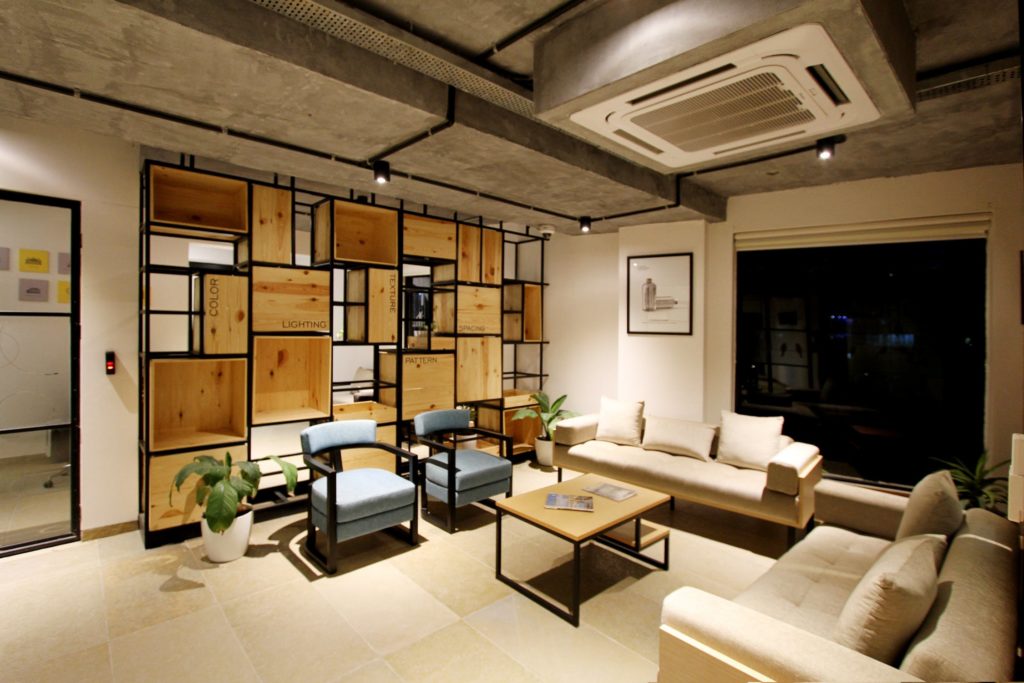 As we mentioned above, natural elements are in this year – and metal is no exception! Consider mixing a variety of metals into your home design, whether that is through your walls, accent pieces or through the furniture you choose! You can see above that this design incorporates lots of dark metals through the bookshelf, furniture, and even through the exposed venting system in the ceiling.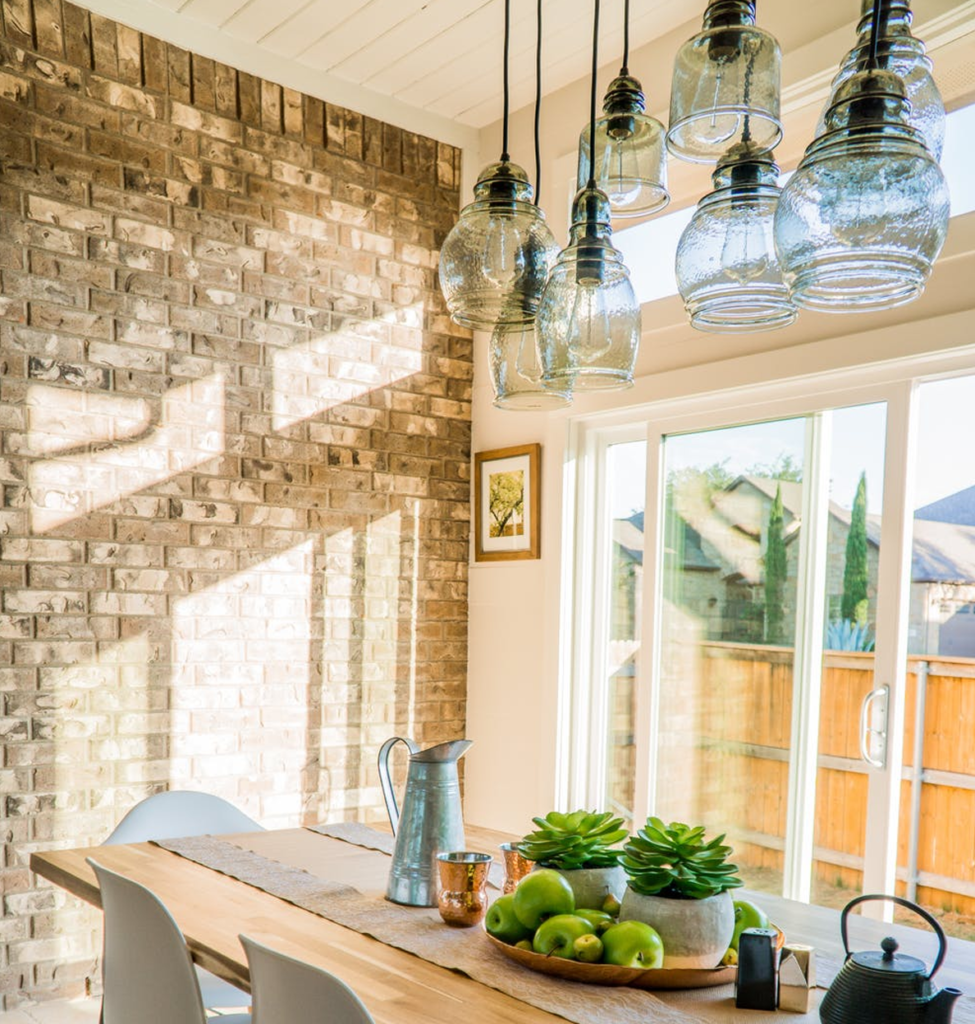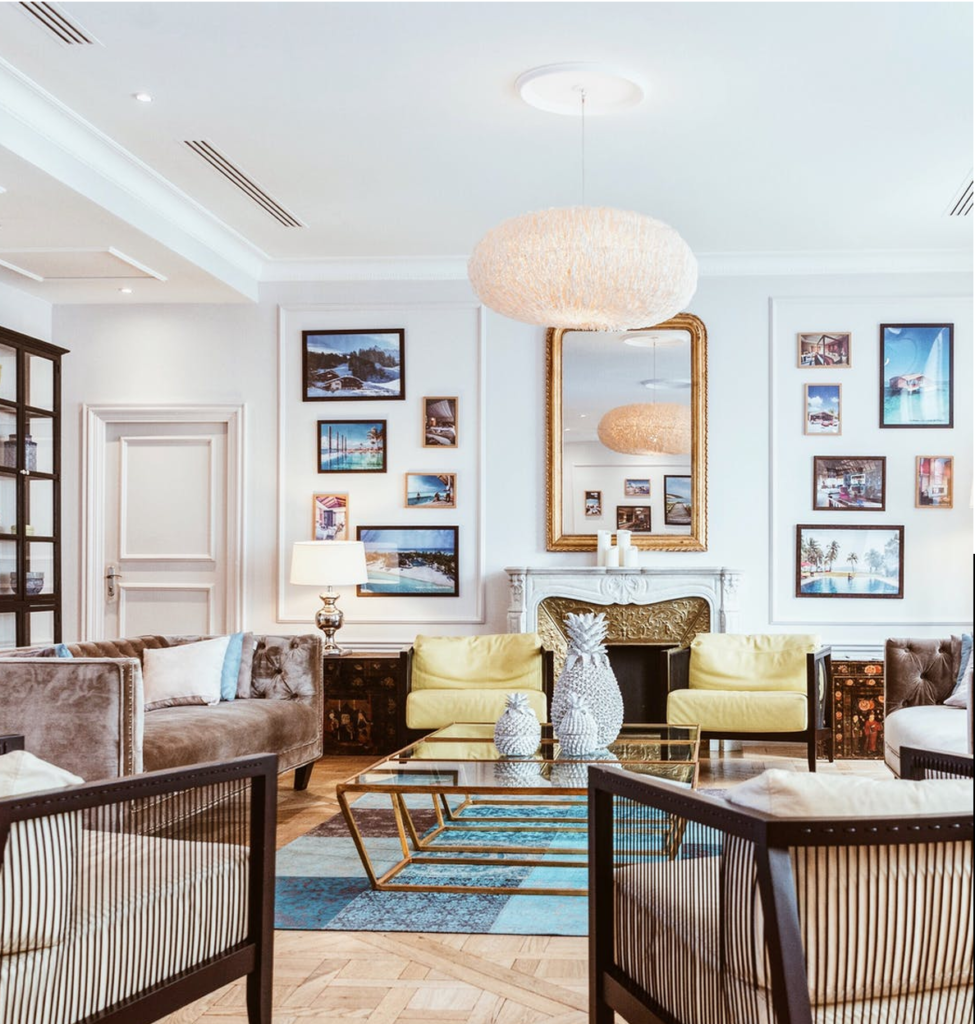 The lighting you choose for your kitchen, living space, or even bedroom doesn't have to  just be practical – it can also be a statement piece in and of itself! In 2019, we're seeing more and more accent lighting pieces, whether you're going for a vintage look, a modern look, or somewhere in between! 
If you're updating some light fixtures in your home, consider picking something unique, or at least look at all of your options before sticking with a 'safe' choice. This is the right time to experiment. You can also strategically choose your window treatments to help you maximize natural sunlight, and pair well with your new light fixtures!
A style coming back from the 80's, canopy beds are becoming popular once again! If you are looking for a way to add some flair to your bedroom ,or simply want a way to make the space even cozier than before, a canopy bed is a great way to turn your bedroom into your own personal oasis! Even if your bedroom design doesn't look quite as elaborate as the one shown above, you can still get a similar look by incorporating lots of fluffy pillows, hanging lights, and potted plants. 
As minimalism is definitely still in this year (and probably for the foreseeable future), you can also go with a slender, simple style instead – which will take up less space and be a bit easier to set up as well. This style will help you replace a modern hotel room! The great thing about canopy beds is that they come in many styles and designs, perfect for any and all tastes! Plus, they can help block out sunlight, which is great for creating a sleep-friendly bedroom.
9 - Rooms With 90% White, 10% Pop!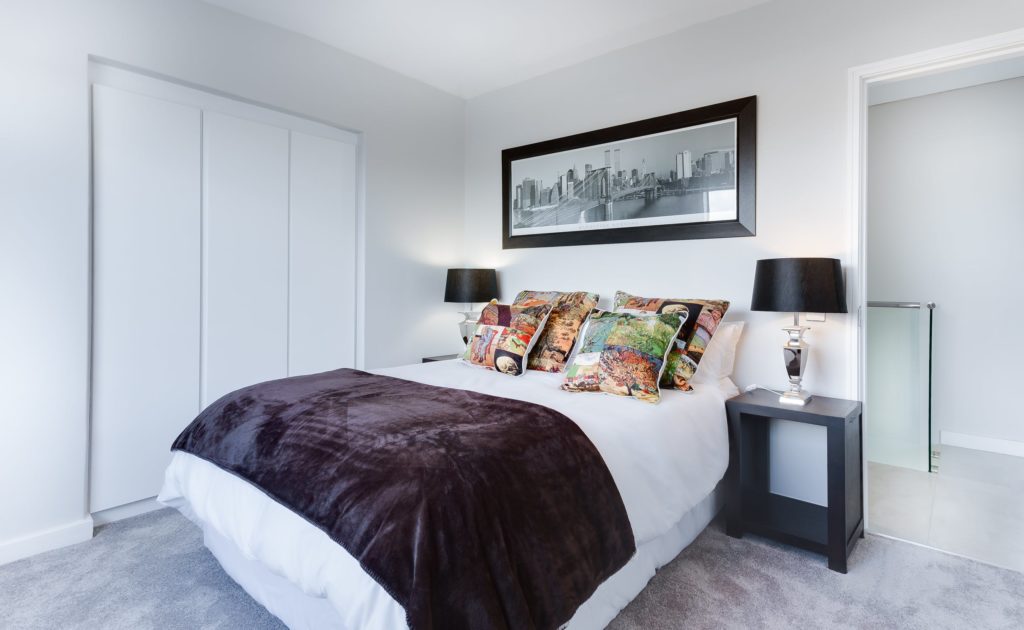 White is pretty much always in style – which is great news for the homeowner who prefers simplicity! However, there are ways to dress up your room so that a bit of colour stands out – through 90% white, 10% colour! For those who prefer simple, you'll be happy to know that white with just a dash of colour is in for 2019. This can be done using accent walls, or through decor. In the image above, almost everything is clean and white, but with pops of black, dark purple, and a variety of colours shown on the accent pillows!
10 - Dark Kitchen Cabinets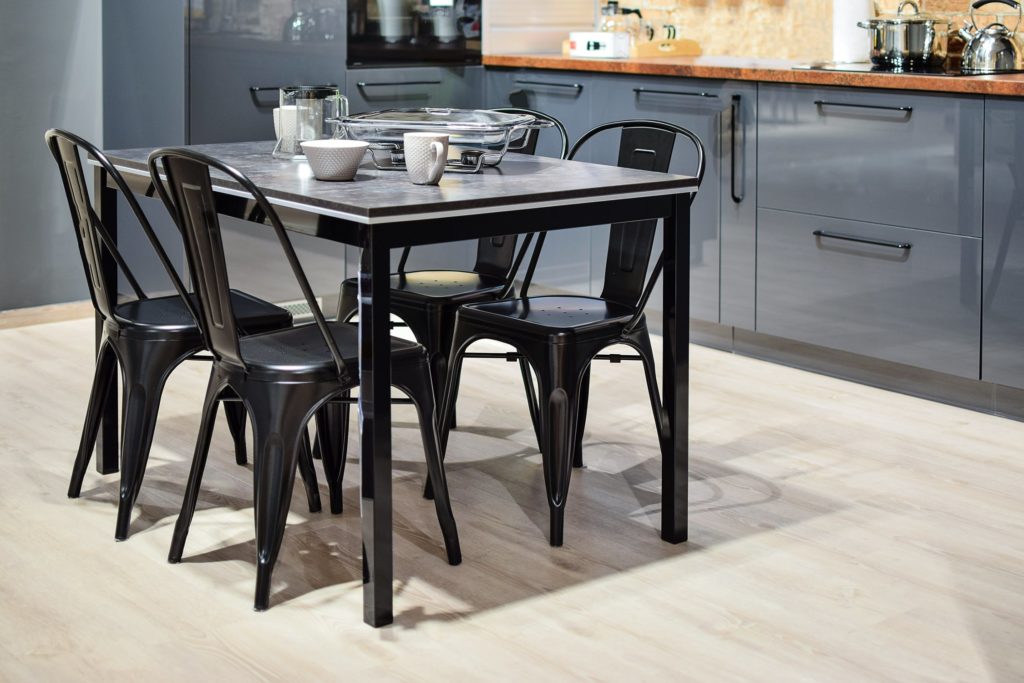 Darker coloured cabinets are a  great way to make a bold statement in your kitchen – and they're in this year! You may even want to pair your dark cabinets with dark countertops – specifically, matte dark stone would look great with many types of dark cabinet colours and styles! Dark cabinets paired with light wood floors or tiles is a great way to help them stand out. 
Let Graham's & Son Help You Transform Your Home With The Latest Interior Design Trends!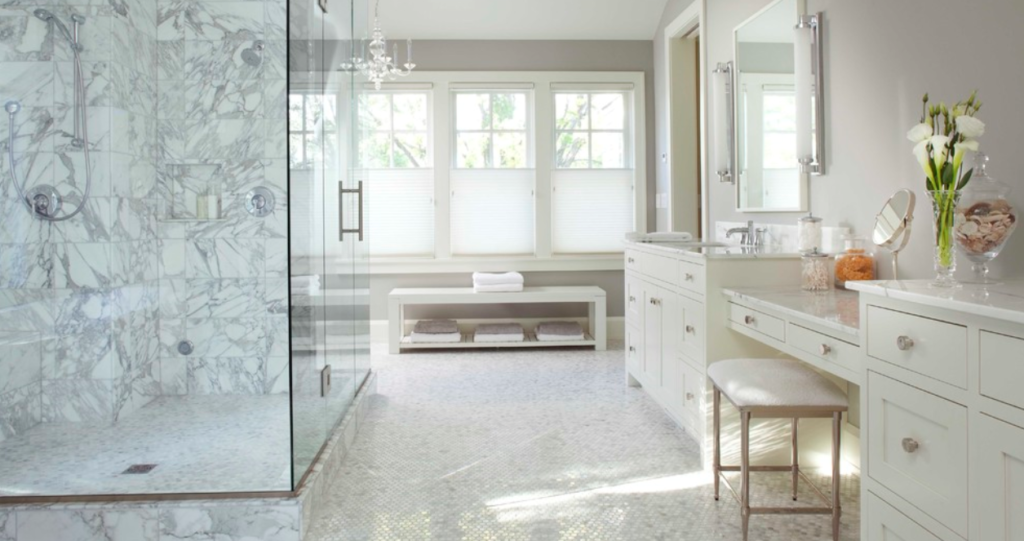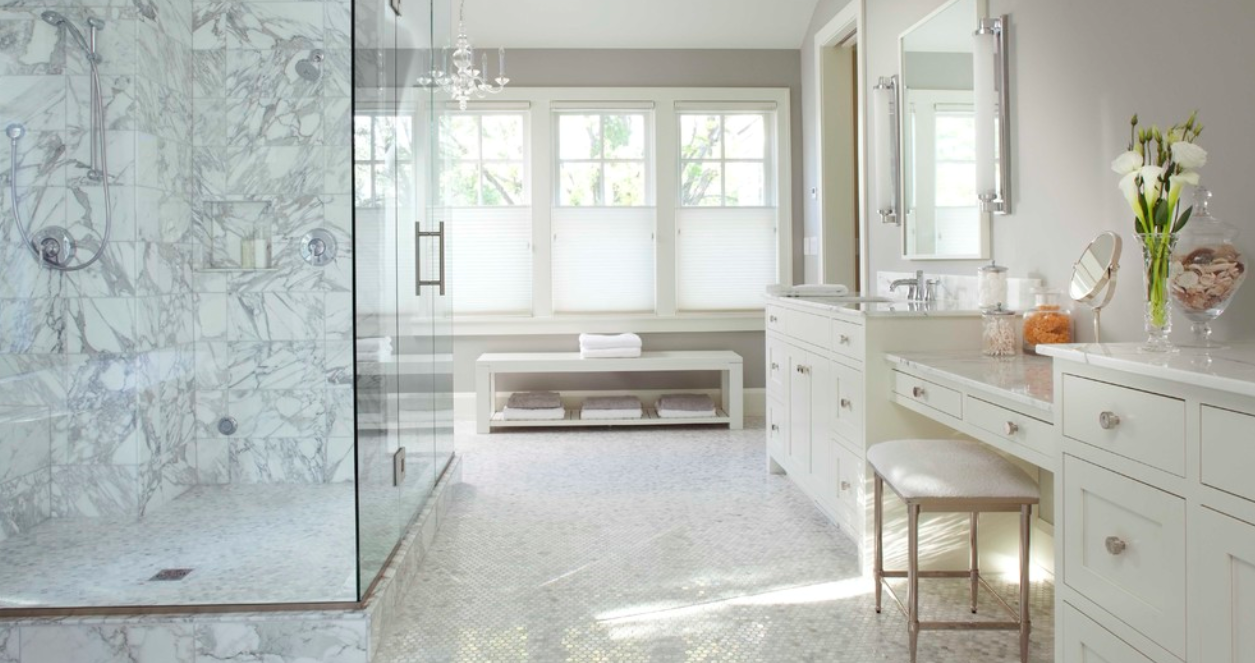 Looking for the latest home trends this year, but aren't quite sure how to incorporate them into your own home design? Ready to renovate or remodel, but don't know how to get started? You can trust Graham's & Son to give you expert advice on all the latest design trends – from kitchens, to bathrooms, to living rooms, and more!
At Graham's & Son Interiors, we have over 40 years of experience serving the Cambridge, Kitchener, Waterloo, and surrounding areas. We offer a wide range of services including home renovation services, decorating services, window treatments for every room in your home, and so much more! 
"We really loved the variety of flooring they had for us to choose from. Also Mr. Graham very knowlegeable and professional. The installer was absolutely fabulous. He went above and beyond."
WINDOW TREATMENT INSTALLER & INTERIOR DECORATOR – JOIN OUR TEAM!

Graham's & Son is looking for a full-time Window Treatment Installer and an Interior Decorator, and we would love for you to join our team! We operate out of Cambridge and are looking for someone who knows the Tri-Cities area well. Training will be provided – some experience required. If you think this may be the perfect job for you, see job requirements and overview by clicking here to learn more about the installer position, or here to learn more about the decorator position.