Looking to make your bedroom more sleep friendly? There are a number of simple things you can do to get a better night's sleep, including reducing screen time, carefully considering your window treatments, choosing better bedding, removing your clock, and ensuring you attend to your own needs. To learn more about each of these tips in detail, continue reading below. To find out how you can get the perfect window treatments for a great night's sleep, contact the experts at Graham's & Son today!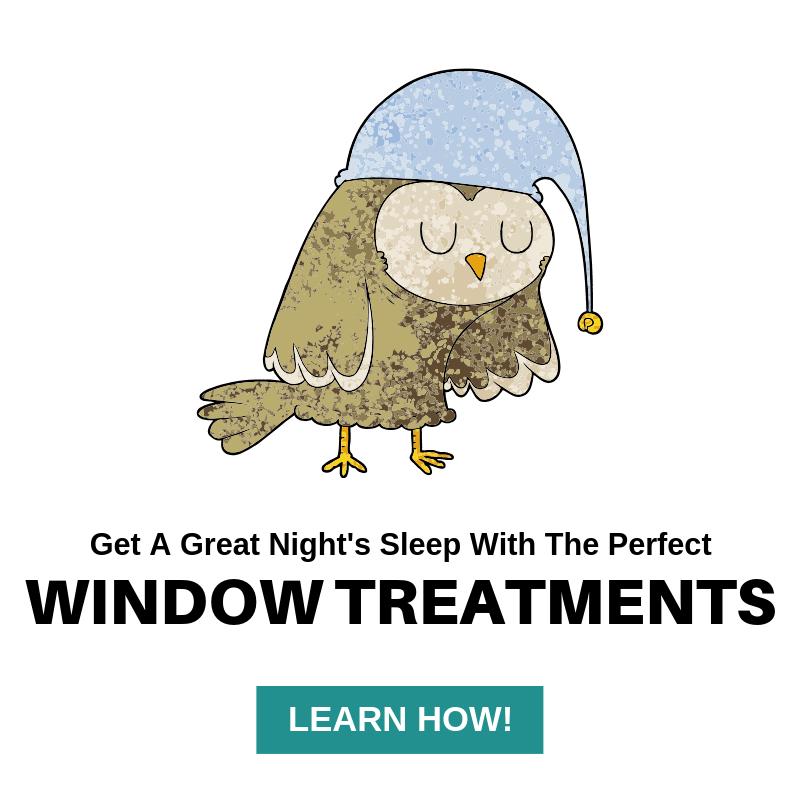 5 Ways To Make Your Bedroom More Sleep Friendly
Difficulty falling asleep and even suffering from insomnia is common in North America. One study found that 1 in 4 Americans develops acute insomnia every year – and those numbers are similar in Canada, with 20 – 25% of Canadians experiencing occasional insomnia symptoms.
Among other personal reasons for difficult sleeping, increased screen time is having a big impact on our sleep cycles. As screens of various types become commonplace, we see the unfortunate side effects of increased screen time – including difficulty sleeping! However, if you are restless and frustrated by poor night's sleep, don't fret. Here are five simple things you can do to make your bedroom more sleep friendly, and help you get into a better nighttime rhythm.
1. Reduce Screen Time Before Bed – And Keep Your Phone Off Your Nightstand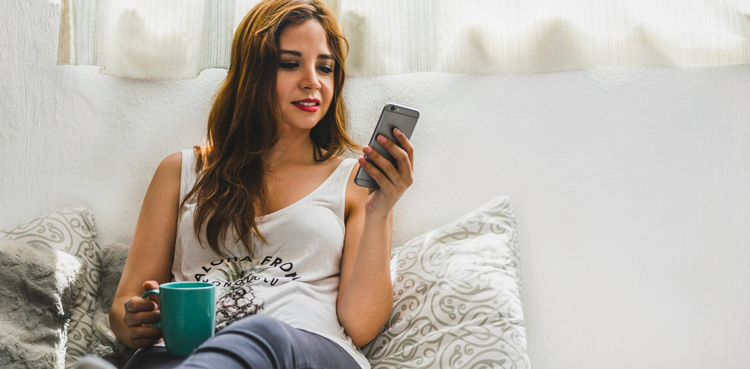 It's a good idea to stay off your phone while in bed – both during the night and the day!
Using your phone or another screen right before bed can have a negative impact on your sleep cycle. Screens emit blue light – and this blue light restrains your production of melatonin. Melatonin is a hormone that your body uses to control your sleep/wake cycle, so if it's restrained, you may have trouble getting to sleep (or staying asleep).
Before bed, consider choosing other activities that don't require screen time. Read a book, write in a journal, or spend some time planning your next day. If you need to use a screen before bed, keep the brightness as low as possible. Lowering the brightness can reduce the impact that your screen's light has on your body.
It's also a good idea to get out of the habit of using electronic devices while in bed – even during the day. Ideally, you will want your body to associate your bed only with sleeping, not with activities such as browsing the web!
You may also want to consider moving your phone away from your nightstand. Although it's common practice to use a cell phone as an alarm or even your clock, checking your phone in the middle of the night can disrupt your sleep (and it's not great for your eyes either!)
Consider using an old-fashioned alarm clock and keeping your phone outside of your bedroom. That way, you won't be tempted to check it in the middle of the night, and you won't get woken up if you forget to put your phone on silent before bed!
2. Consider Your Window Treatments
Consider layering your window treatments to ensure your bedroom stays dark while you sleep
To get a great night's sleep, you will want to ensure your bedroom is as dark as possible. For that reason, it's important to choose your window treatments for your bedroom carefully. Although you may love the look of those white, sheer blinds in the store, they may not be the most practical solution for your bedroom.
In Southern Ontario's summertime, it sometimes doesn't get dark until past 9:30 pm – and the sun rises early too! If you have a job that requires you to wake up early, that likely means you'll be going to bed early too. You'll have a much harder time going to sleep if you can still see the sun out through your shades or blinds.
For the bedroom, you may want to consider blackout curtains or custom made drapes. Or, if you love the idea of having blinds or shutters on your window, you can use a combination of blinds and curtains to help keep your bedroom as dark as possible. You can also choose to buy automated window treatments. With automated window treatments, you can easily choose when to open and close your blinds, conveniently preparing your bedroom for a great night's sleep!
One of the best ways to find the perfect window treatment solution for your bedroom is by working with window treatment professionals and choosing custom window treatments. Custom window treatments are made specifically for your windows. This means that your window treatments are made with your unique needs and window size in mind – there will be no gaps that light can get through, and the style will be perfect to block out late evening/early morning light.
3. Choose Better Bedding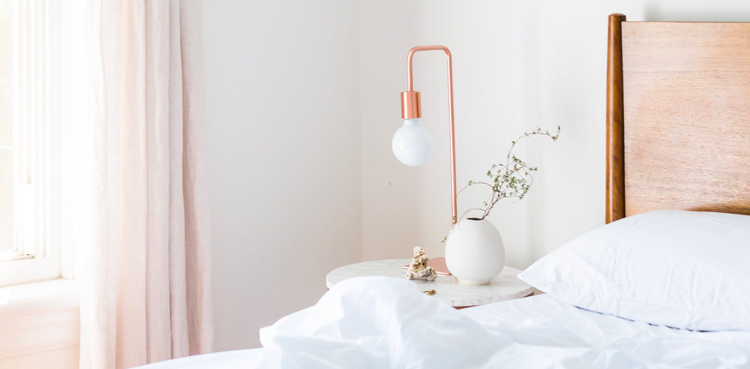 Choosing a pillow that suits your sleep style can reduce neck pain and help with a good sleep
Do you deal with scratchy sheets? Lumpy pillows? Constantly feeling too hot or too cold at night? Making your bed comfortable is one of the simplest ways to get a great night's sleep. An uncomfortable pillow can do more than just make you uncomfortable, it can actually cause neck and back pain. From Harvard Health Publishing:
"If your neck is bent in any way for an extended period of time, you'll get uncomfortable," explains Matthew O'Rourke, a physical therapist at Spaulding Rehabilitation Hospital. He says a pillow that's too soft or too firm often leads to neck pain."
– Harvard Health Letter
If you are constantly sleeping in a position that is not great for your neck, you will probably end up with neck pain in the long term. This pain itself can end up preventing you from getting a good night's sleep! You'll want to invest in a good pillow that suits your sleeping style. For example, if you sleep on your side, a good firm pillow allows for proper support of your neck. If you sleep on your stomach, you will want a softer pillow that doesn't add any extra strain on your neck.
The types of sheets that you choose can also impact your sleep. If you tend to get hot at night, you can invest in sheets that typically stay cooler. Some of these materials include bamboo, microfibre linen, and moisture-wicking options. Natural fibres such as cotton and linen are also a great choice to help you stay cool. If you get cold during the winter, you may want to invest in good flannel sheets or a warm wool blanket. It may be a good idea to keep a variety of sheets so that you can change them out according to the season.
4. Remove Your Clock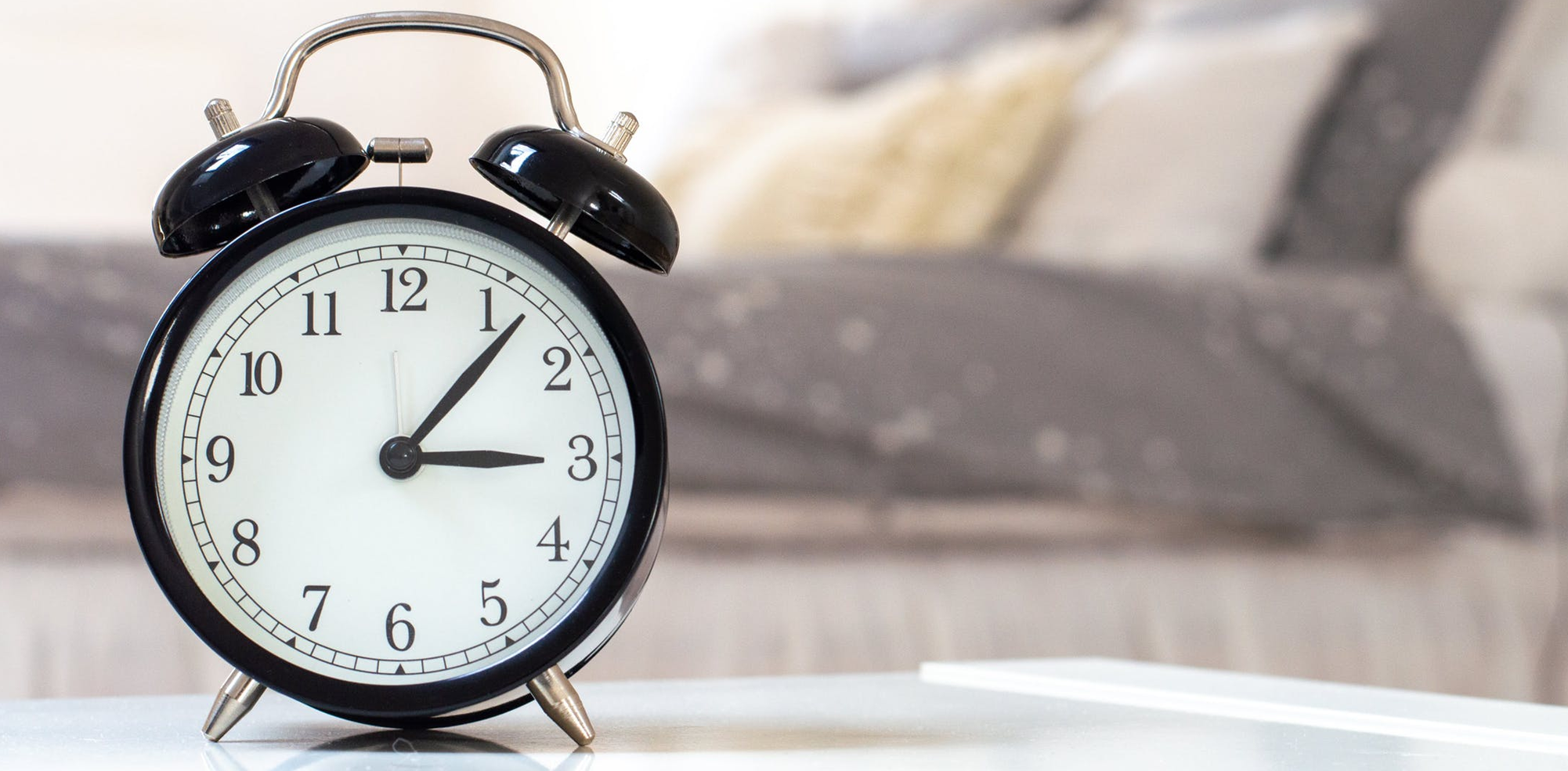 Consider a traditional alarm clock over a digital clock for your bedroom
Any artificial light entering your bedroom can disrupt your sleep. For a more sleep friendly bedroom, consider ditching your digital alarm clock/radio combination. That small amount of blue light may be enough to cause issues for more sensitive sleepers.
Even if the light from your alarm clock doesn't bother you, the time it shows just might! Have you ever woken up in the middle of the night and glanced at your clock only to realize your alarm will go off in an hour or so? When that happens, it's often difficult to get back to sleep. If you want an alternative to an alarm clock, you can set up automated blinds to open up in the morning – let the sun be your alarm clock!
If you prefer having a digital clock in your bedroom, you can turn the clock so it faces away from you. That way, you'll reduce any light it emits and you won't know what time it is if you happen to wake up in the middle of the night. You can also choose an alarm clock that emits red or orange light instead, which does not affect sleep as much as blue light. Or, you can buy a traditional analog alarm clock instead – you won't be able to see the time in the dark, but you won't sacrifice having a convenient alarm in your bedroom!
5. Remember That Your Needs Are Important
Whenever possible, remember that your needs are important too!
We often accommodate other people while forgetting about our own needs. It may be your partner, your kids, or even your pets! But in order to be happy and healthy, you'll regularly need a good night's sleep – and that can only happen when you work towards meeting your own needs.
For example, your dog may love sleeping with you in bed. If your dog sleeps in bed with you, you are definitely not alone. One survey found that 51% of Canadians share their bed with a pet! As cozy and cute as it is to share your bed with your dog or cat, remember to put your own comfortable sleep first. If your dog hogs the bed, moves around a lot, or jumps on and off in the middle of the night waking you up, it may be time to get a dog bed or let him sleep on the couch instead.
If your partner snores so loud you're up every few hours, they may need to get medical help – encourage them to speak to their doctor so you both can get a better night's sleep. If your child is going through a night terror phase and comes to sleep in bed with you regularly, consider setting up a temporary bed for them on the floor. That way, they can still come to your bedroom but won't wake you up.
The key takeaway here is to ensure you pay attention to your needs too. If you are getting a bad night's sleep for weeks or months on end, that can affect your physical and your mental health. In order to be a great partner, parent, or even pet-owner, you need to be as healthy and well-rested as possible! The best way to achieve that is by doing all you can to ensure you're consistently getting a restful sleep whenever possible.
MAKE YOUR BEDROOM MORE SLEEP FRIENDLY WITH THE BEST WINDOW TREATMENTS!
Looking to get the perfect window treatments for your bedroom? Choosing the right blinds, curtains, drapes, or shutters for you and your needs can help make your bedroom sleep friendly and ensure you get a great night's sleep!
At Graham's & Son, we offer a wide variety of window treatments. If you are looking to update your current window treatments, contact Graham's & Son today for the most energy efficient and beautiful window treatments possible.
Graham's & Son knows window coverings; we have been in the window treatment business for over 40 years. Our expertise and professionalism are second to none. In addition, right now we are offering an amazing deal on all our blinds, shutters, and shades – when you purchase any two, you will get a third absolutely free.
"Great quality. Wonderful people to work with."
– Karen
Read more customer testimonials
WINDOW TREATMENT INSTALLER & INTERIOR DECORATOR – JOIN OUR TEAM!

Graham's & Son is looking for a full-time Window Treatment Installer and an Interior Decorator, and we would love for you to join our team! We operate out of Cambridge and are looking for someone who knows the Tri-Cities area well. Training will be provided – some experience required. If you think this may be the perfect job for you, see job requirements and overview by clicking here to learn more about the Installer position, or here to learn more about the decorator position.
At Graham's and Son our customers have been so pleased with the high standard of our work that they selected us for the "Best Business Service – Interior Decorating: Platinum" and "Best Shopping – Kitchen Renovations: Gold" awards in the 2017 Cambridge Times Readers' Choice Competition. Book a free in-home consultation today and find out for yourself why Graham's is the best in the interior design business. Contact us today to schedule. If you prefer, you can shop at home. Browse through our website, make your choice, and simply give us a call at 519-658-9025 to place your order without ever having to leave the comfort of your own living room.

Sources:
sleep.org / besthealthmag.ca / health.harvard.edu