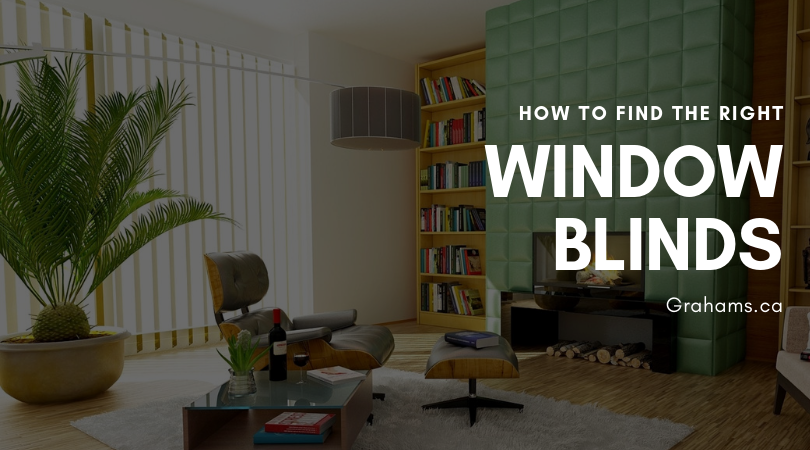 If you are looking to add new window blinds for your home, you may be wondering "how do I find the right blinds for me?" To find the right window blinds, there are a few important things to consider, including your budget, style preferences, the safety of children and pets, control over lighting and privacy, and the size of the window. To learn more about each of these factors, continue reading below. Or, you can call on the window treatment experts at Graham's & Son to help you get the perfect blinds for you, your needs, and your budget!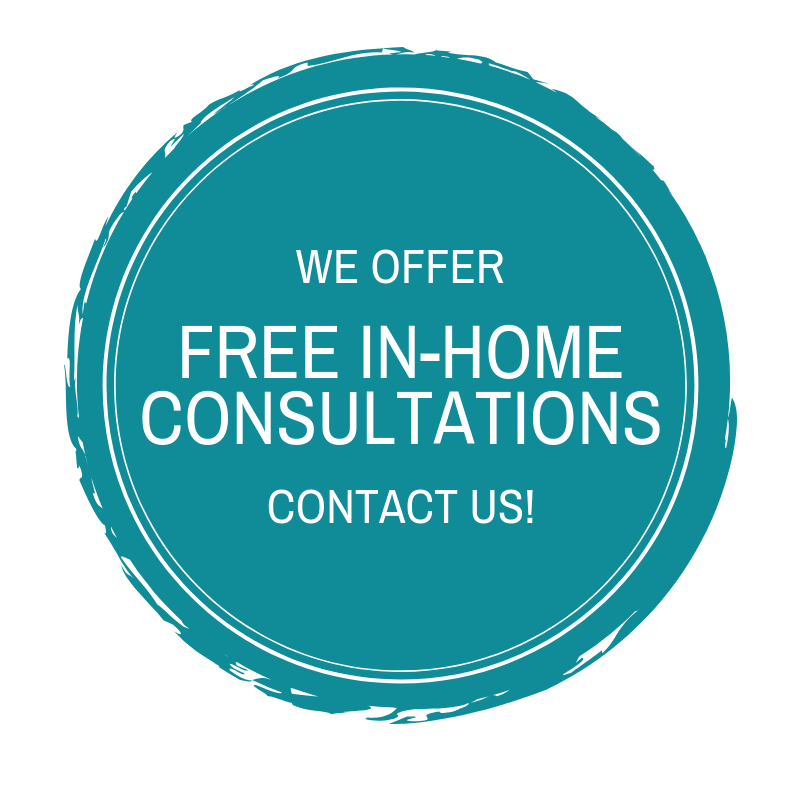 How To Find The Right Window Blinds
The right window treatments do more than help you improve the aesthetic appeal of your home! Learn more below about what you need to consider when looking for new blinds.
1. Consider Your Budget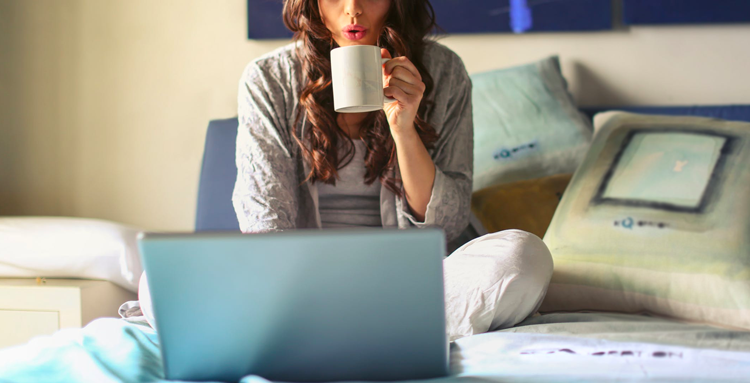 Take some time to research your options and figure out your maximum budget
Your budget is one of the very first things you should think about before you start searching for your new blinds. Researching prices and deciding on a budget, even if it is just a price range rather than a set number, will help you narrow down your choices. When it comes to blinds, there are nearly endless options. It can feel overwhelming if you look at every option out there! Choosing a budget will help you find only the blinds that are real options for you and your home.
If you plan to work with professional window treatment installers, having a set budget will also help them help you! For example, you may love the look of high-end wooden blinds, but they simply don't fit your budget. A professional installer will be able to help you find an alternative, such as beautiful faux-wood blinds that look nearly identical, without breaking your budget!
2. Consider How Much Control You Want Over Privacy & Lighting
When choosing your blinds, you'll want to consider how much control you have over privacy and light control. For example, vertical blinds often give you full control over privacy and lighting. You can open the slats to let some sunlight in, or you can swing them all the way to the side to let either full sunlight in or no sunlight in (which also increases privacy). Check out the video below from Hunter Douglas to see how your choice of blinds can determine how much control you have over sunlight.
If you don't really care how much privacy or lighting control you have and are simply looking for something decorative, you may choose an option such as sheer shades. Shades do provide some over lighting, but often not as much as blinds. Sheer shades definitely won't give you full privacy, but they will look beautiful in nearly any room you choose to put them in.
It's also a good idea to take into account which room(s) your blinds will be going in. You may love the look of sheer, white drapes – but putting them in your bedroom may disrupt your sleep! Or, you may want dark wooden blinds for your kitchen – but wood doesn't do well in moist environments. In that case, consider a swap! Wooden blinds are perfect for the bedroom, while drapes or shades are great for the kitchen, which doesn't need as much privacy. Continue reading to learn more about the different styles and materials!
3. Consider Your Style & Material Preferences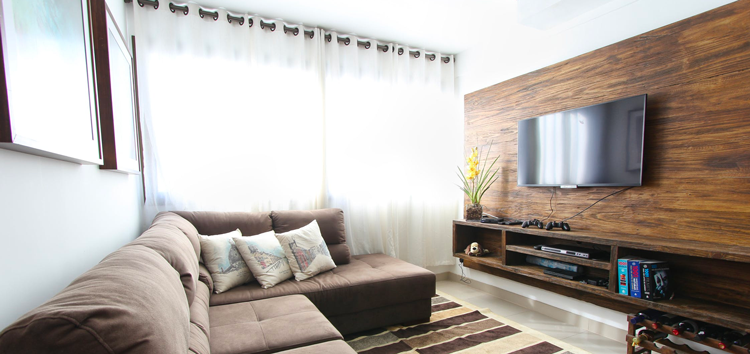 You can choose from a wide variety of materials – but it's important to know the pros and cons of each!
Even with a narrowed-down budget and an idea of how much control you want over privacy and lighting, you will still have a lot of different styles and materials to choose from. To get a good idea of what you want, you should do some research about the different styles and materials that are available within your budget. Check out the brief listing below to get some ideas about these options!
Styles
Vertical blinds – Vertical blinds are ideal for large window openings and sliding doorways, cost-effective, and come in many materials such as fabric, vinyl, and wood
Panel blinds – An attractive style of blinds that have very wide vertical slats, ideal for large windows and doorways
Venetian blinds – A popular choice for small-medium sized windows, cost-effective, and they come in many materials including wood, faux-wood, aluminum, and vinyl
Mini blinds – Similar to Venetian blinds but have much smaller slats, ideal for small or narrow windows
Shades – Shades themselves come in a wide variety of styles, such as cellular shades, Roman shades, and roller shades
To learn more about the various styles and options available for blinds and window coverings, click here!
Materials
Wood – One of the most aesthetically pleasing options but typically the most expensive material, requires regular maintenance, durable, comes in a wide variety of colours, textures, and styles
Faux-Wood – Looks almost identical to wood, cost-effective option, some maintenance required, durable, many options to choose from
Aluminum – Offers good insulation, cost-effective, comes in many textures and colours, may not be the most aesthetically pleasing option
Vinyl – Generally the cheapest option but does not come in many different textures or colours, vinyl is relatively easy to clean but does require some maintenance
To learn more about a comparison between the various materials listed above and more, click here!
Doing your research ahead of time can help you choose the right style and material that is best for you, your home, and your budget.
4. Consider The Safety Of Those In Your Family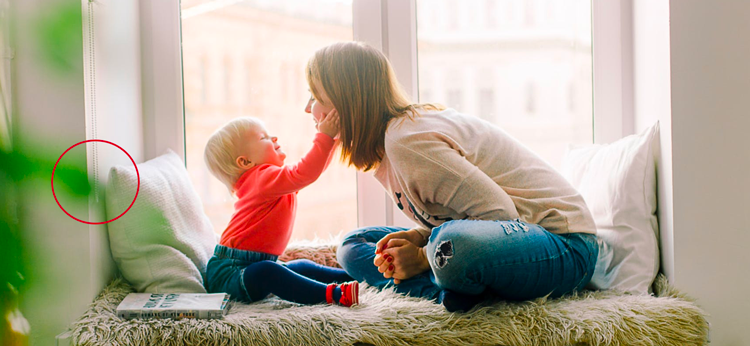 We may not even notice blind cords, but they can be dangerous for children and pets
Although they may seem harmless, blind cords, drawstrings, and other dangling pieces can actually pose a significant safety risk to your pets and your children. A study outline in a USA Today article shows just how dangerous blind cords can be. The study found that every day, two children are sent to the ER due to blind cord injuries.
"Many parents believe that they can keep their children from harm if they watch them carefully, but many blind related injuries happen within minutes, Gary Smith, MD, senior author of the study and director of the Center for Injury Research and Policy at Nationwide Children's Hospital said in a statement."

If you have children or even dogs and cats in your household, you may want to evaluate the style of blind you're considering for safety. For example, many vertical and horizontal blinds come standard with cords or strings to pull the blinds into position. However, there are now many alternatives, such as motorization options or additional child safety devices.
5. Consider The Size Of Your Window
The final thing that you'll need to think about before choosing the perfect window treatments for you is the size of your window(s). Certain types of window treatments are best suited for certain types of windows. Vertical blinds for example, as we mentioned above, are ideal for very large windows and sliding doorways. Venetian blinds and micro blinds are often best suited for narrow, small or medium-sized windows.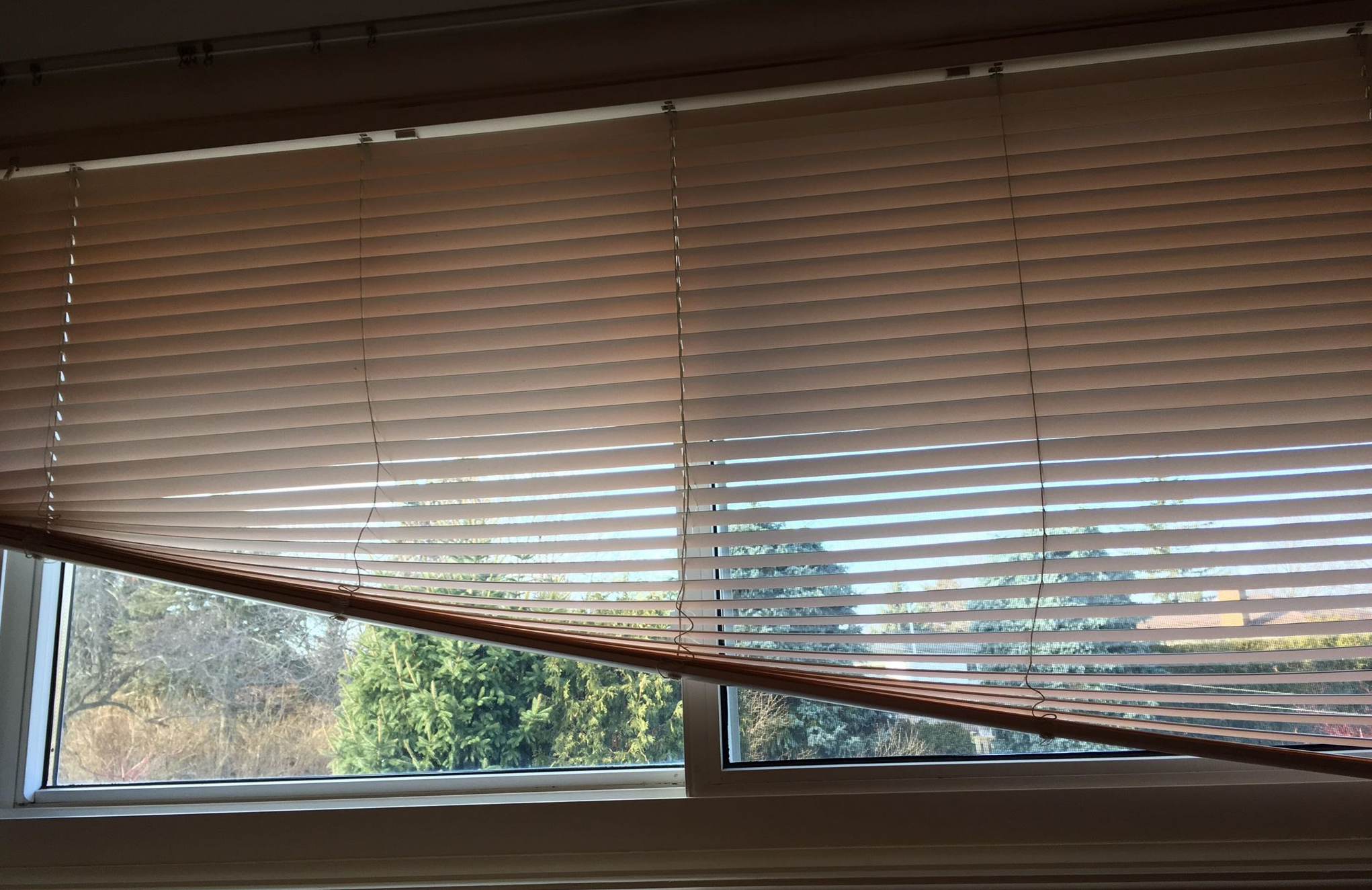 Choosing the right type of blinds for your windows can help avoid little frustrations such as this!
Of course, it is your home and you can choose to do what you want! However, choosing an ideal window treatment for your windows can make things a lot easier for you. If you choose Venetian blinds over a very wide window, you may struggle to evenly pull your blinds up, ending up with a consistent lopsided look.
Choosing the right styles and materials for your particular window can help avoid issues like the one shown in the image above. For example for large or wide windows, instead of lightweight vinyl or aluminum, you can choose thicker wood or faux-wood blinds. They will be sturdier and less likely to pull to one side as you draw your blinds each morning.
If you aren't sure what type of blinds are best for the size and shape of your windows, don't hesitate to ask a window treatment professional. They are experienced and have the know-how when it comes to selecting not only the perfect blinds for your window, but also the perfect materials, styles, and custom options!
GET THE PERFECT BLINDS FOR YOUR HOME WITH GRAHAM'S & SON INTERIORS!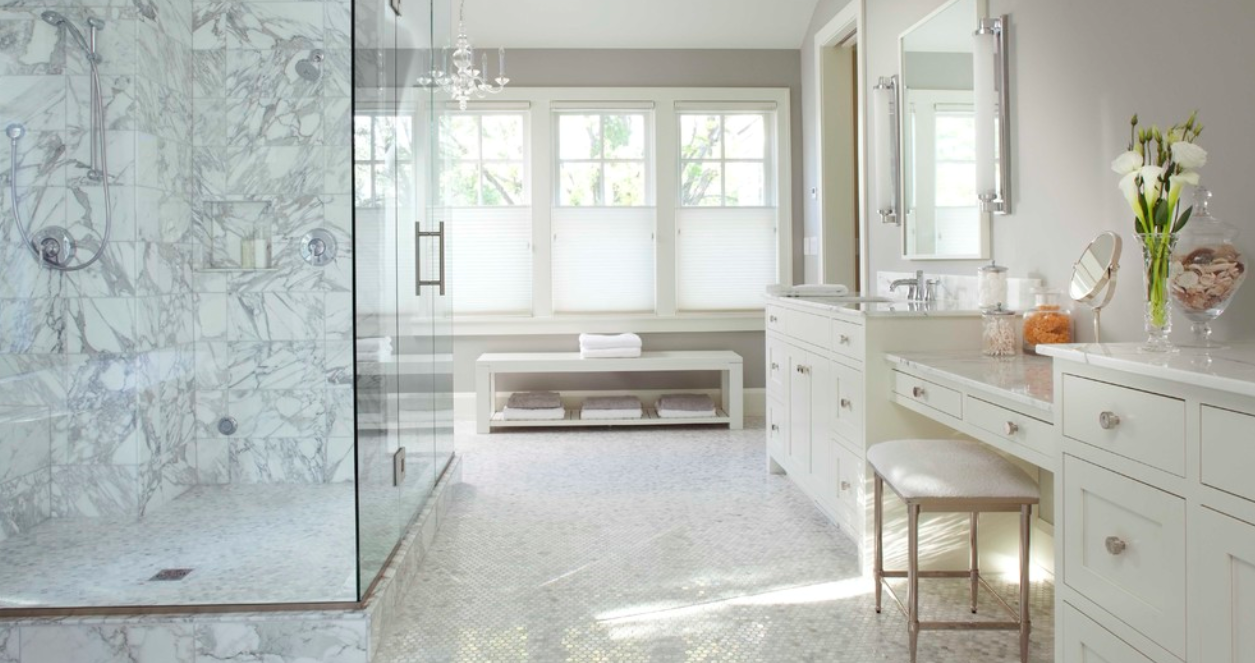 Looking to get the perfect curtains or window treatments for your home? Choosing the right blinds, curtains, drapes, or shutters for you and your needs can transform any room and help you get the perfect look you're going for!
At Graham's & Son, we offer a wide variety of window treatments. If you are looking to update your current window treatments, contact Graham's & Son today for the most energy efficient and beautiful window treatments possible.
Graham's & Son knows window coverings; we have been in the window treatment business for over 40 years. Our expertise and professionalism are second to none. In addition, right now we are offering an amazing deal on all our blinds, shutters, and shades – when you purchase any two, you will get a third absolutely free.
"Thank you. The blinds look terrific. We were very happy with the quick and expert install. Our experience in dealing with each of you was wonderful. Thanks for taking the stress out of the project by getting us exactly what we wanted and installed perfectly, no clean-up after – it is a real treat to work with such professionals."
– Gayle Z
Read more customer testimonials
WINDOW TREATMENT INSTALLER & INTERIOR DECORATOR – JOIN OUR TEAM!

Graham's & Son is looking for a Window Treatment Installer and an Interior Decorator, and we would love for you to join our team! We operate out of Cambridge and are looking for someone who knows the Tri-Cities area well. Training will be provided – some experience required. If you think this may be the perfect job for you, see job requirements and overview by clicking here to learn more about the Installer position, or here to learn more about the decorator position.
At Graham's and Son our customers have been so pleased with the high standard of our work that they selected us for the "Best Business Service – Interior Decorating: Platinum" and "Best Shopping – Kitchen Renovations: Gold" awards in the 2017 Cambridge Times Readers' Choice Competition. Book a free in-home consultation today and find out for yourself why Graham's is the best in the interior design business. Contact us today to schedule. If you prefer, you can shop at home. Browse through our website, make your choice, and simply give us a call at 519-658-9025 to place your order without ever having to leave the comfort of your own living room.

Source: