Shutters can come in a variety of styles, so this week's highlight from Graham's & Son Interiors is on plantation shutters. We will look at the following subjects:
Skip to a section by clicking on one of the links above or keep reading to learn more about these lovely shutters!
Learn More About Plantation Shutters
These shutters originated in Greece during ancient times to allow for air circulation and to protect from coastal winds and rain. Interestingly, they were made of marble and the louvres did not move as our modern shutters do today. Read more about the history of plantation shutters in the article, The Truth Behind Ancient Marble Shutters, by The Brighton Shutter Company.
Eventually, the shutters were made of wood which meant that louvres could be adjusted and light could be better controlled. They became very popular in England during the Tudor period and were often used to protect glass which was an expensive luxury. Even King Louis XIV was said to have had shutters at the Palace of Versailles – but not for reasons related to sunlight or ventilation.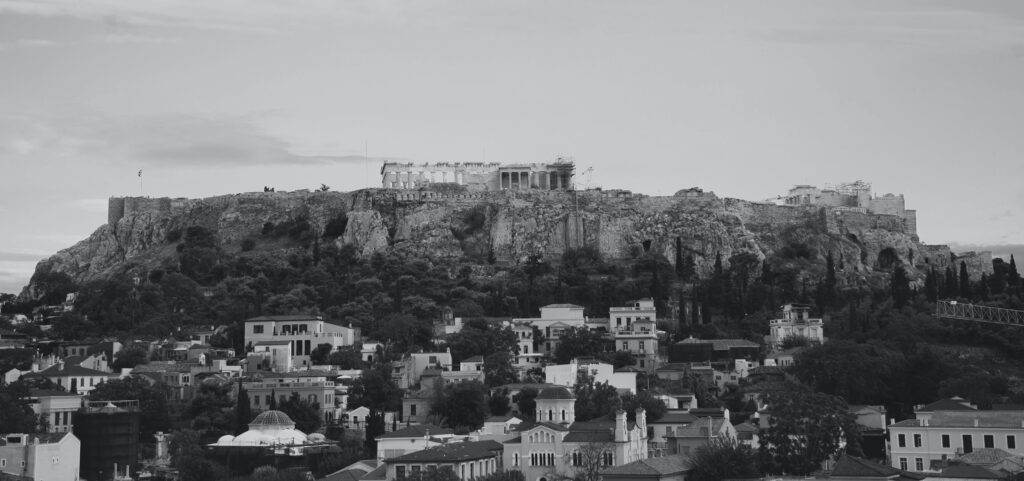 Not many may know that the origins of plantation shutters hark back to Ancient Greece.
Image Source: jimmy teoh 
With the arrival of immigrants to North America, shutters were introduced, too. Especially popular in the South, they were seen decorating the colonial homes of plantations, hence the term "plantation". Although they were somewhat of a status symbol, they were also used to help cool the indoors.  
While we have fans and air conditioners today to cool our homes, these shutters are still a popular window treatment for reasons you'll learn about if you keep reading! 

2. What Makes Them Unique
Shutters are like a panel of slats that act as a window covering. Here is what makes them unique:
The slats are called louvres which can be adjusted or slanted like blinds to let different amounts of light in
Shutters are usually fixed to the sides of the windows
They can be used on the inside and/or outside of windows
Plantation shutters have a large louvre width of 3.5 inches or more (Note: California shutters look similar but actually have smaller louvre sizes, generally 2.5 inches)
They are made in a variety of materials like wood, vinyl and composite materials
They are safe for homes with children and pets because they are cordless
They help insulate windows!
Due to their large louvre sizes, these shutters are great options for large windows and patio or sliding doors. Plus, this window treatment is highly durable. It is no wonder they are still popular.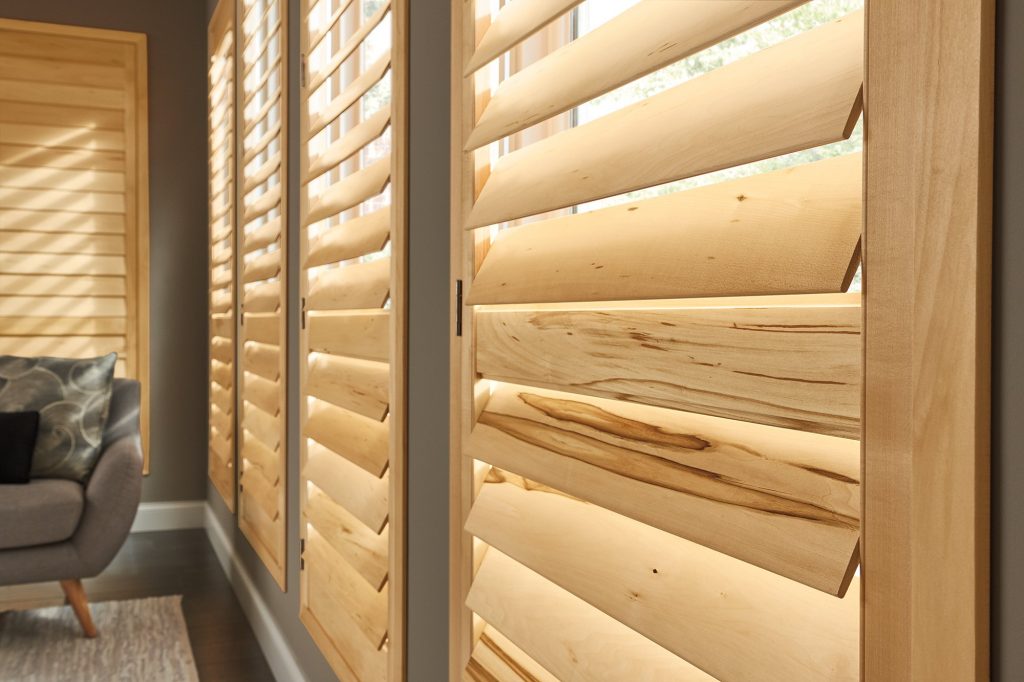 3. Examples Of Plantation Shutters
Below we have some examples for you to consider for your next new window or door treatment! There are so many possibilities when styling plantation shutters – you can even get them in arches or angles. For more inspiration, have a look at another one of our blogs, What are Plantation Shutters? Top 5 Designs.
4. Frequently Asked Questions
In this section, we'll list a few questions that are often asked about plantation shutters.
How are they different than California shutters?
Plantation shutters differ from California shutters in that the louvres are larger. Plantation shutters generally have 3.5-inch louvres while California shutters have 2.5-inch louvres. With their large louvre sizes, decorators often recommend plantation shutters instead of California shutters for larger windows and doors.
How expensive are plantation shutters?
The cost will vary, but the biggest factors affecting the price tag are size and materials. Generally, high-end composite or hybrid shutters cost the most, followed by wood shutters and then vinyl shutters. Even that price order can change depending on other factors, so it is best to speak with an expert to get an estimate. Speak to the professionals at Graham's & Son Interiors and benefit from a free in-home consultation!
Can I use them in a small room?
You could do so, but keep in mind that plantation shutters (or any shutters) open like a door, swinging inwards. This means that you need some space in your room for them to open completely. That means you can't put furniture directly in front of shutters unless the piece is low enough. It is best to get all your measurements done and plan your room's layout first before opting for shutters.
One of the best things about these shutters is their durability and longevity. While their lifespan will depend on the quality of materials used, shutters can last decades when cared for properly. That being said, there isn't a lot of maintenance required. Learn How to Clean California Shutters here. Don't worry, you can apply the same methods for plantation shutters.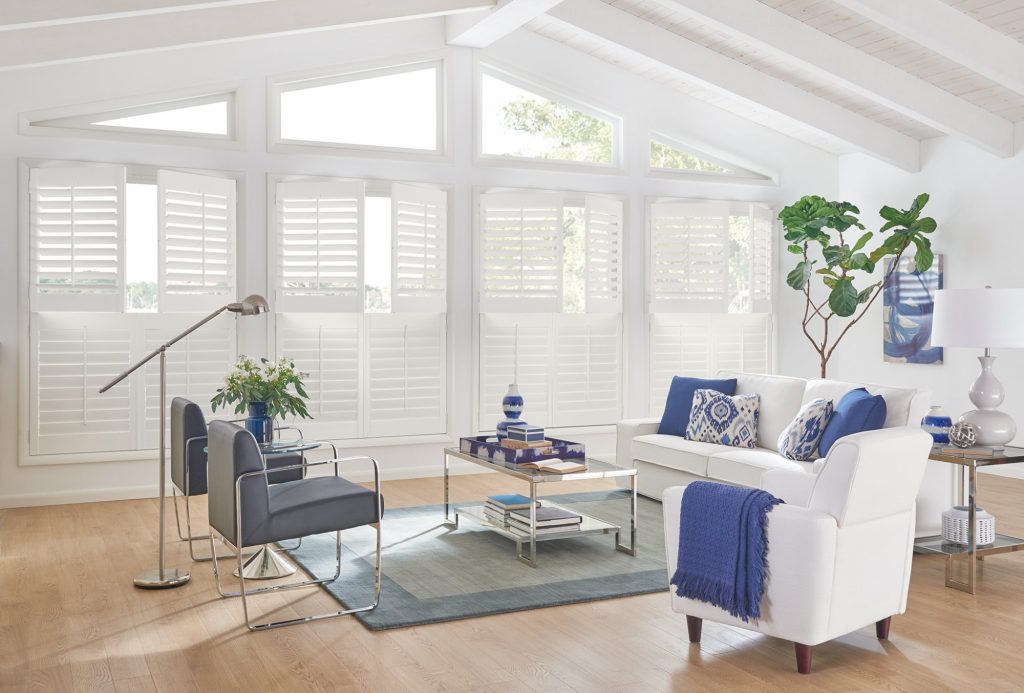 Plantation Shutters from Graham's & Son Interiors
Why not consider plantation shutters in your home? With their longevity, durability and appealing aesthetic, you can't go wrong. Graham's & Son can recommend solutions for treating your home's windows and doors, take all the measurements, order your products and do any installation needed, too! Plus, you can take advantage of their Buy 2 Get 1 Free on All Shutters, Shades, & Blinds promotion right now! 
With over 40 years as a locally owned, family run business, you'll receive both quality products and quality customer service from Graham's & Son. Contact Graham's to get started on your next project and transform your home. 
"We needed something (shutters) custom and unusual for our window, we called a few places with no luck, found Graham's and Son Interiors. They worked with us and we got exactly what we hoped for. Great customer service. We would definitely go back and recommend to our friends and family."
"Graham's Interiors & Son is our go to! We have our home in Hespeler done with stunning shutters and now our cottage in Sauble Beach. We are so impressed that they go over and beyond to get the job done right. We are thrilled with the outcome and highly recommend..."