Today, we'll take a look at zebra blinds – what they are, why they might be a good choice for your home, and the different options available.
At Graham's & Son Interiors, we've been helping homeowners get the right window treatments for their home for over 40 years. We are happy to share what we've learned with you!
In this article, you'll discover the great benefits of zebra blinds and why so many people are choosing them for their homes. Let's get started!
What Are Zebra Blinds?
Zebra blinds, also known as layered shades, are single shades that are made with alternating sheer and opaque (solid) fabrics. When you open them, the layers align to gently filter light through their sheer material. The beautiful thing about zebra blinds is that they lay completely flat against your window, giving you a sleek clean modern look.
Zebra Blinds Also Protect Your Interiors
Even though zebra blinds are made with sheer and solid materials, the fabrics will actually help to protect your home's interiors. The woven fabrics will block harmful UV rays from entering into your room and damaging your furniture and other interior surfaces.

Zebra blinds help protect your interiors
Zebra Blinds Give You Complete Light Control
The great thing about Zebra blinds is their versatility when it comes to light control. You can easily adjust them in so many different ways to give you the right amount of light or privacy that you want, whenever you want.
More or Less Light:
You can adjust the vanes to be fully or partially open to give you the extra light that you want throughout the day.
The lovely sheer fabric of your zebra blinds will allow the beautiful sunshine to stream into your room.
When you want less light, you can close your vanes to the perfect spot.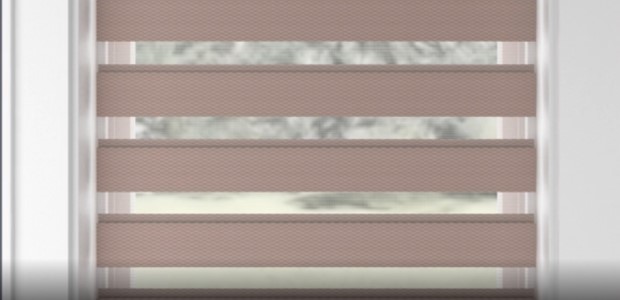 Full-Light Effect:
Zebra blinds have an upper cassette that is usually wrapped in the coordinating fabric of the blinds to give you a cohesive look.
The cassette allows you to raise your blinds completely when you want a  completely unobstructed and open view.
Room Darkening Effect:
If you have a room such as a bedroom, nursery, or media room where you want a complete black-out effect, you can choose to have your layered shades made from room-darkening fabrics.
Just close the vanes completely and the exterior light will be blocked out.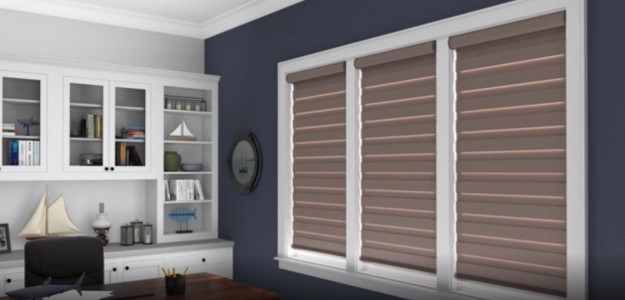 Zebra Blinds Vane Alignment
When you order your zebra blinds make sure that you request a vane alignment. This is important if you have multiple windows in the same space that you are going to install your layered shades on. A vane alignment will ensure that all of your vanes in your room will line up and be on a consistent level.
Zebra Blinds Lift Controls
You can also choose from different lift controls to operate your zebra blinds.
Continuous-Loop Lift:
The continuous-loop lift offered by Graber, will provide you with a smooth lifting operation and a consistent cord length.
It's the perfect option if you have a larger window that is used heavily.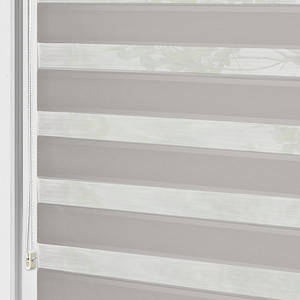 Motorized Lift:
If you would prefer to have a cordless option, then you can choose a motorized lift.
Motorization give you incredibly easy operation with a simple touch of a button.
It's perfect for your hard-to-reach windows and it's a much safer option if you have small children or pets as it has no cords.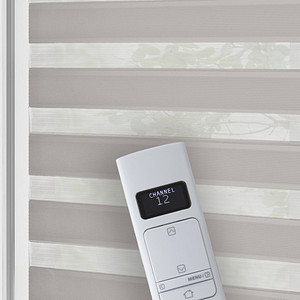 How Much Do Zebra Blinds Cost?
How much you will pay for your zebra blinds will depend on a number of factors including:
Size of your windows
The type of fabric you choose
The quality of the blinds
The type of operating mechanism you want, i.e. motorization
Lower quality zebra blinds for smaller windows can start as low as $65 and they can go up to hundreds of dollars for larger, higher-quality blinds. If you are investing in zebra blinds, it's best to pay a bit more for ones that are going to last and look amazing on your windows. The extra that you pay upfront is worth it in the long run.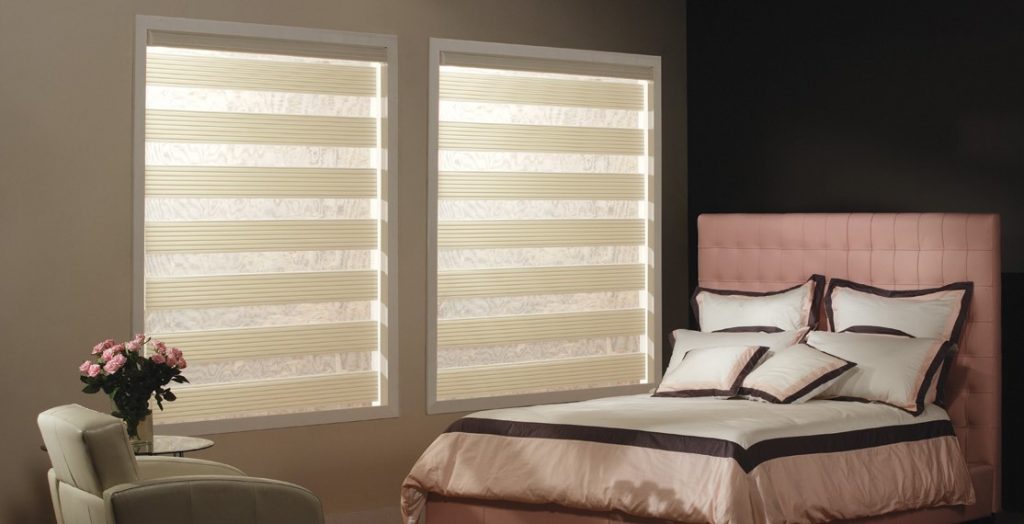 Purchasing higher quality zebra blinds is worth the extra investment
Trust Graham's & Son for the Best Zebra Blinds
If you are looking for high-quality and affordable zebra blinds for your home, the experts at Graham's & Son Interiors can help you find the perfect ones.
You can rely on the 40+ years of experience Graham's & Son Interiors has when you are looking to update your current window treatments. We serve Kitchener, Waterloo, Cambridge, Guelph, and surrounding areas in Southern Ontario. We have lived and worked in this area for over 4 decades, so we know how to ensure you get the right window treatments for your budget, wants, and needs!
Right now is the perfect time to purchase zebra blinds. When you buy 2 shades, blinds, or shutters from us, you will get the third absolutely free! That's a great deal! Contact us today to learn more.
"Amazing experience! Graham's & Son Interiors provided shutters in my family room.
The customer service and installation was stress free. The shutters look great. Thank you."