Today, we'll take a look at cordless blinds – how they work, why they might be a good choice for your home, and the different options available. 
At Graham's & Son Interiors, we've been helping homeowners get the right window treatments for their home for over 40 years. We are happy to share what we've learned with you!
In this article, you will learn why cordless blinds are the safer solution for households with children and pets, and why you'll love their look and convenience. Let's get started!
How Do Cordless Blinds Work?
As more and more homeowners become aware of the potential dangers that traditional blinds with cords and strings pose to children, cordless blinds are becoming more popular. There are many options available when it comes to cordless blinds. Because of this, they do not all work exactly the same. However, they all have one thing in common: no dangling strings or cords! 
Cordless Cellular Shades – Just Pull Up and Down!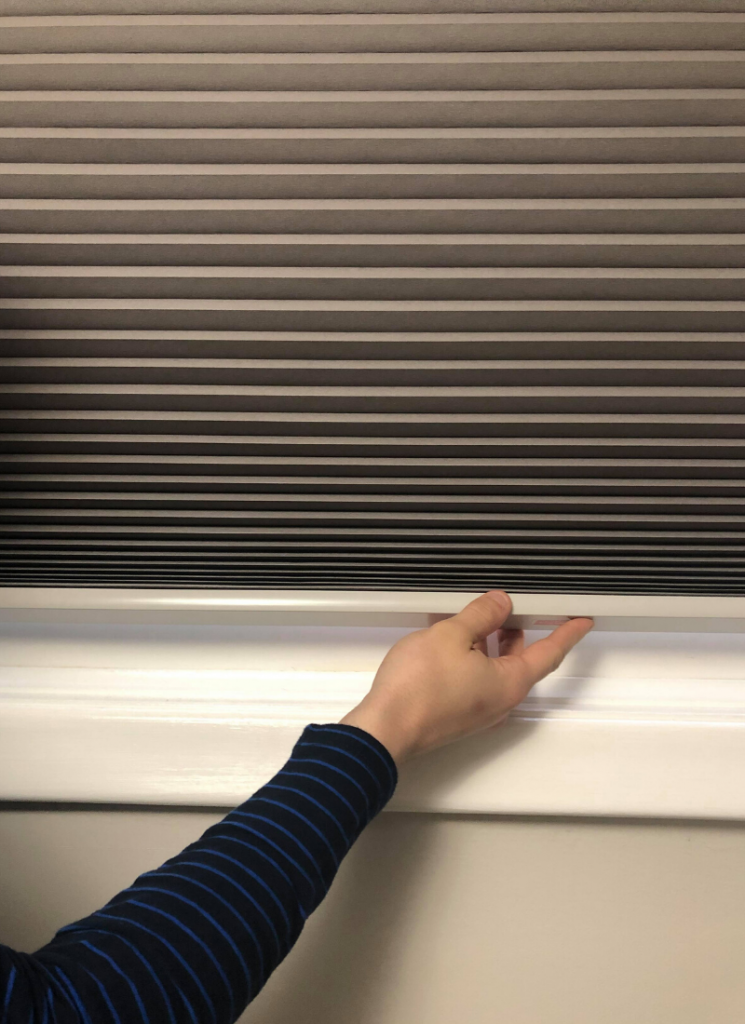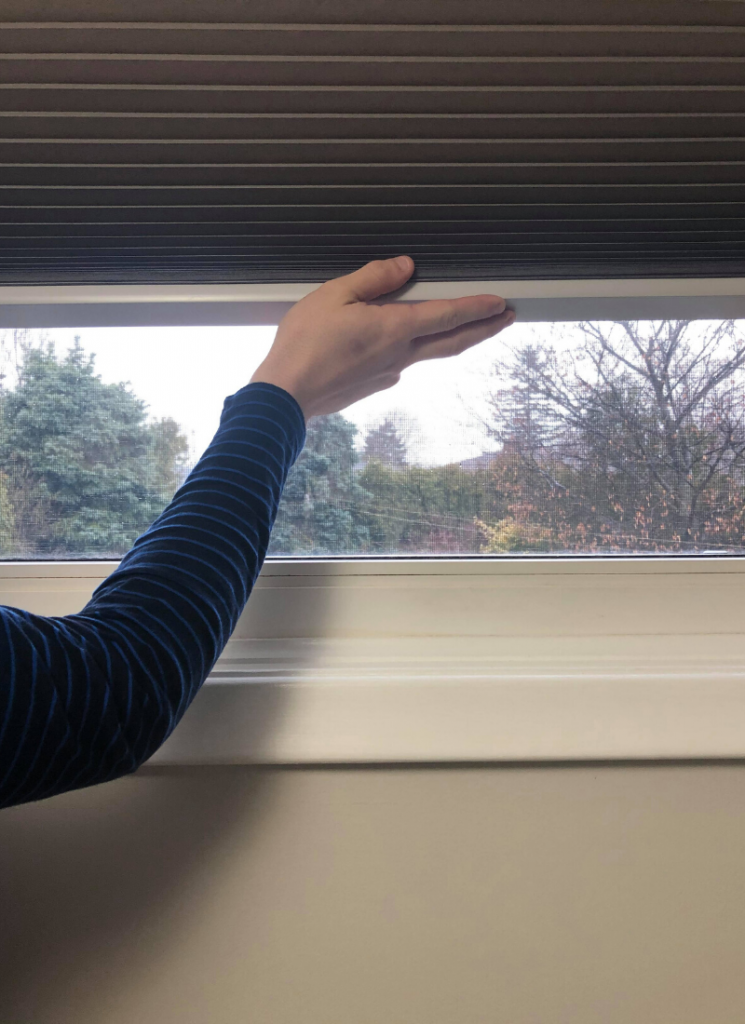 Some types of cordless blinds allow you to simply pull your blinds into the position you want
Average Cost: $
Cellular shades are a popular variety of cordless blinds because they are very easy to use and place into whatever position you want! Cellular shades also provide excellent insulation and can come in blackout options as well, so they are a great choice for bedrooms. 
When it comes to opening up and closing your cellular shades, all you have to do is grab the bottom bar and position them however you please. You can close them completely, open them up a completely, or anything in between. Some cellular shades also come in a top down bottom up style, which means you can open them from the bottom AND the top. 
This gives you excellent control over the amount of light that enters your room.  
Blinds With Rods and Bars Instead of Cords or Strings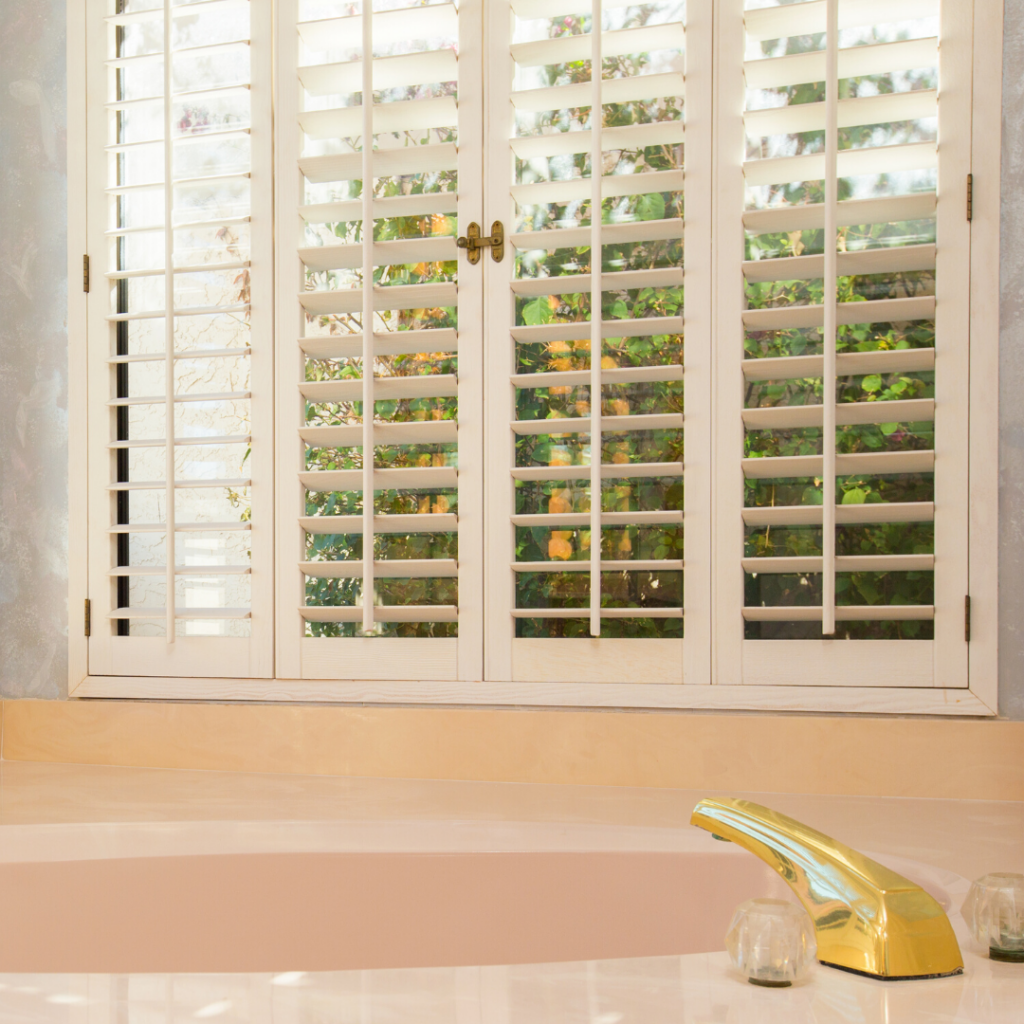 Some blinds come with rods instead of cords; All shutters are cordless with bars instead of strings
Blinds Average Cost: $
Shutters Average Cost: $$
If you still want the look of traditional blinds to put in a child's bedroom, but don't want to take the risks associated with dangling strings, there is some good news! Some varieties of blinds come with a long plastic rod instead of strings. 
You can use the rod in a similar way to cords or strings – twist it to open and close your blinds, or pull it to lift up your blinds. This style of cordless blind is not as popular as other options, but it is available. If this is something you are interested in, make sure to talk to your window treatment expert about options for your home. 
For another option, all shutters are cordless. Similar to a rod, shutters have a tilt bar located in the centre of the shutter. Take a look at the shutters above. The thin, vertical bars on each shutter is the tilt bar. 
To open and close your shutters, you simply grab the tilt bar and pull it up or down. This will help you position your shutters open, closed, or somewhere in between. 
Automated/Motorized Window Treatments
Motorized Window Treatments Average Cost: $$+
If you love looking for ways to integrate new technology into your home, or you're working towards a smart home system, then automated or motorized window treatments may be the perfect option for you. Take a look at the quick video below by Hunter Douglas to see how easy motorized window treatments are to operate.
Motorized window treatments can be a great addition to your smart home
Even if you don't have a smart home at this time, motorized window treatments can still be a good option if you need cordless window treatments. They are also an excellent choice if you have high, hard to reach windows. With motorized blinds or shades, you won't have to worry about reaching and straining just to open and close your blinds.
Another great benefit is that you can put your motorized window treatments on a schedule. With automation, you can choose when your blinds open and close. This gives you excellent light control in your home, and can even help you save on your energy bills. 
Roller and Roman Shades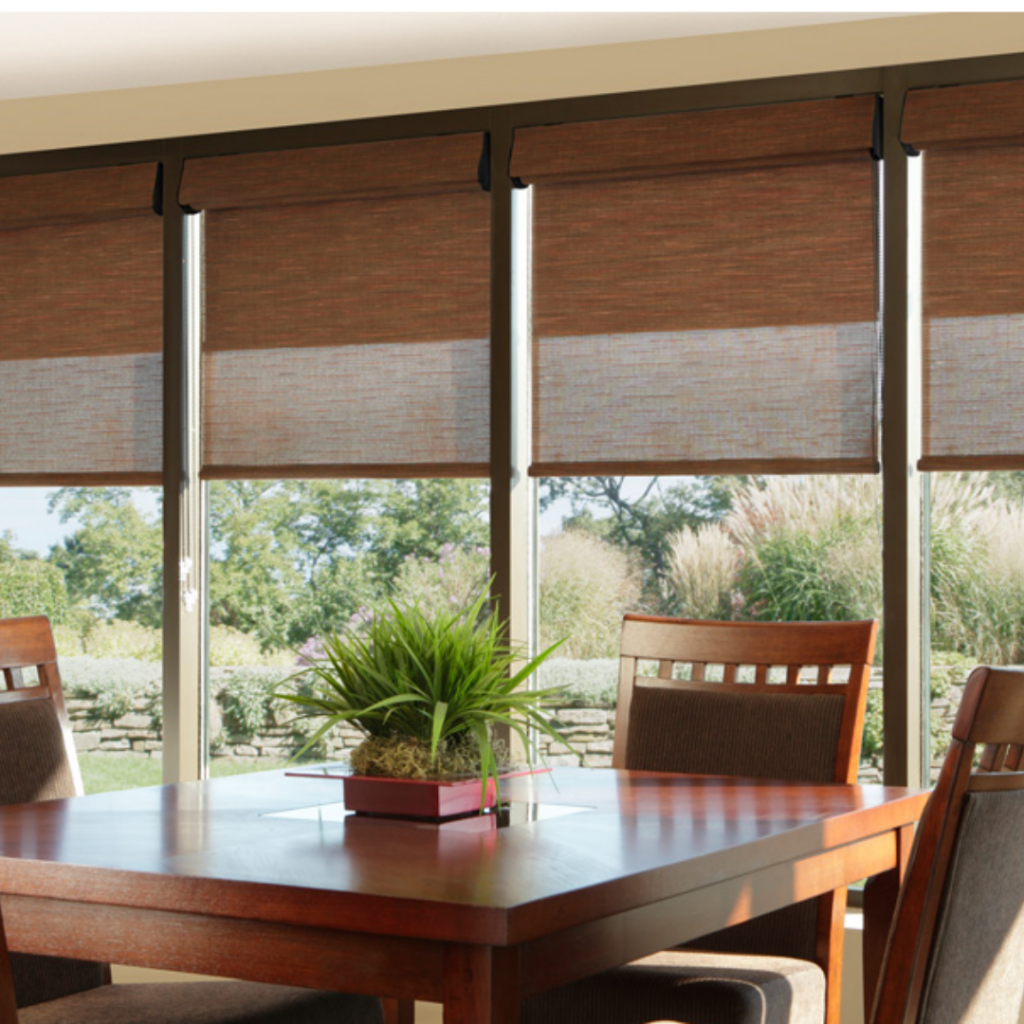 Roller shades and Roman shades are a good cordless option
Roller Shades Average Cost: $
Roman Shades Average Cost: $
Looking for a softer window treatment option for your home? Roller shades and Roman shades are popular window treatment choices for any room in your home! They are both super easy to use.
For roller shades, you simply need to pull on the bottom of your shades. Release to let the shades open up completely, or slowly place into the position of your choice. Roller shades come in a wide variety of materials. You can find them in vinyl, polyester, cotton, and other soft versions. 
When it comes to cordless Roman shades, there will typically be a small handle located behind the shades. Reach under your shades to grab the handle and pull your shades up or down. They will stay in the position you place them in. You will often see Roman shades made from soft fabrics, but they also come in other materials, such as bamboo!
The Benefits Of Cordless Blinds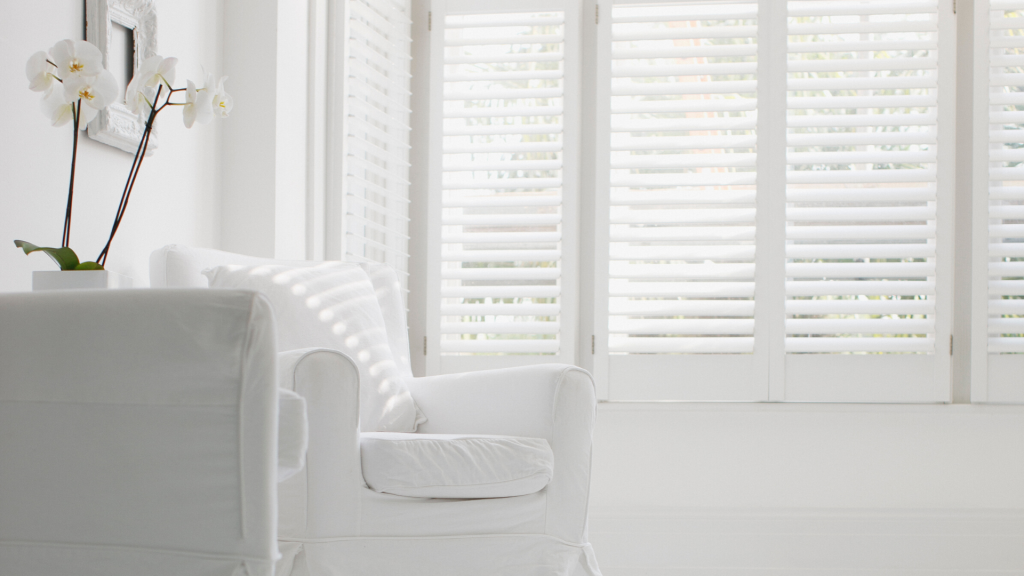 With any type of cordless blinds, you won't have to worry about dangling cords or strings
Still not sure if cordless blinds are right for you? There are many benefits to choosing either blinds that were designed to be cordless, or varieties of window treatments that are 'naturally' cordless (like shutters and curtains!) 
Safer For Children and Pets
Unfortunately, blind cord strangulations and accidents still occur at an alarming rate. Children, especially young children, can get easily tangled in dangling cords and strings, and cannot free themselves if cords wrap around their necks. 
In 2019, Health Canada issued new regulations regarding blind cords in an effort to help prevent more injuries and deaths. They urged parents to replace existing corded blinds with safer alternatives, such as cordless blinds, shades, shutters, or curtains. 
If you don't have kids at home, cordless blinds can also be a good choice to keep pets safer. Pets are also at risk of getting tangled in cords and strings. Both cats and dogs are at risk. Cats may like to hang out by your window while you aren't home. If they decide to play with your strings or get spooked and jump in a strange direction, they may end up tangled.
Large dogs can also find themselves tangled up in strings or cords. This may cause injury to them or damage to your window treatments! 
Animals can easily get tangled in strings or cords and hurt themselves – or your blinds!
Although the video above may seem funny, this situation could have turned out differently for the dog. Fortunately, it looks like only the blinds were 'injured' during this accident. However, these homeowners will now have to replace what looks like an entire window's worth of blinds!
An Aesthetically Pleasing Alternative
Blind cords were put in place not for aesthetic purposes, but simply for practicality. Most people don't like the look of extra cords or strings, especially once your blinds get some use out of them. Over time, you may notice that cords start to get dirty or strings start to tangle and knot. 
Cordless blinds mean you have one less part of your window treatments to worry about maintaining and cleaning. Plus, your window treatments will look better without tangled or dirty cords dangling from the side. You won't have to worry about finding wall hooks to try to hide your cords off to the side. 
Many naturally cordless options are also considered some of the best looking window treatments, such as California shutters, which can actually add value to your home since they are so sought after.
Easy To Operate
Most of us know the frustration of trying to get your blinds into the perfect position, but ending up with lopsided blinds that just won't even out! Most cordless blinds are, by design, very easy to operate and place evenly in the position of your choice.
Because you manipulate cordless blinds with your hands, they're also easier to control and operate. Strings can get knotty and tangled, which can affect your ability to place your blinds exactly where you want them to go. 
With cordless blinds, you won't have to worry about struggling with lopsided blinds ever again!
Trust Graham's & Son For Your Perfect Cordless Blinds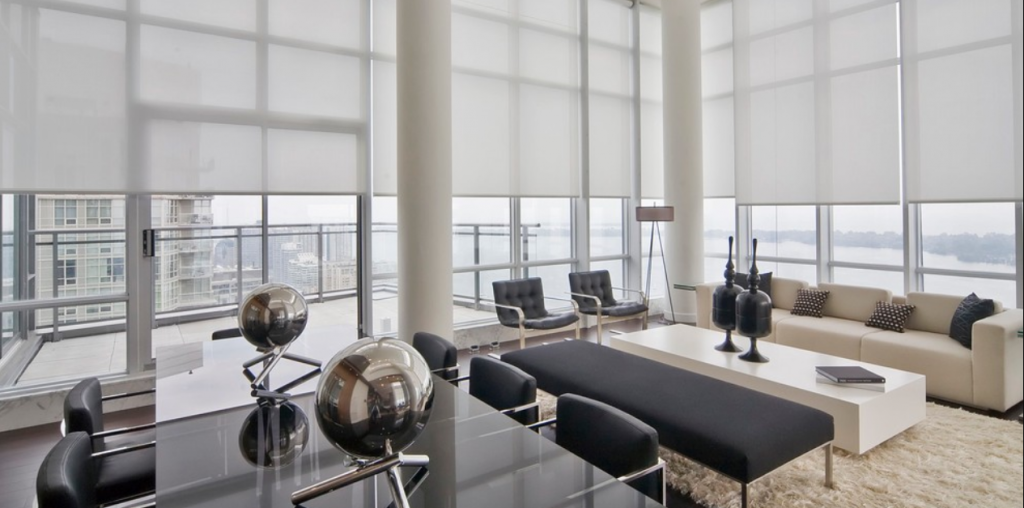 Whether you are looking for cordless blinds as a safe alternative for your family, or you simply want an attractive and easy-to-operate window treatment option, the experts at Graham's & Son Interiors can help you find the perfect choice for your home.
You can rely on the 40+ years of experience Graham's & Son Interiors has when you are planning to update your look! We serve Kitchener, Waterloo, Cambridge, Guelph, and surrounding areas in Southern Ontario. We have lived and worked in this area for over 40 years, so we know how to ensure you get the right window treatments for your budget, wants, and needs!
 5/5
"Amazing experience! Graham's & Son Interiors provided shutters in my family room.
The customer service and installation was stress free. The shutters look great. Thank you."