These window treatment trends are sure to inspire your own window treatment project! Continue reading to learn about the popular styles of 2019, or contact the window treatment experts at Graham's to learn more about getting your dream blinds, curtains, shutters, or shades!
15 Window Treatment Trends 2019
Whether you like the look of long and luxurious drapes, or you prefer simple white shutters or blinds, there is something for every taste and style preference in the list below! 
Simple never really goes out of style, does it? Freshome points out that "clean and simple" continues to be one of the biggest trends in window treatments, even into 2019. It comes as no surprise – the simple style of Roman shades allows them to work perfectly in almost any room in your house.
Similar to Roman shades, roller shades are a simple and often cost-effective window treatment solution – and they're trending in 2019! Choosing a simple design and colour, roller shades can look amazing in any room in your home. Not only that, but they provide a great deal of privacy, and you can choose sun-blocking and energy-efficient options. 
If simple just isn't you're thing, and you're looking to make a statement with your window treatments, you'll be pleased to know that bold and eclectic curtains are also 'in' this year. patterned curtains or curtains with bold and bright colours can really make a statement in your living space! 
If you have a design dream in mind, it can be hard to find pre-made curtains that perfectly suit your needs or match your decor. Many homeowners are now choosing to have custom curtains made to match existing fabrics and the style of their home – this means you can get custom-created window treatments all in the same pattern and material (see the matching shades and curtains above!)
Plantation and California shutters are an extremely popular window treatment option – and with good reason! Hear what those at Freshome have to say about these awesome window treatments: 
"Plantation shutters add character and elegance – and they're super easy to operate. In addition to wood and faux wood plantation shutters, you can choose moisture resistant, light control, and even insulated options."
Not sure what the differences are between Plantation and California shutters? Learn more here!
When looking at window treatment trends, we not only consider the styles and materials, but also the accessories. hardware, such as curtain rods, caps, and rings, all indicate trends and style too! Right now, metal hardware is trending, as it's simple, sleek, and easy to care for. You can also find metal hardware in a number of colours, from black to gold to brass to silver, and more!
7. Automated Window Treatments
Smart home technology is become more commonplace in homes across North America – and with that, we're seeing a significant trend towards motorized and automated window treatments! With automated window treatments, you can control your window treatments right from your smart phone, set your shades on a timer, and maximize sunlight (or shade) in your home. 
8. Cordless Window Treatments
Although you may not even notice your blind cords or strings, they can actually pose a significant health risk to children and even pets. USA Today reported on one study from the journal Pediatrics that found that injuries and death from blind cords send two children each day to the ER. Fortunately, as more and more people become aware of this issue, there are many more cordless window treatment options available in 2019. They're perfect not only for children's rooms, but anywhere in your home!
As you can probably see by now, a recurring theme in window treatment trends this year is sleek, clean, and simple. Sheer shades are all of that – and more! Although you may prefer some privacy in your bathroom or bedroom, sheer shades a great choice for living rooms, kitchens, and dining rooms. They help block some sunlight, but still offer some visibility – which helps make smaller rooms feel larger! You can also pair sheer shades with other window treatments, to get the look without sacrificing your privacy.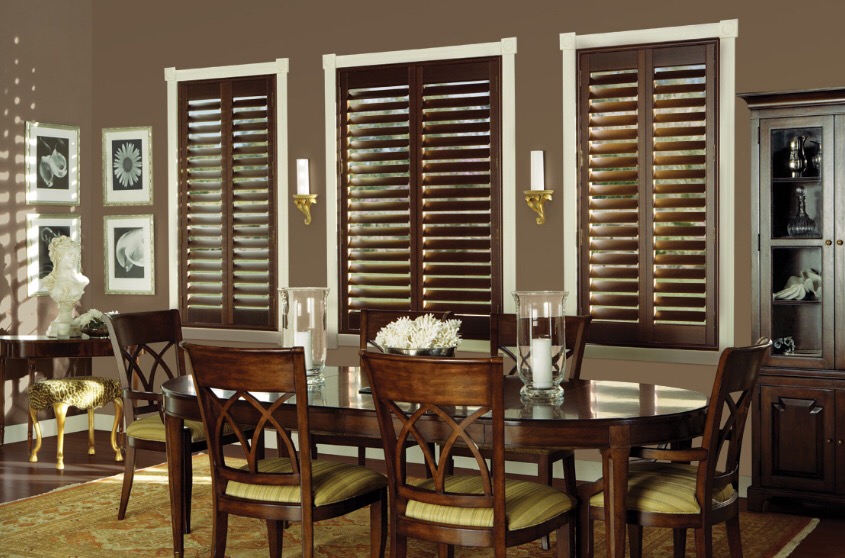 According to Decor Aid, dark, wooden shutters are in this year too. So, if you love the look of shutters but aren't a fan of the bright white look, you can still get your dream shutters for your home! If you have a natural, earthy feel to your bedroom, living room, or dining room, natural wood shutters will pair perfectly. It's important to keep in mind that real wooden shutters don't fare well in moist environments (like your bathroom), but you can still get the look with vinyl or faux-wood! 
With rising energy costs, more and more homeowners are looking for ways to cut down on their energy bills – especially during the summer months. That's why we're seeing cellular shades rise in popularity. Cellular shades are an amazing insulator, and can help keep the sunlight out during the summer (and the warmth in during the winter!)
12. Layered Window Treatments
Layering your curtains or drapes can help create a look of luxury in your space. Choosing complimentary colours or matching curtains to your existing furniture and wall colour can help tie the room altogether. In the image above, we see orange, grey, and cream coloured curtains all layered together to create a beautiful and unique design. 
Smaller slats and mini blinds are out, and wider blinds are in! One expert recommends always going with a slat size of 2.5 inches or more. Larger slats will allow more light in and better control over your window treatments!
Organic  and natural elements are in style when it comes to window treatments this year. This includes trends like bamboo blinds, full or partial wood blinds and shutters, linens, and fabrics. See the image above for a unique take on this organic look!
Modern and contemporary style continues to be a popular trend into 2019 – but we're also seeing a shift towards traditional designs as well. Custom window treatments can help you get the traditional look you're going for; plus they're typically higher quality and will last much longer, which is perfect for this timeless look.
Trust Graham's & Son To Help You Find Your Perfect Window Treatments!
"We purchased roller shades from Graham's & Son. Measurements were done in home, very professional
and knowledgable on product offerings. Prices were comparable, we had shopped around. Blinds were delivered
directly to our home and were very easy to install."
Graham's & Son has decades of experience when it comes to expertly installing all kinds of window treatments, including shutters, in homes across the Kitchener-Waterloo area. We understand the importance of creating an energy-efficient home, and we want to help you achieve that for your home!
At Graham's & Son, we offer a wide variety of window treatments, including custom treatments perfect for insulating your home. If you are looking to update your current window treatments, contact Graham's & Son today for the most energy efficient and beautiful window treatments possible.
Graham's & Son knows window coverings; we have been in the window treatment business for over 40 years. Our expertise and professionalism are second to none. In addition, right now we are offering an amazing deal on all our blinds, shutters, and shades – when you purchase any two, you will get a third absolutely free.
WINDOW TREATMENT INSTALLER & INTERIOR DECORATOR – JOIN OUR TEAM!

Graham's & Son is looking for a full-time Window Treatment Installer and an Interior Decorator, and we would love for you to join our team! We operate out of Cambridge and are looking for someone who knows the Tri-Cities area well. Training will be provided – some experience required. If you think this may be the perfect job for you, see job requirements and overview by clicking here to learn more about the installer position, or here to learn more about the decorator position.