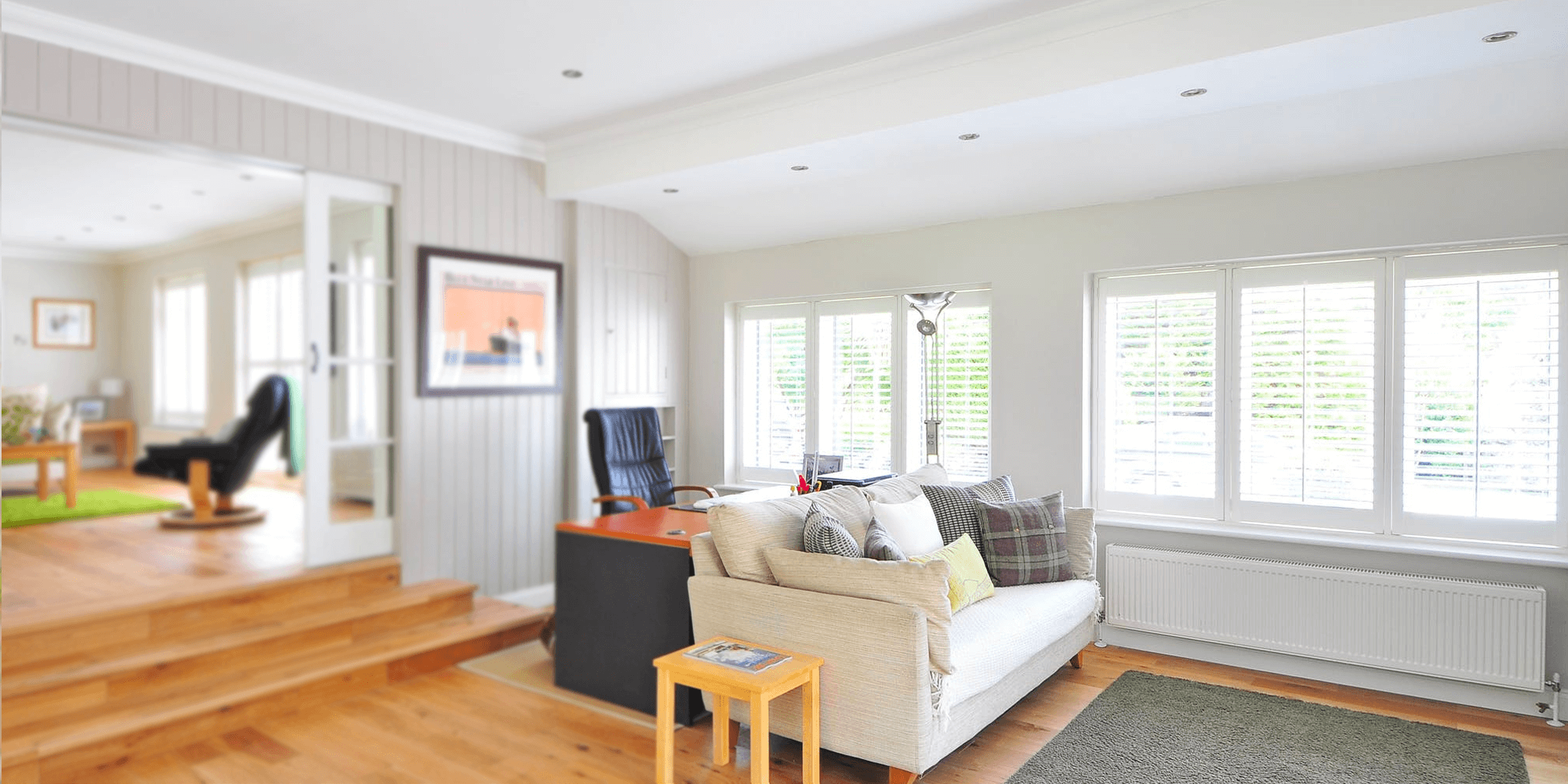 Thinking about installing custom shutter blinds in your home? Shutter blinds offer many advantages, including increased safety for children, better light and privacy control, aesthetic appeal, many styles and materials to choose from, and the fact that they're custom fit for your unique windows. Continue reading below to learn more about these advantages and more. You can also rely on the professionals at Graham's & Son to give you expert advice for your own window treatments. Contact us now!
We offer FREE in-home consultations!

5 Reasons to Install Custom Shutter Blinds
Custom shutter blinds are made to fit your unique windows (and even doors!) Continue reading below to learn more about why you should consider custom shutters for your new window treatments.
1. Shutters Provide A Safe Window Treatment Option For Children (And Pets)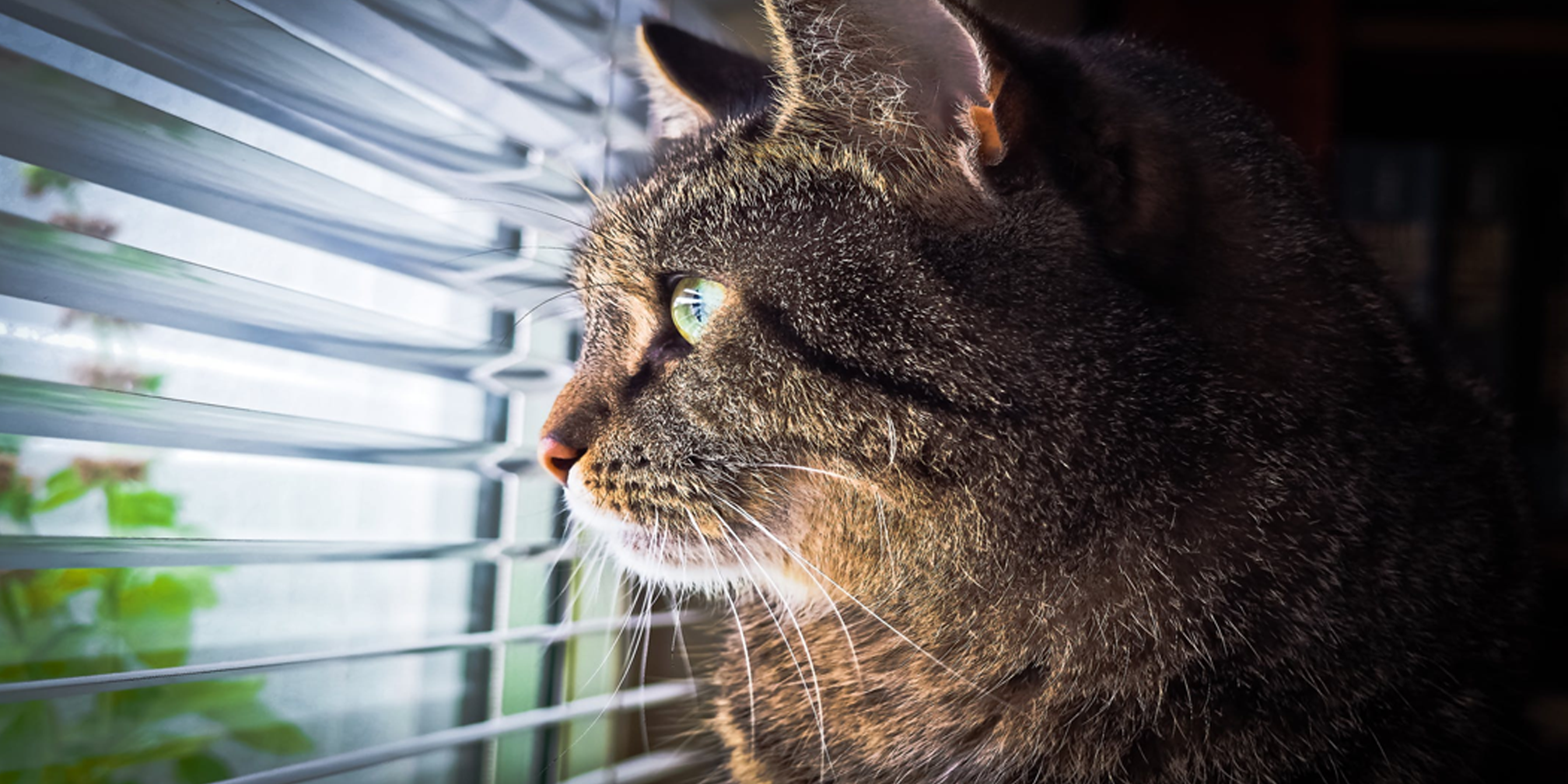 Pets and children can accidentally become tangled in window blind cords
Although you may not even think twice about your blind cords, they can actually pose a serious safety risk to young children (and pets, especially cats). Young children can accidentally get caught up in dangling cords, which creates a strangulation risk. From npr.org:
"more than 16,000 children in the US were treated in emergency departments for injuries caused by window blinds between 1990 and 2015, an average of almost two children every day, according to a study published Monday in Pediatrics. Although most of those children (93 percent) weren't seriously injured, 271 children died during that time."
Fortunately, your window treatment choices can not only reduce this risk but completely eliminate it. Shutters are such a popular option for households with children because there are no dangling cords or strings that children can get wrapped in. To open and close most shutters, there is a thin tilt bar that sits in the centre of your shutters. See the diagram below to see where the tilt bar sits.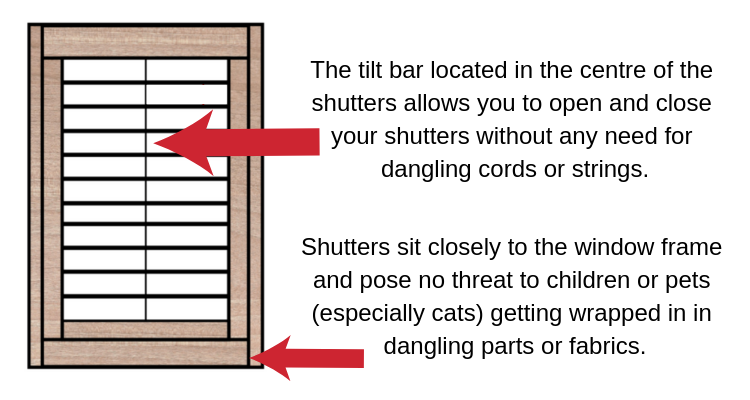 This bar allows you to open and close your shutters without the need for any other devices. It is not only safer for your family, but also an attractive option! Shutters are an excellent choice for childrens' rooms and anywhere else in the house where young children may be left unattended even for short periods of time. If you have cats or dogs that roam the house when you are not home, shutters also help keep them safe when you are at work or asleep!
2. Shutters Provide Excellent Light & Privacy Control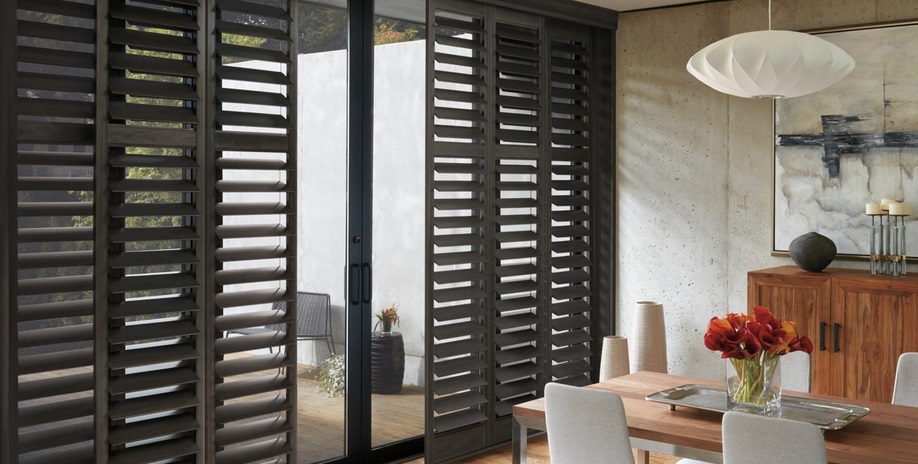 Shutters can open, close, and pull away from your window/doors to
give full control over lighting & privacy
Because of their design, shutters are one of the best options when you are looking for window treatments that give you more control over light and privacy. With shutters, you can open and close them – either all the way or just slightly – depending on the amount of light you want to enter the room.
During the cold winters, it's easy to keep them completely open during the day to let in more sunlight. During the summer, you can keep them closed or partially closed – but you won't fully sacrifice sunlight, as shutters still allow some to peak through the slats. This also makes them an ideal choice if you're looking for an option that will help reduce your energy bill!
Many shutters can also completely pull away from your window or doorway. That means you can get 100% full sunlight when you choose. Between that function and the ability to move your slats up and down as you choose, shutters provide excellent light and privacy control. That makes them ideal for rooms that require more privacy, such as bathrooms and bedrooms.
Keep in mind that wood shutters do not always do well in moist environments – so for bathrooms, it is best to go with vinyl or composite (faux wood). If you aren't sure which materials are right for you, we'll get to that below! Or, you can contact the window treatment experts to learn more.
3. Shutters Come In Many Different Styles & Materials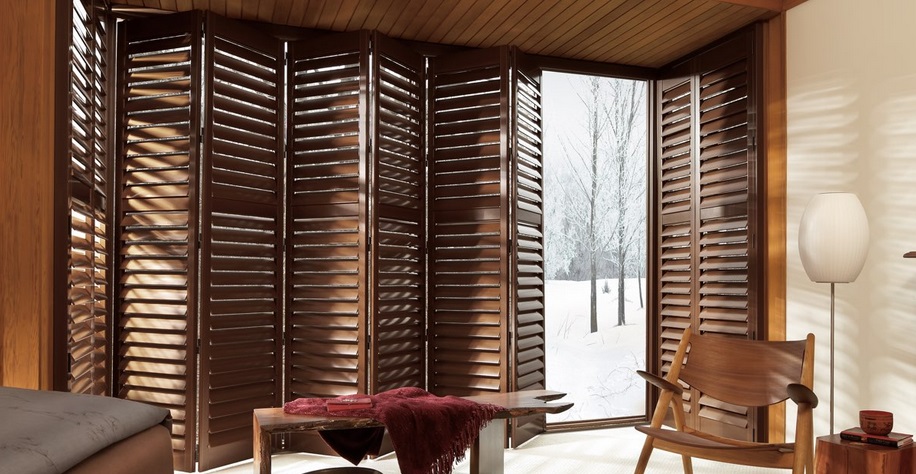 Each type of shutter style and material has its own pros and cons
When looking for shutters, you may be pleasantly surprised by the many different options you have. In most cases, you will get to choose between the two popular shutter options – California shutters and Plantation shutters. These shutters look very similar but have different louvre sizes.
Because of this, California shutters (2.5 inch louvres) are often used for smaller windows such as kitchen and bathroom windows, while Plantation shutters (3.5 inch louvres) for larger windows and doorways. Learn more about the differences between these popular shutters here!
Although California and Plantation shutters are generally the most popular choices – they are not your only options. You can also choose from three-tiered options, specialty shapes to fit rounded or curved windows, half shutters, and more! Click here to get some great shutter ideas and inspiration.
With both California and Plantation shutters, you will get to choose from different materials that best suit your needs. The most popular choices are wood shutters, vinyl shutters, and composite (faux wood) shutters. Each option comes with its own pros and cons. See below for a chart that gives a brief summary of each option:
Comparison between wooden shutters, composite (faux wood) shutters, and vinyl shutters
As mentioned above, it's important to choose the right material for the particular room you want to place your blinds in. For example, for high traffic areas of your home, where your blinds may be bumped and pushed around, composite or wooden shutters are highly durable and can take a hit. However, they will require more maintenance. For bathrooms, where moisture may build up, vinyl is an excellent choice. However, they are less durable overall. If you still aren't sure, don't hesitate to ask the professionals. They can help you find an option that not only works for your particular needs, but also for your budget!
4. Shutters Provide Aesthetic Appeal
If you are looking for an attractive window treatment option, you can't go wrong with shutters. They are known for their beauty and can add an extra design element to any room. They are subtle, so they won't take away from your existing design, but will add to the overall look of your room.
See how attractive and easy to use shutters are!
The video above shows how shutters fit seamlessly into many different styles and window sizes. As shutters come in many different materials, you can see from this video that you can also choose from different options, such as sliding shutters for doorways, and panels that close in various directions. These small differences will help ensure you get the shutters that suit your particular style needs!
Because shutters are such an attractive, popular, and easy-to-use window treatment solution, they actually can add value to your home too! Compared to other window treatments (such as colourful curtains or patterned drapes), shutters are quite neutral and work well with almost every homeowner's taste.
5. Shutters Are Custom Fit For YOUR Unique Windows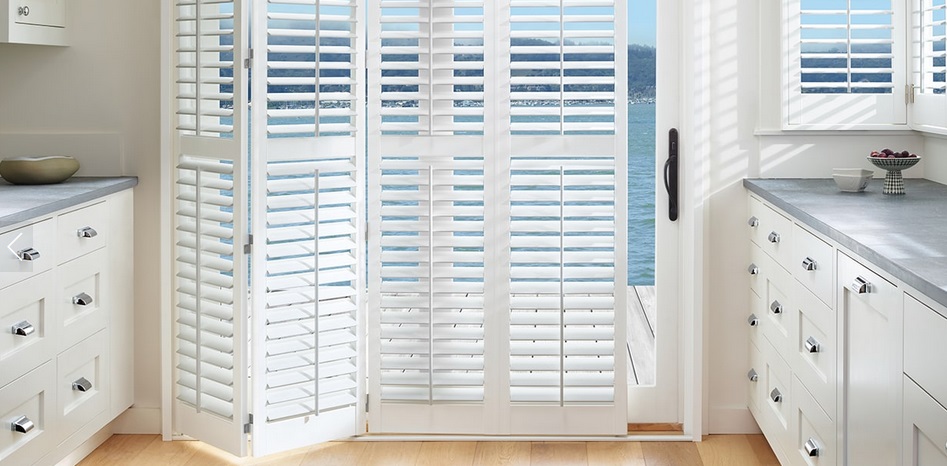 Custom shutters are made to fit perfectly in your window or doorframe
Every house is different, and that means every window is different too! Most homes have a variety of window sizes, from small bathroom windows to large living room or kitchen windows. Purchasing blinds and trying to fit them to your windows can work, but getting custom fit shutters will ensure that your window treatments provide you will full privacy, look professional, and function to the best of their ability.
Shutters fit right within your window frame, so it's important that they are installed correctly. Unlike drapes or curtains, that simply sit on a rod, shutters are not the easiest to DIY install. It's important to work with a professional window treatment installer to ensure your shutters are not only the perfect fit for your windows, but also look their best.
GET YOUR PERFECT CUSTOM BLIND SHUTTERS WITH GRAHAM'S & SON INTERIORS
If you are looking to add custom shutter blinds to your home, you can trust Graham's & Son to help you pick out the perfect window treatments for your needs and your budget. We help you out from the beginning to the end, starting with our free in-home consultation and ending with installation!
At Graham's & Son, we offer a wide variety of renovation services and window treatments for any room of the house. If you are looking to update your bathroom, contact Graham's & Son today for the most energy efficient and beautiful window treatments possible.
Graham's & Son knows window coverings; we have been in the window treatment business for over 40 years. Our expertise and professionalism are second to none. In addition, right now we are offering an amazing deal on all our blinds, shutters, and shades – when you purchase any two, you will get a third absolutely free.
"Let me start by saying, I love my window treatments! Mr. Graham was very professional, easy to talk to; he talked with me, not above me, I was at complete ease. He listened to my thoughts, went through my options, and just like that – decision made. The installation crew was quite professional, friendly and efficient. "
– Anne Allen
Read more customer testimonials
WINDOW TREATMENT INSTALLER & INTERIOR DECORATOR – JOIN OUR TEAM!

Graham's & Son is looking for a Window Treatment Installer and an Interior Decorator, and we would love for you to join our team! We operate out of Cambridge and are looking for someone who knows the Tri-Cities area well. Training will be provided – some experience required. If you think this may be the perfect job for you, see job requirements and overview by clicking here to learn more about the installer position, or here to learn more about the decorator position.
At Graham's and Son our customers have been so pleased with the high standard of our work that they selected us for the "Best Business Service – Interior Decorating: Platinum" and "Best Shopping – Kitchen Renovations: Gold" awards in the 2017 Cambridge Times Readers' Choice Competition. Book a free in-home consultation today and find out for yourself why Graham's is the best in the interior design business. Contact us today to schedule. If you prefer, you can shop at home. Browse through our website, make your choice, and simply give us a call at 519-658-9025 to place your order without ever having to leave the comfort of your own living room.