Budget Blinds vs Local Window Treatment Experts: Which is right for you? Today, we'll take a look at both of these options to help you choose the best window treatments for your wants, needs, and budget.
At Graham's & Son Interiors, we've been helping our customers get the best, custom-made window treatments for over 40 years! We're happy to share our experience and expertise with you.
In this article, we will compare Budget Blinds vs local window treatment experts and what you can expect from each, so you can make an informed choice as you shop for your new treatments. So, let's get started!
Budget Blinds vs Local Window Treatment Experts – A Comparison
Average Price
Average Quality
In-Home Consult
Customization
Customer Service
Full Design Services
Budget Blinds
Low – Medium
 3.5/5
Medium
Yes
 2.5/5
Some customization options, though most options are fairly basic and high-tech features are not always available. 
 4.5/5
In general, has a good customer service rating score, but will vary across different locations.
Offers basic window treatment options and models, does not design or custom-make window treatments such as drapery or curtains.
Local Window Treatment Experts
Medium – High
 5/5
High – Very High
Yes – though this may vary depending on the specific local window treatment experts you choose to work with.
 5/5
Many customization choices, as local window treatment experts will often be able to provide you with custom-made treatments and custom options.
 5/5
Customer service will vary depending on the business you choose to work with, be in general, most local businesses have excellent,  personal customer service.
Most local window treatment experts will be able to provide you with full design services and 100% customized window treatments.
What Window Treatment Service Is Right For Me?
Choosing new window treatments for your home can be a challenge – there are so many different options to choose from! This is true not just because of the window treatments themselves, but also because there are many different suppliers and stores to choose from. 
Budget Blinds offers a variety of window treatments at affordable prices. You can shop online or go to a store. Many local window treatment experts will require you visit in store or have an in-home consultation to look through your options and choose the window treatments that are right for you. 
There may or may not be an online store, but in most cases if you are looking for custom window treatments, you won't be able to buy online. This is because custom window treatments will be custom made for your unique wants and needs, which means you will need to speak to someone in-person about your requirements.
To learn more about the difference between these two window treatment options, read a more thorough comparison below.
Budget Blinds vs Local Window Treatment Experts: Price & Quality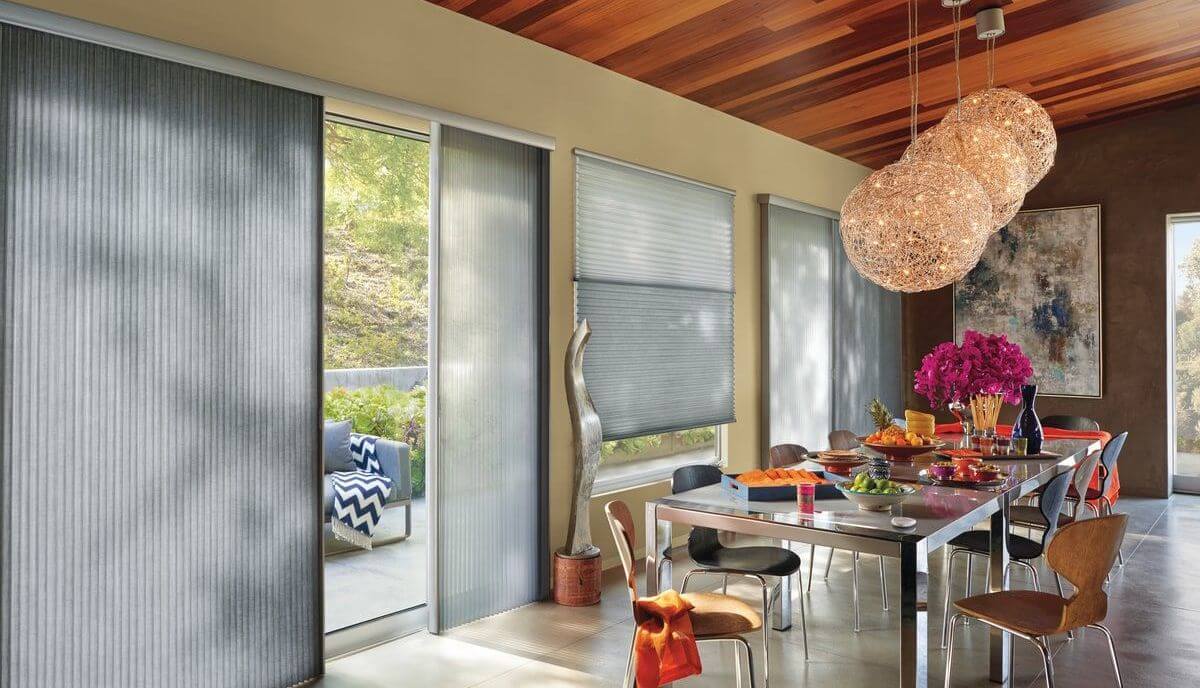 Window treatments by Hunter Douglas
When choosing window treatments, one of the most important things to consider is your budget. Your budget will determine the style, materials, and type of window treatments you will be able to choose from. 
One of the biggest advantages of shopping at Budget Blinds is the lower prices. Budget Blinds provides a fairly large variety of window treatment options including blinds, shades, shutters, drapes, and more. Though you will get to choose from a range of product types, the quality will all be around the same. 
In order to provide customers with lower prices, average quality materials are used to make products. Though most customers are happy with the overall look and feel, many reviewers do note that the quality is not as high as other window treatment alternatives. 
When you purchase from a local Window Treatment Specialist, you know you are getting a top-quality product. Many local window treatment businesses pride themselves on selling premium window treatment products that can be custom-made to suit a wide range of wants and needs. Because of this, the price point is higher. 
As you shop for your window treatments, it is important to keep in mind that price and quality are usually linked. If you are looking for a quick window treatment solution and don't need anything long-term, then you may not mind sacrificing some quality for price. 
However, if you really want blinds that will last and that you won't need to replace any time soon, it may be worth it to wait and save for what you really want and spend more on the highest quality product.
Budget Blind vs Local Window Treatment Specialist: In-Home Consultations & Customer Service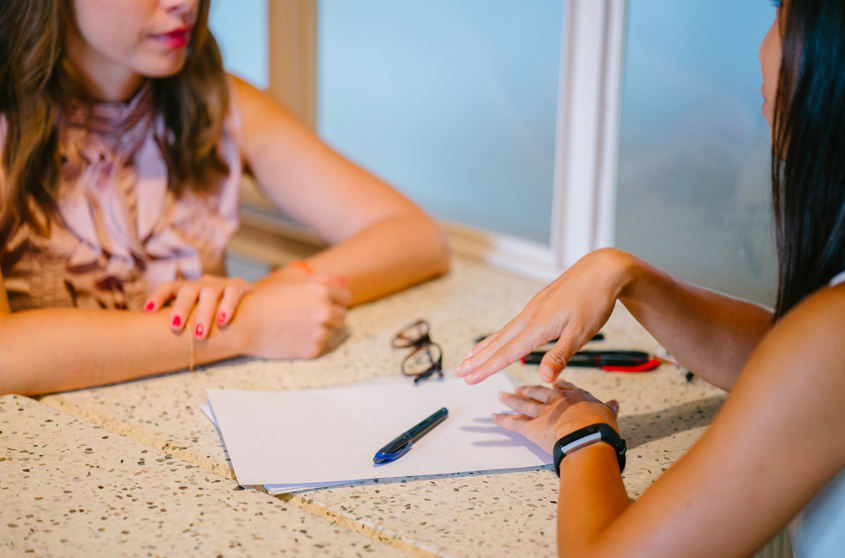 An in-home consultation can help you find the best treatments for your space
At Budget Blinds, you will be able to get a free in-home consultation as you shop for your new window treatments. In-home consultations are a very important part of your shopping process! 
Consultations allow for your window treatment installers to take a look at the exact space you plan to put your new treatments, accurately measure your windows, and give you advice on styles that will best suit your home and budget. 
Most, if not all, local window treatment specialists will offer in-home consultations. Many businesses offer free consultations, but this will vary depending on the business you choose to work with. 
Once you find a specialist in your area, you will be able to check out their website and see if they offer in-home consultations too. In most cases, they will. However, each specialist is different. And this is true for customer service too!
In general, all Budget Blinds will operate very similarly since they are  a chain store. Most Budget Blinds, no matter which one you choose, have similar reviews and comments about good customer service.  
Window treatment specialists are usually small businesses who have lots of experience working within your local area, but customer service can widely vary based on who you choose. Many homeowners prefer working with small businesses because they can provide you with a greater level of attention and customer service – but it's important to remember that not all small businesses are the same. 
If you choose a local specialist, make sure you take a look at their reviews ahead of time. 
Budget Blind vs Local Window Treatment Specialist: Customization & Options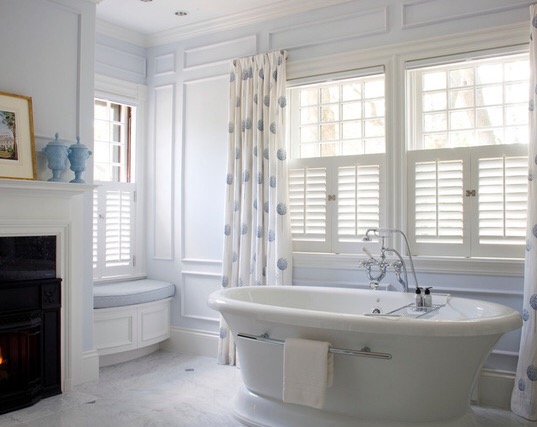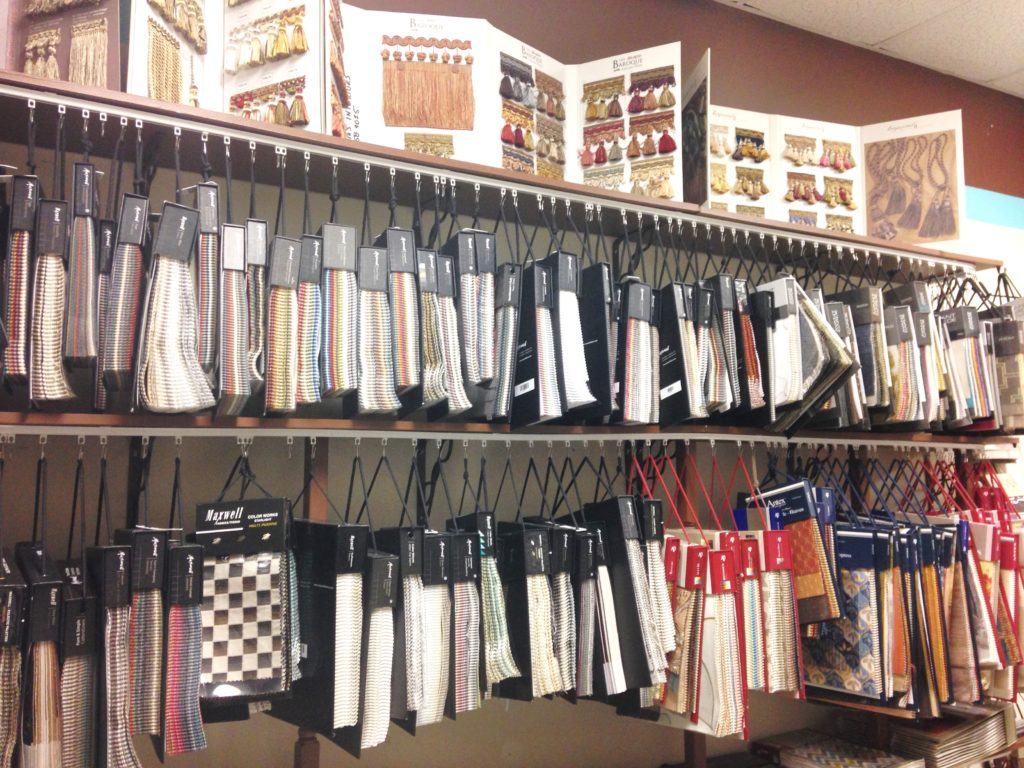 Window treatment specialists will provide you with a wide range of options
When it comes to customization, options, and choices, working with an window treatment specialist will provide you with the most! Window treatment specialists offer nearly endless products, including automated window treatments, blinds, shades, shutters, and so much more. 
As most local window treatment specialists offer premium window treatments, they use state-of-the-art technologies and offer patented products that you won't be able to find anywhere else. As more and more people choose to integrate smart technology into their homes, these modern window treatments can be quite appealing! 
For example, many specialists provide Hunter Douglas products. Hunter Douglas has designed a wide variety of unique automated window treatments and continues to unveil new products regularly. 
If you want to keep up with the trends and get the best custom options for your home, choosing a specialist that offers products by Hunter Douglas and similar brands is the perfect choice! Take a look at the quick video below to see one of their recent product reveals.
https://www.youtube.com/watch?v=eF9qXfxw0Nk
Learn more about Hunter Douglas's new window treatments
When you buy from a store like Budget Blinds, they often only have basic models and won't be able to create custom window treatments for you. You will still be able to find options such as automated window treatments, but you may not be able to find the same variety of brands and product offerings.
If you choose to purchase your window treatments from a specialist, they will be able to provide you with a wide range of custom options including different colours, patterns, and styles, and even quality. When you choose to buy from a big-box store, you will have a limited selection of options and very limited selection of quality.
Budget Blinds Or a Window Treatment Specialist – Which Is Right For Me?
When choosing your new window treatments, there are a lot of factors to consider – your budget being one of the biggest ones! For many homeowners who plan to stay in their home for a long time, working with a specialist to get custom-made treatments makes the most sense. If you are looking for quality window treatments that will last, it's often a good choice to save a bit longer and choose what you really want.
Even if you do not plan to stay in your home long-term, high-quality window treatments can actually increase the value of your home. This is especially true of California shutters, that are a popular selling feature for homes!
The quality that a specialist can offer you is often not comparable to the quality of treatments you would get from a big box store. For example, if you have very large or non-traditional shaped windows (such as arched windows), working with a window treatment specialist is often the better choice as well. This is because they will help you create custom window treatments that perfectly fit your windows, no matter what shape or size. 
Even if you choose the "cheap" option, window treatments are typically never cheap! Lower cost options can still cost hundreds or thousands of dollars. Because of this, many homeowners don't want to have to replace their window treatments any time soon! The best way to avoid an early replacement is by choosing high quality treatments. 
So, should I choose a window treatment specialist over my other options? If you have the budget to invest in higher quality window treatments and plan to be in your home for the foreseeable future, then in most cases, choosing to work with a specialist is a great choice! However, if you need a quick window treatment solution or you have a limited budget, it may be best to choose a less expensive alternative for now and save for higher quality treatments in the future. 
Free In-Home Consultations
Your Local Window Treatment Specialist In Kitchener, Waterloo, Guelph & Cambridge
At Graham's & Son Interiors, we are a locally owned and operated window treatment specialist that has over 40 years of experience helping homeowners across the Cambridge, Kitchener, Waterloo, and surrounding areas get the window treatments they have always wanted! We can help you find the perfect window treatments for your home!
We are a family-run business who knows KW area well because we've lived and worked here for decades. You can rely on our experienced team to get the job done right. 
We help take away any headaches from your project by completely helping you choose the perfect window treatments from start to finish. You can rely on our 40+ years of experience to ensure you get the highest quality window treatments for your unique space.
Contact us today schedule your free, in-home consultation!
"Amazing experience! Graham's & Son Interiors provided shutters in my family room.
The customer service and installation was stress free. The shutters look great. Thank you."
Regina Wilson
Read More Google Reviews