Today, we'll take a look at 15 awesome yet simple ways to impress your guests with beautiful Christmas Decor!
At Graham's & Son Interiors, we have been helping homeowners get the homes of their dreams for over 40 years, and we're happy to share our decorating experience with you!
In this article, we'll showcase 15 Christmas decor ideas that are sure to 'wow' your guests, including wonderful handmade wreaths, luxurious tablescapes, and more. Let's get started now!
Get Your Home Ready For The Holiday With Graham's & Son Interiors
The professional Interior Decorators at Graham's & Son can help you impress your guests this holiday season!
"Great experience working with Graham's & Son Interiors. Highly recommend their services. We had excellent service, advice and workmanship right from quote to job completion. All the staff, the owner, project manager, store staff and installers were incredible to work with. Excellent customer service and quality workmanship. Thank you for your help, patience for a job well done!!"
15 Ways To Impress Your Guests With Christmas Decor
1. Create a Handmade Wreath
Christmas wreaths are often a holiday staple inside homes and hung on doors. You are sure to impress your guests this holiday season if you make your own unique wreath! The great news is that Christmas wreaths can be super easy to make – even if you don't have a lot of experience with DIY projects. A wreath can be as simple or as elaborate as you like, and can incorporate many different materials. For example, see how different the two wreaths above are, yet they are both beautiful! Get more DIY wreath ideas from Country Living. 
2. Use Wrapped Gifts As Decor
You have Christmas gifts already – why not put them to use as Christmas decor? Nowadays, it's so easy to find beautiful and elaborate wrapping paper and accessories such as bells, gorgeous gift tags, and more. Instead of hiding your gifts under the Christmas tree, consider putting them up on a shelf or on a coffee table to display them until Christmas morning!
In many homes, the staircase is right in front of or close to the front door – so that means it will be one of the first things your guests see as they enter your home for a holiday gathering. Make sure you make a great first impression by decorating your banister! There are so many different ways to do it – you can go with traditional garland or try something a little different, like the idea from House Beautiful above!
4. Set A Festive Table Setting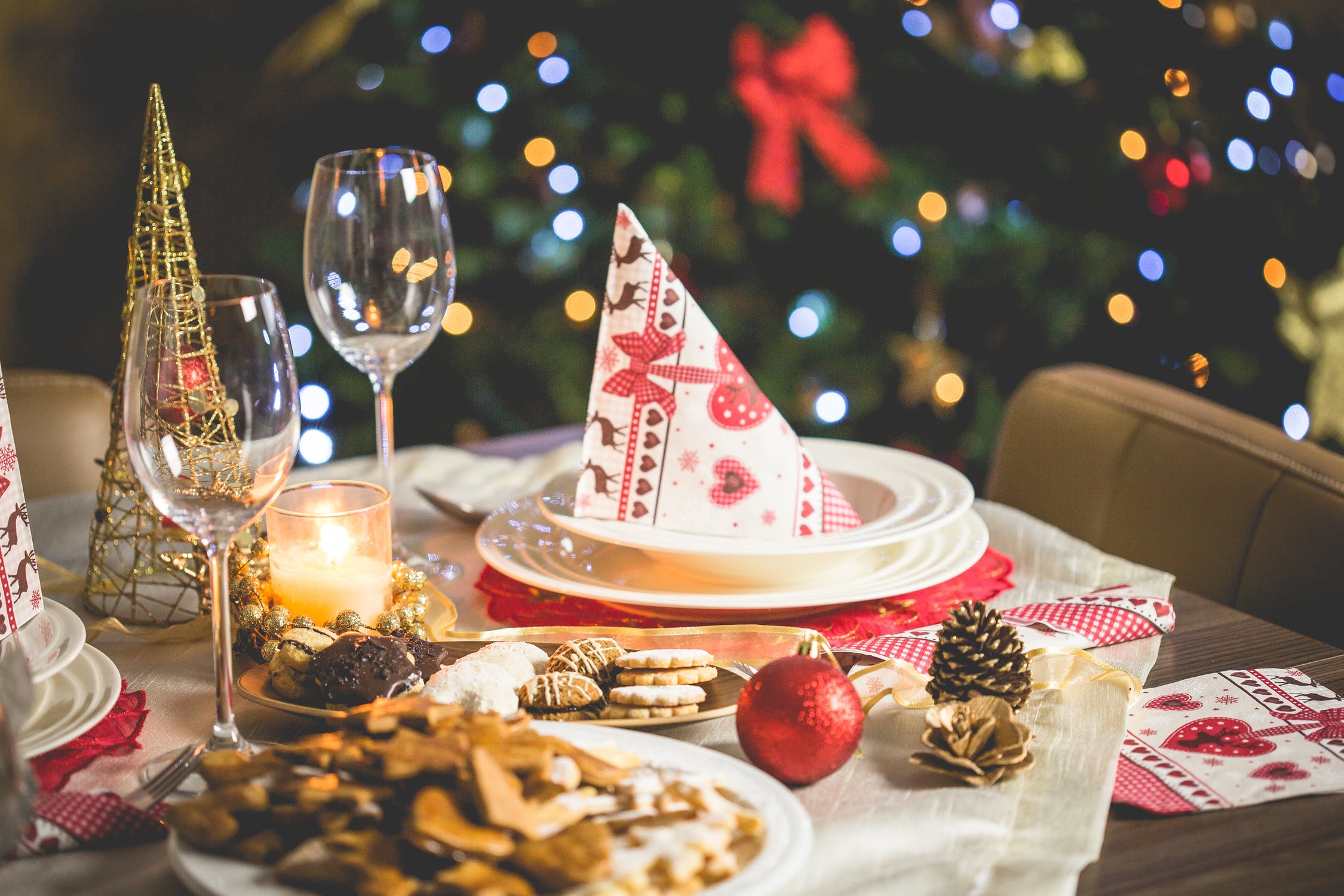 When you have guests over for the holidays, there will most likely be food – and a lot of it! Because a good portion of the Christmas season is spent around the dinner table, you have a great opportunity to impress your guests with an elegant and festive table setting. You really don't need much for a festive table setting – some attractive Christmas-themed napkins, red or silver plates, and a scattering of ornaments and pinecones can go a long way. If you're into a more elaborate table setting, you may want to create a "tablescape," which we'll go over in #5! 
5. Create A Beautiful Tablescape
If you are ready to take your place setting game to the next level, consider creating a "tablescape" instead! A tablescape is essentially a more complex table setting that incorporates lots of different decor, aside from your typical plates, cutlery, tablecloth, and napkins. If you like more complex projects, then creating a tablescape may be a fun idea to try – and you will definitely "wow" your guests with this one!
6. Don't Be Afraid To Get Colourful!
If you aren't a fan of red, white, and green, don't worry! You can still get or make beautiful Christmas decor that has a bit more colour and a less traditional feel. Done right, you can create a festive look that will rival the traditional Christmas decor we are all so used to seeing. If you want to stand out from the crowd, choosing pastel colours and not shying away from pinks, yellows, and purples can help you create a truly impressive home that's ready for the holidays!
7. Make Your Own DIY Ornaments
The Christmas tree is usually a central part of most people's Christmas decor – so why not impress your guests with handmade ornaments? If you have kids, grandkids, or even nieces and nephews, this is a great way to get them involved! In the end, you will have a fun holiday activity for the whole family to partake in, and you'll have unique ornaments to hang on your tree that will definitely help spark some conversations among your guests! If you're looking for simple DIY ornament ideas, check out some great ideas from Country Living or Good Housekeeping. 
8. Bring The Outdoors In...
One of the best ways to "wow' your guests over the holiday season is to try to find ways to incorporate real greens and flowers into your decorations. There really is nothing like the real thing. Including natural elements will not only look amazing, but it will also smell amazing too! If you have allergies or can't include real flowers for another reason, you can try to find hyper-realistic versions from high-quality craft stores that will give you a similar look. 
9. ...And Bring The Indoors Out!
When planning your Christmas decor, we often want to focus on main rooms in the house such as the kitchen and living room. But don't forget about the outdoors! Your front door and porch is the perfect place to put wreaths and potted winter plants and arrangements on display. As well, if you have a covered deck, screened-in porch, sun room, or even a gazebo that you use in the winter, consider decorating that space for an ultra-cozy hangout spot for you and your guests.
10. Simple Is Beautiful Too!
You don't have to be a master interior decorator to impress your guests this holiday season. If you aren't a fan of DIY or simply don't have the time to create an elaborate holiday design, simple decorations can be just as beautiful and impressing! Consider choosing just one or two colours, such as green and white, and sticking to a simple theme throughout your home. These elegant living room decorations go together perfectly, feel cozy, and would be quite easy to replicate with little planning!
11. Get Creative With Your Christmas Countdown
There are so many different ways you can create a Christmas countdown (and many different varieties available for purchase if you prefer to skip the DIY projects!) A Christmas Countdown will help remind your guests how close you are to the exciting day, and can be a quirky piece of decor or a simple, elegant accent piece. Christmas countdowns can be easy to make and inexpensive to buy, and they are often a Christmas decor staple – especially homes with kids!
12. Put Simple Lanterns On Display
Lanterns are a classic Christmas decor piece. They are cheap (for example, these ones from IKEA are only $19.99!) You can include lanterns on your mantle, within a tablescape, or placed on bookshelves or desks. One of the best things about lanterns is that they are an awesome place to keep your Christmas candles. Lighting a few candles before your friends or family arrive at your home will make your house smell great and help create a cozy ambiance sure to impress. 
13. Display Your Stockings
Stockings are often hung above the fireplace in a living space, so why not make them a statement piece of their own? You can even try your hand at making your own unique stockings. Check out the video above to learn how easy it is to sew your own Christmas stockings with whatever pattern you want on it! Unique stockings will sure to grab the attention of your guests – and you'll be pleased to tell your friends and family that you made yours all on your own!
14. Choose a Festive Doormat
Remember, it's important to impress both inside and outside your home! A cute holiday-themed outdoor mat is not only a great way to greet your guests with some holiday cheer, but it will also help keep dirt, salt, and snow out of your home. This is so important when you have a lot of people coming in and out of your home. Your floors can take quite a hit during the winter – especially if you live somewhere like Southern Ontario, where we often get months of snow, slush, and ice! A mat can help prevent damage to your floors by reducing moisture that enters your home. 
15. Decorate In Unexpected Places
Don't be afraid to decorate in unexpected places. Hang ornaments from your low-hanging light fixtures above kitchen or dining tables, add garland around your kitchen windows, or place wreaths directly over your windows or window treatments. To really 'wow' your guests this holiday season, you'll want to think outside the box!
Rely on Graham's & Son Interiors To Help Impress Your Guests This Year!
At Graham's & Son Interiors, we have over 40 years of experience helping homeowners in the Kitchener, Waterloo, Cambridge, and surrounding areas get the home that they have always dreamed of.
We provide home decorating services as well as full interior renovations. If you feel like your home could use a bit more TLC than just some Christmas decor, we can discuss how a renovation may help you get the beautiful and practical home you've always wanted.  
At Graham's & Son Interiors, We offer many services to aid with your remodel, including flooring, reupholstering, and custom window treatments – which can make a big difference in any room in your home!
In addition, right now we are offering an amazing deal on all our blinds, shutters, and shades – when you purchase any two, you will get a third absolutely free. We can help you find everything you need for your home!
WINDOW TREATMENT INSTALLER & INTERIOR DECORATOR – JOIN OUR TEAM!

Want to join our team? Graham's & Son is looking for a full-time Window Treatment Installer and an Interior Decorator, and we would love for you to join our team! We operate out of Cambridge and are looking for someone who knows the Tri-Cities area well. 
Training will be provided – some experience required. If you think this may be the perfect job for you, see job requirements and overview by clicking here to learn more about the installer position, or here to learn more about the decorator position.
Get Your Home Ready For The Holiday With Graham's & Son Interiors
The professional Interior Decorators at Graham's & Son can help you impress your guests this holiday season!