Blinds and shutters turn yellow due to prolonged exposure to the sun's UV rays. In this article, we'll take a closer look at why this happens and how you can protect your window treatments.
At Graham's & Son Interiors, we have over 40 years of experience in the window treatment industry, and we'd love to share what we've learned over the years with you!
Today, we will explain how and why the sun affects your blinds or shutters, how to clean your window treatments if you notice them yellowing, and how to prevent further discolouration. So, let's get started!
Why Do Blinds and Shutters Turn Yellow?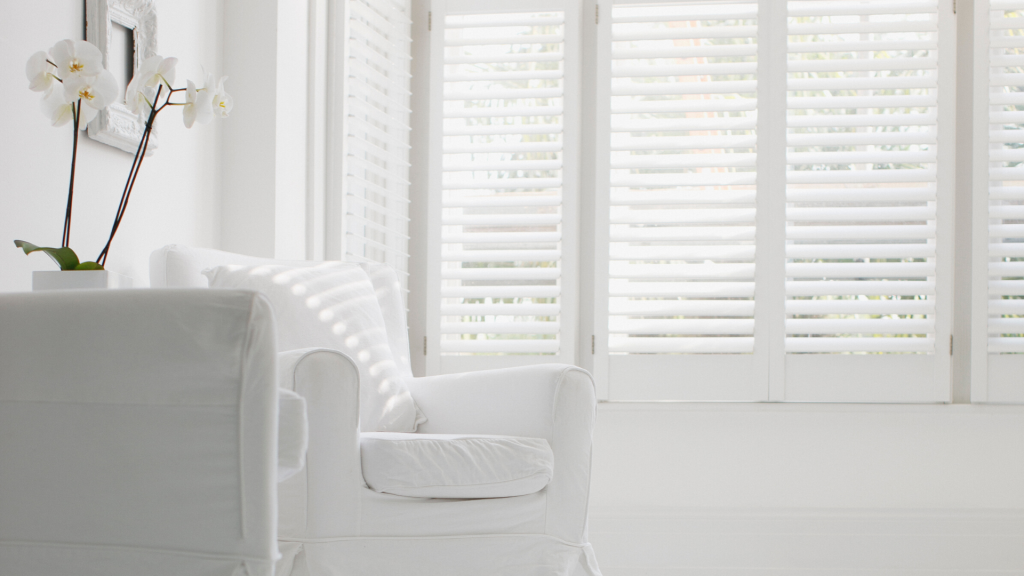 To find out why window treatments like blinds and shutters turn yellow, it's important to remember what your window treatments do. They help protect you and your home from the elements! Window treatments such as shutters are excellent at keeping the sun out of your  eyes and the heat out of your home during the hot summer months. 
When your shutters keep the sun out for you, they are directly exposed to the sun's harmful UV (ultraviolet radiation)  rays. Sheltering us from the harsh sunlight eventually takes a toll on your blinds or shutters. This is more noticeable if you have white or very light coloured window treatments. After some time, you may start to notice that your white blinds or shutters have begun to turn yellow.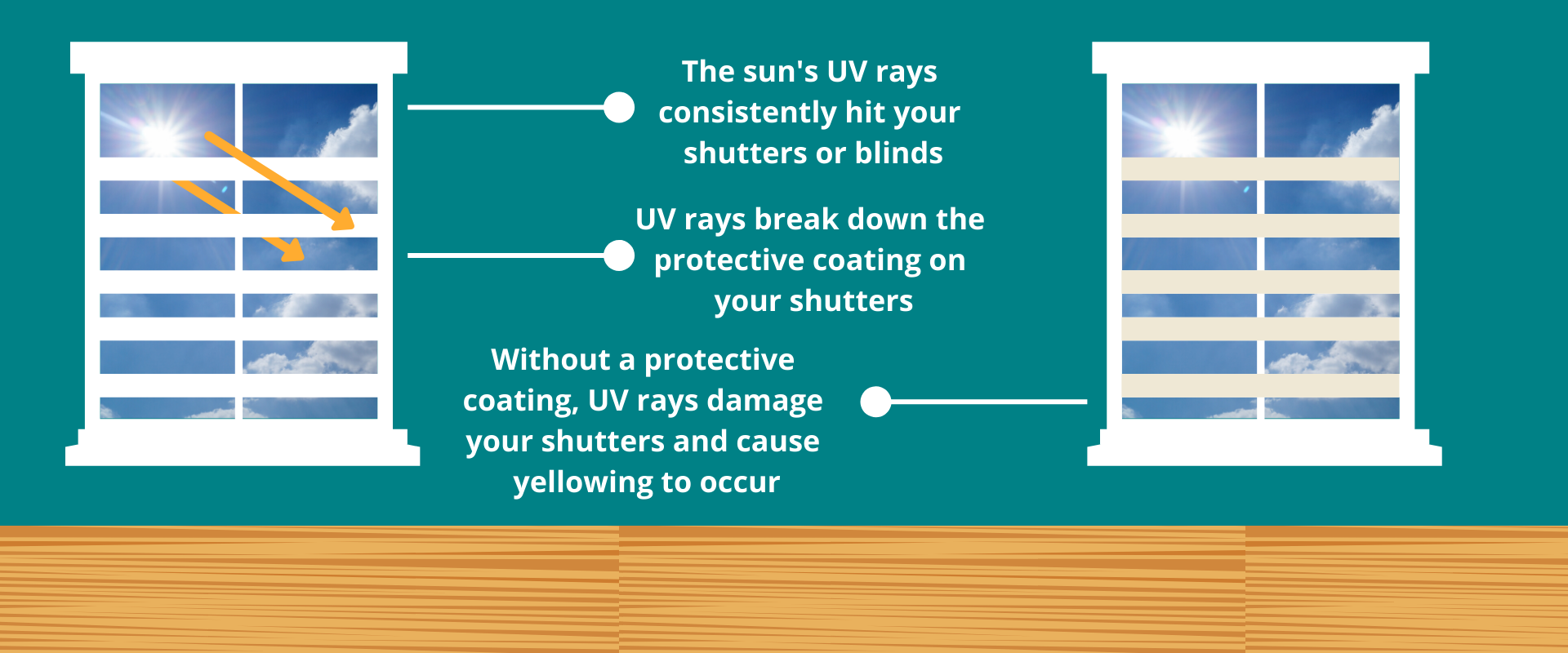 The diagram above shows why shutters turn yellow when exposed to sunlight
So, how exactly does this happen? Your window treatments have a protective layer on them, but over time, exposure to UV rays will break this down and colours will begin to fade. Without protection, your blinds and shutters won't be able to withstand the harsh sunlight as well as before. Your blinds will begin to lose their original colour and begin to turn yellow.
Your Shutters Are Yellow – What Can You Do?
If you have had white blinds or shutters in your home for a long time, you will probably begin to notice some yellowing. If your window treatments have turned yellow, don't worry! Although you can't really reverse sun damage, you can try a few cleaning techniques that can help prevent your blinds from becoming "too far gone."
What Else Causes Yellowing?
Although the sun is often the main culprit for yellow shutters and blinds, there are other things that may add to discolouration. Dust, dirt, and grime can easily build up on your window treatments if they are not regularly cleaned. Dust and dirt can actually make your blinds look more yellow than they actually are. Simply dusting your blinds may make a huge difference! 
As well, prolonged exposure to dirt can cause stains that may be hard to remove just by dusting. Cigarette smoke can discolour a wide range of objects in your home, including your window treatments. 
How To Clean Your Blinds or Shutters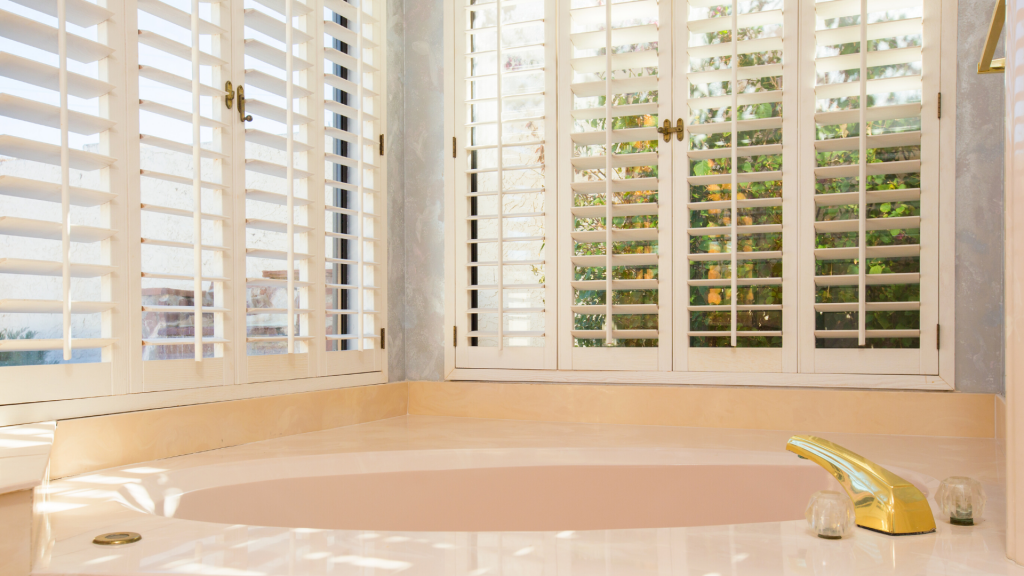 Regular cleaning can help prolong the lifespan of your window treatments
Cleaning your blinds and shutters can't completely reverse any yellowing done by the sun – but it can help prevent further discolouration and keep them looking their best!
Cleaning Plastic & Aluminum
If you have plastic or aluminum blinds, one of the fastest and easiest ways to clean them is by giving them a bleach bath! Fill up your bathtub with cold water. Then, add 2-3 cups of bleach. 
After that, remove your blinds from the wall and gently place them in the bathtub. Ensure you submerge all parts of your blinds so that they are evenly cleaned. Let them soak for at least 10 minutes. Then, check on them. If you are happy with the colour, remove your blinds from the tub and wipe them thoroughly with a clean towel. 
Remember, slats are fragile! As you dry your blinds, be careful not to bend the slats. After this is complete, you can hang your blinds back up in their place and let them air dry.
Cleaning Wood
If you have wooden blinds or shutters, you won't be able to give them a bleach bath. This is because bleach can damage wood – and you may end up with more damage and discolouration than you started with!
You also don't want to use soap on your wooden window treatments. Instead, thoroughly dust them and then wipe down with a damp cloth. You may also be able to buy specialized cleaning products that are designed to help you clean wooden window treatments. 
Most window treatments today come with a strong UV-protective coating, but regular cleaning will help that coating last longer and protect your blinds or shutters for much longer!
Can You Prevent Your Window Treatments From Turning Yellow?
Unfortunately, there is no real solution to the yellowing problem. Over time, the sun's harmful rays can and will break down any type of protective coating. If you have white or other light coloured blinds or shutters, you will likely notice yellowing at some point after you have owned your blinds for a while. 
Although you can't fully prevent your blinds or shutters from turning yellow, regular cleaning and maintenance can help keep that protective coating in great shape for longer. Plus, it will keep your window treatments looking their best!
Investing in higher quality window treatments is another way to help slow the yellowing process down. Higher quality treatments made from the best materials will likely have the latest sun-protection technologies available. 
Shutters in particular, such as California shutters, can be quite an investment. Many homeowners would feel frustrated if their beautiful new shutters started turning yellow quickly after purchase! 
Choosing to purchase quality window treatments from a reputable window treatment specialist, who can help you find the right brand and style to suit your needs, is not only a great investment for your home, but can also ensure your window treatments last as long as possible. 
Trust Graham's & Son For Your High Quality Window Treatments!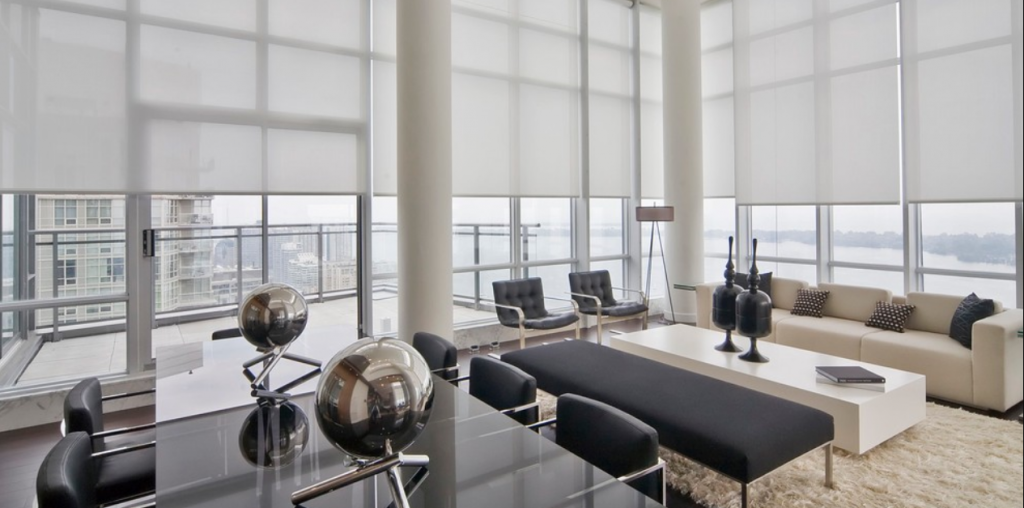 Looking for new window treatments? Want to ensure that yours will last? You can rely on Graham's & Son Interiors to help you choose the best shutters, blinds, drapes, shades, and more for your home!
When you choose to work with Graham's, you will get to experience the Graham's difference. Let our 45 years of experience work for you! We know everything there is about window treatments because we've done it all before. We have the experience and know-how to help you get the window treatments that are perfect for your budget, wants, and needs.
We also start every one of our projects with an absolutely FREE, no-obligation, in-home consultation. During your consultation, we will discuss what you want and need from your new window treatments, and will make recommendations based on your preferences. 
 5/5
"I've used Graham's for years and they've always looked after me. I always recommend them to my friends and family. You will not be disappointed!"