If you've recently searched for a "bathroom renovation contractor near me," you've come to the right place. Graham's & Son Interiors services the Cambridge, Kitchener, Waterloo, Guelph and surrounding areas. 
We have over 40 years of experience in the home improvement industry, and we are happy to help you get the bathroom you have always dreamed of. You can rely on our experience living and working in your area to help you turn your bathroom into an oasis!
Graham's & Son Interiors
Your Trusted Bathroom Renovation Contractor Near Me
Visit Our Showroom
11 Queen St E, Cambridge, ON N3C 2A7
Store Hours
Mon – Sat: 9am – 5pm
Sun: Closed
Call Us
(519) 658-9025
At Graham's & Son Interiors, we offer full bathroom renovation services. Whether you're planning a small powder room remodel or a large master bathroom renovation, we do it all. We are with you from start to finish. Your dreams and plans are important to us – that's why we start every one of our projects with a free, no-obligation in-home consultation. 
From there, we'll get the designs and plans you need to begin the project. During your bathroom renovation, we'll arrange all sub-contractors so you can rest assured that you are working with the best team possible for every part of your renovation. After it's complete, we will take care of clean-up too. We understand that a renovation can be disruptive to your daily life, and we want to make it as simple as possible for you. 
If you need a "bathroom renovation contractor near me" in Kitchener, Waterloo, Cambridge, Guelph or surrounding areas, contact us today at Graham's & Son Interiors. Or, if you want to learn more about planning your bathroom renovation, continue reading below!
How Much Does a Bathroom Renovation Cost?
According to Home Advisor, the average bathroom renovation in 2020 costs approximately $10,000 USD, which is about $14,000 CAD. It is important to remember that there are a number of factors that influence the overall cost of your renovation, including: 
The size of your bathroom: In general, larger bathrooms will be more expensive to renovate.
The extent of your renovation: Do you plan to rearrange the layout of your bathroom, or keep it as-is? Moving plumbing and electrical can be very costly, while keeping the existing layout will cost less.
Cabinetry & countertops: Custom-made cabinets can really drive up the overall cost of your renovation, while refacing existing cabinets or choosing prefab options can help bring your budget down. 
Flooring & backsplash: Bathroom flooring can vary widely in price. For example, vinyl tile flooring may cost half of what a high-quality natural tile flooring costs. As well, backsplash prices can vary depending on style and material. 
Labour: Of course, the company you choose to complete your renovation will impact the overall cost. However, it's important to keep in mind that a price that looks too good to be true, usually is!
All of these factors will impact the cost of your renovation, but keep in mind you do have control over your budget! Take a look at the section below to see just how much prices can vary and how you can effectively budget.
Budgeting For Your Bathroom Renovation
Budgeting for your bathroom renovation doesn't have to be a challenge. It is possible to renovate your bathroom on a tight budget. You may be able to only spend a few thousand if you are careful and willing to skip on some of the 'wants' you may have. Or, if you have a bigger budget, you can spend up to $25,000 or more! 
Since there is such a wide range of options available when renovating your bathroom, from quality of materials to the fixtures, flooring, and extras you choose, it's important to work with a renovations contractor that you trust and who can help you make these important decisions.
If you take a look at the graph to the right, it becomes easier to see just how much bathroom renovation costs can vary.
For example, Home Advisor states that fixtures (such as a new toilet) can cost you anywhere from about $200 to $1,800, and a new vanity may cost as little as $300 or as much as $3000.
That is a pretty big range. But keep in mind that most homeowners will not end up choosing all high-end or all low-end.
In general, you will probably find your choices somewhere in-between. You may choose to splurge in one area and cut back in another.
For example, if you have your eye set a custom-made vanity, but maybe plan to choose cheaper flooring and skip out on that fancy shower with all the bells and whistles.
Before you start your renovation, it's a great idea to take a look at all the options available and create a realistic budget. Keep some wiggle room in there – it's important to expect the unexpected!
Finding information online is a good place to start planning your budget, but you won't know more exact costs until you talk with a renovations contractor.
Higher End & Lower End Price Estimates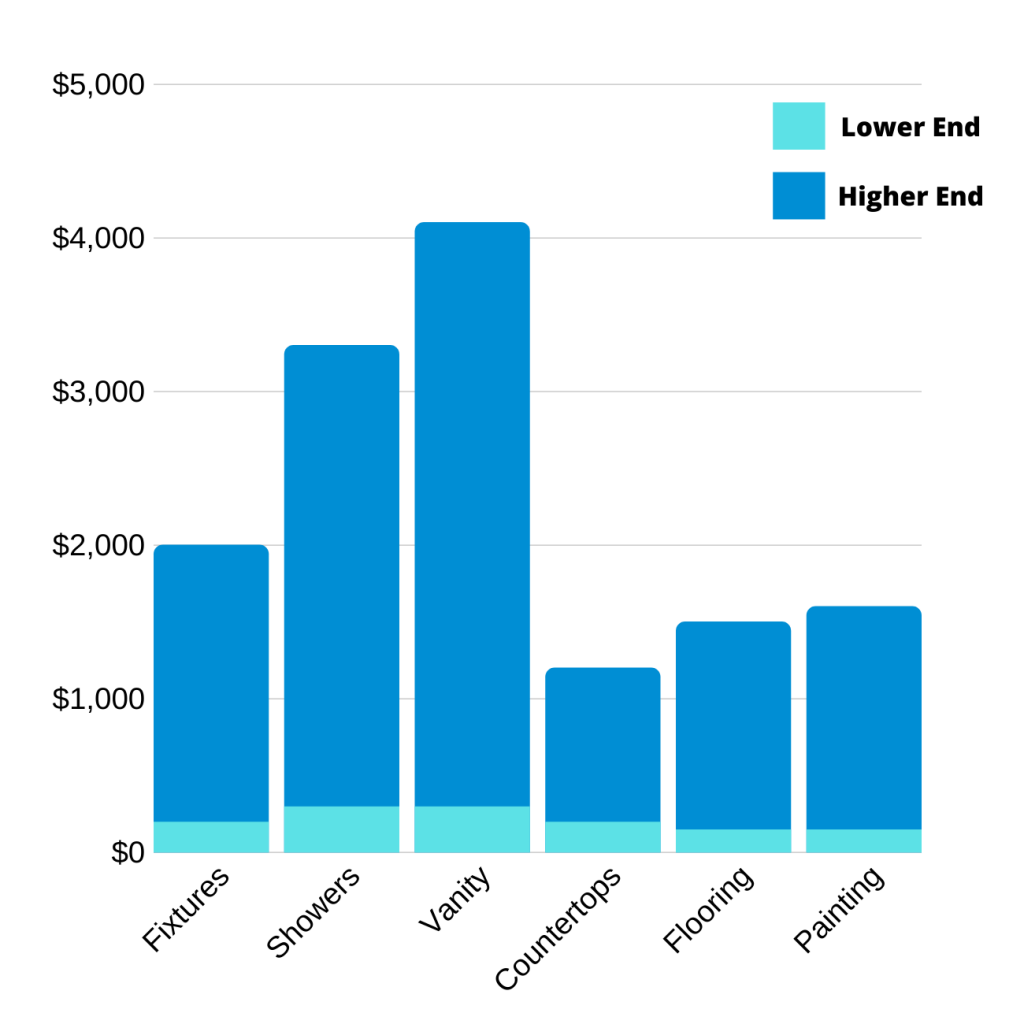 Average price estimates from: Home Advisor
 Once you have a more solid idea of your plans for your bathroom renovation, reach out to a few contractors in your area and get 3-4 quotes. This will help you compare. Generally, you want to dismiss any quotes that are exceptionally high or exceptionally low. 
Once you have a quote you're comfortable with, that's the time to ask your renovations contractor any questions you may have. They'll be happy to run through the numbers with you and make sure you feel comfortable with any plans going forward!
Hiring A Bathroom Renovation Contractor Near Me – What Do I Need To Know?
Renovating your bathroom, whether big or small, is a large project! It's understandable that homeowners may have a lot of questions before beginning the process. See below for an FAQ that may help answer some questions you have. 
Q: Do I need a permit for my bathroom renovation?
It depends. In many cases, you won't need a permit for a bathroom renovation. However, there are some situations that may require you to get a permit before you begin construction. You will likely need a permit if you are: 
Removing walls 
Adding new windows or doors
Installing fireplaces
Updating your plumbing or electrical systems
Many bathroom renovations do not involve any of these, but others do. If you are changing the layout of your bathroom, you may need to update or move plumbing and electrical systems or even move or add walls. Talk with your contractor to see if you need permits, if they will get the permits for you, and what the costs will be.
Q: Do I need a written contract?
Yes. When you work with a renovations contractor in Canada, you need to have a written contract. In Ontario, any job that is worth more than $50.00 requires a contract! A contract helps to protect both you and your contractors, so they are very important to have. Check out the video below to learn a bit more about renovations contracts.
https://www.youtube.com/watch?v=dEn_UP91N20&feature=emb_title
Know your rights when hiring a contractor in Ontario
You also have the right to cancel your contract if work has not begun within 30 days of the agreement listed in your contract. This is one of the reasons why having a contract is so important. Make sure you carefully read the entire contract before agreeing to it, even if you feel comfortable with your renovations contractor. You should bring up any questions or concerns before signing anything.
Q: How much input do I have when it comes to my bathroom renovation plans?
Most contractors will be happy to discuss your plans with you. For example, at Graham's & Son, we begin all of our projects with a free in-home consultation, where you can tell us all about your plans and dreams! Of course, there may be some limitations due to the reality of the project, budget restrictions, and other challenges that may pop up. However, you and your contractor should not move forward until you are both satisfied with the renovation plans. 
Have More Questions?
You can check out our full renovation contractor Ontario FAQ here!
Rely On Graham's & Son For Your Upcoming Bathroom Renovation
Your Trusted Bathroom Renovation Contractor Near Me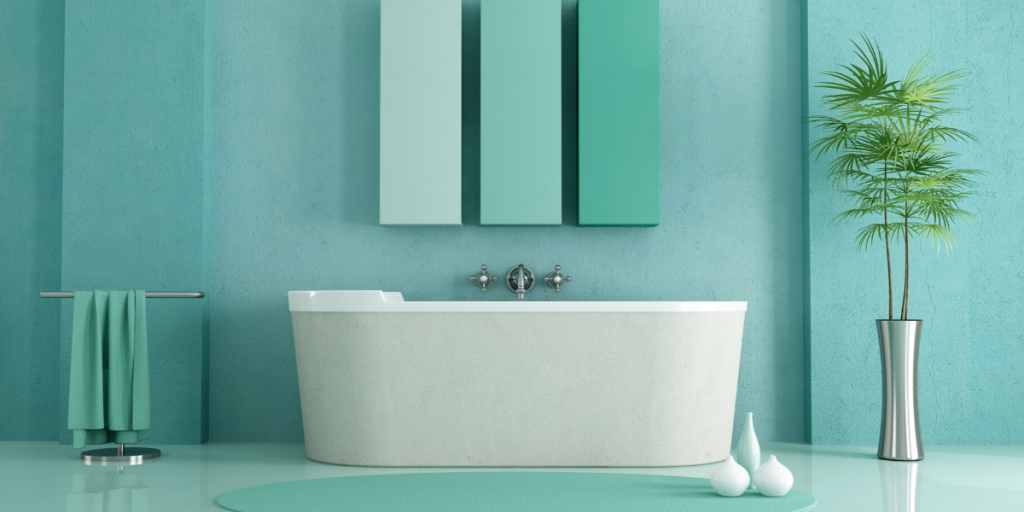 You can rely on the 40+ years of experience Graham's & Son Interiors has when you are planning your upcoming bathroom renovation! We help you do it all no matter what project you need completed– from flooring installation, to choosing and installing your new window treatments, to getting the counters and cabinetry of your dreams.
 5/5
"We had an extensive home renovation completed by Graham's & Son Interiors. The finished product is an amazing transformation which came alive with the help of the design team and especially the very hard work done professionally by their contractor."