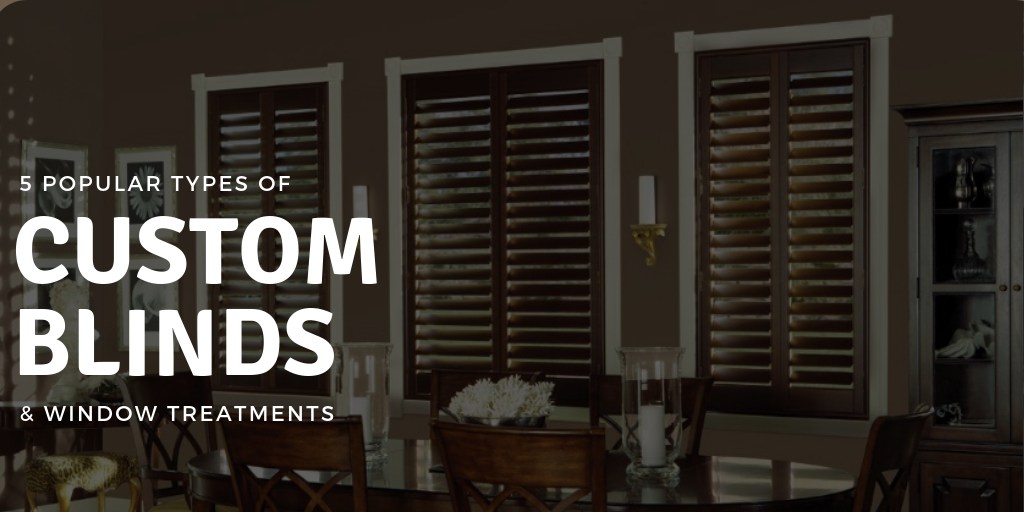 Are you ready to add new window treatments to your home? Custom blinds are the perfect way to get window coverings that suit your every want and need. First, it's important to note, what exactly are custom blinds? Custom window treatments are simply any type of blind, drape, shade, or shutter that is made exactly to fit the dimensions of your window. You can also choose the materials, styles, or patterns. In this article, we'll take a look at the top 5 most popular types of custom blinds and window treatments: vertical blinds, wood and faux wood blinds, Roman shades, cellular blinds, and drapes. Contact the decorating experts at Graham's & Son today to learn more!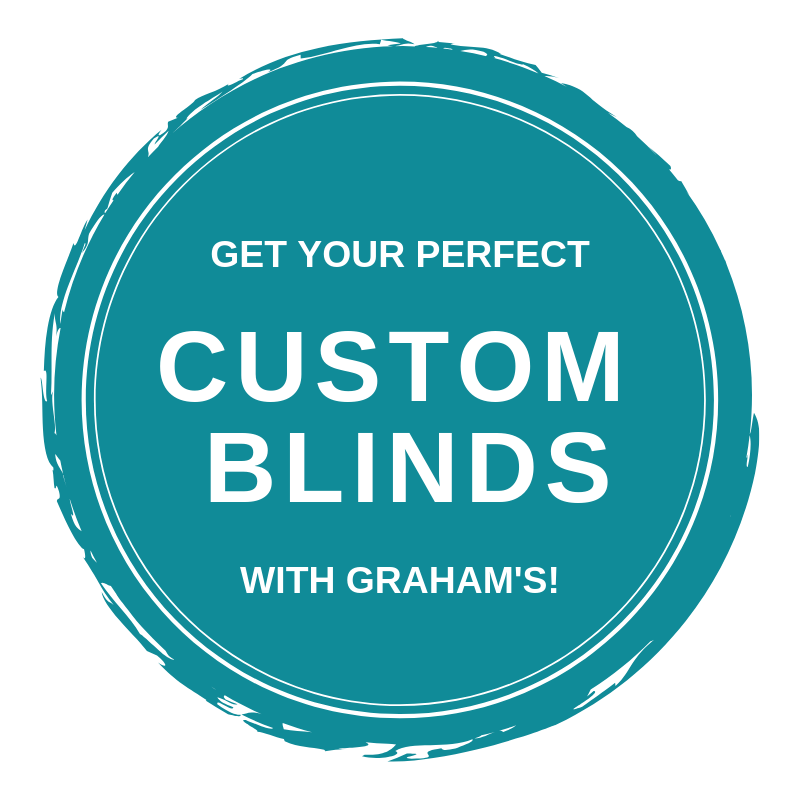 5 Popular Types of Custom Blinds & Window Treatments
Custom blinds are a great window treatment solution for homeowners looking to get durable, long-lasting blinds or other types of window coverings. With any type of custom window treatment, you will get blinds or coverings that perfectly fit your window and perfectly suit your preferences. If you aren't set on a certain style just yet, check out our listing of most popular types below! Or, you can contact the window treatment experts at Graham's & Son to set up a free in-home consultation!
Wood/ Faux Wood Blinds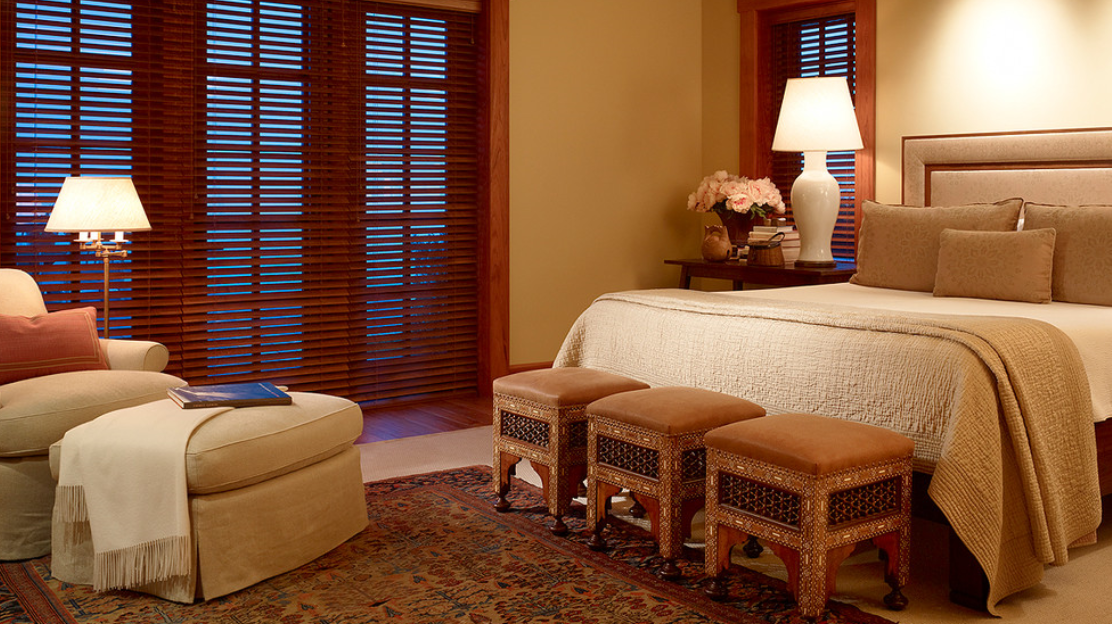 Both wood and faux wood blinds are an attractive and popular choice
Wooden and faux wood blinds are a very popular choice when it comes to custom window treatments. Both materials are simple, attractive, and easy to use and operate. They require little maintenance, although wooden blinds will require more regular cleaning. Both faux and wood blinds give a warm, natural feel to any room they are placed in.
It is nearly impossible to tell the difference between faux wood and wooden blinds just by looking at them. Nowadays, faux wooden blinds look identical to their real wood counterparts. Although faux blinds are generally a more cost-effective option, they are not as durable and may bend or warp when placed in too much direct sunlight. Because of this, you will want to work with the professionals to ensure your custom blinds will work well for the windows you have chosen.
Vertical Blinds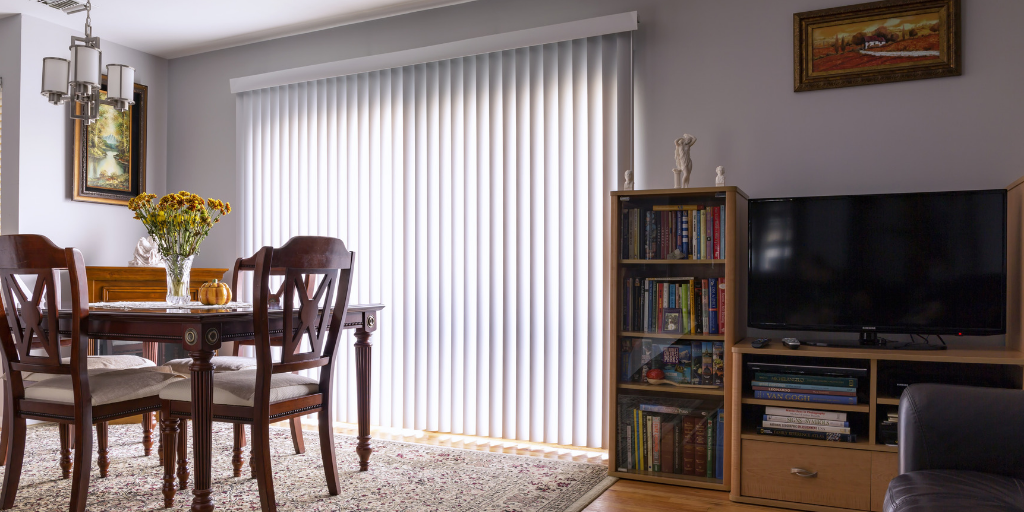 Vertical blinds are cost-effective and easy to maintain
In the past, vertical blinds were seen simply as a cost-effective window treatment option and nothing more. They were not known for their aesthetic appeal or even their durability. Today, however, vertical blinds are making a comeback! Vertical blinds now come in a wide variety of styles and designs, including fabric, vinyl, metal, and wood (or faux wood).
Vertical blinds are a great custom solution for your sliding doors or large living room windows. They are easy to use and operate. The traditional style has strings and cords, which can pose a safety threat to children. They can be made child-safe by choosing a motorized option or opting for a wand instead of the cord/string style.
Vertical blinds are also a good choice if you want more control over the lighting and privacy in your room. Vertical blinds not only give you control over the position of the panes (open, closed, or in between), but you can also pull the blinds to one side of your door or window, giving you full light. Or, when you want more privacy, you can pull them closed, giving you full privacy.
Roman Shades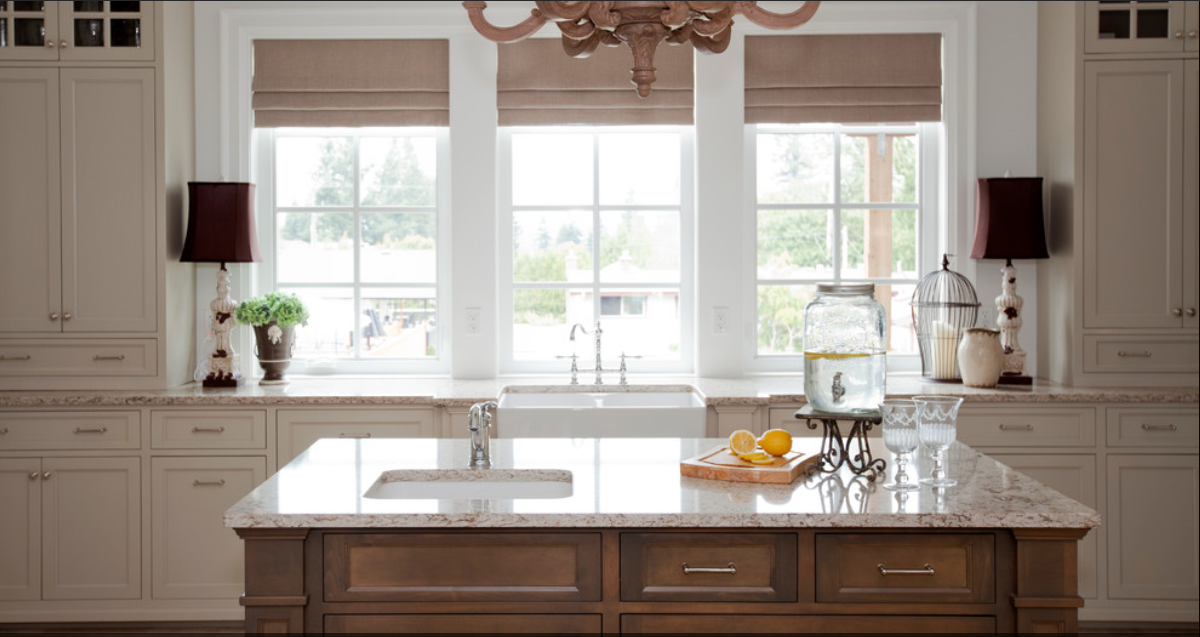 Roman shades can help add to the traditional look of your home
Roman shades are a popular and attractive choice for nearly any room in the house, from your kitchen to the living room to master or children's bedrooms. Roman shades are an ideal choice for households with kids and pets as you can easily find options that have no dangling cords or strings – meaning children or pets cannot get tangled in any part of the window treatment.
Roman shades are also loved for their aesthetic appeal. They come in many styles, but all offer a traditional, even timeless look. Many homeowners who love the classics will also love the Roman shade. Roman shades are often made out of fabric, which does mean more maintenance.
They will need to be cleaned every so often, especially if they are in a higher traffic area, such as your kitchen above your sink! Well made Roman shades can also be a bit more costly, but they are generally durable. Because of this, you won't have to worry about replacing them any time soon.
Cellular (Honeycomb) Shades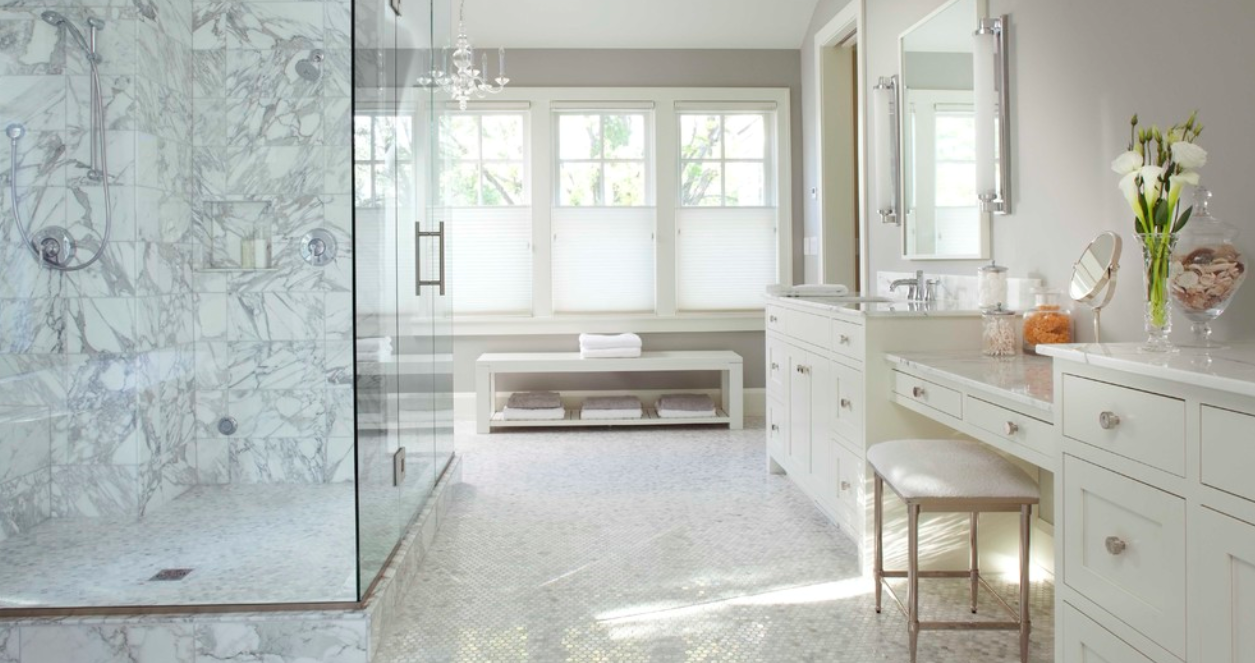 Cellular shades offer lots of privacy and help with insulation and energy-savings
Cellular shades (also called honeycomb shades) are another popular choice, and with good reason! The writers at A Little Design Help say this about cellular shades: "Honeycomb shades (also called cellular shades) are the workhorse of window treatments. They offer privacy, insulation and light control for any window." Check out the quick video below from Hunter Douglas to get a closer look at their Duette® Honeycomb shades!
This video shows how attractive and versatile cellular shades can be!
Cellular shades have a similar look to Roman shades, but with a bit of a modern twist. Unlike Roman shades, which can end up blocking light when they are pulled open, cellular shades essentially slide up and down your windows, offering superior light control as well as privacy when you need it. Because cellular shades are made from fabric, they can get dirty easily – and they are not the easiest to clean. Check out this guide to find out how to thoroughly clean your shades without ruining them!
Like other drapes and shades, cellular shades are an ideal custom solution for households with children and pets. They have no dangling cords or strings, and are very easy to use and operate. They are also perfect for households that may need extra insulation around their windows. Cellular shades help to trap air right at the windows, giving your home better protection against the heat and the cold.
Drapes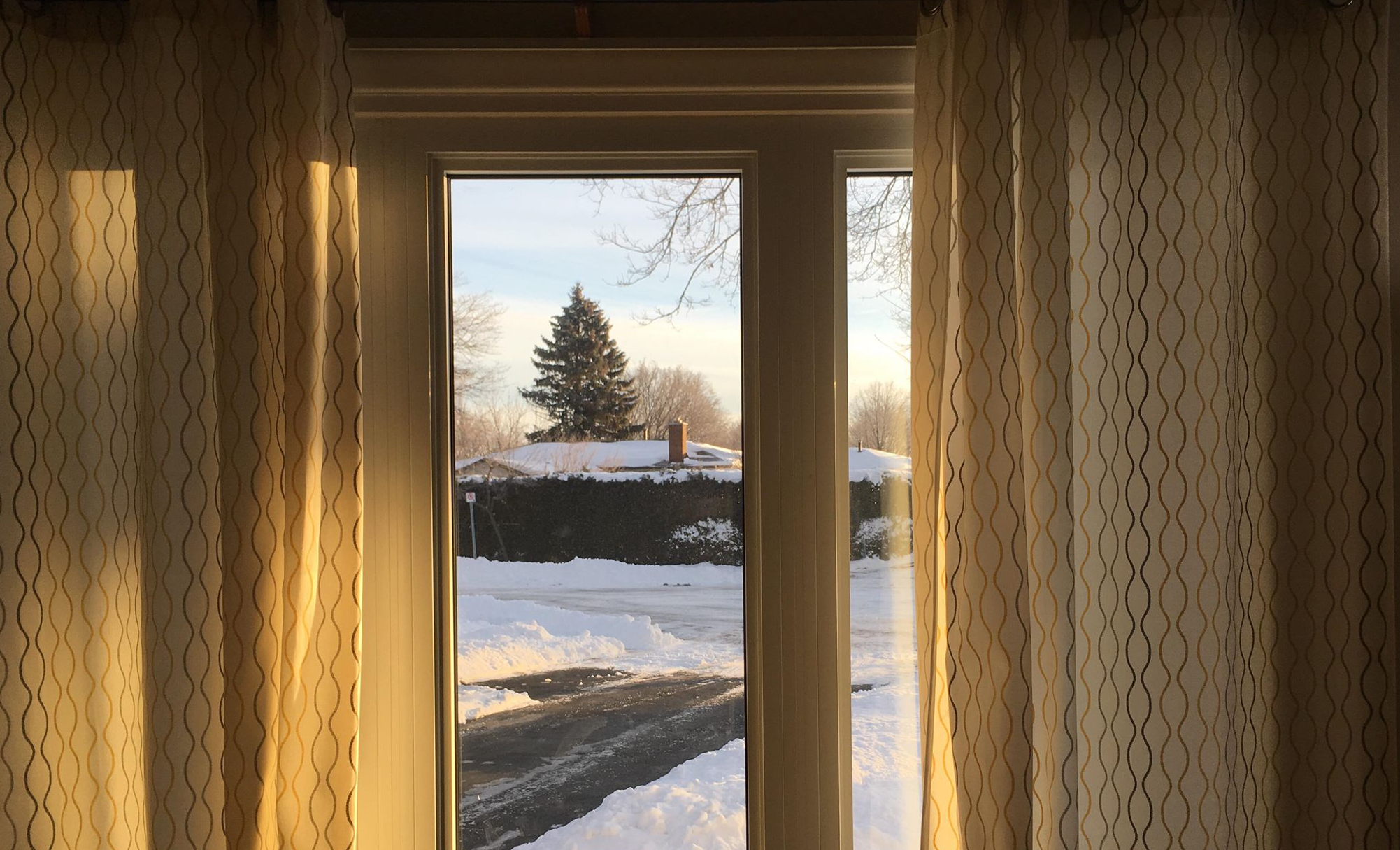 Drapes are highly customizable and can be an attractivea addition to any room
Custom made drapes/curtains are a timeless choice when it comes to window treatments. They are beautiful, and can be easily customized to fit your particular wants and needs. With drapes, nearly anything is possible! You can choose the material, colours, and patterns, as well as how thick you would like them (sheer vs light blocking vs somewhere in between).
Drapes can widely vary in price depending on what you want, the size of your windows, and the fabric/material you choose. Your custom window treatment professionals will easily be able to help you find a style that suits your wants and your budget. It's also important to keep in mind that drapes require a rod and other hardware, so that should be factored in when deciding on a budget.
Although drapes are considered one of the most attractive options, they are generally the hardest to maintain. Fabrics can become stained easily, especially if they drag on the floor. You will need to regularly clean them to keep them looking their best.
GET YOUR PERFECT WINDOW TREATMENTS WITH GRAHAM'S & SON!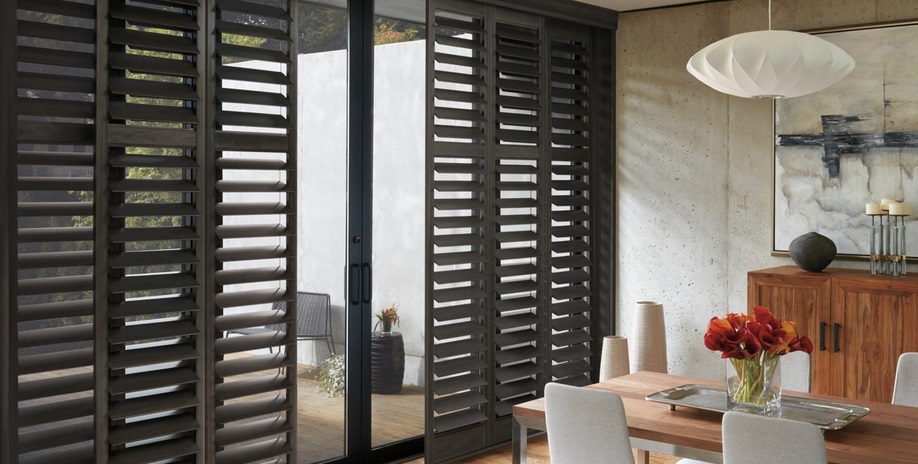 At Graham's & Son, we offer a wide variety of custom window treatments, including custom blinds, drapes, and more! If you are looking to update your current window treatments, contact Graham's & Son today for the most energy efficient and beautiful window treatments possible. Graham's & Son knows window coverings; we have been in the window treatment business for over 40 years. Our expertise and professionalism are second to none. In addition, right now we are offering an amazing deal on all our blinds, shutters, and shades – when you purchase any two, you will get a third absolutely free.
"Absolutely wonderful service from a great family business. They provided quality products at very affordable price.
Definitely recommend using Grahams & Son"
– John O'Leary

Read more customer testimonials
At Graham's and Son our customers have been so pleased with the high standard of our work that they selected us for the "Best Business Service – Interior Decorating: Platinum" and "Best Shopping – Kitchen Renovations: Gold" awards in the 2017 Cambridge Times Readers' Choice Competition.
Book a free in-home consultation today and find out for yourself why Graham's is the best in the interior design business. Contact us today to schedule. If you prefer, you can shop at home. Browse through our website, make your choice, and simply give us a call at 519-658-9025 to place your order without ever having to leave the comfort of your own living room.