If you are looking into adding shutters to your home, it's likely you've heard both the terms "California shutters" and "Plantation shutters." Though you have heard the terms, you may still be wondering what are plantation shutters? Are they different from California shutters? Both plantation and California shutters are a similar type of interior window shutter, most often made from wood or faux-wood. Continue reading on to learn more about plantation shutters and the popular styles and designs they come in. If you are ready to add shutters to your home, contact the window treatments experts at Graham's & Son today!
What Are Plantation Shutters?
Two of the most common types of interior shutters are California shutters and Plantation shutters. In order to understand what plantation shutters are, we must look at both of these types of shutters, as they are actually almost identical! If you were just looking at these two shutters side-by-side, it would hard to tell the difference at first glance. 
However, when taking a closer look you may notice the only difference: the louvre width. Take a look at the simple diagram below to help you get a better understanding of the difference between these two types of shutters.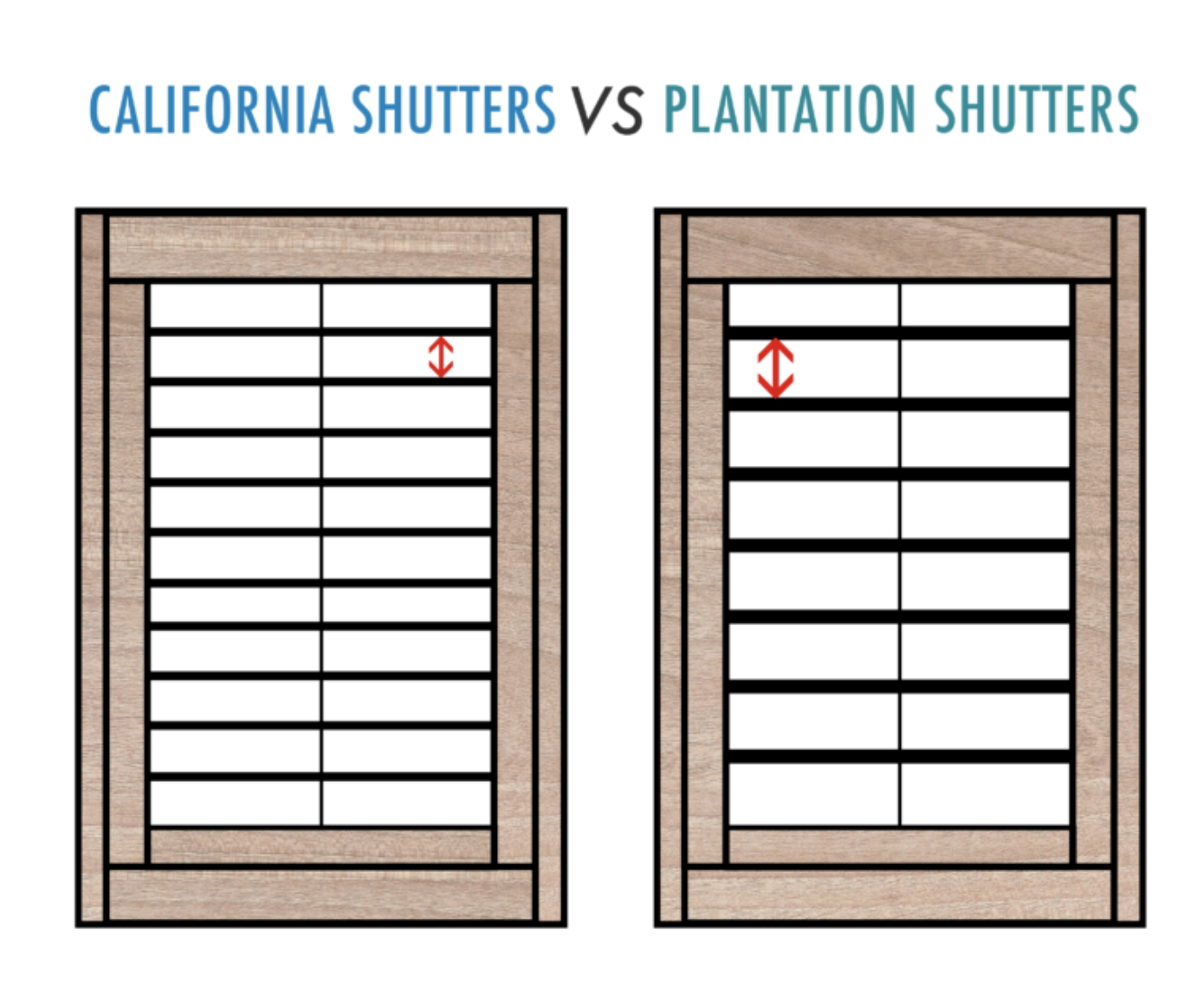 California shutters and plantation shutters differ due to their louvre width
Plantation shutters have a larger louvre width, typically of around 3.5 inches. California shutters, in comparison, have a smaller louvre width of around 2.5 inches. Plantation shutters may be custom made to have even larger louvre widths, however, around 3.5 inches is the standard. 
Are Plantation Shutters Right For Me?
Plantation shutters are an attractive, durable, and versatile window treatment solution. Compared to other window treatments, they tend to be a bit more expensive up front – however, when properly maintained they can last decades. They should always be professionally installed, as they are difficult to properly install. If you are looking for a simple DIY project, shutters may not be right for you.
However, there are many benefits of plantation shutters, including: 
An attractive, versatile window treatment option
Great for both smaller and large windows, including sliding doors
Increases your home's energy efficiency
Safe option for households with children and pets
Highly durable – can help protect your windows
Easy to adjust when needed (louvres can become loose over time)
Both plantation and California shutters have many benefits – that's why they are one of the most popular window treatment options for homes of all sizes. One of their biggest benefits is that they are neutral and attractive. Whether you are looking for a modern style bedroom, want a traditional farmhouse kitchen, or plan on renovating a rustic basement, shutters work well for nearly every style.
Plantation shutters are also ideal for big windows as well as sliding doorways. Since they can be built to pull out and away from the door, they make a great option for sliding garden doors leading into your backyard. Some people do not like the look of vertical blinds, which is the other popular sliding door window treatment choice. If you have shutters for the rest of your kitchen windows, you can get the same to match for your doorway.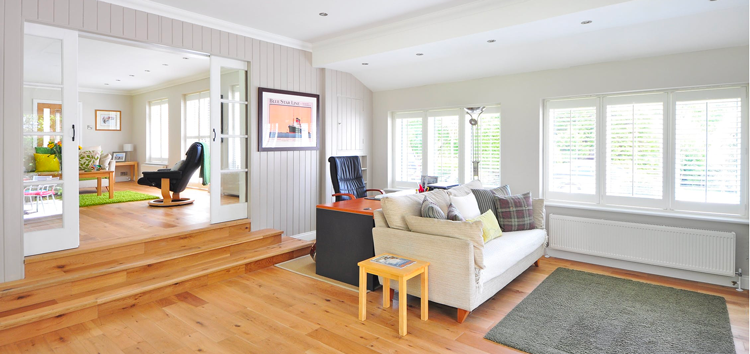 Shutters are sleek, simple, and look beautiful – but won't take away from the rest of your decor 
If you are concerned about your home's energy efficiency, you can rest assured knowing that shutters significantly help to insulate windows. Shutters do a great job keeping the heat out during the summer, and insulating your windows so that they can keep the heat in during the winter! Shutters and cellular shades are considered two of the most energy efficient window treatment options. 
Shutters are also a great choice for households with children and pets. Shutters, especially wood and composite (faux-wood) shutters, are known for their strength and high-durability. That not only means that your shutters will be able to withstand an accidental bump, but will help protect your windows from scratches and damage. 
Since shutters do not have any dangling cords or strings, they are a child-safe window treatment option. Unfortunately, blind cords and strings pose a more serious risk to young children than many homeowners may realize. Choosing window treatments without cords is a great way to keep both children and pets (who may accidentally get wrapped up in cords) safer.  
Top 5 Plantation Shutter Designs
Looking for some inspiration for your own plantation shutters? When choosing shutters, you will typically get to pick from three different materials – vinyl, composite (faux-wood), and real wood. All of these options look almost identical, as vinyl and composite shutters are made to look like their wood counterparts. Before we look at designs, take a look at the quick comparison below to learn a bit more about these three types of shutters.
Wooden Shutters vs Composite Shutters vs Vinyl Shutters – A Comparison Chart
Plantation shutters come in many different designs and styles. The designs show below can be made with either wood, vinyl, or composite. As shutters are custom-made to fit your unique window frame, they are easy to customize so that you can get the style and materials that you want!
1. Huge Windows - Wood Shutters With Speciality Shapes
From Graham's Gallery
These gorgeous, large wooden shutters show just how versatile Plantation shutters can be! These shutters are actually not just one shutter, but comprised of over 30 different smaller shutters. For large windows and doorways, you will often see multiple shutters used to cover all areas of the window/door. Sometimes, as seen in the design above, you may even need different styles of shutters if you have unique windows (such as arches, curves, etc.)
2. Narrow Windows - Half Shutters
Shutters also look great on smaller narrow windows. One popular style is the half shutter – where only half of the window (usually the bottom half) has a shutter. This is often styled along with curtains, so that you can have full privacy when you choose. Or, you can choose shutters that fully pull away from the window frame (like in the first image) so that you can get the half shutter look when you want, but you don't sacrifice privacy when you need it.
3. Simple Arches - Curved White Shutters
From Graham's Gallery
If you are looking for a sleek and simple shutter option for smaller windows, these bright white curved shutters are the perfect choice! White shutters provide a 'clean' look for any room, and are an ideal choice if you are looking for window treatments in a modern or contemporary room. Many vinyl shutters come in white, and wood shutters can be painted white. These shutters also show how easy it is to find shutters that fit unique windows! 
4. Large Doorway shutters
As we mentioned above, shutters are an excellent choice for large windows as well as doorways. Although sliding doors (typically to a backyard) are the most common application, they can also be used inside your home to separate sections of your room. In the right image above, you can see how these bi-fold shutters (shutters that fold down the middle) are an excellent way of dividing up a bedroom and providing an even cozier, private space. If you wan't want shutters that fold outwards or pull away from your door frame, they can also be placed on a track, and slide across your doorway instead, as seen in the left image. 
5. Traditional Wooden Shutters
From Graham's Gallery
These traditional wooden shutters are a dark wood colour and match perfectly with the rest of the dark wood furniture and flooring. Dark woods are often used to get this traditional look, while white and light colours give a more modern feel to the room. These shutters stand out even more due to the bright white trim around the window frame, which really helps to showcase these stunning shutters!
Get Your Perfect Plantation Shutters With Graham's & Son!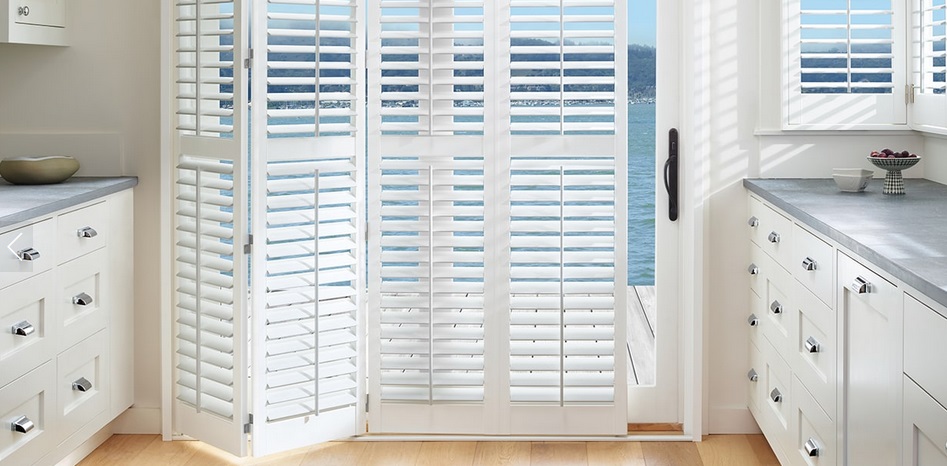 Are you ready to find your perfect California or plantation shutters for your home?  Graham's & Son has decades of experience when it comes to expertly installing all kinds of window treatments across the Cambridge and surrounding areas – including shutters, curtains, blinds, shades, and more! We understand the importance of purchasing window treatments that you will be happy with for years to come!
At Graham's & Son, we offer a wide variety of window treatments, including custom treatments perfect for updating your home, increasing your home's energy efficiency, or simply giving you more privacy. If you are looking to update your current window treatments, contact Graham's & Son today for the most beautiful window treatments possible.
Graham's & Son knows window coverings; we have been in the window treatment business for over 40 years. Our expertise and professionalism are second to none. In addition, right now we are offering an amazing deal on all our blinds, shutters, and shades – when you purchase any two, you will get a third absolutely free.
"Great quality. Wonderful people to work with."
– Karen from Cambridge
Read more customer testimonials
WINDOW TREATMENT INSTALLER & INTERIOR DECORATOR – JOIN OUR TEAM!

Graham's & Son is looking for a full-time Window Treatment Installer and an Interior Decorator, and we would love for you to join our team! We operate out of Cambridge and are looking for someone who knows the Tri-Cities area well. Training will be provided – some experience required. If you think this may be the perfect job for you, see job requirements and overview by clicking here to learn more about the installer position, or here to learn more about the decorator position.
At Graham's and Son our customers have been so pleased with the high standard of our work that they selected us for the "Best Business Service – Interior Decorating: Platinum" and "Best Shopping – Kitchen Renovations: Gold" awards in the 2017 Cambridge Times Readers' Choice Competition. Book a free in-home consultation today and find out for yourself why Graham's is the best in the interior design business. Contact us today to schedule. If you prefer, you can shop at home. Browse through our website, make your choice, and simply give us a call at 519-658-9025 to place your order without ever having to leave the comfort of your own living room.